St. Patrick's Day Birthday in Dublin
for a 9-year-old Australian boy.
The reason we chose Ireland for this part of our journey, was because Explorason was born on this day – 9 years ago!  So when we talked months ago about where he wanted to be for his birthday, he chose here – Dublin! The heart and soul of St. Patrick's Day celebrations.
We woke to a room of gifts. I had purchased most along the way over the past few months, particularly in the USA where it was a lot less expensive for some items.
He is a mad keen Lego fan, and we hope to get an RV, so I had selected this kit for one gift.
We also had a lot of fun St. Patrick's Day things for the day. Socks, glasses, decorations and more.
We head into Dublin on the DART.  The train is packed.  We were dressed for FUN!
It is warm and sunny, and I was hopeful the day would remain so. In fact, I had brought warmer clothes 'in case', but by the time we were walking to the parade I had to go into a cafe and use the restroom to add long underwear on – it was freezing!
The wait was at least 2 or more hours. And as we stood, we became colder and colder, and then it began to drizzle.   You will see in the photo tourists climbing up to get a better view.
Even climbing on the statues. People were everywhere.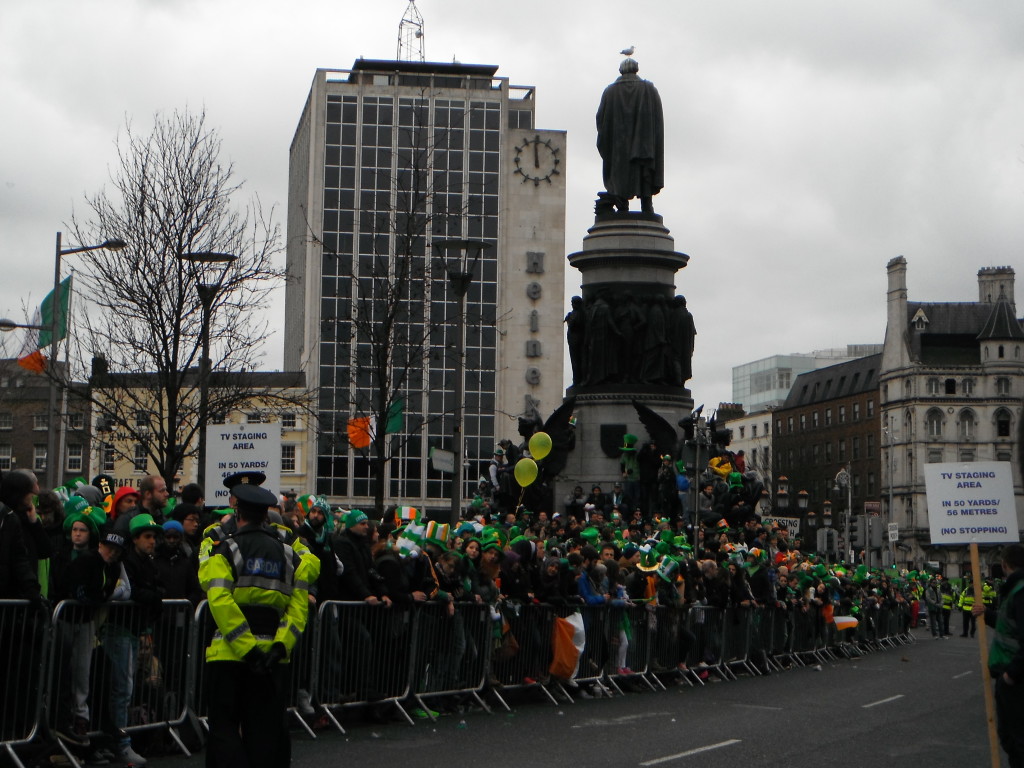 Everyone is dressed for fun. Yet there were a few people, like this guy, that didn't look like they were having fun at all!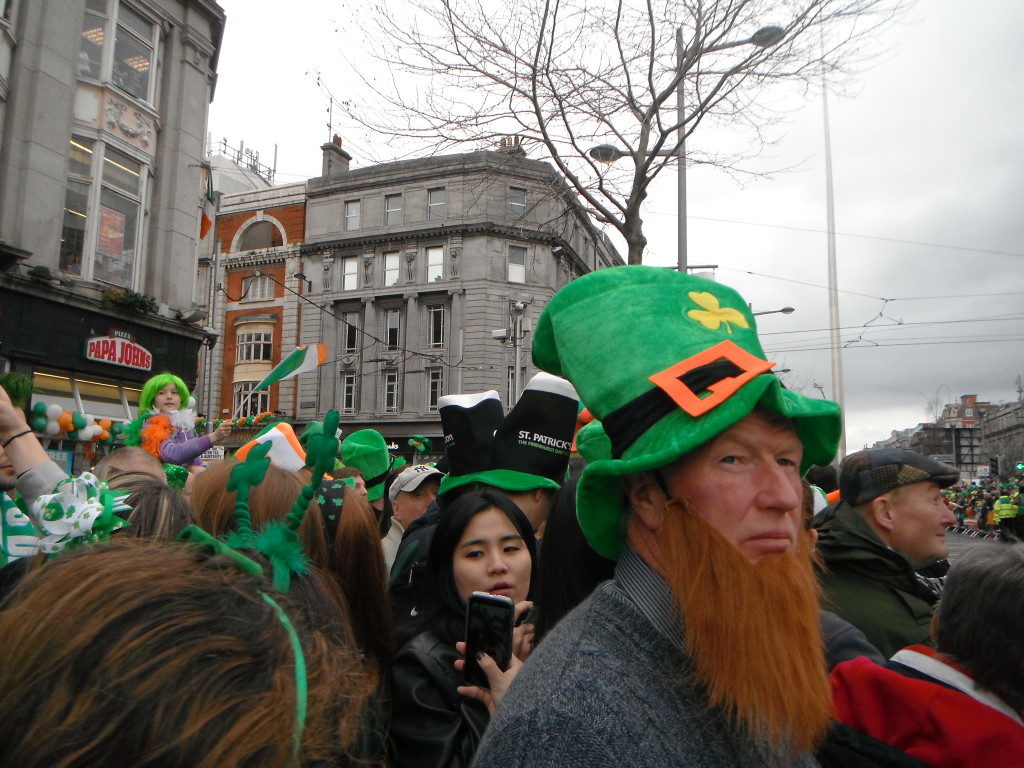 The parade starts, and they had Irish colored Mini cars to start it – darn I didn't get a photo!
"Saint Patrick" comes along to bless the crowd – it is all in good fun.Then comes the Lord Mayors coach – and it is stunning!
There are old cars, bikes and more – it is a real mix.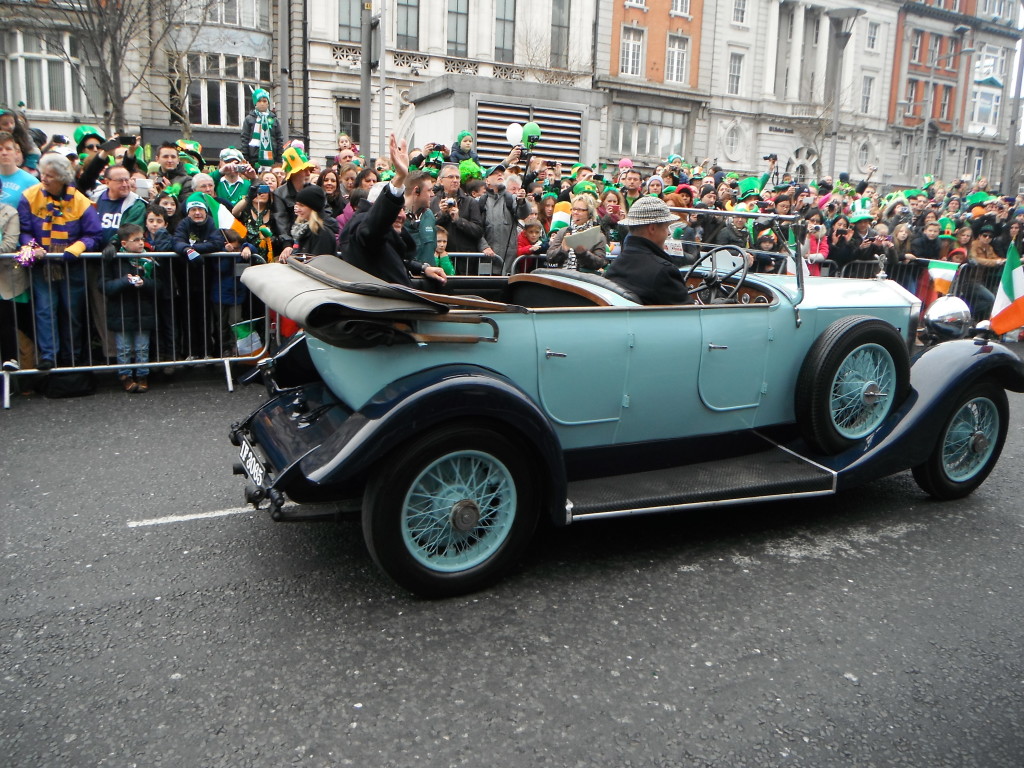 Then there are the Vikings.  We have learned a lot about the Viking invasions whilst we have been here.
It is about at this time the RTE news comes along and interviews Explorason.
There are a lot of abstract, strange, scary, and unusual characters and floats to this parade – some I am not too sure about. Explorason really didn't like the pagan or mythical characters and floats at all.
Then there are the Celtic Cross children – I like these.
These characters are really unusual too!
There are too many to show you but overall there is a lot to see. And it is different from any other parade I have been to.
We meet crowds of fun people as the parade disperses.  These Germans sing Happy Birthday to Explorason.
We head to a traditional Irish Pub for a late lunch, and after about 5 minutes wait we spy a table.
We pounce onto it and are amazed we even find a table at all. Soon we even find seats.
They have a really good roast lunch (with a few choices) available. Expensive, but it is St. Patrick's Day!
Somehow, I end up with three ways to serve potato on my plate but again, Ireland IS famous for potatoes after all!
I then sneak to the lady to see if we can get a slice of dessert and make it for his birthday cake.
He closes his eyes and makes a wish.
We linger for quite some time in the pub. There is live music downstairs, and it is away from the cold and damp Dublin streets, but soon we have to head off and mix with the party people.
More people join us for another birthday song. We are having fun!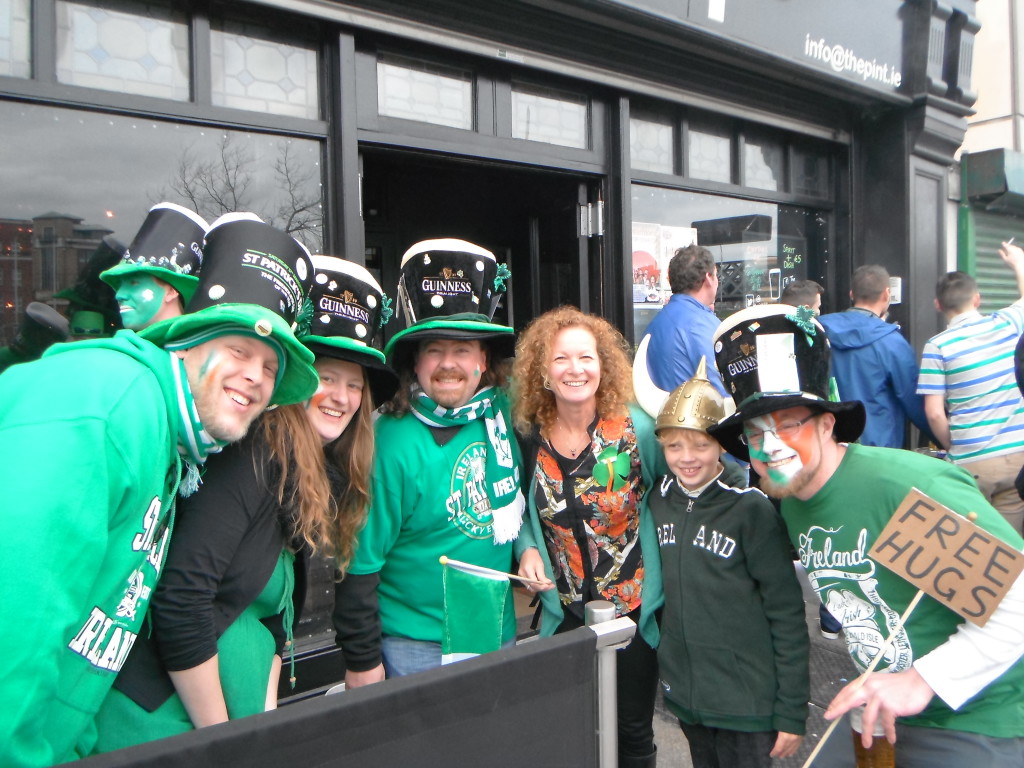 We decide to go to the fair and there are rides, so he chooses the Dodgem Bumper Cars.
There are way too many cars, and the bumping is out of control!
He is delighted.
What a great end to his day part of his birthday in Dublin.
We decide to head to Howth to a traditional Irish Pub for dinner.
I'll blog separately about Howth.
We don't want the day to end.
We have to leave tomorrow and I don't want to have to go and pack.
It is times like this we don't want to move on.
But we are heading to house-sit in the country – and a rest!
Questions and Comments
Have you been to Ireland?
What do you find fascinating about Ireland?
Do share your opinions with us below.