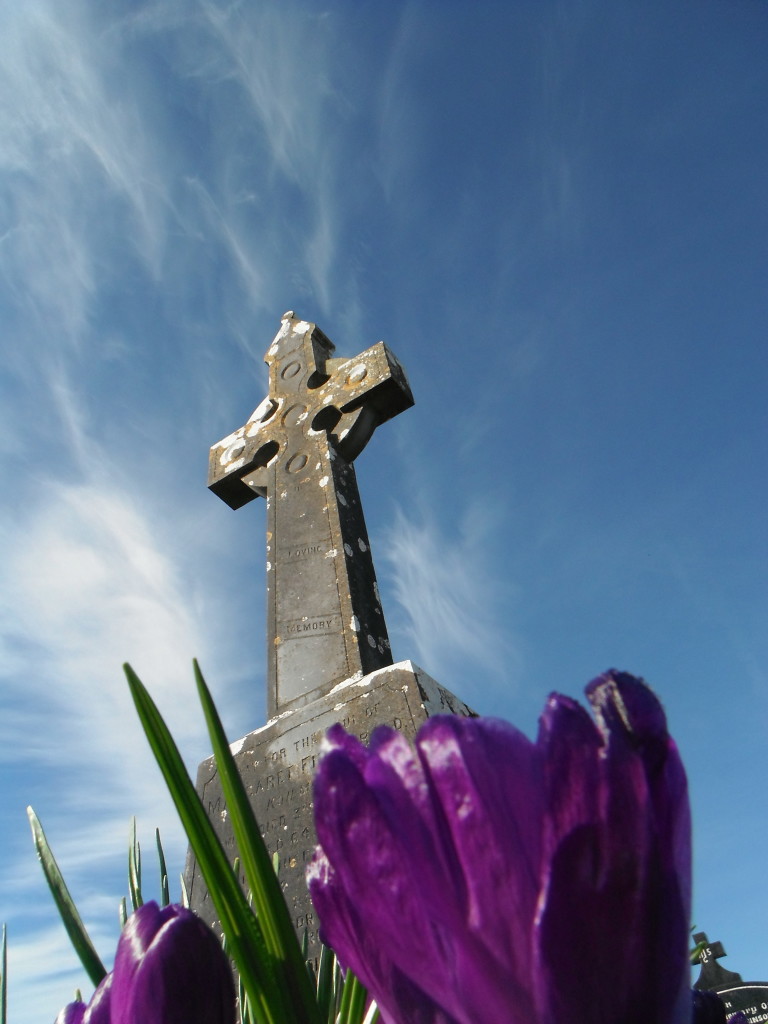 Galway to Derry to Portstewart Ireland Road Trip
Today is going to be a LONG day's drive. But spring is about here, and the wildflowers are out, and the sun is shining, so that is pretty good for Ireland.
We hadn't gone far in our little rental car when we needed a 'pit stop'. Boys being boys, they are happy to use a bush in a country lane, so we turned off, and discovered a hidden treasure.
It was an old St. Mary's Carmelite Abbey and Cemetery.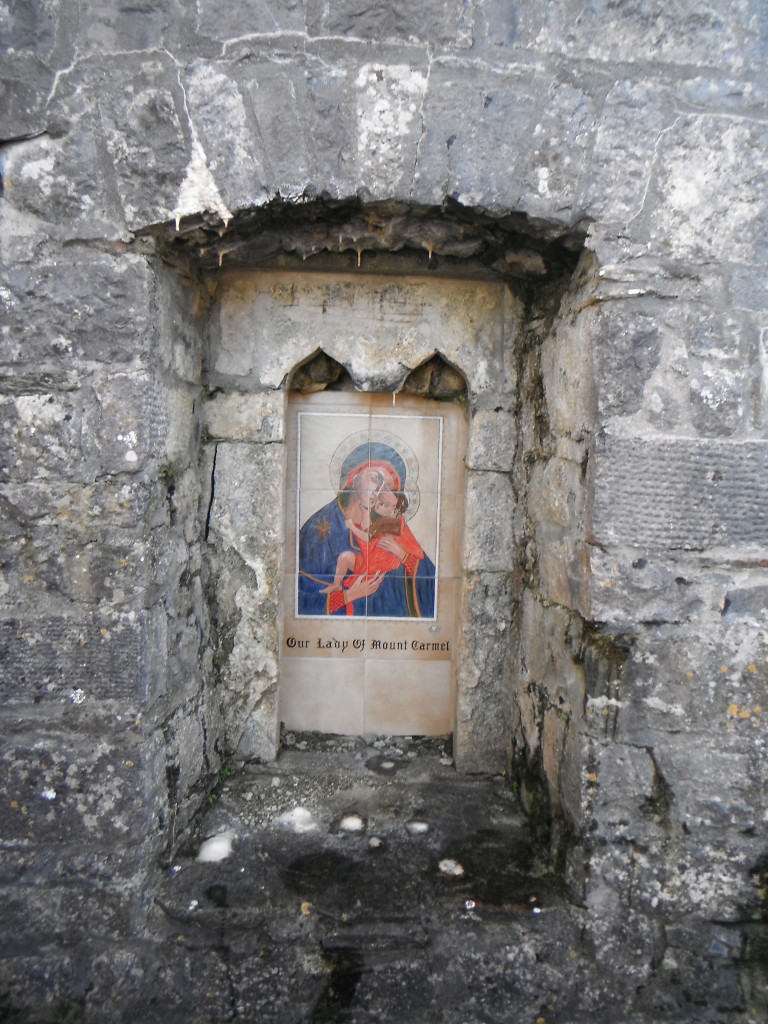 Founded in 1288 @ Ballinamore, and it is there for free for the wandering.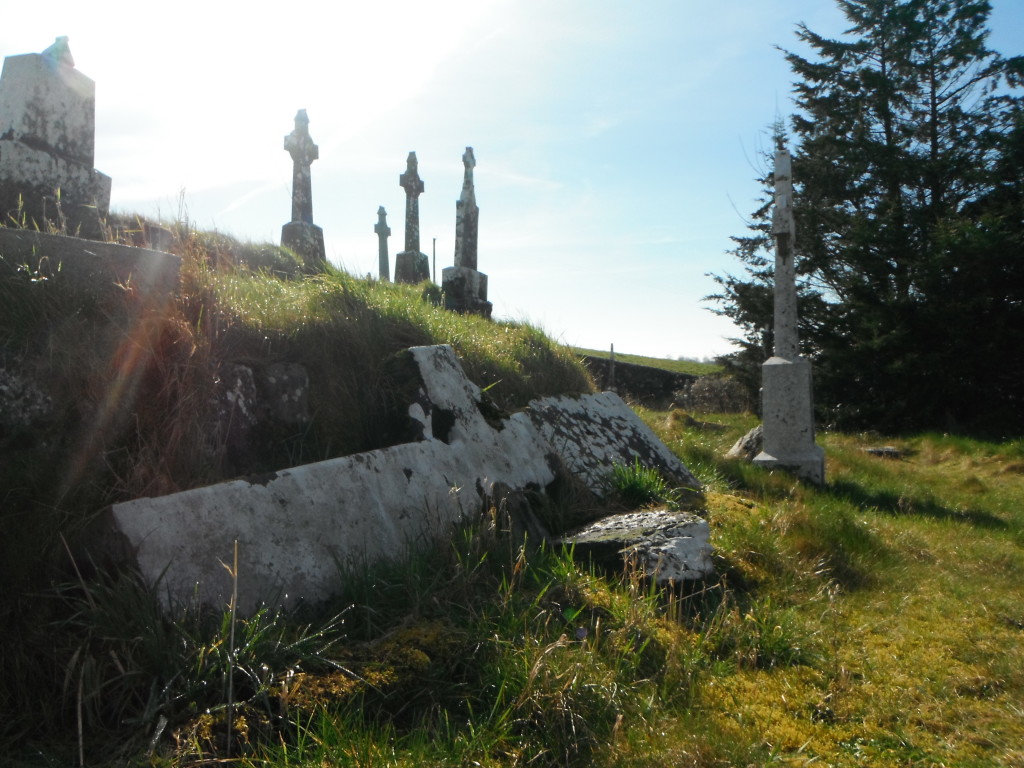 So we spent a while looking around that, especially as some rooms seemed like caves, and a 9-year-old loves exploring!
Here we had the place to ourselves.  So we must have spent a good hour searching around.
It was free to climb, scramble and run for this 8-year-old explorer.
If we were in Europe there would be an entrance fee for sure.
I find it sad, that so much of Ireland's historical sites are not cared for. It is really lack of funds, not lack of want so most tell me.
I stand and say goodbye to a wonderful moment in our trip.
These are the special times.  Times when a boy and his Mum talk about history. Learn about history. Walk and climb through a part of history.
We then drive on past Sligo to Rosses Point.
On a weekend this would be the place to come, but today most of the town is closed.
Here a statue of a lone young woman reaching out to sea can be seen. It is here to remind us of all the loved ones that died in the sea. Some while on a voyage while others while fishing. We talk about this a bit, and I am glad my son is by my side.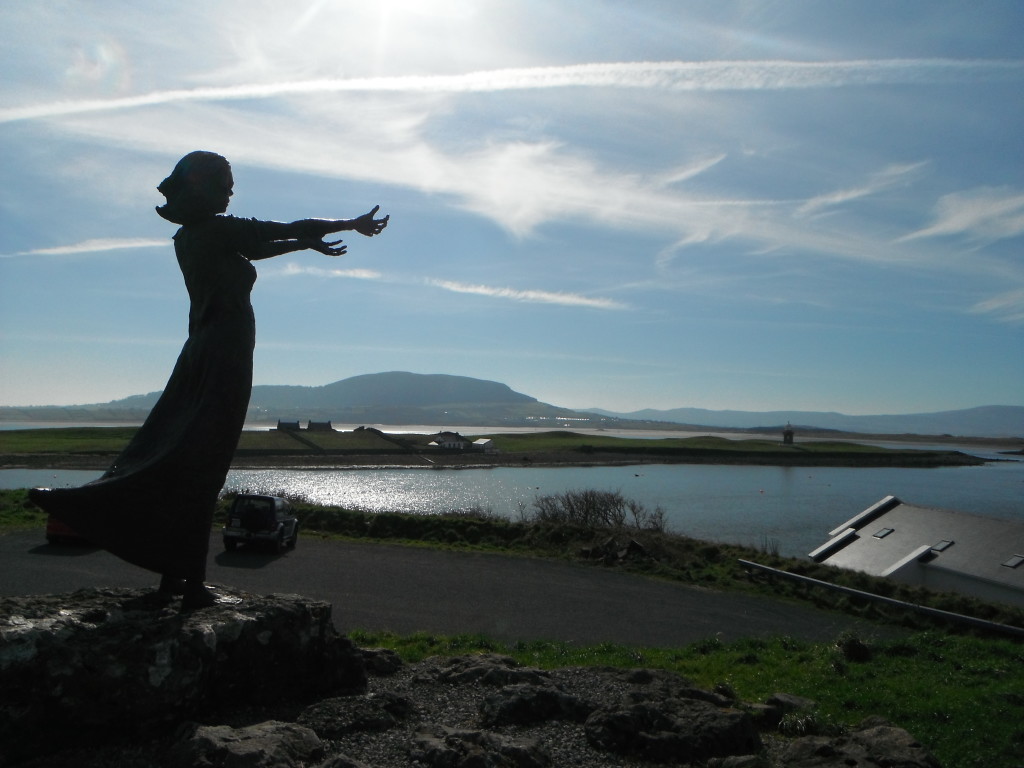 The town is really cute.  Everything is closed though. There is not a place even to get lunch, and we even stop and speak to a local.
We then head on to Bundoran – and this is a lovely place. I wish we had time to stay the night here.
But by now it is 2 pm and we really only have time for lunch.
I love this old etched rock in the wall. Is that a Guinness in his hand?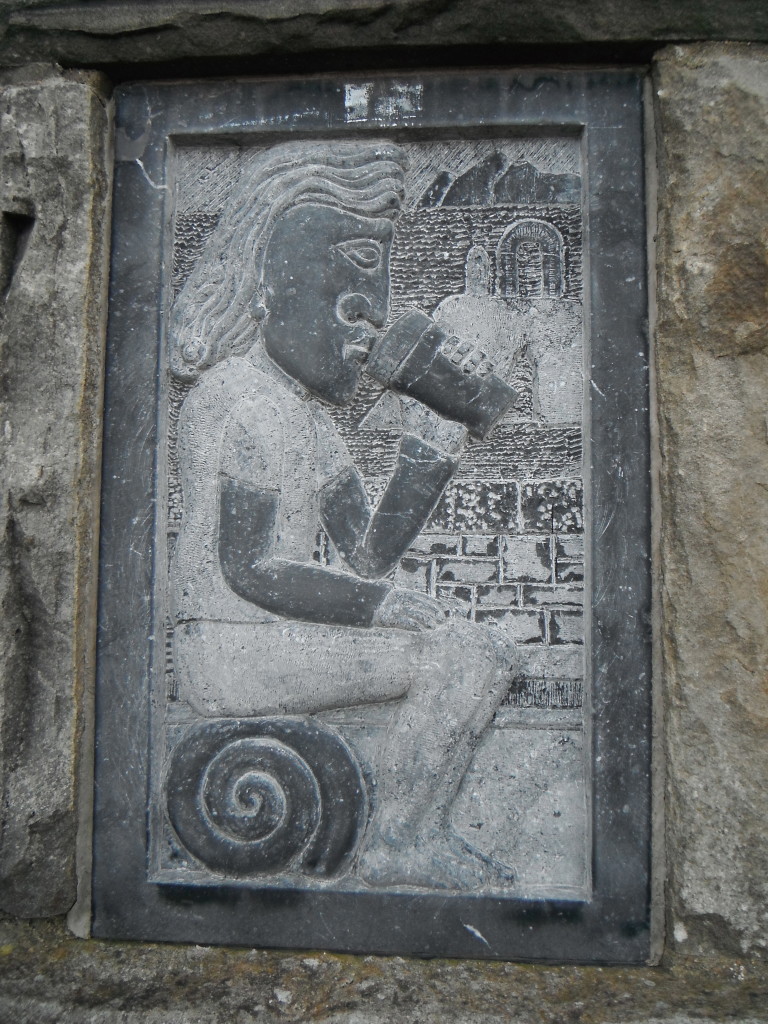 Ballyshannon is next and then Donegal.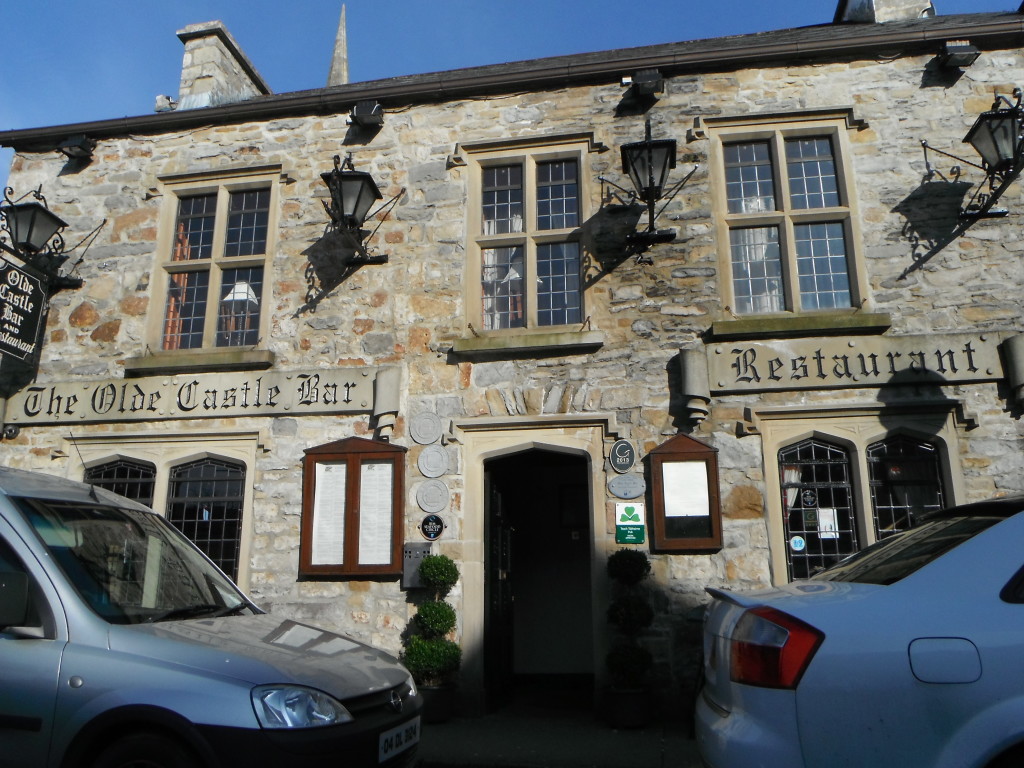 Donegal has a castle and a cute circle that centers the town.  I stop and visit a shop looking for an Aran jumper, but the traffic is pretty mad, and there is nowhere to park, so we don't stop long. Maybe we will come back after our house-sitting.
Soon we are hitting the peak hour traffic in Derry. Derry is in Northern Ireland and part of the UK.
We need Pounds for currency, not our Euro. Yikes. It is 5 p.m. and we are too late for a bank. I try to park and  I can only go into a parking station and so I carefully reverse out onto the main road. No Euro to pay for parking.  So we drive around as we want to see the walled city.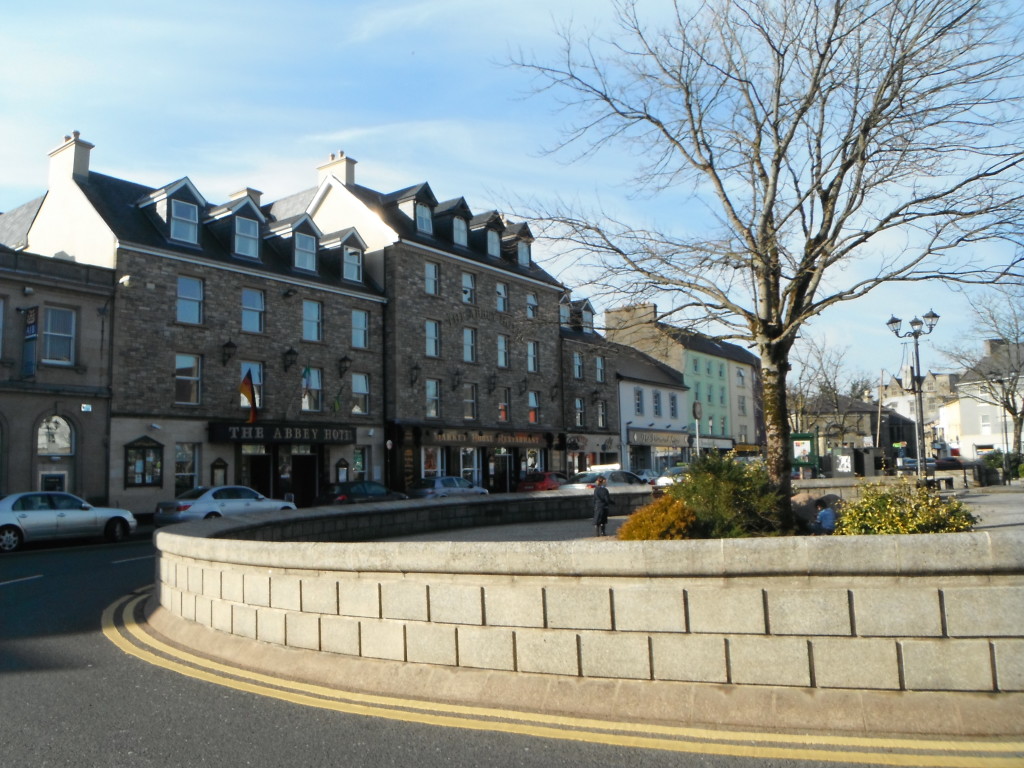 My son jumps out of the car in his socks for a photo. Why does he not tell me he has no boots on? Boys!!
We try to cross the bridge to find a hotel, but we enquire at one of two and discover we are out of our budget.  We only have 2 nights left with this car, tonight being one of them, and we have a few 'must sees' on our list, so we decide to head out of town, and find a pub or BnB to stay at.  Shame as we miss the famous Derry hospitality.  Another place we hope to come back to!  Next time with Euro.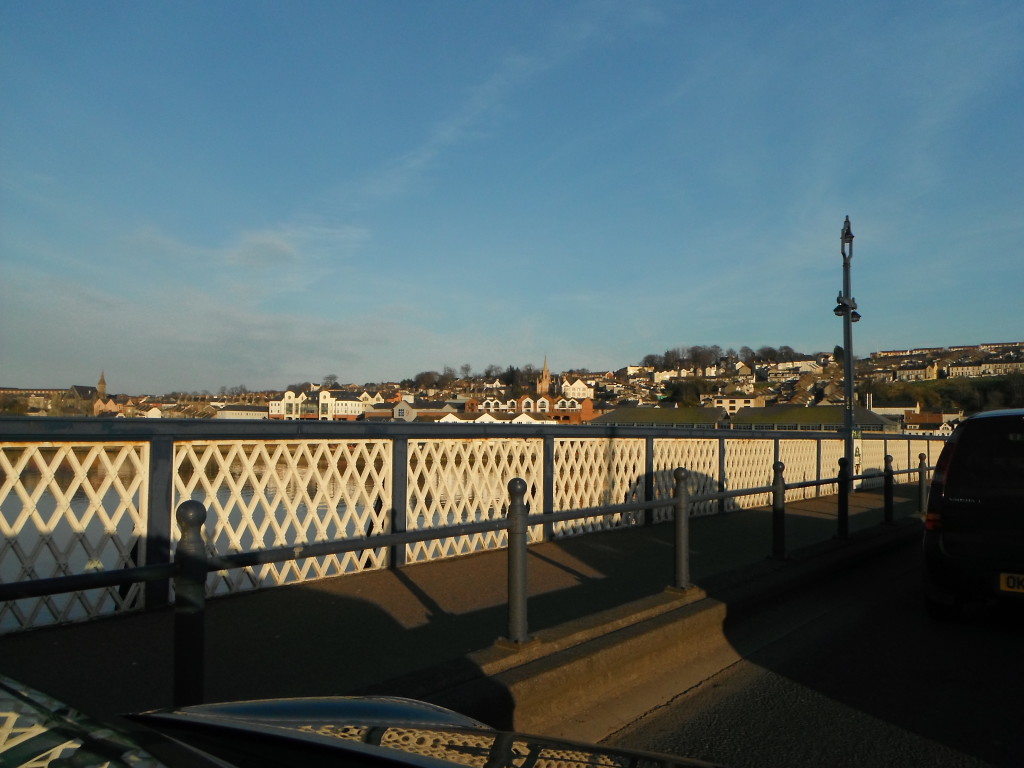 We drive and drive. No pubs. And I mean no pubs. Few to drink and none to stay. I realize this is because we are in the Protestant part of Ireland – the nondrinkers, or fewer drinkers, so there are fewer pubs.
We do have a precious brochure with the hostels listed in.
So we head to Portstewart and we ask at a couple of BnB's but they are not yet open for the season.  It is a pretty town but the sun is about to set and we have no-where to stay. So we decide to head for the hostel in the hope it is open.
We find Rick's at Portstewart, and although he is renovating, he has a couple of people staying. It is not cheap. Way more expensive than the south.  I get the feeling the north is more expensive than the Republic, despite what people tell us.
However, we are happy for a room.  We have an en-suite and a cozy room to ourselves  
The joy of having a vehicle is we have food. So I head to the kitchen to cook dinner.  Wi-fi is only downstairs, so my son sits, and I get cooking and chatting in the kitchen.  Cooking your own meals is a real saving when long-term traveling – that is for sure.
All in all, I am pretty pleased we are this far north. Wow, what a long day that was, and we sure packed a lot in.  Shame we have to go so fast, but we only have the car for 7 days, so we do the best we can.
Questions and Comments
Have you been to Ireland?
What do you find fascinating about Ireland?
How was the experience?
Do share your opinions with us below.