Road trip around Florida – Legoland again – Day 10
I can't believe we are here again.  Just 2 days ago my feet pounded the pavement. The website says they open at 9:30 a.m. on Sundays but they actually open at 10:00 a.m. and s we are okay with the opening time. It is so much busy on a weekend than on a weekday, plus this is a public holiday weekend, so it is even busier, though nothing like the Disney crowds. We first head for some free mini car racing. We soon quit on this since it requires more spending. If you are looking for it, you will find it at the corner near Chima.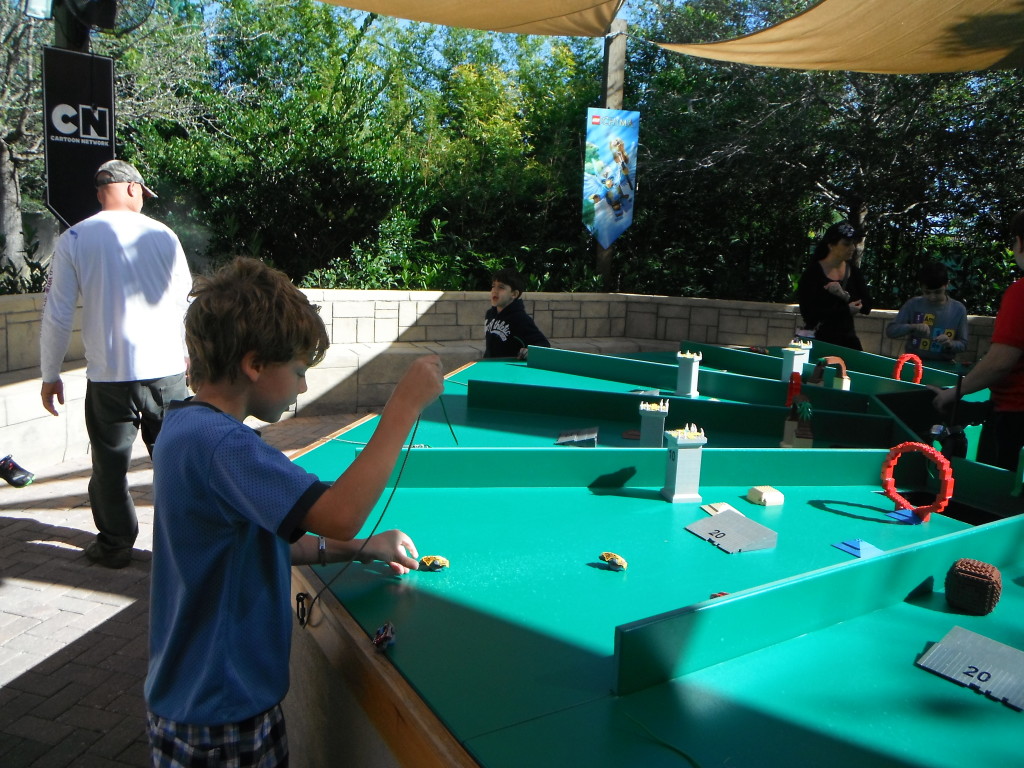 We are back for a go on Beetle Bounce – I think this is definitely Explorason's favorite.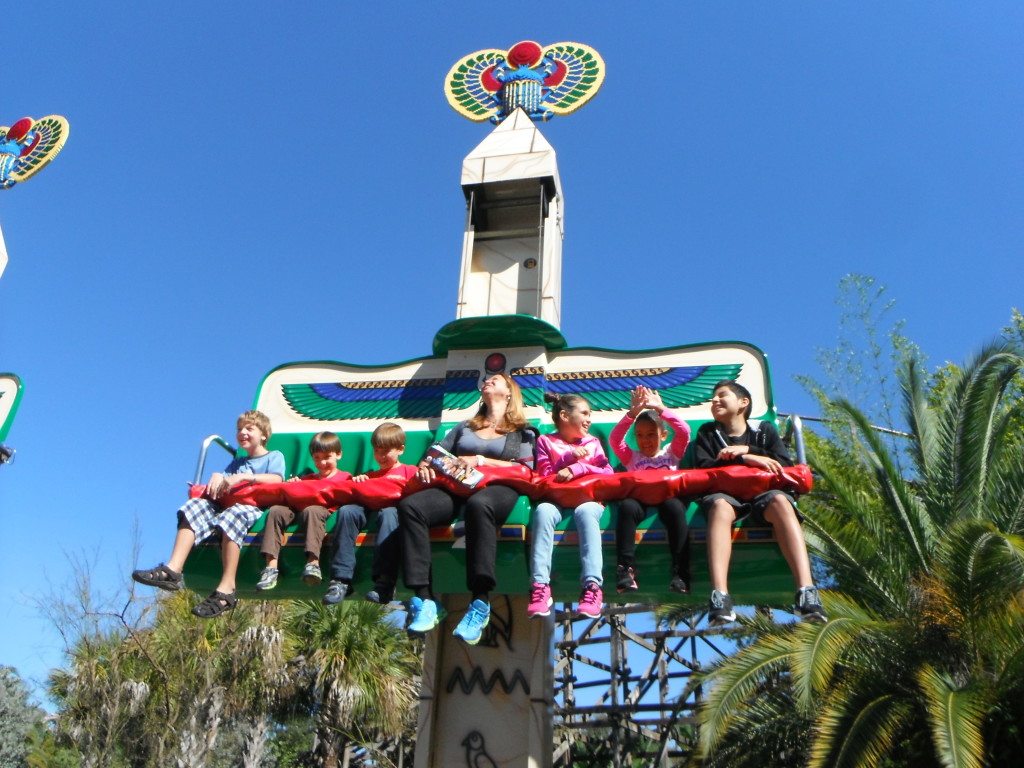 Sorry, I forgot the name of the next ride. It is a train and as it moves, you have to shoot and score. Make sure you get one the laser gun works on!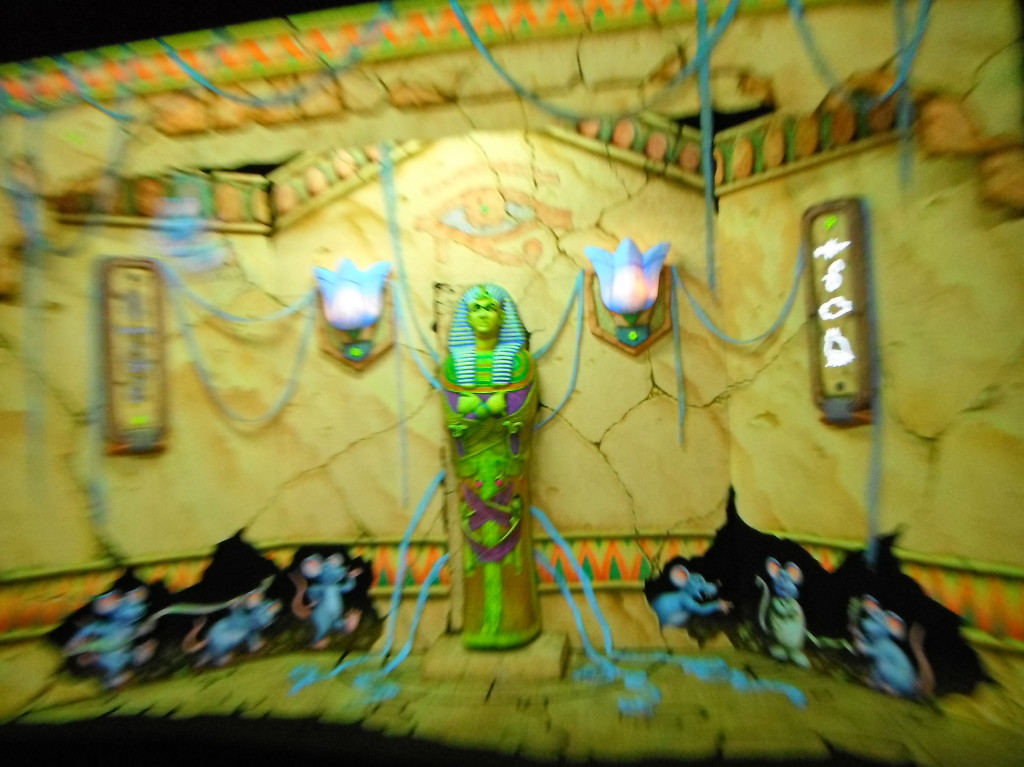 We are pretty happy with the scores we get, though as a parent I, of course, need to tame my madness and stop shooting everything in sight. It is nicer seeing a kid win.
We then head to Chima.  Now, why have I not thought of bringing a towel, and spare clothes? My son makes a friend -James. A really lovely boy. I see them running and doing loops and going over and over again.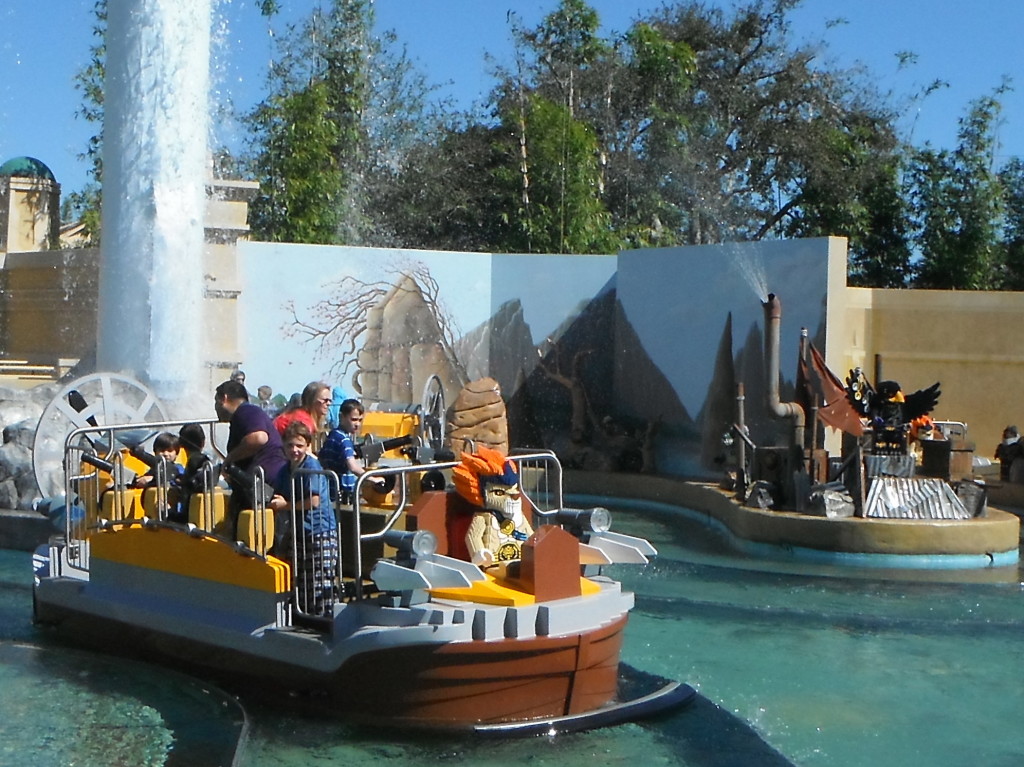 I sit and meet James' dad, and find out James is on his own as a kid too – no siblings so they decide they might want to team up and do another ride.
Before long they have been on about half the rides in the park. Explorason has a fright after a bad Disneyland experience last year, and so I am pleased that with James as his new amigo, he is trying new things, and gaining back his confidence. By mid-afternoon, we have done all the roller coasters. We then line up for the pirate and waterskiing show.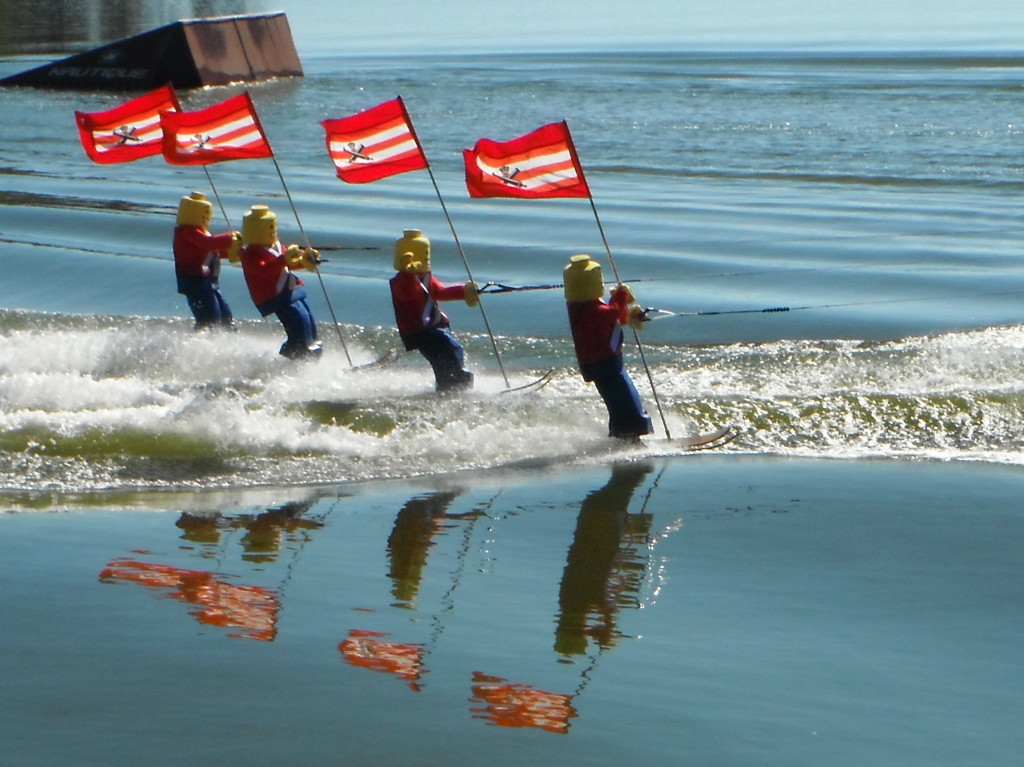 There are some good skills demonstrated here. Something for both the little ones and the adults.
The Pirates put on a pretty pod show. There is an interaction between the crew/actors and us -the viewers and water guns and hoses are all squirting.
Do not sit down the front if you want to stay dry!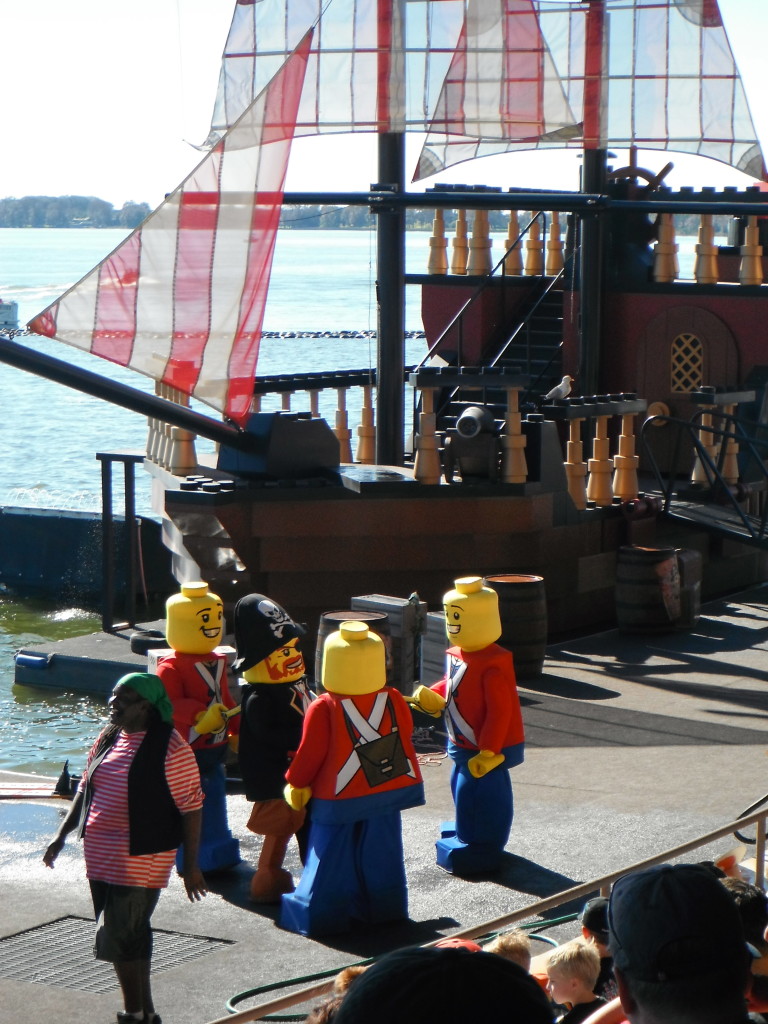 Two wet kids sit at the front and get to squirt the pirates with a cannon.  It is a great show, and I am impressed. James then talks my son back onto Project X.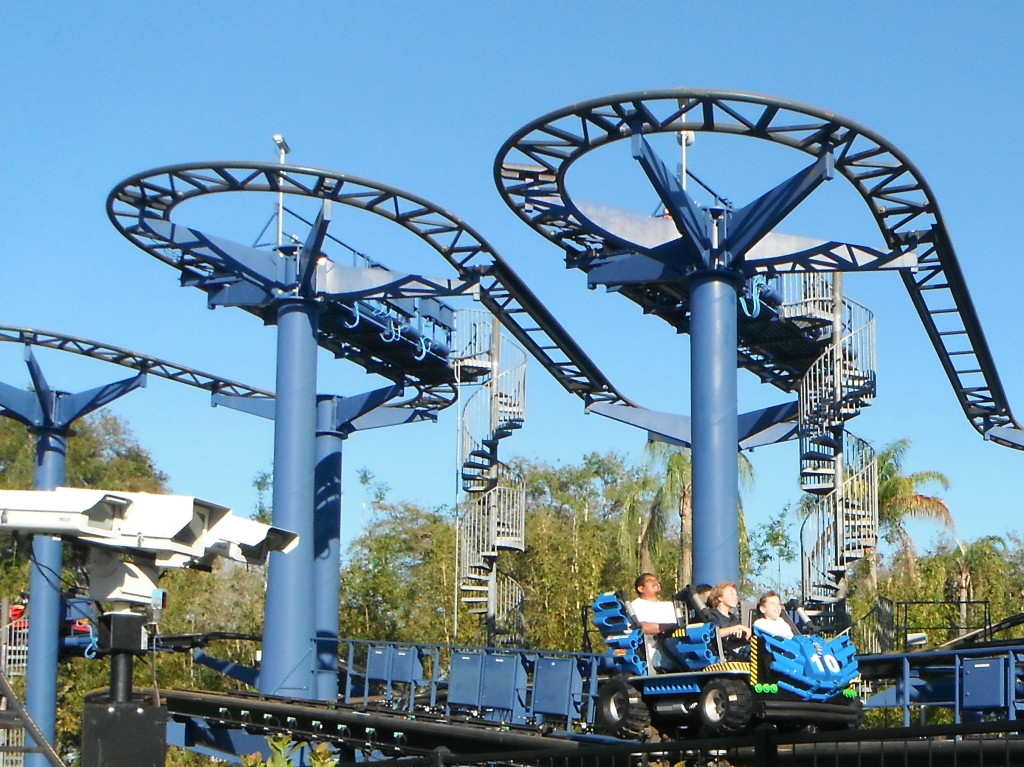 The look on their faces is priceless.  They love it. This is the ride I hated the other day.
The kids enjoy themselves in the games room, but as parents, we agree this can be played elsewhere, so we don't stay long there. It is however cool. It is a good place to cool down if you are overheated. It is very cool.
Next is the Dragon Rollercoaster. The signs indicate that this is super scary, but it isn't.  Very 'over signposted'. It actually put us off the other day. However, it shouldn't have.
You go through a Lego story land, then take a roller coaster ride.  I'm thankful the lines are shorter than Disney.  I also love that that there are Lego stations for the kids to play at if the lines are long – well thought out Legoland!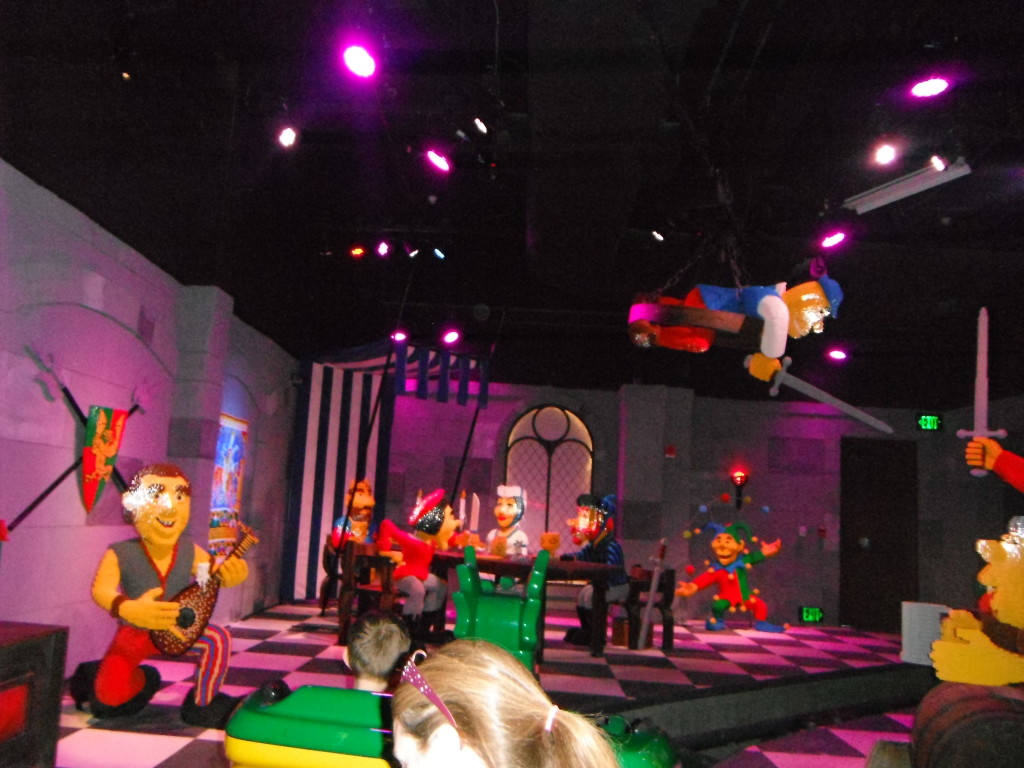 It is the end of the day. 6 p.m. and the kids don't want to leave. I wish we didn't either.  I really have enjoyed this part of Florida. I wish we had a week just in the Lakes area, or even longer. The people are nice, and the places are great and less expensive than the Miami region where we are headed to next.
So we get into our vehicle and head off.  I stop and get coffee at MacDonald's and we grab some food from the vehicle.  The girl makes my son a coffee shake instead of a chocolate cake and he is zingy. As we drive into the night we make a stop and gather warm clothes, and drape around the sleeping bags.
This was the hardest drive of the trip to date.  The GPS, which we named "wrong" took me to the wrong end of Ft. Lauderdale.  We finally arrived just before midnight.  My son fell asleep hours ago.  I drove on and on. We parked that night in a church car park near a marina. It was lovely and quiet and I had a pretty good night's sleep.
Day 11
We ended our last day in Fort Lauderdale.  We first jumped into a jacuzzi.  Then we had a great time at Xtreme Indoor Karting. After that, we headed off to Everglades Holiday Park.  We had a great time there and then drove back to Fort Lauderdale. Our last night was spent in a crowded Walmart Parking lot. We made friends with so many people.
I am looking forward to a real bed tonight. But I am impressed that we kept to our mileage allowance. The whole trip was 1313 miles. Allowable mileage was 1300. Now that is good planning!
Questions and Comments
What fascinates you about Florida?
Have you been to Legoland?
How was the experience?
Do share your opinions and comments with us below.