Last day in Miami USA – a day trip to South Beach
I can't believe it is our last day in Miami.
Not only Miami but Florida.
Not only Florida but the USA.
Not only the USA but the whole of North America.
Not only North America but this whole side of the world!
Where have 18 months gone?  We have seen so much.  So it seems right that on the last day, we go out and do our last bit of exploring. We pick Aventura (for the movies, and South Beach).
We love the crazy things we see. There are a lot of completely loopy people on the buses. Some good, some not so good.  But this is all part of the culture.  We have seen some things we rather would have not seen too.
But I did enjoy seeing how the African Americans love their hair. Crazy cool colors styles that are set to impress, and grab your attention.
As we wander up Lincoln Mall, South Beach, Miami, we enjoy the alfresco lifestyle and the warmth of the sun.
We buy my son a new trolley bag for an early birthday present.  Hs is too small since he is now a mad Lego fan, and has a few new lots to bring with us.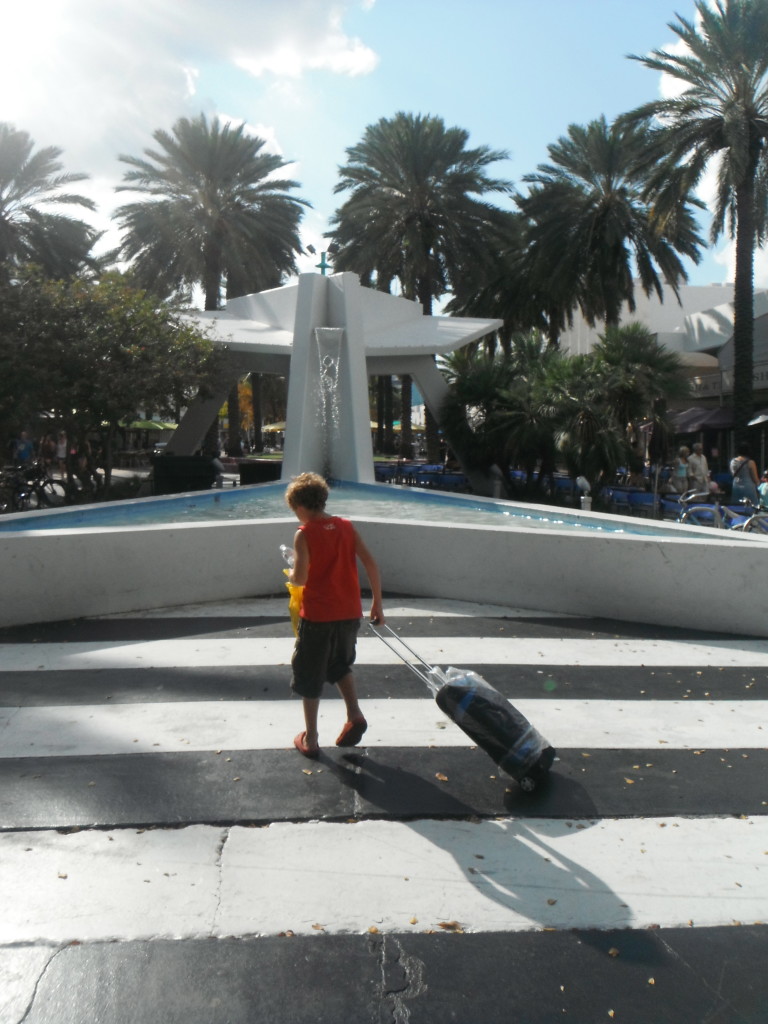 We also have a stack of books we bought.
So he is already wanting to use it today.
We have just been to the movies and seen, yes The Lego Movie.  We come out humming "Everything is awesome…"
As we head to the beach we see a lot of race cars.
One particular one (not this one either) my son decided was owned by a drug dealer!
So as we head to the sandy shores of Miami, we have a wander through the avenue of date palms.
This beach reminds me of something "The Hoff" would appear on many years ago from Baywatch (even though I think that was Los Angeles?).  The lifeguard huts are now somewhat rusty. And there are no red bikini guards around though.
He races to the shore and starts goofing around in the water.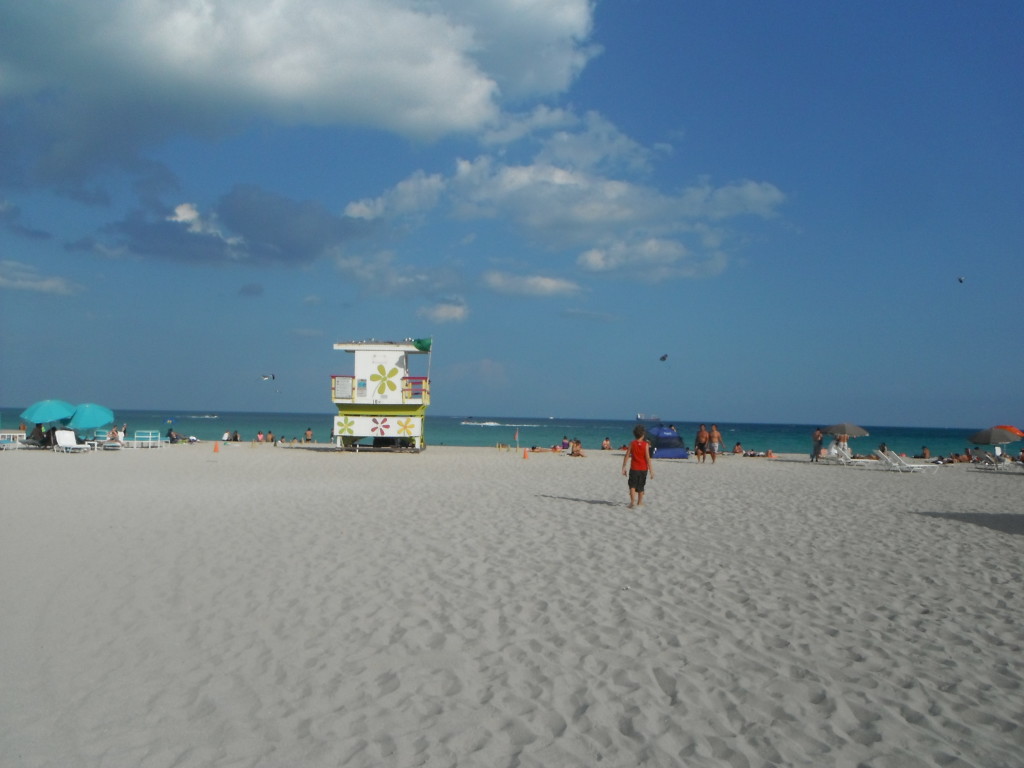 Soon we are mucking around, but it is a bit hard as I have to make sure the new bag doesn't get its wheels stuck in the sand.
So eventually he is stripped off to jocks and is playing in the sand.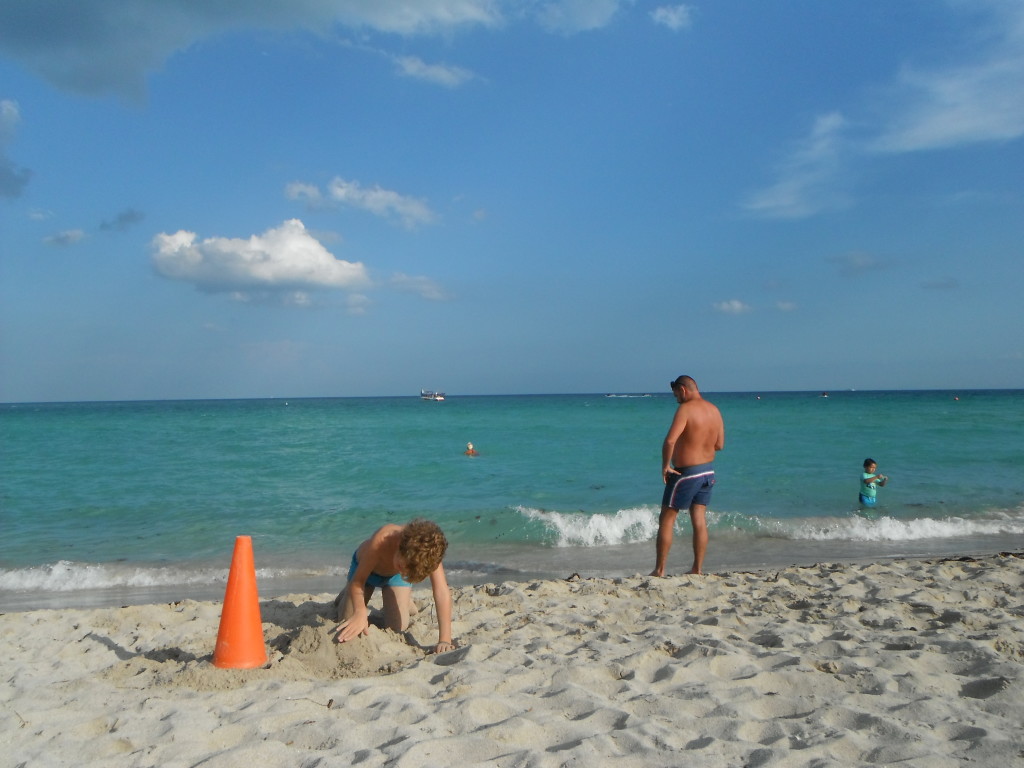 The place is packed with tourists.  It starts to suddenly get cloudy.
Soon the clouds are coming over and blocking the sun which is not what we wanted for our last day.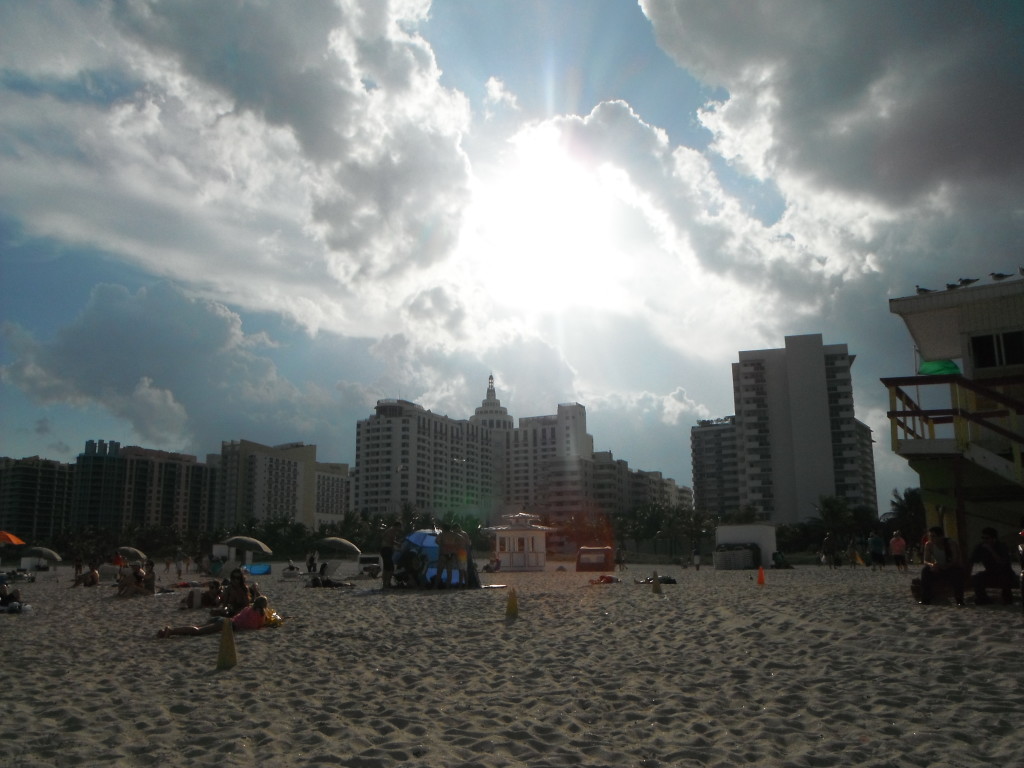 So we start to head back up the beach.  The Ritz Carlton has a nice play area, so we stop for a couple of photos.
Next thing I know, I am dragging him away, and he has made quite a hole for the next child to take over.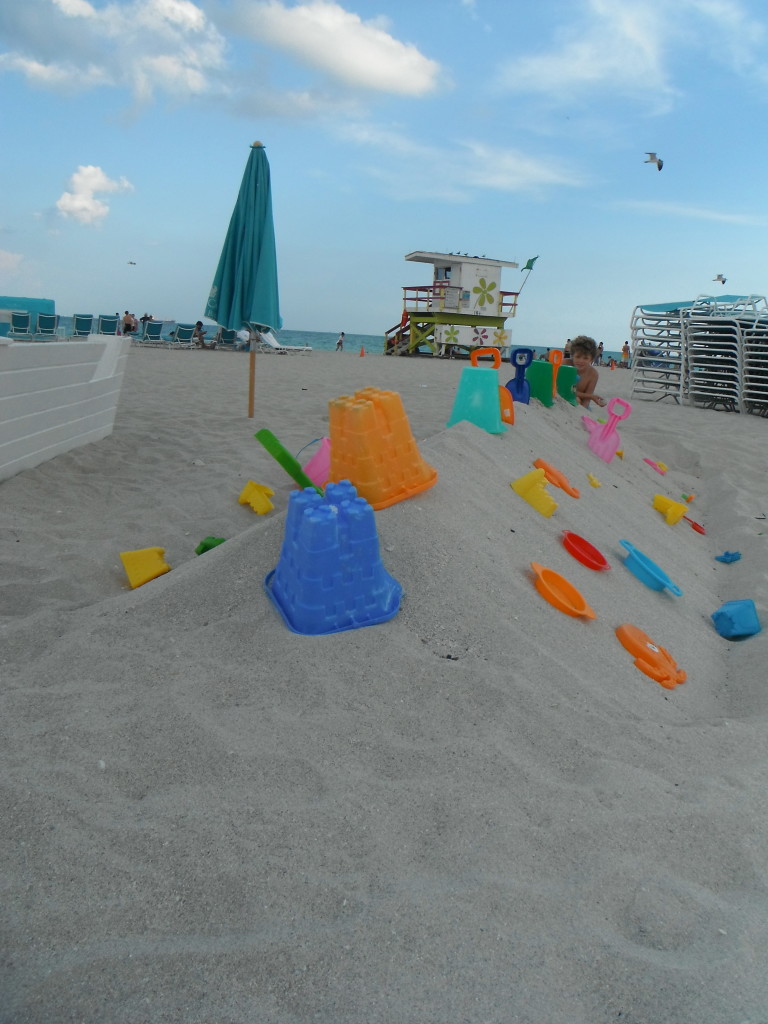 We wash off and go to get the bus back.
The bus system in Miami is shocking.  Most buses only run every half hour. So by the time the bus comes, it is spitting with rain.  We hop on and it, of course, is now peak hour.  It takes over 2 hours to get to Aventura Shopping Centre. The bus is so full, it is crazy.  My son is stuffed and at least sleeps the whole way.
Here we go to the bathroom, eat and get ready for the next bus back.
We arrive 'home' at 8:00 p.m. and I am exhausted.
So this ends this chapter of our travels.
We have had a wonderful time and gathered so many memories.  We have met so many people. My son's education is so enriched.  Thank you to all who helped us in our journey.
All I know is the more we travel, the bigger the world becomes.  There is so much to see. So many places to go.
And so many places to explore.
Good thing we are Exploramum and Explorason.
Stay tuned for where we head next.
Questions and Comments
What fascinates you about Miami?
What's your favorite place in Miami?
Do share your comments with us below.