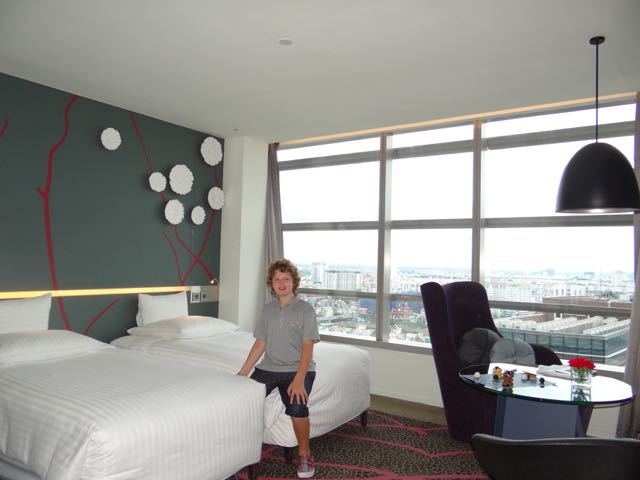 We love Vietnam!
So much so, that after nearly one month here, we found ourselves returning within a couple of weeks departing this lovely land.
We've just finished our Cambodia to Vietnam cruise and found the city of Ho Chi Minh luring us yet again.
Because of this, we think we can share with you a fabulous hotel we chose to stay in on our return.
… If you're heading to Saigon (also known as Ho Chi Minh) and you are looking for a centrally located hotel that is 'home away from home', this may well suit your needs.
With Ho Chi Minh being one of the busiest cities in the world as far as ration per person per sqm, where do you start?
We can give you a few tips on why we thought Pullman Saigon Centre was fabulous.
Centrally Located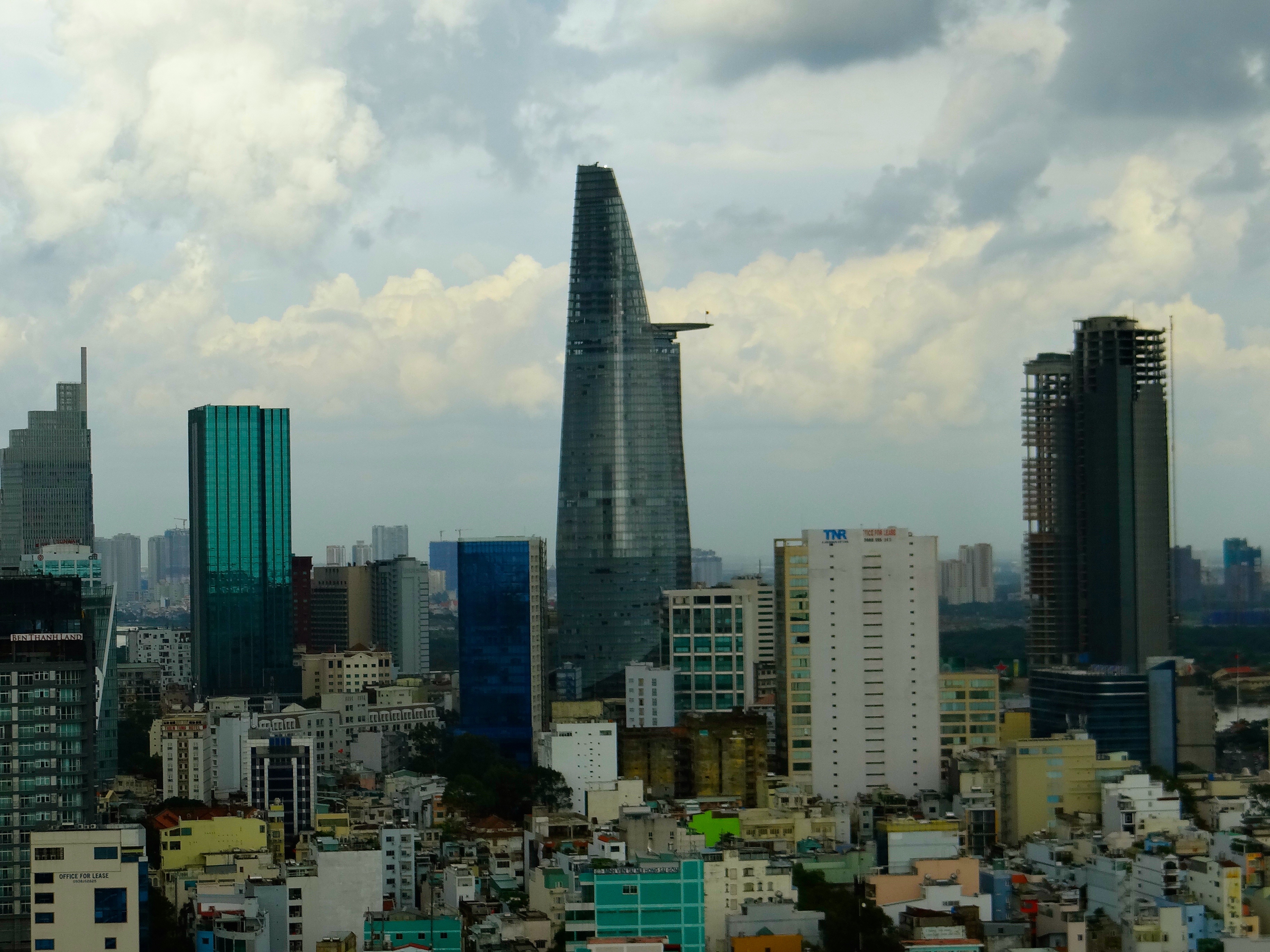 Saigon is conveniently carved into many central districts with imaginary boundaries.
You will find the Pullman Saigon Centre conveniently located in District One, which in my opinion is the prime real estate of Saigon, and the most central location you could desire.
Modern Rooms
Nothing beats the style and sophistication you will find in your guest rooms and suites here at Pullman Saigon Centre, and we can recommend them for many reasons.
Large rooms with 'suspended separation and motorized partitions' between bathroom, sleeping, and living areas maximize the light, space, and style.
Amenities And Services
We opted for the Executive Suite which came with a myriad of benefits.
Not only were robes and slippers supplied, but also two items of laundry are complimentary each day. Read on as we share many of the features we enjoyed at this modern property.
Read on as we share many of the features we enjoyed at this modern property.
One thing I am learning about Vietnam and Cambodia is that most modern facilities will have the universal power plug.  And here at this hotel, a flip-up charging station is also provided.
Of course, we enjoyed luxurious toiletries that are replenished daily that even included lovely bath crystals.
A 'Killer' View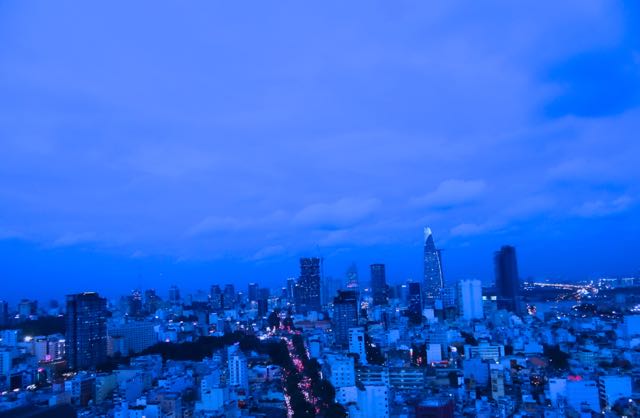 The 'A' shape of the Pullman Saigon Centre means there are windows offering maximum light and views to all guests.
Although double drawcord curtains are supplied we chose to pull them back and enjoy the twinkling lights of the city each evening.
I am an early riser, so at 5:00 a.m. as the misty city rose before me, I found myself making a lovely coffee in my room with the coffee pods provided and sitting in my day-lounge overlooking the city skyline as I had my quiet time to start my day.
God is always thanked every morning by me as I sit and start my day with a coffee. No matter where I am – even the uttermost parts of the earth, I realize I would rather have faith to help me on my journey than to have no faith at all. I never take my day for granted.  I am thankful.
Sitting in this beautiful location I appreciate that I have a healthy life and a wonderful son and that we are on an amazing journey.
Executive Room on Level 30
Located on 25-29 floors, the Pullman Saigon Centre Executive rooms are unique.  When we enter the ground floor foyer, we are promptly ushered to the Executive Lounge and Check-In on the 30th floor for a little more personal care and attention in the privacy of this luxurious setting overlooking the city of Saigon.
Here we experienced many added bonuses such as – complimentary breakfast, exclusive check-in and check-out, usage of boardroom – subject to availability and should we wish to meet in private, evening pre-dinner cocktail, wine, soft drinks and nibbles, all day coffee and tea, and a lovely Afternoon Tea – all with a glorious view.
Included in this service is the option to book one of 55 Executive rooms with extra special touches like in-room fitness options for executive travelers which included: a yoga mat and a pair of dumbbells. But there is more – a 46 inch LED IPTV, sound docking station, Espresso coffee machine and daily replenished complimentary bottled water.
Explorason thought this was all brilliant and we were definitely glad we had the extra services on hand – thoroughly recommend it.  
I found that each evening it was 'the place to meet' and we seemed to find it a great place to meet and chat with other guests.
Travel can often get lonely, so meeting people from all over the world and listening to their stories was right up my alley.
Children
Children (especially well-behaved kids) are welcome here at the Pullman Saigon Centre and the staff were very friendly and welcoming to my son.
There are two Children's Club:  0 to 3 years and 3 to 6 years, plus babysitting on request.
A playroom is located next to the swimming pool.
A toddler swimming pool is also adjacent to the adult pool.
The Cobalt Rooftop Bar is not available to persons under the age of 18 years, which means adults have that area of age exclusivity – and a killer view!
Wine And Dine
We stayed in late October, and as you all know October is the month of Halloween.
So down in the Burger Bar at the "Urbane Lounge" on the street level, burgers with attitude are served.
The black bun burger is stabbed with a syringe of bloody ketchup tomato sauce which of course any eleven-year-old would think is fantastic!
I love the imagination used in this hotel.
We also enjoyed the 'Cobalt Restaurant' where an incredible view is available – and some delectable Tapas served with a sparkling wine – perfect for our Saturday evening relaxation.
Great Indoor And Outdoor Bars, Pool, And Restaurants
There's a gymnasium, steam, and spa / jacuzzi rooms – all free of charge for guest use.
I like the fact that some of these facilities were separate for ladies and men, so I could relax and enjoy this in the privacy of a ladies only room.
As it was mid-afternoon I had the place to myself, whilst Explorason opted for his private time in our giant free-standing bathtub.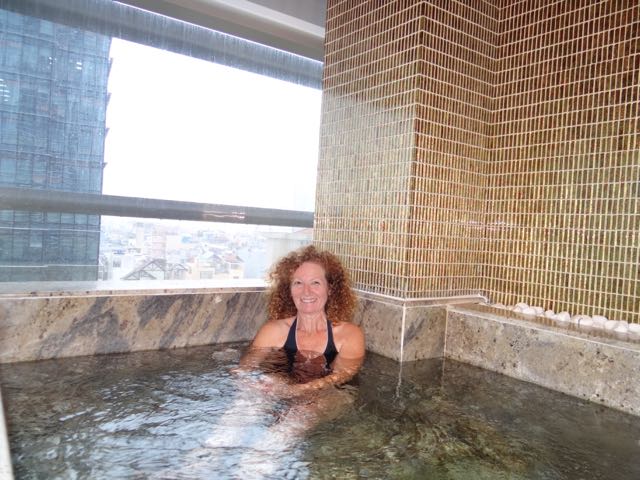 The pool bar is open until 6:00 p.m. and the perfect pit-stop after a morning sightseeing or visiting Saigon Square Markets (a short taxi ride or 15-minute walk away).
We loved Saigon Square – in fact, we have visited these markets three times in all of our Vietnam travels – great designer style wares at the fraction of a price, and even though they are supposedly set price, we found there was always room to haggle for a bargain.
Here is a list of all the great restaurants and bars (besides the Exclusive Lounge) that we enjoyed daily.
COBALT WINE BAR & RESTAURANT    ROOFTOP BAR    FOOD CONNEXION    URBANE LOUNGE    POOL BAR
Artifacts And Modern Design
My passion for eclectic and creative arts was well satisfied – wherever we went in the Pullman Saigon Centre we came face to face with modern and 3D art or fresh flower arrangements.
From legs protruding out of the lobby wall to cascading flower arrangements, there seemed to be something unusual that caught my eye each time I exited the elevator.
Celebrations Are Fun
We stayed the week of Halloween and loved the fun food on offer.  White ghostly appearances in my photo also appeared!
And Thursday night is always 'Ladies Night' where ladies are given extra special attention. Of course, this attracts quite a few of the gentlemen too!
The week we were here was Vietnam's Ladies Day, so free cocktails, prizes, and giveaways made the night a great event.  I had a great time and met some lovely people here.
Breakfast and Lunch Fit For Champions
Leaving the best until last,  I'd have to say the breakfast and lunches served here 'can't are super delicious and cannot be found anywhere else.
A great mix of 'East-meets-West' and a fabulous choice of healthy dishes are on offer.
Power and detox juices are available daily with my favorite being the anti-aging suggested to me by one of the friendly staff.
I rose early one morning to take the photographs of the amazing breakfast buffet, and before I knew it, several other guests had their phones out 'snapping away' at the stunning design and array of the food on offer.  One man from China would come over to me in great excitement when he found a 'cool' display.  It was quite fun!
Executive Guests also can enjoy a quiet breakfast served to them on Level 30 in the Executive Lounge as an added option.
So glad we returned to Saigon because when we last left my son had been ill, and it was nice to return and enjoy the city so much more this time around thanks to our stay here – We loved this amazing hotel.
Watch our YouTube Video Review of The Pullman Saigon Centre – Click Here
Pullman Saigon Centre
148 Tran Hung Dao Boulevard, District 1, Ho Chi Minh City, Vietnam
Email: H7489@accor.com
Website: Pullman Saigon Centre
Tel: +84 (0)8 38388686