My son loves golf. In fact, he was taking golf lessons when he was just 4-years-old, and so he is no stranger to the golf course.
Now we are in the USA we haven't had much of an opportunity to play golf, though we have heard the USA has some amazing Golf Clubs and Golf Courses.  I hear there are particularly good ones in the South of USA too.   We have always wanted to go to Texas and visit the Teravista Golf Club located in Austin, TX, and one day this dream will become a reality.  We heard it is one of the amazing golf courses near Austin TX. 
But for now, we will settle on a game of miniature golf instead.
So as we are driving down Highway 1 on the way to Key West in Florida, we spot a huge restaurant and, of course, a miniature golf course that seems to call our name. My 8-year-old begged me to stop!  And we are so glad we did.
This is the southernmost miniature golf course in the United States and the ONLY miniature golf course in the Florida Keys! And we love miniature golf almost as much as we love the game of golf itself!
The color-coded golf balls and putters make it easy for the whole family.
Once we selected our ball, we headed off to play. The area is lovely and shady, so even though it is hot, it felt quite cool.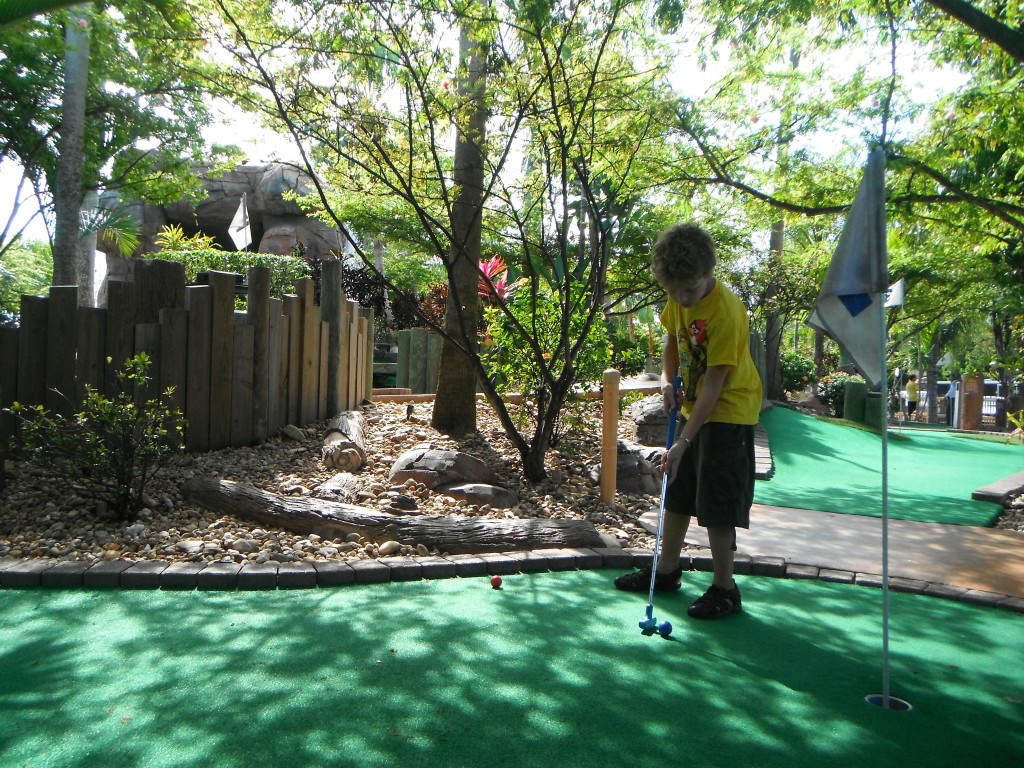 It is designed in a way that allows smaller children to play and achieve good scores. However, there were a few challenges along the way.
This included this nice little hill, where the ball dropped through a tube first. This was a hit with my 8-year-old. He managed to score a Par 2 and was pretty pleased.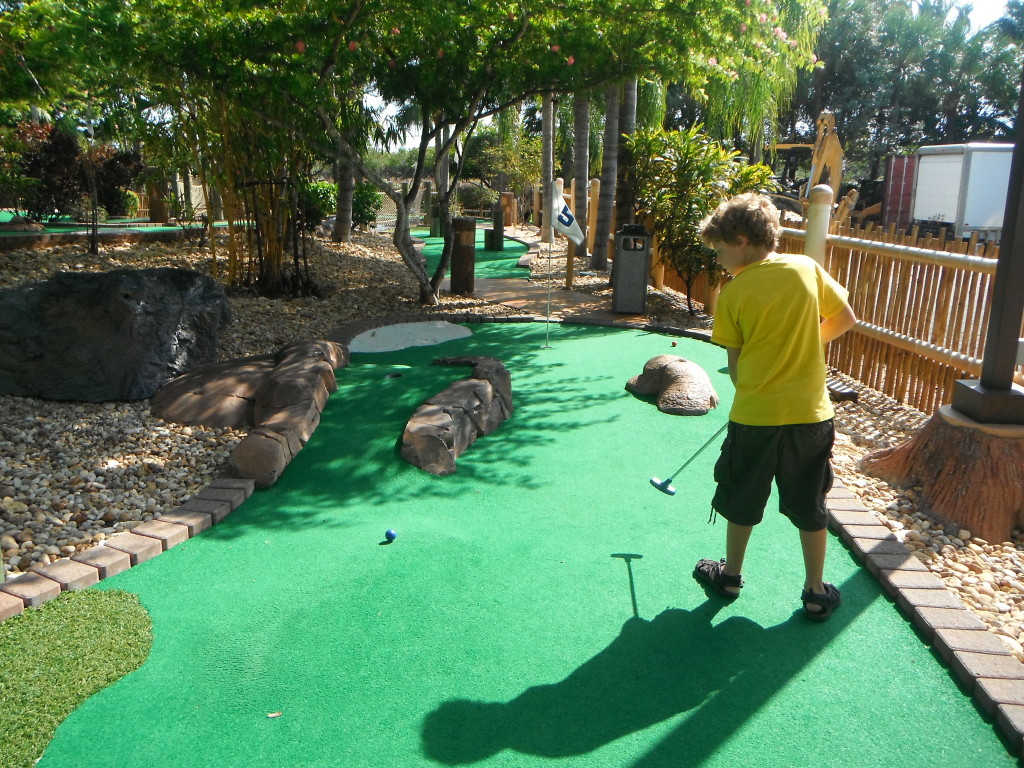 The layout is quite beautiful, and even though there were several families (and a few adults) playing, we all moved along pretty well, without delay.
Then came a really great challenge. He hits the ball into the waterway. But the water carries it down, and he manages a hole in one!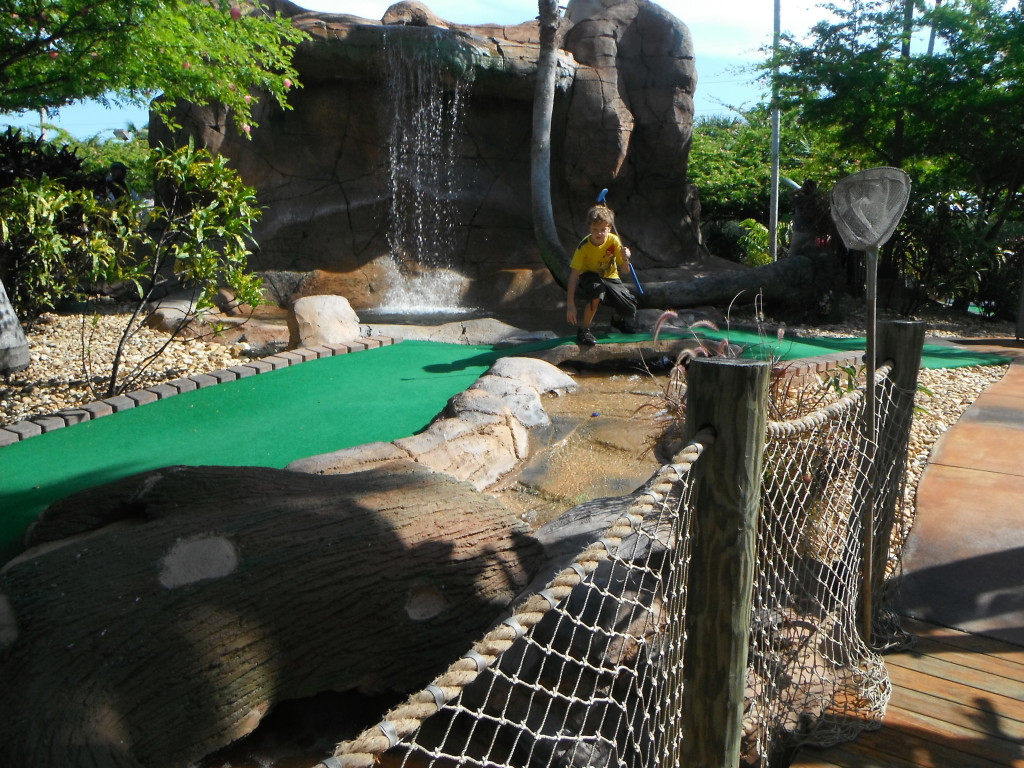 We were ready for the 18th hole, and for a nice cool drink at the end. Here was a lovely shady area near the amenities where we sat and enjoyed some iced drink. What a fun way to end our day!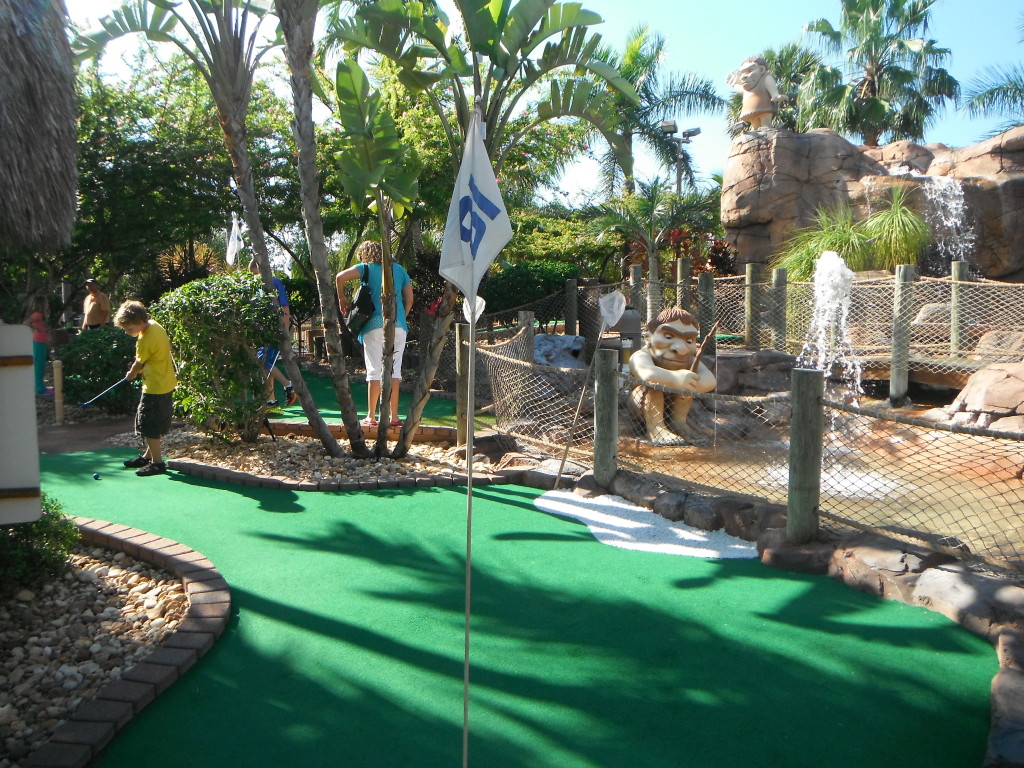 This review for this miniature golf property is unpaid and our opinion only.
Location:  MM 27.5, 27205 Overseas Hwy, Ramrod, Summerland, Florida 33042
Telephone:  (305) 872-4094
email: info@Boondocks.us.com
Website: www.boondocks.com
Date visited: February 2014
Child-friendly: definitely YES
Questions and Comments
Are you a family that permanently travels around the world?
Do you often travel with your child?
How do you strike a balance between your career, family and travel, more so if you are a single parent?
Do you have specific activities you engage in with your child?
Do share your comments with us below.