A Traditional New Years' Eve at a Finca. Trinidad Cuba
New Year's Eve day started out with a trip around Trinidad, trying to buy bottles of wine to take to the Finca (country property) we had been invited to for New Year's Eve.  As the shops closed at 12 noon, and town seemed to go into a bit of a frenzy, we ended up not being able to get into the door of a couple of the stores, or finding ourselves in a long register line-up.- in fact, it took close to 2 hours to walk down and back, and it was only a few blocks away down the cobblestone streets.
At 3 p.m. I was surprised by a knock on the door.  Were we ready to go?  What?  I was not expecting 3 p.m.  So I madly got dressed in semi-decent clothes, not knowing what the Finca would be like, in fact, I had no idea who would be there; or what style of country property it would be.
We walked down to town with our Casa Particular host family and waited as they tried several blocks to get a local American taxi.  The town seemed now to be dead.  Eventually, we managed to get two Bici-taxis to the edge of town.
After another long wait, we then flagged down an American car (beat up vintage) to the foothills.
As soon as my feet hit the dirt I knew I was over-dressed, and my best shorts and good top were in danger of ruin.  My flip-flops filled with hot sandy dirt as we wandered through several properties for what seemed to be forever.
Finally, we came to …. A peasant-style Finca.
Rustic buildings made with panels of fruit crates and wood planks appeared like a shanty before us.
Chickens ran around, and instantly the heat of the open pit fire under the pig on his wood pole hit me with both vision and feeling.
To be honest I was in shock.  I was not expecting such a humble place, yet we had been invited as a family, and my son was being shown the farm life and was loving it.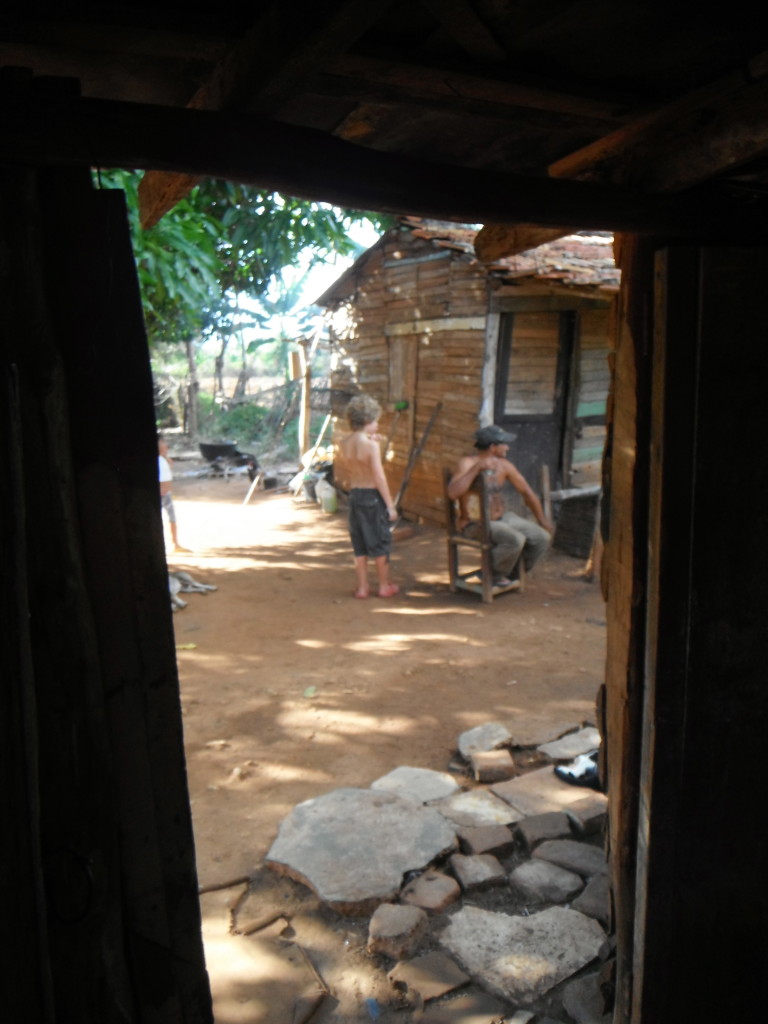 I decided to embrace the moment, and forget this was New Year's Eve.  I keep telling Explorason that our experiences are showing us a different way of life, and with long-term travel, this is becoming more and more a reality.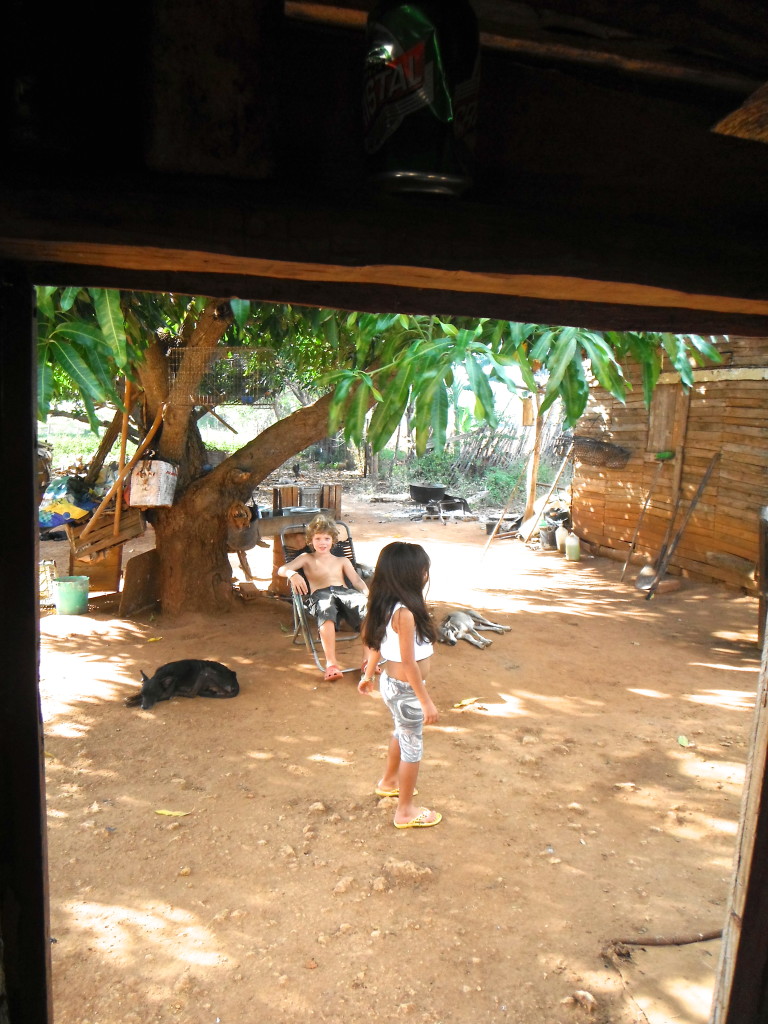 I grabbed my camera and started finding this as a place to explore.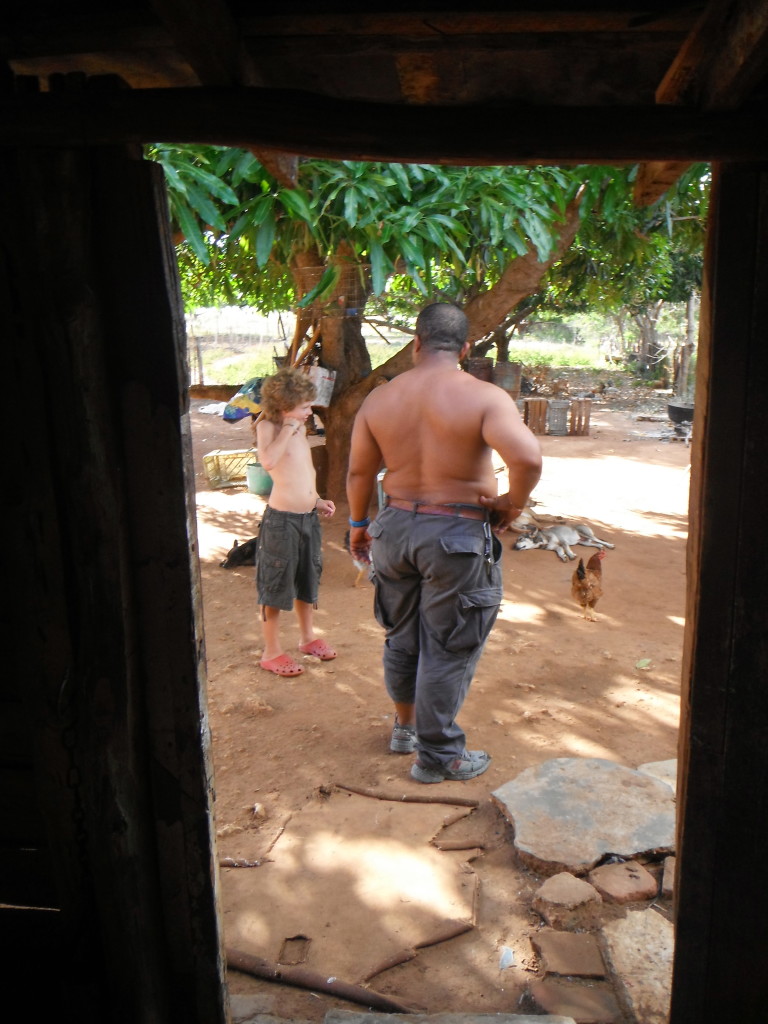 And as a new culture to learn, and I sat in a broken chair drinking Havana Rum and cleaning the husks from the rice grains in a big dish, whilst their daughter cleaned the beans.
Kittens were pulled from rusty buckets, amid the rubbish in the yard.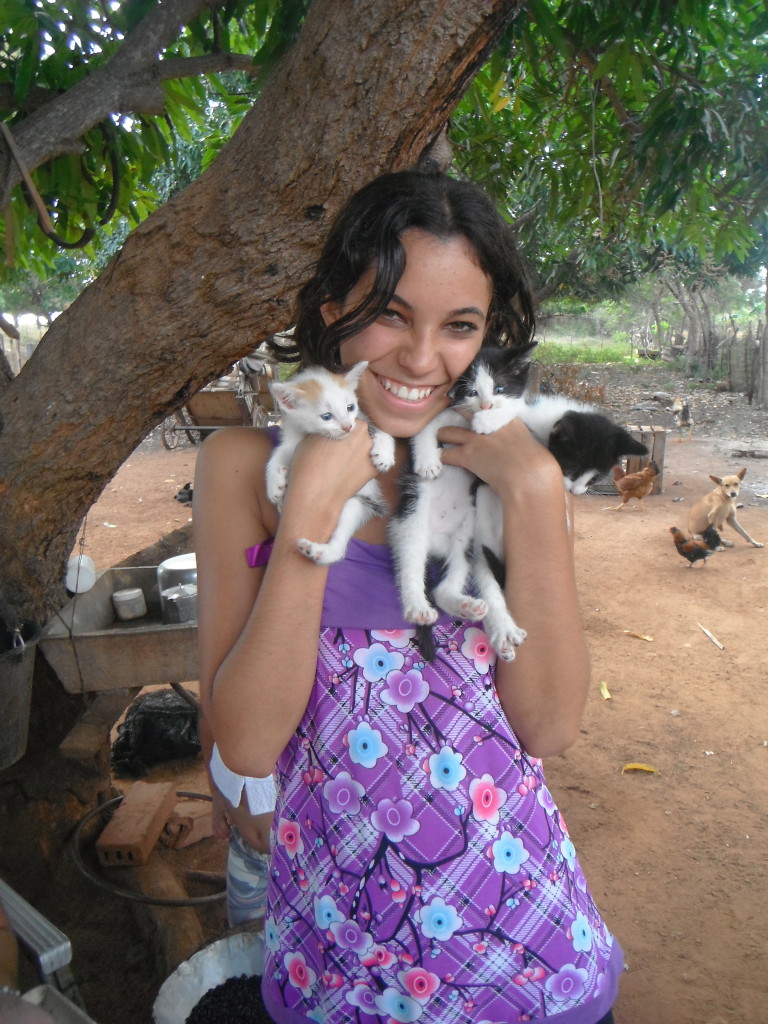 Chickens dived into the rice bowl and were shun away.  Hygiene was pretty well nonexistent, so I figured the cooking would kill the germs.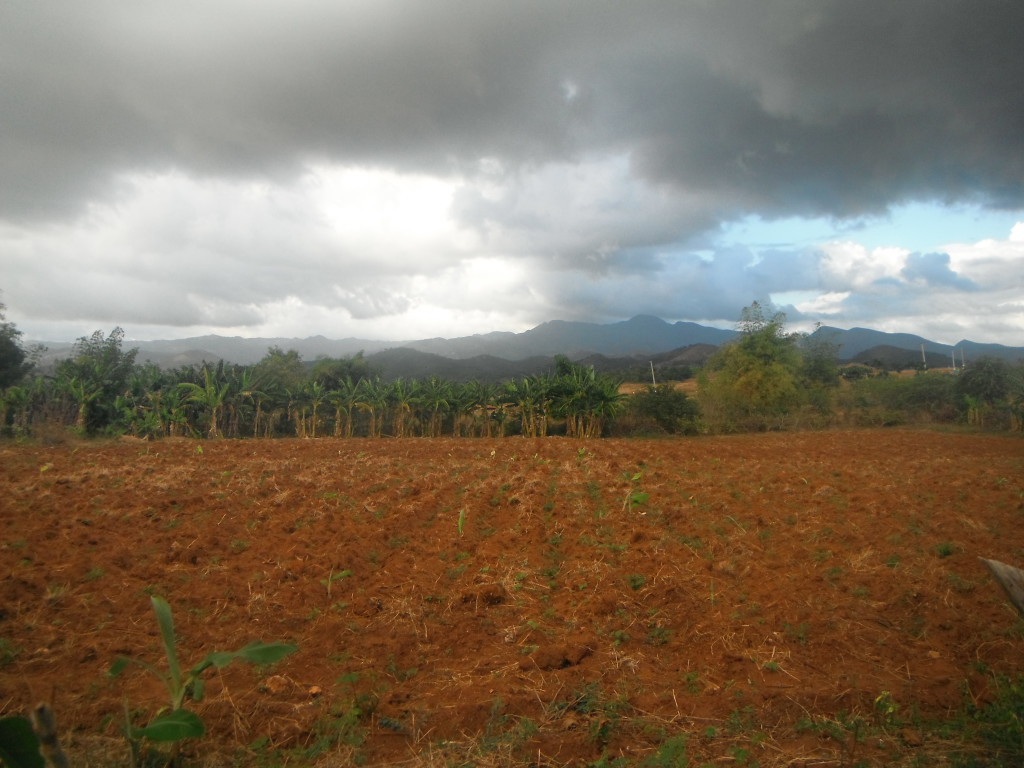 My son ran around with their 5-year-old Grand-daughter, and soon they were riding the horse.  In fact, he rode it around the property for hours.
Tumbling and rolling in the dirt.  Discovering cow bones and skulls.
His hair full of mango tree flowers, and his body starting to be covered with mosquito and sand fly bites.  And his face showing clear contentment.  This was a time for him.
Such kindness flooded before me.  I saw people who never knew us a day ago, open their lives and homes to us.  Cuba is poor.  They have little money, yet they have big hearts.  This was their family celebration, and they allowed us to share it with them.  Instead of feeling sorry for my shattered plans, I felt honored to be able to share what they had.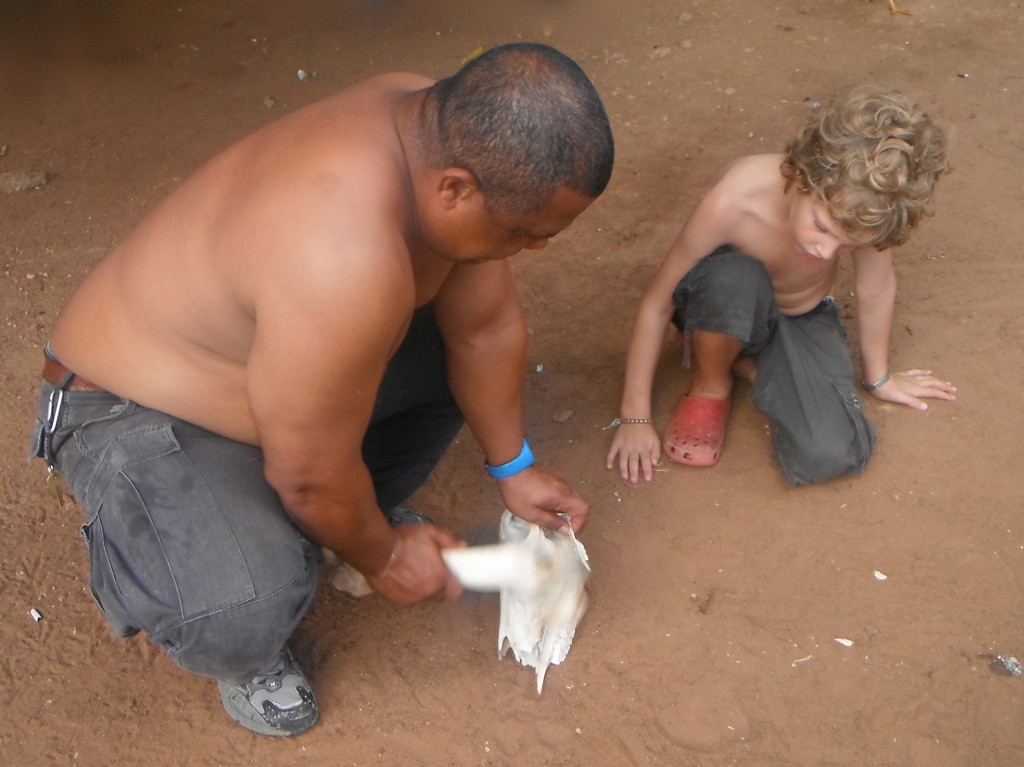 I presented my 2 bottles of wine, but of course, they had no corkscrew.  In the end, a home-made screwdriver was used to push the cork in.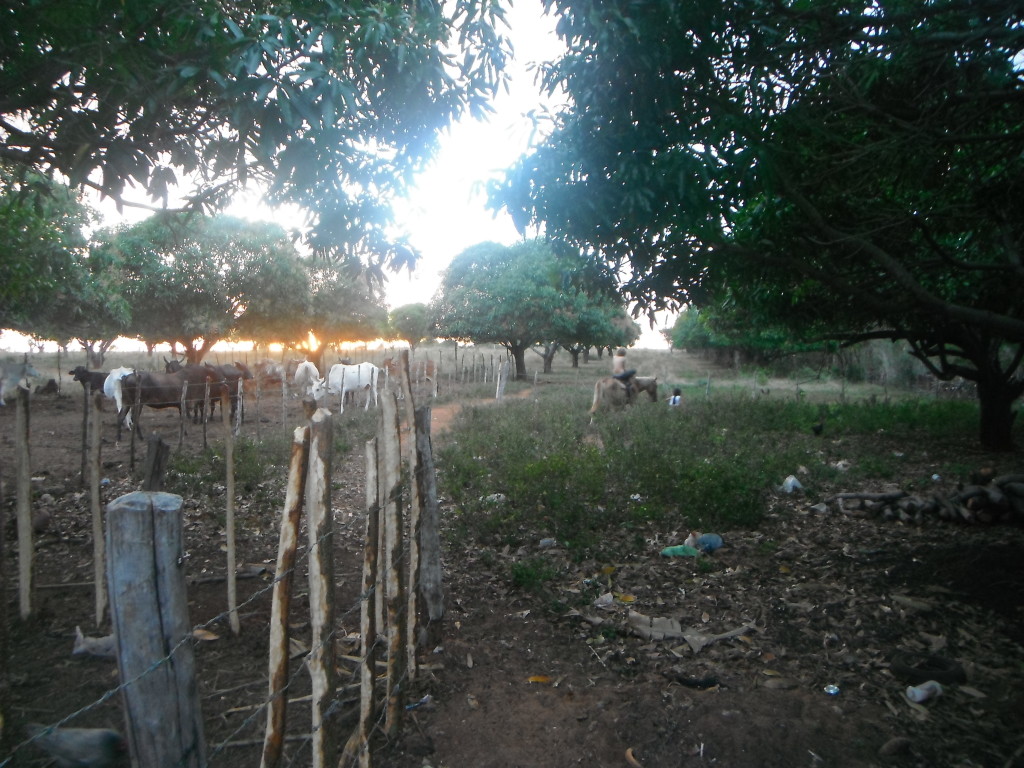 As darkness fell, banana leaves were laid on the homemade wood kitchen table.  The pig was brought in and the wood pole extracted.  The pig's head was chopped off with a machete, and rolled into a metal bucket, along with a few gizzards.
The meat was severed with a mix of beans and rice, along with vegetables from the garden.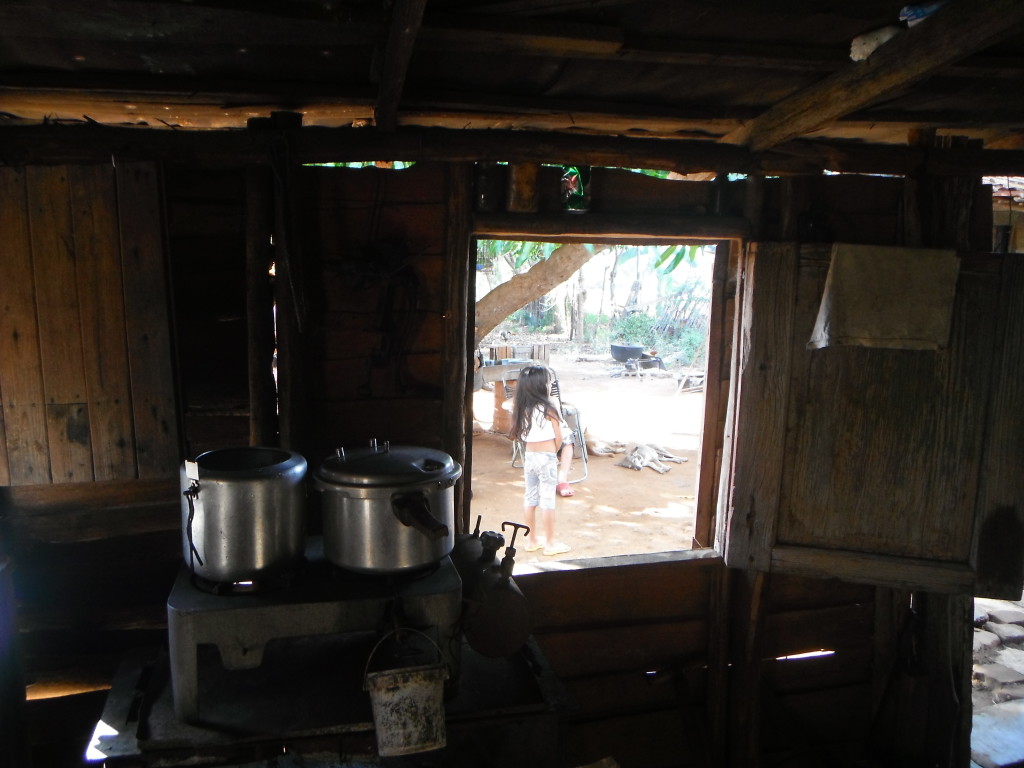 Now honesty kicks in here.  I couldn't face eating it.  I am not a pork lover and an ex-vegetarian, and I just couldn't face it.  So as the hens wandered through the little home, I would drop the odd piece.  I think I got away with it.  What! Didn't I realize was that Explorason ate what he tells me is 3 handfuls – no idea if they were clean handfuls – his or someone else's?
At 8:45 p.m. we were informed the American car was coming back for us.  We gathered our things and walked in pitch black through the fields.  I have no idea how they found their way, but at 9 p.m. on the dot, the car turns up and takes us back.  I am told it was 9 p.m. as there would be no sober drivers around after midnight.
As we headed back to their house, I was thinking how good it was, as we would be able to get ready and hit the town for midnight.  So as we took our cold shower (not hot water) my son said he didn't feel so good, so I suggested he has a little rest.
We both nodded off, and around the midnight mark, I was woken by him being ill.
Fortunately, he had made it to the bathroom, so the rest of my night was spent looking after him.
This was definitely not the New Year started I imagined.
Pork is off his menu for a long time!
He was quiet most of the next day, but we talked and decided to go out and pretend that this was our New Year's Eve even though it was the 1st January Eve).
This proved not so easy, as the casa host walked us to his friend's restaurant (probably for a kickback) and we didn't want to stay.  When we thought he had left, we took off, only to find him downstairs.  We then explained we wanted Cuban music so he took us to another mate's restaurant, but we wanted class and style.  In the end, we picked one he said was no good.  It was right on the square, and the music was playing in the street below.  But after about 1 hour we discovered they were out of a lot of the food we wanted, so we left.
We wander past horses waiting in the street – I felt like this should be 50 years ago, or more – not now.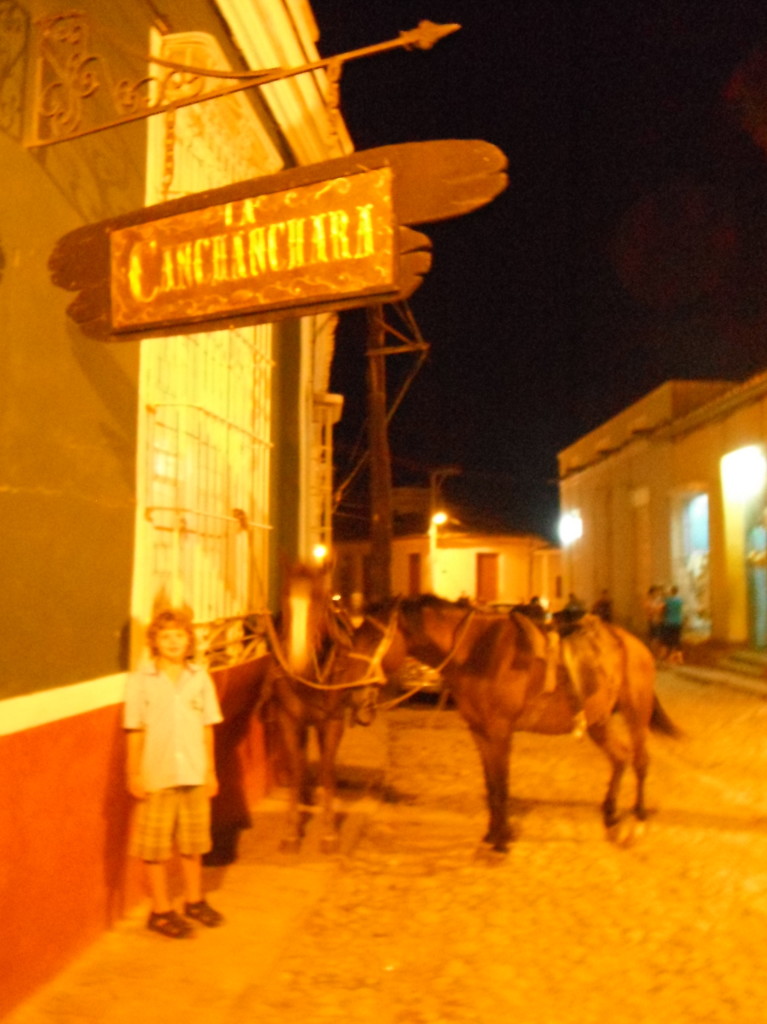 We needed this night to be good.  We wandered the cobblestone streets and stumbled across a restaurant with a band.  As we went to sit down, the owner said there was no charge for my food, only the drinks.  I was amazed.
Soon Explorason was up with the band, and we were having a great night.
We sang and tapped to our favorite Cuban tunes.  We had a great time and wandered back to the casa for our own "Happy New Year".  It was a day late, but we didn't care.
We ended up going out to the casa owner's mate's restaurant the next night, and he told him we wanted the band to play traditional Latino music.  We sung, danced and had a great time.
Life doesn't turn out as we plan.  But it all works out.  My 2014 sure has started out as one I will always remember.  Not as planned – different; but memorable!
Questions and Comments
Have you visited fina in Trinidad Cuba before?
How did you find the place to be?
What do you make of the discoveries there?
What do you think of their culture?
Do share your comments with us below.