We walked down from the Balneario Municipal Park for our next adventure which is Tubing Down Waterfalls.
Wrong Booking Time
However, there is a small problem. We had been given the wrong time and so we missed our booking. We had already been charged for the experience at Catarino's Guest House. They were wonderful, however, and booked us in with the next group which was an hour later.
This was fortunate, as really we had just relaxed next door and could have arrived earlier, but it all ends up having perfect timing before we commence our Tubing Down Waterfalls.
Exploring The Area
This delay gives us enough time to do other things in the area and to look around. I fall in love with the hanging chair and decide I want to make one where we end up living at the end of this trip.
Coffee By the Pool
It is nice that was were offered complimentary cool drinking water and coffee. Here in Brazil, milk/creamer is not served with coffee.  There is never milk served with coffee. Not on airlines, at restaurants, or now at this resort. So I sweeten the black coffee and we go sit by the pool.
Emu Talk
The River Tubing is a tour held as part of the resort experience so we are free to use the resort facilities. We can't wait for the Tubing Down Waterfalls as it looks like so much fun.
We wander around the property and enjoy exploring. I even have a conversation with an emu – I feel like I am back in Australia!
Fossils
We then head back to the reception and wait here for the start of the Tubing Down Waterfalls experience. There is a fantastic display of fossils and other items retrieved from the river. This is a great time for worldschooling as we discuss what we find.  I love the way we are free to touch and move the fossils carefully to enhance the education experience.
Time To Start
Finally, we meet our River Tubing group. They all speak Portuguese – except us. We are given a tour guide who speaks English – all to ourselves. We are then fitted with Life Jackets and helmets. They take time to ensure that they are of the right size and that they are well adjusted which I think this is very professional.
We are then taught the basics: how to hold on when to flip, how to paddle, how to hold onto the ropes etc. whilst in the water on the tube.
Mum Takes The Lead
We are told that as my son is the only child who is Tubing Down Waterfalls and so he must lie on his stomach when the waters are calm and I have to paddle. He has to hold my ankles and this seems to be a good tummy muscle workout. I head off and my son is behind me.
Suddenly, he decides he doesn't want to go river tubing, and he doesn't want to do it at all – oh no – too late as we are already floating off down the river!  I know he will be fine as he is an excellent swimmer.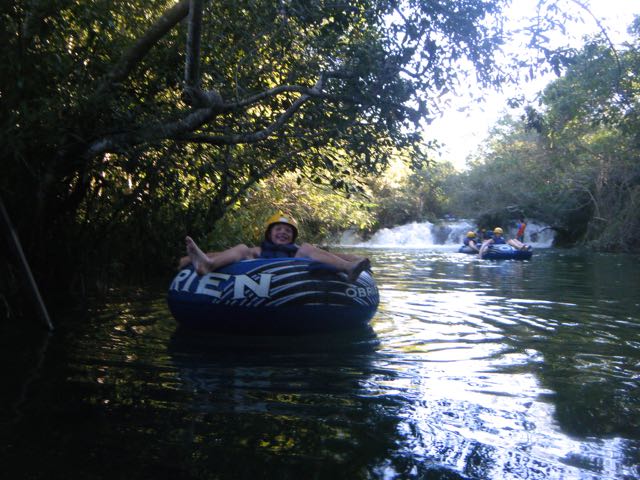 We have a gentle float to start, and all seems good and it reminds me a bit of a water park. My son is nervous, but I know he will be OK.
We all joke and have a gentle float to the first falls. I am completely dunked and that makes everyone laugh. I am yelling at the guy leading our tubes to get my son as I fear he is going to hate it. Explorason goes under the water and comes up with smiles.
 "That was epic!" he says with delight.
Now I hated it (as I don't like my head going under the water) but I can't let him know, so I keep that to myself. We grab the hold-rope and wait for the rest of the group who speak Portuguese.
Waiting Around for the other Tubing Down Waterfalls Clients
There are a lady and her daughter and they are so lovely to us. She speaks a little English and she makes our afternoon so delightful.  I realize how lovely it is to meet people with kind hearts when we travel and what an impact they leave on us.
Rocking The Tube
One of the guys rocks us and tries to make us fall out. I love the fact my son gets extra help and attention and he repeats this over and over as he squeals with delight. It makes him feel special and he is having a ball. He can swim by himself if he needed to, so I can relax too.
Three Waterfalls And Three Rapids
The Tubing Down Waterfalls adventure ends after 3 waterfalls and 3 rapids. "Let's do it again," Explorason says – a far cry from his apprehension at the start.
Alas, our budget is already exhausted for today. Most tours are over $100 and I think this place is way overpriced compared with the experiences we have just had in other parts of Brazil.  But we later find out Bonito, in general, is a very expensive tourist town, so keep that in mind when you book.
Back To Bonito
We head to town back on our Moto-taxi I to try and find where they make the famous sugar cane drink, but the bar is closed as it is too early in the day. So maybe we can do that tomorrow. I grab a few supplies to make dinner from the supermarket and we head back to the Guest House.
Catarino's Guest House is wonderful. All the guests are sitting and chatting in a central area. It is a small area and we all get along well. Guests play with my son and I cook dinner.
As I cook dinner, we have a great time talking and joking. It is lovely staying here and I love the communal atmosphere.
Comments And Questions:
Have you ever been river tubing?
Would you book this experience?
Have you ever seen an Emu up close?
Tell us your thoughts in the comments below – we'd love to know.
Find Bonito River Tubing Here
Rodovia Bonito Guia Lopes Km 7

, 

Bonito, State of Mato Grosso do Sul 79290-000, 

Brazil