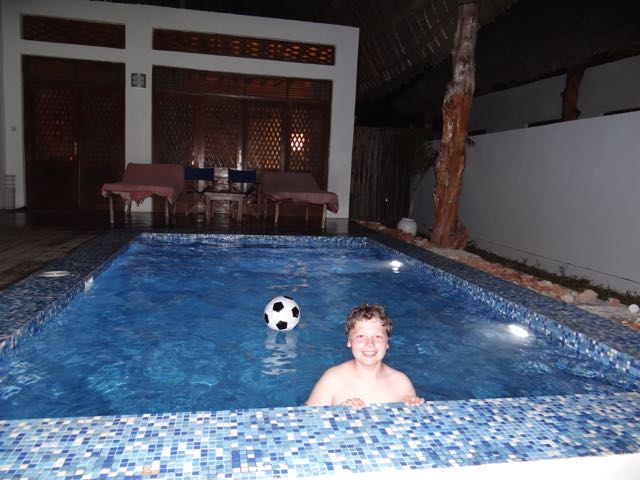 Imagine cooling off in your own private pool before bedtime. Swimming under the stars in cool water was a just luxury for Explorason.  
The warm Zanzibar night breeze wafted gently up from the Indian Ocean.
Earlier at Pongwe Beach Hotel, we have also enjoyed a swim in the infinity seaside pool which was perfect for our daily laps. Here, there are perfect swimming choices – all day and night in Zanzibar.
And then late in this Tanzanian afternoon, we enjoyed a seaside dip in the shallow warm Indian Ocean. The water being so warm, it is almost like a lukewarm bath, being slightly cooler closer to the shore.   The tide is out for most of the day here, so a swim is only a possibility for later afternoon, due to the shallow depth all the way out to the coral lagoon reef.
It has taken a while for us to adjust to the tropical climate of Zanzibar since we arrived a couple of weeks ago on this island paradise, and a dip in the pool is just the perfect answer to cool his body temperature before we drift off to sleep.
Where Are We?
Pongwe Beach Hotel is a 20 rooms small and intimate boutique complex located to the north but still on the east coast of Zanzibar.
Life in Zanzibar takes a slower pace, but we are here to slow down.
When we arrived, we unpacked only the essentials in our spacious Sea View Suite built using a labor force from the nearby Pongwe village.
The buildings have a coconut palm-thatched roof called 'Makuti' (with the leaves collected from Zanzibar beaches), and the lime-wash walls add softness to the interior, but I love the hand-crafted wooden doors the most – a grand entrance indeed!
Sweet Sea View Suite
Our suite at Pongwe Beach Hotel has some fabulous features including a Zanzibari style wood carved double bed plus single bed (for Explorason, which he loved), and of course with mosquito nettings and a fan.
In the entrance hallway, we have a unique locally woven wardrobe with a lovely brand new traditional African robe, 3 woven hats for us to use, a basket with swim towels and a flag to use if we want to be served (I like that!).
The Suite's Ensuite
The en-suite Moroccan-style shower is a double walk-through huge area behind a private wall in the massive bathroom that has a sit-down dresser with feature lighting.
The interesting thing here is that that the hotel's water supply is actually from a well that is on-site, but it is mildly salty water because as the high tide comes in twice daily, it mixes the fresh well and sea water together.
I really enjoyed the coconut and lime body toiletries here – such quality!
Private Patio And Pool
We've our own private patio with clothes dryer and sun beds and the doors from the suite open out – I loved this.
Each afternoon a platter of fresh fruit was brought around for guests to enjoy.  Something that is not expensive, but a great touch that left guests feeling special.
Different Rooms And Suites
They have 3 room types spread across the long beach-front property suitable for different budgets; and some family rooms.
We moved at the end of our stay to a smaller Beach Front Room that was closer to the ocean. We still had two beds, and a table to work on, and my favorite thing was the lightest and softest African fabric robes I ever wore here.  I should have asked if they sell these robes because they were just perfect to wear for the mild mornings.
Although this room had no pool, I loved the fact I could watch the sunrise from the daybed outside.
Sunrise Coffee Service
One of my favorite things was morning coffee served at sunrise. The strongest and one of the happiest Tanzanian men named Moody would carry a dozen hot water flasks, and his assistant would bring the stainless steel coffee plungers (French Press), mugs milk, and sugar.  I loved my morning 7:00 a.m. coffee and it was during one of these mornings that I witnessed God make one of the 'most perfect' sunrises I've ever seen as it dawned across the turquoise ocean.
I raced to the beach and mesmerized, took about 50 photos (you can see one at the bottom of this article).  For camera and iPhone users, I often find the iPhone picks up the colors for sunrises and sunsets very differently than my Sony Cyber-Shot camera, so I used both this day.
For camera and iPhone users, I often find the iPhone picks up the colors for sunrises and sunsets very differently than my Sony Cyber-Shot camera, so I used both this day. Tip: Never use the zoom on an iPhone – always edit later as you will get a better quality photograph.
The Beach
Our new room had a great outlook to the beach. With high and low tides twice daily, many believe this to be one of the 'most perfect' Zanzibar beach that this eco-hotel is located on. It is a stunning private cove with white powdery sand, and lovely shells to collect.
Because we were sunburnt, we stayed out of the midday sun as it gets too severe, but we saw many guests enjoying the welcoming shade of the coconut and palm trees, or using a beach shelter made from local thatching.
Explorason loved the new nylon rope hammocks that swung between several of the trees.
Breakfast
Once again happy Moody would serve us for our breakfast. He is Muslim, as are most on this island, and we get to talk to him – he is just a lovely man and his mood is always a good one. In fact, several of the staff here including the receptionists were really happy, and we could have a joke with them.
With hot and cold choices to start the day, and a lovely buffet, we found we filled up so much at breakfast we never ate lunch.  We are on a health kick, and they serve a wide choice of natural 'African Pride' Teas including a ginger one I adored.  There is day-long coffee, tea, and chocolate drinks available at no charge for the guests, so this kept us hydrated nicely.
Plus there is a lovely relaxation area adjacent to the dining area too.
Breakfast is served from 7:30 a.m. to 10:00 a.m. and with a vast choice including full English breakfast choices (even baked beans!), fruit, muesli and cereals, yogurt, fresh juices, tea, coffee and hot chocolate.
Bush Babies
Each afternoon around 5:00 pm, the guests gather for cocktails and to feed the bush babies with their daily meal of bananas.
The kids here loved this time so much. As world travel experts we were very impressed at the extras here at Pongwe Beach Hotel that made guests feel special.
In the evenings as I lie in bed I can hear the bush babies.  They are kind of like an African possum in a way, and are a part of Zanzibar life.
They are here to say "Karibu".
"Karibu" is "welcome" in KiSwahili.
Website: Pongwe Beach Hotel
Email: info@pongwe.com
Address:
Pongwe Beach, Pongwe, Tanzania
Questions and Comments
What is your experience staying in an accommodation with a private pool?
Do you believe that luxury in an accommodation is boosted when it has a great view?
Feel free to leave us a comment below. We will greatly appreciate your insight.