Head Lice And Holidays
"Mum, there is a party in my hair" – no it is head-lice!
Yesterday we were meant to go on a single parent travel trip to Beachcomber Island but head lice and holidays suddenly form a new part of our travel adventure. We wanted to experience the fun promised to us by our luxury travel expert, but then the unexpected occurs. So we were all set to go on this hopefully magical family trave. However, the Customs Police canceled our boat ride, as it was illegal!
Since we had already been last time we were here, we happily negotiated a credit off our hotel account – and as we had already bought the package as a super cheap deal off eBay from someone who was unable to use it, this meant the whole week was a massive bargain!
I get smart, and hop over a rope and 'Bala-Bala' carved stump (kind of like a dead burnt tree fern that is carved into a face like the ones in the picture below), lacerated my leg in a 3 inch square – which looks like 50 thatched razor cuts, and ends up discovering it is full of wood splinters. Ouch!
So we took off once again down the Sugar Cane Train track to get a local bus. We decided to see how many water-slides we could find at other resorts.
But first, we say goodbye to Liam – my son's friend from New Zealand.  Here below are both boys drinking coconut milk.
My son was very upset as his friend Liam was leaving the resort to go elsewhere, so he hoped he would see him again, and he had a few tears. We find our first slide.
But after the first slide, we headed by bus, aiming to swap buses at the junction by-pass. We pass a Fiji Indian truck nicely decorated.
Suddenly we see the shuttle from our resort and hail him down. Inside is our friends (and his buddy) moving to their new hotel. My son was amazed!
We hopped off the mini-van and left them again, and headed to the next hotel with a water-slide.
Staying for another hour or so, we decided we needed food. On the way, once again the tears start about him missing Liam, and as we walk into a corner café, there they are again!
Alas, the kitchen had just shut, so we headed to Denarau Golf Club – a great place for a reasonable meal if you are in this upper-class neck of the Fiji woods.
We then set off for the last water slide at a resort we had previously stayed at.
It was deemed the winner slide, so it was like dragging a pit-bull from a steak, as we raced out to immediately hop on a mini-van, and then a local bus.
The maniac bus driver is going at top speed when he can, with one finger in and out of his nostril and into his mouth, with the gathered prize he chews!!!
He then would go about 10 meters, stop and pack more on and off the bus like cattle. Four people (plus shopping or mats or bags) to a seat that held two and my son falls asleep.
The ride is peak-hour, and I spot two Chinese ladies, who introduce themselves as Violet and her Mum, June (who looks younger than me and speaks no English) and who are in the room next to us back at The Anchorage Resort.
They have no idea how to get back to the resort. I am glad, as by the time we get off the bus in the village it is near dark, and we yet have to walk the Sugar Cane Terrain trackback for 15 minutes.
Since I feel like a 'knowing leader', I can perform a random act of kindness in leading the troops safely back.  We pass a few locals, and we all carry sugar cane sticks as weapons – just in case.
June is a bit frightened, but by the end of the walk, we have made new friends.
Head Lice And Holidays
That night, my son madly thrashes at his head and informs me 'there is a party in my hair'. I fear the worst and empty about 6 bottles of resort conditioner onto his head.  Oh no – as I comb and wipe it on a tissue, I find about 50 head lice. Some are monsters.
I am pretty sure he has had these – and my guess is from when he was on a spinning disc ride at Coney Island, Luna Park in Sydney, where the kids' heads were all banging together, or when he tried on a cap.
I also figure out that if he has them, there is a good chance he may have infected me and head lice and holidays now seem to merge together.
We cancel our earlier plan to meet our Fiji friends for the next day and instead head to town for treatment.
I realize I can't comb out the back of my head, and my son would be useless to do a thorough job, even if he tried. So I 'hunt out' a hairdresser.  His shop is empty and as I ask if he can treat head lice, he looks like he has seen a ghost and ushers us out, and I don't blame him.
We find a Chemist – Drug Store, and discover this is not a common Fiji problem, and it is an expensive one. We then traipse across town, and call an Indian lady hairdresser out of her shop, and ask her quietly if she can help.
She is lovely! She assures us that head lice and holidays don't go together.
We are shown into the back of the salon and treated quietly and kindly, while my son happily plays games on the iPod, and then also both given hair trims to finish. She is such a professional, meticulously clean and thorough lady; I have to recommend her on this blog and am thankful that the chapter on head lice and holidays is hopefully ended.
©Exploramum and Explorason – treating head lice
Phone 6701961. So if you need a hairdresser in Fiji, I suggest this salon.
She made my day, and we can give ourselves a further and final preventative treatment before our ferry-boat ride next week. Not the party I had expected nor head lice and the holidays that I wanted! Definitely gate-crashed with pests.
Update:  The head lice drama continued on and off for weeks to come. I now NEVER travel to tropical destinations without herbal head lice shampoo.
Questions and Comments
Can you imagine being infested with lice on a trip?
Have you ever been infested with lice?
What crazy experience have you had on your trip?
Please share your comments with us.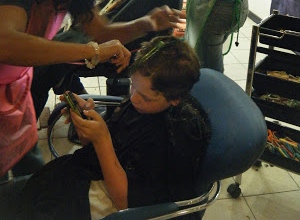 ©Exploramum and Explorason – Explorason at the hairdresser