Havana, Cuba – stepping back in time.
PART 2  
This is Part 2 of a 2 part blog on our first days in Havana, Cuba.
This morning we waited nearly an hour in a lineup to change some of our CUC's to local Cuban money.
Returning to our apartment, I was shocked to see my brother-in-law standing in the doorway, talking to a man from our building.  He said he was early. It was noon.  We had arranged to meet them at 1 p.m. but what they didn't realize was they were a day early – their watches still on Australian time.  Amazingly our apartment was 2 blocks from their Casa Particular – perfect!  We walked in to give my sister the fright of her life.  She had just got out of the shower, and we hugged and cried and were so pleased to see each other.
We headed out for lunch to a restaurant I had been to the day before.  On the way, we stopped to watch some old guys we had become friends with play checkers under a decaying building.
But this day they decided to charge 2 X the price, even though I had tipped yesterday!  This really unimpressed and embarrassed me, as I had gone on about the good value.  We managed to get the bill partially corrected but things were added to the bill way over 'normal', but it wasn't worth the argument. Apparently, it is very common for restaurants to 'hide' about 5 CUC worth of extras in the check, so it is worth checking!
Next, we wandered to the train graveyard behind the Capitol Building.
We walked the streets of Havana.  Having been there a couple of days, my son and I knew our way around.  It was great.
We went to the Capitol and hired an old convertible.  It was late afternoon and the deal went from $30 to $10 for about 40 minutes.  This was well worth the money, and as we drove along the Malecon seawall, I was able to see more of Havana, and it was all falling into place.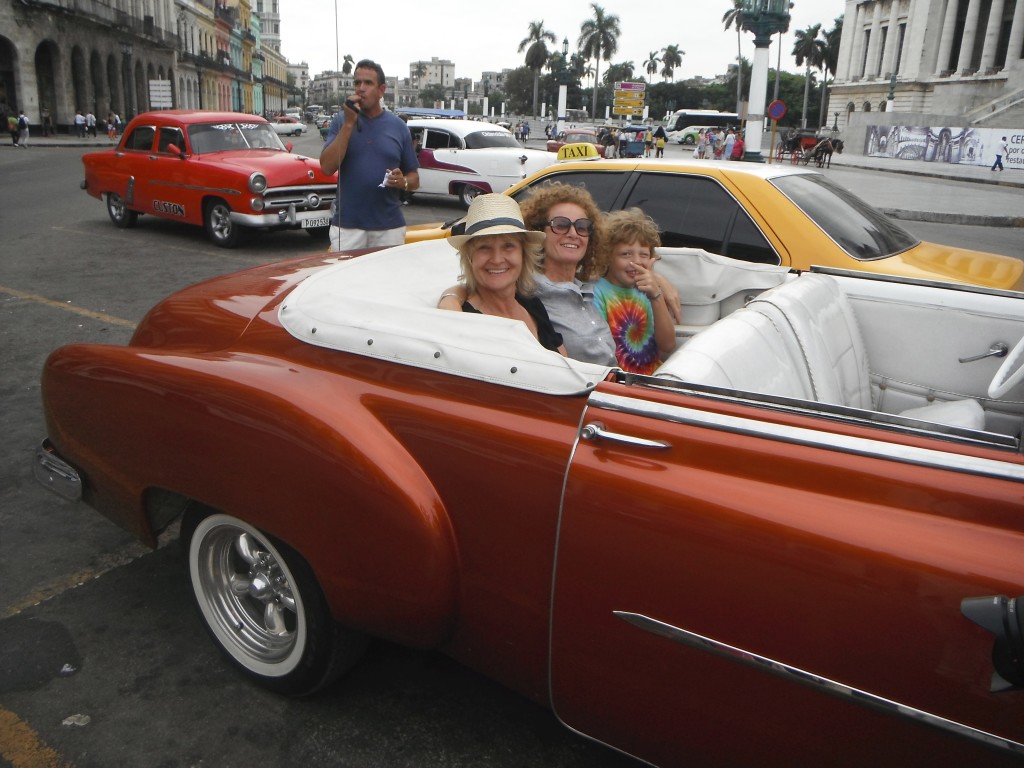 We finished off at the end of Obispo in a great street market – it felt more like Europe than Cuba.
We finished off with a Bici-taxi race back to our apartment.  What a surprise day this turned out to be!
The next day we met them and spent the day exploring. We started by hiring a local car and taking us to the fort – via the underwater tunnel.
Then onto the Plaza de Revolution.  It was lovely to share it with family.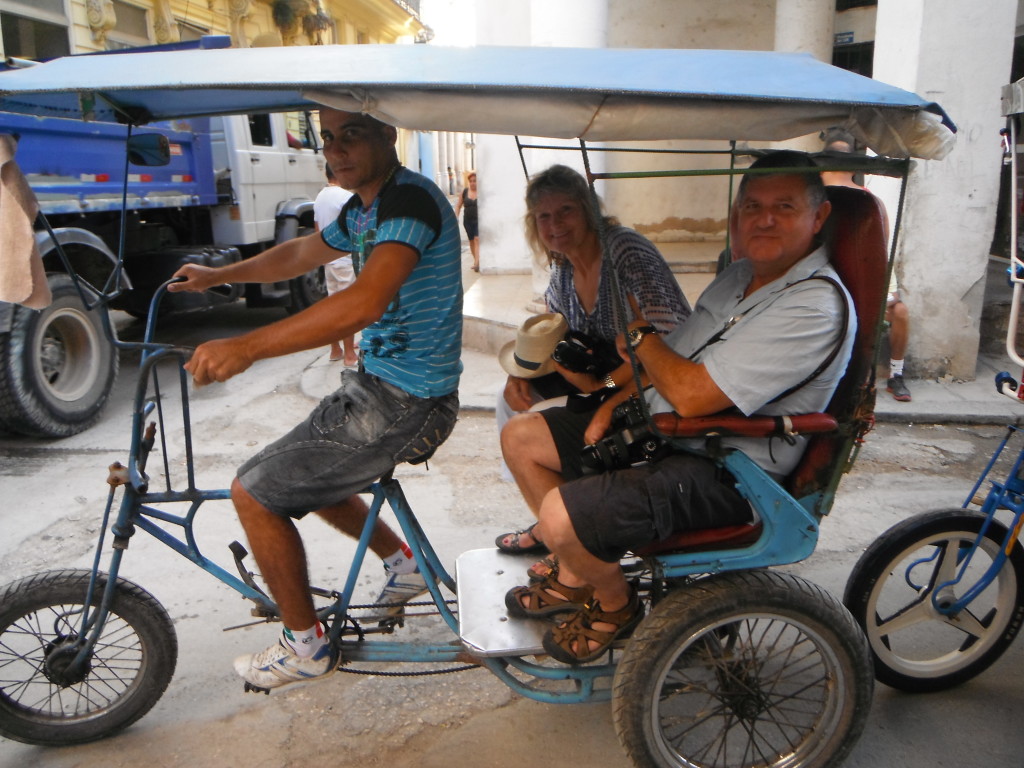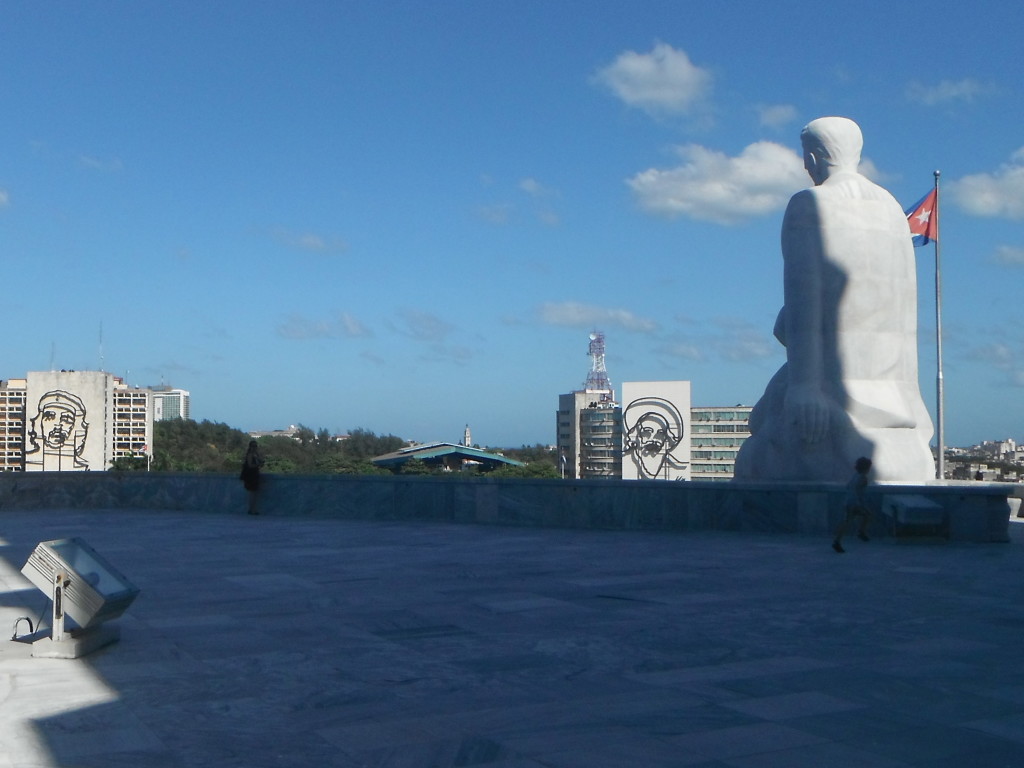 We then headed back to town.  Onto the Museum and to see the famous "Granma" boat.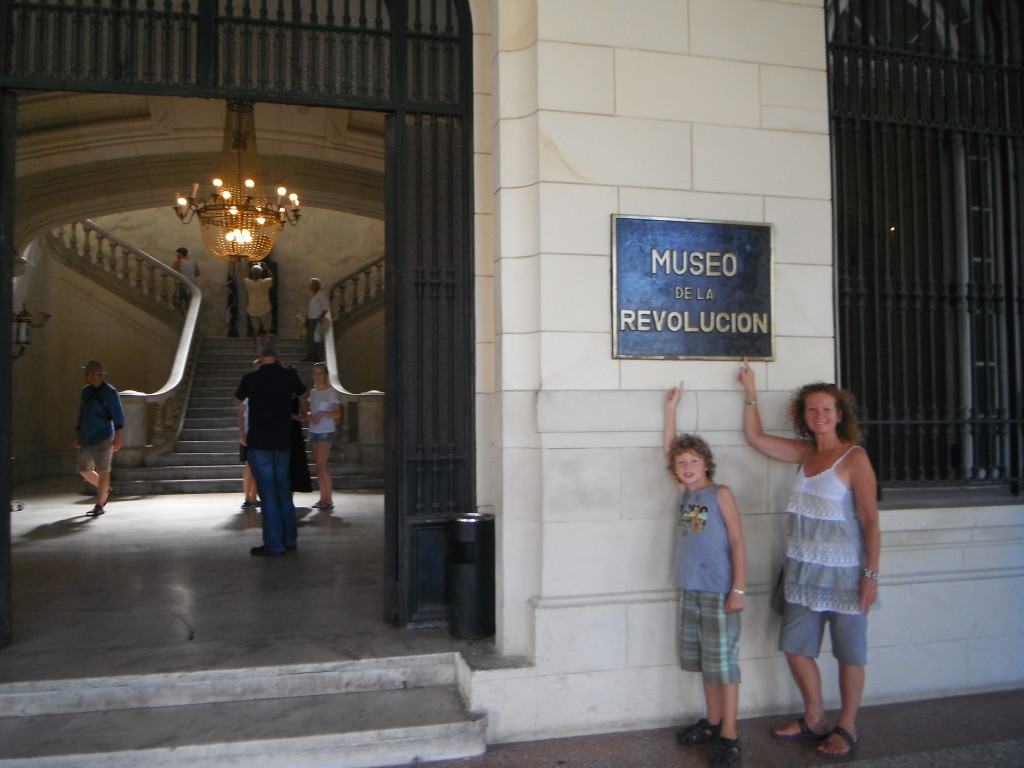 We then headed back to town.  We walked the streets and stumbled across barber shops down lanes and crumbling buildings.
We then went to go to the bathroom in a hotel and sat for coffee and to hear a band in a bar.  We danced as he played music with his lips.
Lunch was another fiasco, as we ordered lobster, and only half the food came out for the price.  We were getting used to the rip-offs, but they were annoying.  We shared our disappointment with them, but they clearly didn't care.
We were not to let it ruin our spirits.  We were having fun on Bici-taxis, and having my sister play guide with her book, and then meeting a local lady who became our official guide as we wandered the streets.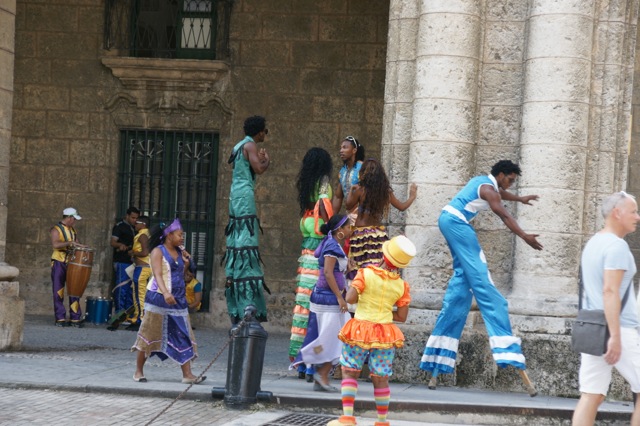 I lost her number, but if going to Cuba I would strongly suggest trying to get a local guide.  We paid $2 each an hour (minimum $6 an hour) and she was a wealth of knowledge.  She showed me how to get local priced food, and how to travel in the American cars for 50 cents a trip.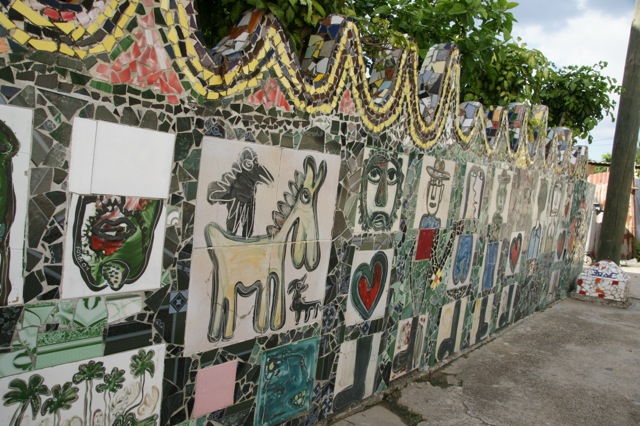 We visited Fusso's mosaic home.  This place is well worth a visit.  You travel down the Mirador (millionaires strip) to a fairly average area out of the city zone by about ½ an hour.  Here then houses and streets benches are all mosaicked.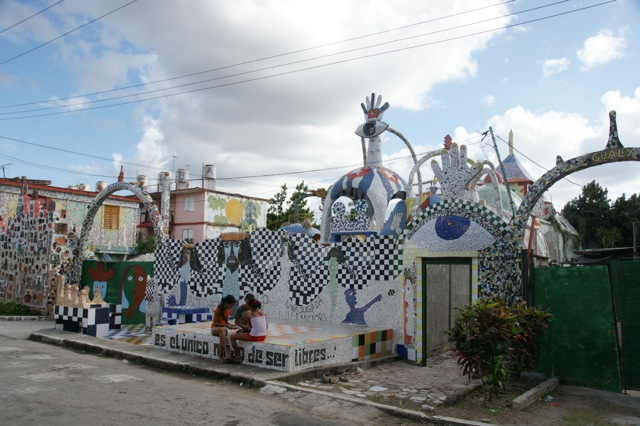 Turn the corner and there is a house that is made and decorated like a man on an acid trip.
We had the place to ourselves most of the time.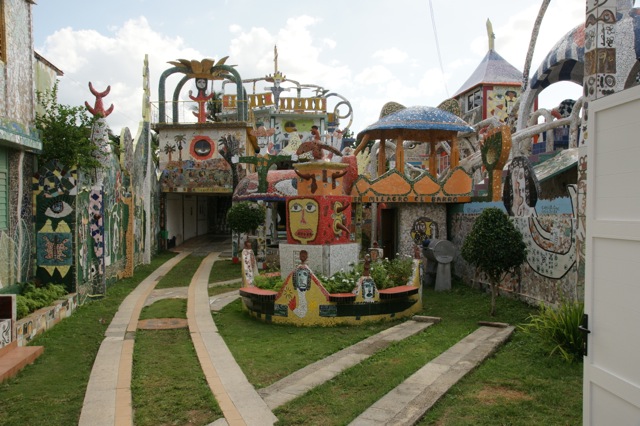 Just as we went to leave we met a lovely tour group.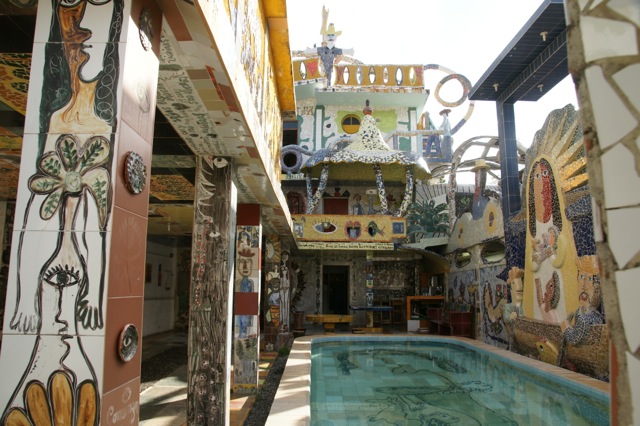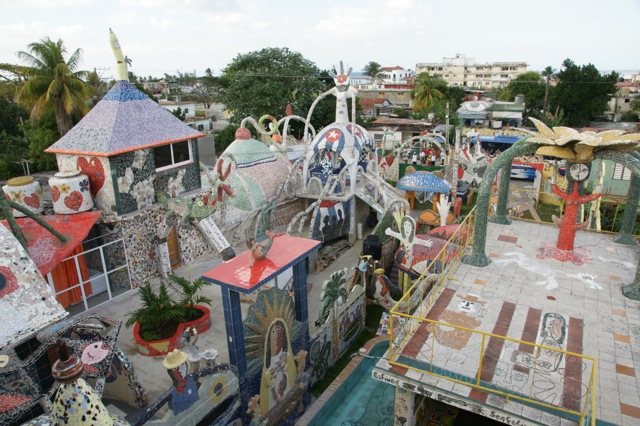 Then the artist himself arrived.  Wow!
Next stop was the National Hotel.  Here are some tunnels at the front – head down and for $1 you will find a willing man to take you through – my son loved these!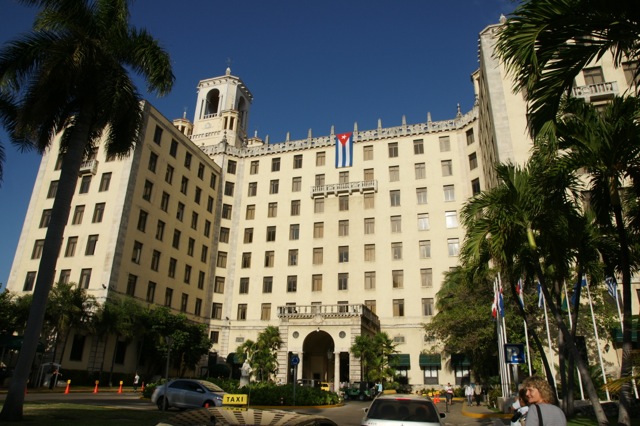 We just made it as they closed – whew!
Mafia and fame have graced these hotel premises, and we stopped and enjoyed wonderful coffee as the sunset.
We headed back to Havana Central to join a queue for a restaurant that has 3 floors of different style of service.
We hit the top floor – Italian, and it was pretty good!  So much, we had leftovers to take-away.
Our the next day we organized with one of the hotels to reserve us seats at the National for a 100 person dance show.  There are two shows, so make sure you get the one in the side driveway entrance club.  My sister continued to play guide and led us around the cobblestone streets.  People invited us into their houses.
We had a great time as my brother-in-law was kissed by the traditional Cuban ladies, whilst my sister and I danced in the streets to the bands.
We climbed the steeple at a church for $1 and had a great view of Havana.
Later we stopped for lunch at an old hotel and then meandered through the poorer area to the Artesianal Mercardo near the water (close to the main old railway station).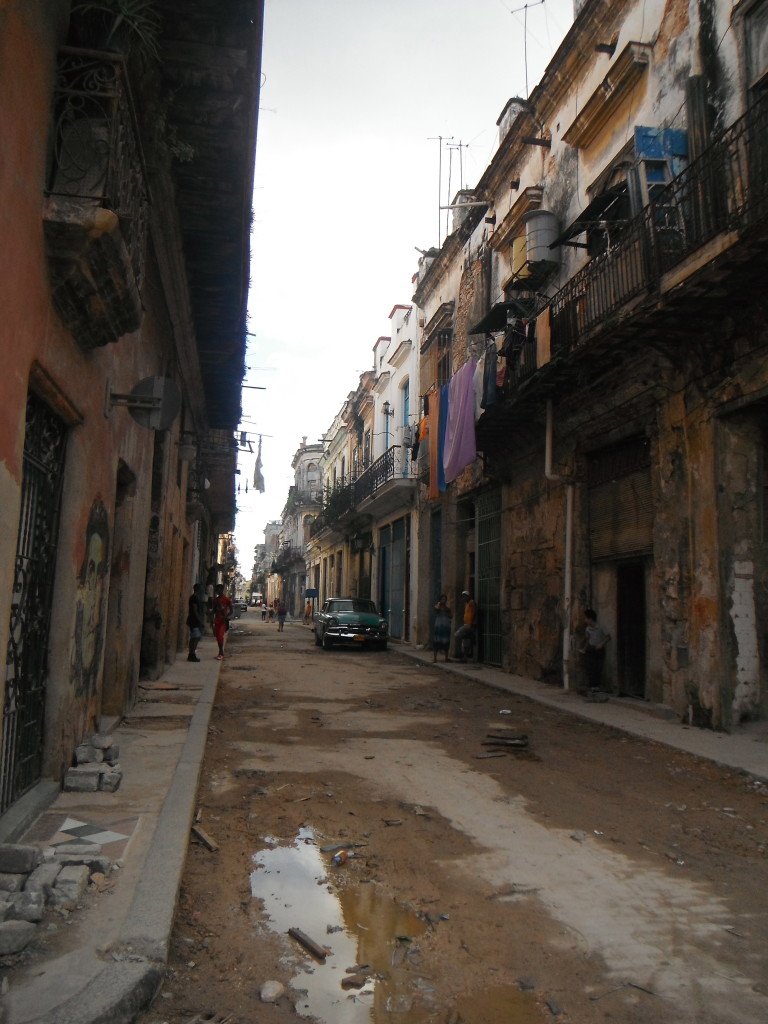 Prices seemed to be the cheapest in Cuba here, and we my sister and I enjoyed some girl shopping time, whilst my bro-in-law took my son to climb on the old steam train out the front.
Soon the markets were closing, and the local kids started to become pesky and rude, running around us in gangs.  We wandered a few streets to get away from them, and it was becoming dark, and my son was tired.  My brother-in-law stopped an old American car and together we were able to strike a pretty good deal to take us back.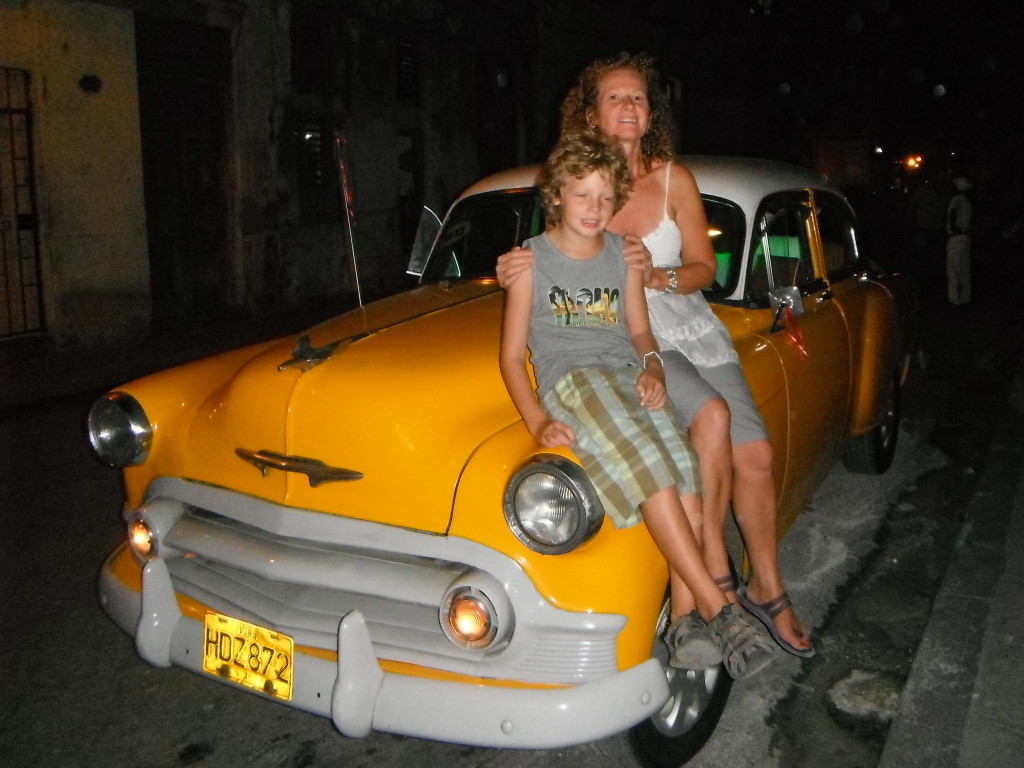 He also offered to take us to the show later that night.
Quick showers, and leftover re-heated pizza with Vegemite on it!  We just made it in time for the cab.  The lovely guys let us pose for photographs and I would use them again if I ever went back to Havana.
Off to the National Hotel.  We found ourselves upstairs with a drink included for the adults, and my son's ticket was free.  He promptly fell asleep, and probably a good thing with a few very revealing costumes.  The show was incredible – well worth every cent, and way cheaper than the famed Tropicana.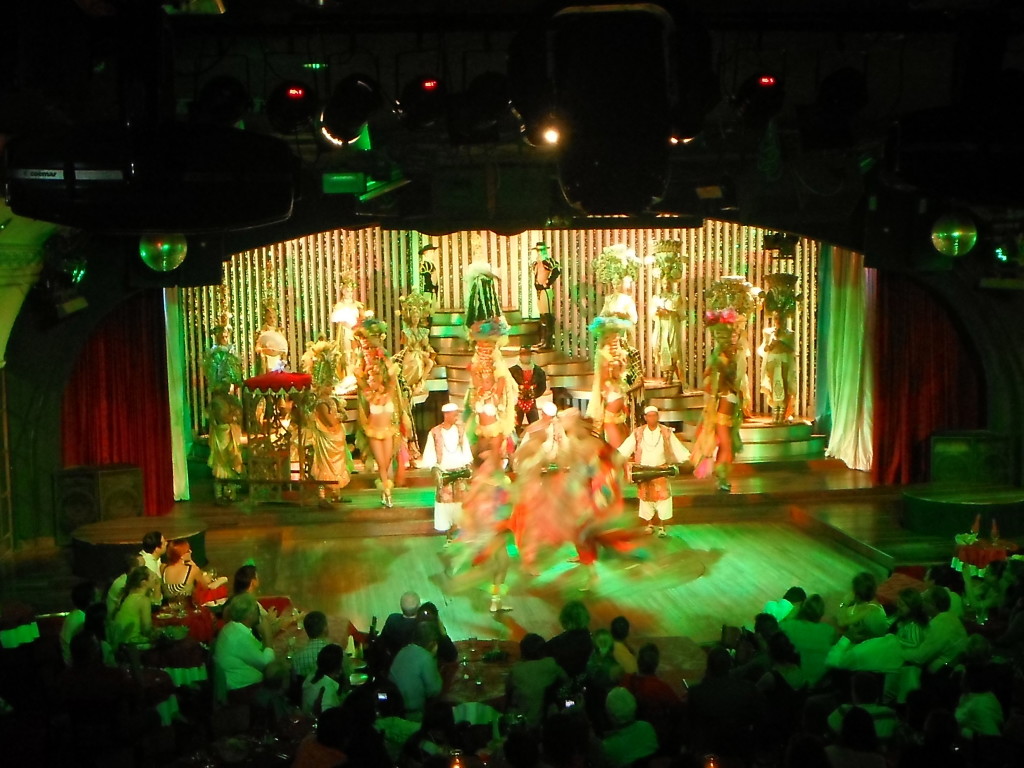 Our last day with my family came around all too fast.  We went to their apartment and made a video call to my family.  I was in tears.  2 days til Christmas, and the first time I had family in 1.5 years.  I knew I was going to cry!  We headed back to the markets to use the last of their CUC's.  As we drove back along the Malecon seawall and said our goodbyes in front of our apartment it all seemed way too surreal.  They were heading home to Australia and we were left to celebrate Christmas in Cuba.
We had a wonderful time with them.  Really wonderful.  Memories forever.
Questions and Comments
What fascinates you about Cuba?
Have you visited Havana Cuba before?
How did you find the place to be?
What do you think of their culture?
Do share your comments with us below.