Here we are in Country 52 of our World Journey, as we travel and learn through World-schooling as we go.
We have been in Egypt for three days now, and it is time to meet a few others in our tour group.
We have left behind the European Schengen Zone and our car, and I am pleased it is time for someone else to be organizing our travels, and this time we are with a great company called Encounters Travel on their Nubian Tour.
Up at 5:00 a.m. and collected at 6:00 a.m.from a lovely traditional place called Zayed Hotel, we then depart Cairo for the approx. 3-hour drive to Alexandria.
(We also have to have our bags packed as we move to a new hotel.)
The guided tour is pretty flexible, but we start off with a bit of a city tour and see the oldest trams I have seen in ages.
We start with a visit to the Catacombs of Kom al-Shoqafa, which is the largest Roman cemetery in Alexandria. Dating from the beginning of the Second Century AD this cemetery displays a unique blend of Pharaonic and Roman art.
They have a no camera rule, but you can take in cell / mobile phones, so this is a great time of world-schooling for Explorason.
Next is a stroll around Pompey's Pillar, and this is a good time to start to get to know each other.
We then drive through Alexandria a bit more and head down to the Sea.  There is a strong Greek influence here, with a lot of fishing.
We wander around the front of the Citadel built on the site of the famous ancient 'Pharos' lighthouse (one of the Seven Ancient Wonders of the World) and meet a few friendly local guys.  Here is a taste of Egyptian souvenirs, and we start to see beautiful items for sale.
I start to see things I want to buy, and there are some beautiful plates for sale.
I love this mamma sitting on the seawall with her shoes off.
We then drive along the seawall to a great old restaurant where the manager showed me his collection of photographs from years gone by. I am overwhelmed with how nice Egyptians are, and how they have suffered since the Revolution, and long for the old days of tourism to return.
Lunch is included and this was a fantastic local seafood plate (I had the trout), with seafood soup, and traditional Egyptian appetizers and warm bread, and a small sweet treat dessert to finish off.
We then head to the Roman amphitheater, which has twelve semi-circular marble tiers and is in remarkably good condition.
Our guide is fantastic and is teaching us so much about the history of Egypt. He is well known here on TV and is Safwat Alaraby.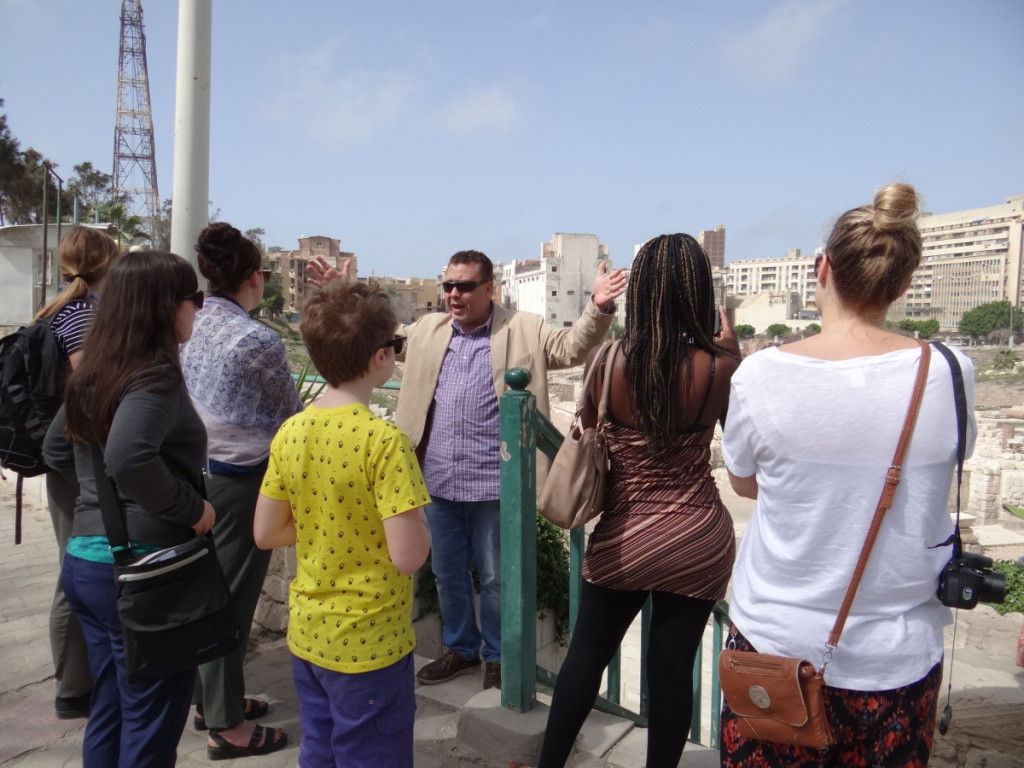 It is interesting to learn about the Roman and Greek influence here in Egypt.  Explorason dashes into the dressing room area and plays the actor.
The last call of the day is the impressive new Library of Alexandria, but sadly they have a rule that no children under 16 can enter without a guide, and we missed the last English speaking Guide.  So we let the others go in there and talk to the guide, then we are joined by Mary on our tour outside.
Egyptians are really friendly, and we meet a lot of happy locals.
On our 4 hour drive back, the entire coach is asleep, except our driver.
We have a really great first day, and the people on our tour are all so lovely.
We arrived back at Cairo to  Soluxe Hotel.
Tomorrow is the first "Official" day of our Tour, and four more people are joining us.
It is so good that for once I had a day without doing the driving. And we learned so much too.
Glad we chose the extra Day Tour Alexandria Egypt with Encounters Travel.