Is this the longest swimming pool in the world?  Where is it?  
Read on, to find out!
We are in love with Africa and in particular the coast of Kenya.
We have been since our last visit in 2015, and it was for this reason that we decided to return once more to this exotic and luxurious destination and to stay at Swahili Beach Resort.
Swimming Pool
There is one family resort on the coast that stands out from the rest.  And there is a special reason why.
Boasting a 200-meter in length aquamarine mass of water is this fabulous cascading swimming pool that flows right from the front lobby of Swahili Beach Resort all the way down to the manicured white sands of the private beach.
We are not sure that this is the longest swimming pool in the world, but it certainly the longest swimming pool we have ever seen!
As far as I know, it is the longest swimming pool on the coast of Kenya. For Explorason and I personally, it is the longest swimming pool we have been in throughout our world travels.
World Schooling With Monkeys
Captivating our attention on the very first day was a troop of monkeys as we drove in through the grand front security gates. As our vehicle snaked its way down the driveway to the stunning entranceway, the monkeys were there to greet us.
Then on several occasions, we were able to watch them from our poolside garden villa.
One time, they were right up to the glass, and it was an educational world schooling time for Explorason.  As we studied the monkeys we were able to use the wifi in our room to Google search for information about them.  It was fascinating!
Entertainment
We have made a conscious decision that during our time in Kenya our travels will slow down. We had a really tough time at the end of Tanzania and we are exhausted – both physically and mentally. So, want to go back to spending more quality together, and to slow down the pace of our world journey.
This meant we were able to play games of pool/billiards each evening, and with live music bands each night, it was great to sing along and relax and talk.  One night I was even asked to get up and sing by the lead singer of the band – I love singing, so I was in my element!
Arrival
When we arrived at Swahili Beach Resort we were dripping with perspiration. It is the rainy season, and it actually makes the air very muggy. I was hot and tired, and Explorason was still unwell.
So to receive an aromatherapy scented towel was great.
The Welcome Drink was a hit with Explorason  – this is pretty rare, to be honest, as he doesn't like a lot of the more exotic juices and creations that we've been presented over the years. This one is Sprite / Seven-Up / Lemonade with honey and ginger if I recall correctly, stirred with a sprig of lemongrass. So refreshing.
Swahili exotic and grand style are definitely felt here. There is a Lamu and Arabic influence in the architecture, which I personally adore.
Villa Suite
We had a garden suite that overlooked the massive swimming pool on the side.  It is completely glassed, so we learned that monkeys eat in the grass. We would watch them pick out fallen berries – it was quite interesting.
Our villa was massive, and we had the cheeriest room attendant on our first two days that really showed us the true Kenyan hospitality.  He was so friendly!
British Influenced Afternoon Tea
Kenya was once a British Colony, so in true British style at 4:00 p.m. each day 'Afternoon Tea' is served in many of the finer establishments.  There was just one problem with Afternoon Tea – there was actually such an array of food that invariably we would fill up, and when it was dinner time we were still full!
There was just one problem with these sessions of Afternoon Tea – there was actually such an array of food that invariably we would fill up, and when it was dinner time we were still full!
The new big problem was now the size of our stomachs, which were clearly a result of our eyes for the food also being too big!
Fabulous And Friendly Staff
Like I said earlier in other articles, Kenya is known for its friendly Kenyans. We love the Kenya people so much. Their smiles light up a room. They have a genuine warmth to them.
The service is definitely one thing that really stood out in our stay here.
Food, Glorious Food
We really ate like an 'African king and queen' whilst we stayed here.  Most meals are buffet style, but on Saturday night we were served dinner under the stars alongside the swimming pool.  It was just gorgeous.  We were pretty pleased it didn't rain too!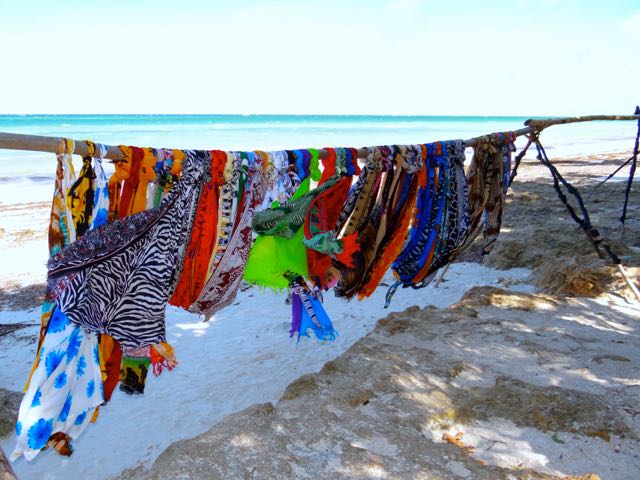 Beach And Relaxation Time
Most days I'd take a walk along the beach.  There are local sellers touting their wares, and I found a heap of interestingly shaped coral pieces too.
Now Explorason is a pre-teen, I find it really important that I give him his own space and time.  Even though there is a Kids Club here and movie nights, he was still recovering from being ill, so he seemed just to want to relax in our villa most days.  I can't say we went out a lot because we had no need to, so we are yet to explore all Diani Beach has to offer.
Single Mums
Staying here was really great for us as a 'mum and son'.
I noticed one evening that just in our corner of the dining room there were three single mums with their sons. Of course, there were two-parent families here at the resort.  But, in other areas of the dining room, I saw other sole parents on vacation with their children too. Some kids were teens, others little ones.
With 50% of the population in many countries now raising children by sole parents, this is a huge area for resorts and hotels to start to accommodate.  More than ever, these single parents who are raising a family alone, need some rest and relaxation.
The family dynamics are changing, and I noticed Swahili Beach Resort catered for us as single Mum's too, which was great! The staff would come around during dinner to invite the kids to kids club or whatever the evening activity was.  Plus in the same area where we played billiards, there were staff providing activities all day long.
I could easily have stayed here for a week!  As the Nukumat Shopping Complex is opposite, with a supermarket, pharmacy, ATM, and boutiques – plus there was so much to do within the resort, I personally thought this resort has one of 'the most perfect' locations for central Diani Beach!
I hope we get to return to Swahili Beach Resort on our next visit.
Questions and Comments
Do you love swimming?
What is that one thing that brings you together as a family?
Tell us in the comments section under this article. We believe our readers will learn so much from you.
Of Swahili Beach Resort here