As the rain falls so heavily that it stings his eyes, and water runs down his face, I amazed at the determination inside my son. We are looking for a short-term rental property, and he is keen to find it, and so he has plodded on through torrential rain for the past two hours. But he is a real trooper because this is day three of our hunt!
We've been in East Africa (Tanzania and Kenya) for two months now.  And it has been wonderful and tough – but not at the same times!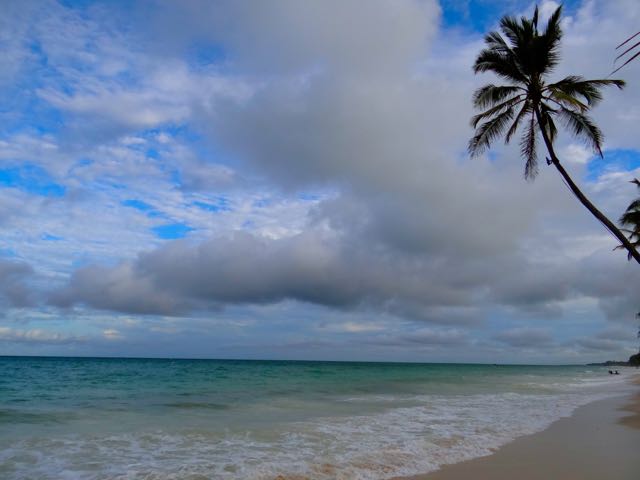 What Brought Us Here Again
Two years ago we came to Kenya and something gelled for both Explorason and me.  To this day we really can't pinpoint what that is, but our hearts were opened with love for Kenya and the Kenyan people.
I remember walking along the beach on the Island of Lamu near the time it came to leave and crying.  I can't explain why, but I promised myself we would return to Kenya, and here we are!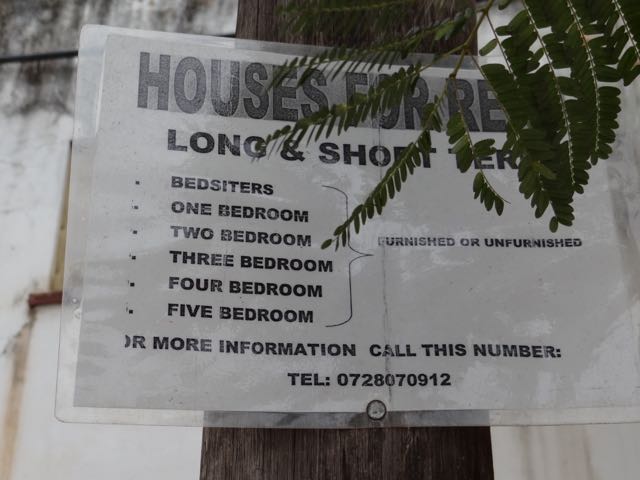 Looking For A Place For Short-term Rental
As we walk through knee-deep muddy pools of water – we are in search of a house or an apartment to rent for a month.  We've been here in Kenya for three weeks, and daily hotel and apartment rates are high, even in the off-season.
We want to stay a while, catch up on a few things, and slow down.
We stayed at a different property for a few days where we told the housekeeper we were looking for a house.  She, in turn, called her husband Robert* (name changed) who was keen for a 'spotter's fee' and he came to meet me.
The trouble is that now is the rainy season. But it is heavy rain. And lots of it!  We'll talk more about that later. Here we are traipsing around in torrential downpours looking for a place to rent.
We have probably looked at 15 properties by now.  Some are dirty. Some are overpriced. Some don't have wifi. Some only have Makuti thatched roof, others are too far out of the central area.  The list goes on of why they weren't suitable for us.
Sadly, we have learned the hard way that on-line property booking sites can be very deceptive with false descriptions and have been caught out before in many places around the world. Other times we have found an advertiser on the booking site pretending that the property is incredible – things like that the property is actually nearly a kilometer from the beach, but it is listed as almost beachfront. This same property boasted it was 'ideal for honeymooners' when I wouldn't put my cat into it, as it was messy, smelly, moldy, old and rundown.
Photos are often out of date and deceptive on their website, and on the booking site, but when we have been caught out and confronted the booking sites, they refuse to assist. Still, other properties have fake reviews stating how wonderful they are when really they are simply not.
Then there are properties that have no backup generator – and that is very important with power outages being a regular occurrence.
We also need good security – especially a good night guard, and privacy and peace and quiet as well, as some are right by a night club or main road.
Our lists are pretty important of what we will live without, and what we won't.
We decide we can live without hot water. Many places are only solar panelled, and Lord knows, that isn't functional in this rain!  We don't need TV, and we don't need a swimming pool. And a few other things we were OK to survive without.
Some properties include wifi, electricity, water, and gas. Others don't.
The location is important because we have to use public Tuk-Tuks, so we don't want to be too far out of the main town or too far back from the main road either. We want to be able to walk safely, not have huge transportation fees, and be safe at any time of the day.
In the end, the only way is to go and visit each place.
So that is what we are doing!
It helps that Robert is with us. He can speak Swahili and not get such a Muzungu price, plus he is keen to secure the deal because he will get his 'spotters' fee.
But the trouble is they tell you the property has all you need and when you get there it doesn't. It's frustrating, and time-wasting too.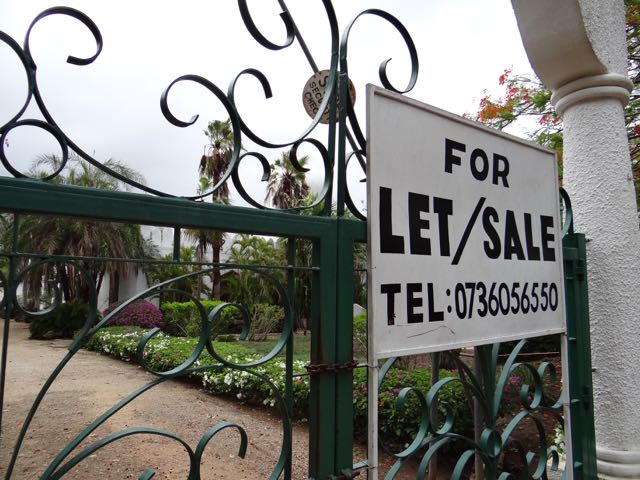 Talking Rental Prices
You can't talk price until you are at the property, and this is just the way it happens here the price negotiation must be done face-to-face. This wastes a LOT of time.  I get pretty tough and run through the list each time, but some places we couldn't even enter because the water was too high.
We eventually find a fab apartment we already knew of and never needed Robert's assistance. However we had been negotiating via email for over a week, but little did we know that the landlord had a server issue, and our emails were not being received.
Finally, we agree on a price. YAY!
Now What's Funny
Guess where the apartment is?  It is the apartment we are already staying in short-term – on a nightly basis! We know it is squeaky clean, the security is good, the staff are friendly, the location is perfect for us, and it is furnished.
We also know that we get a house cleaner two times a week – yay!
We come back and celebrate and the next day we finally unpack our suitcase.  It is rare that we get to unpack and it feels nice. REALLY nice!
It takes us most of the first week (due to the weather) to settle in.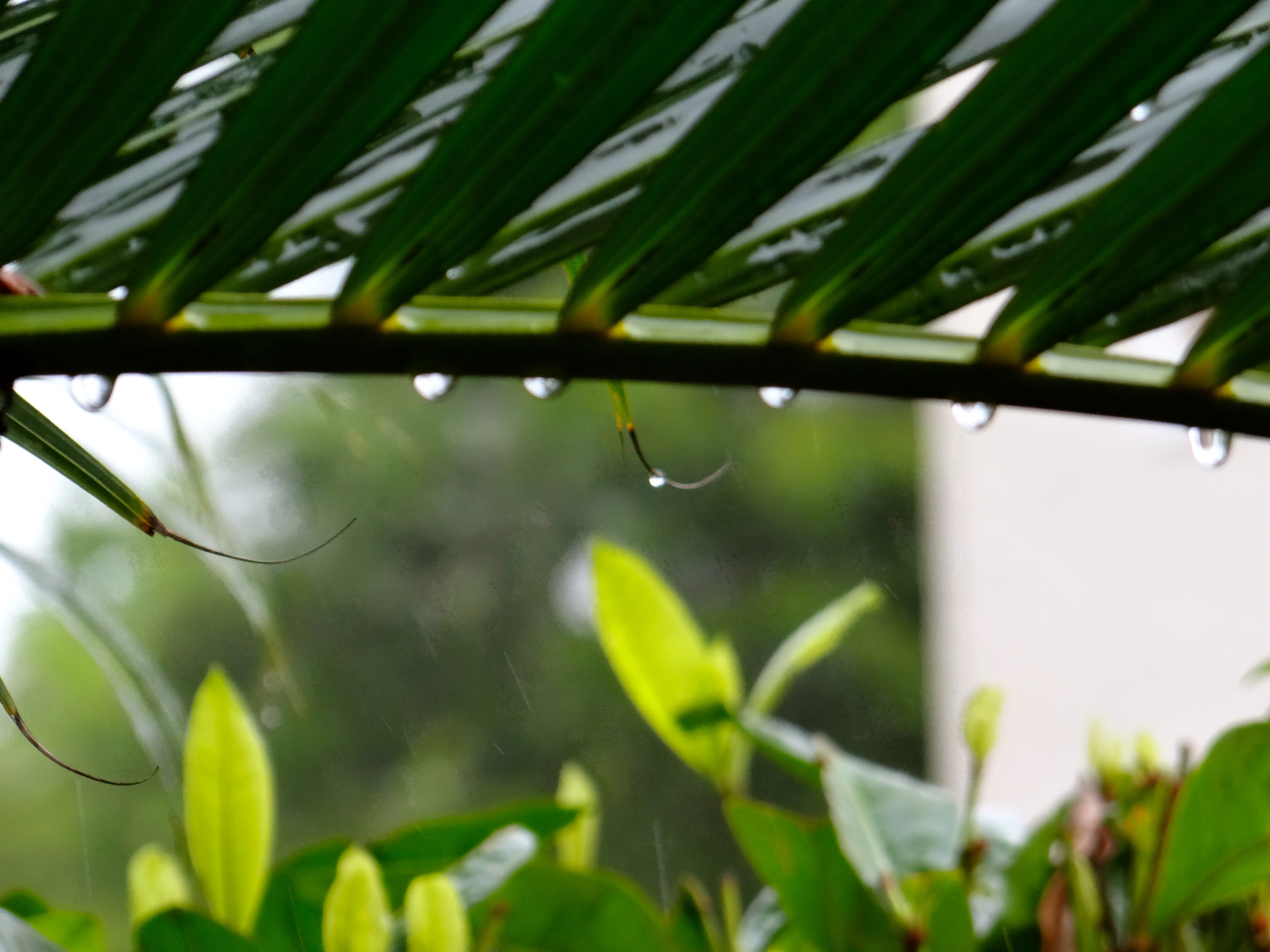 Rain And Floods
Whilst the world has been wrapped up in USA politics, few knew that Kenya has had terrible floods.
Right now Kenya has suffered from rains like it hasn't seen in these parts in years. Walls have collapsed and killed people due to unsafe foundations and this sadly includes children. People have drowned. Animals including herds of cattle have died or been stranded. The news shows photos of houses with water from the floods right up to the rooftops!  Access to Mombasa has been limited and at times not possible.  Electrical power and the internet has been cut often for long periods of time.  Trucks can't get through to provide food and fuel supplies.
But when I share this on Facebook, no-one even knows about it.
Buying Food
One of the toughest things is buying western-style food.  Over the course of three days, we visit four supermarkets in the region. Western food is so expensive. It is near impossible to buy any good frozen food. A small bag of frozen peas is $8.00. A block of cheddar cheese (as shown above) was $17 as they ran out of the normal matured cheese, which is about $10 a block. Butter is $12 for a medium sized block. Filo Pastry cost me $15 for a small box. This is killing me, yet I long for some home English-style comforts.
So we buy in 'staples', and then we top up. The crazy thing is that 750 ml of wine are about $10 and a 2 liter of the same brand is listed at $12. Prices don't always make sense.
But then there is the upside.  Once we have worked out which supermarket is a good price for what, we are set.
We say goodbye, for now, to frozen pizzas and chicken nuggets. We realize there is very little frozen food because of the power problems and transportation issues here in Kenya.
On week one we found out we have bought yellow dyed bread, a stale baguette, curdled milk, and some pretty foul tasting yogurt. And the chicken fillets look grey – so they went in the rubbish too!
Other times when we shop it is one price for them, and one price for us.  It helps if we say we live here. Usually, the price is instantly halved if they are trying for a high price. However there are times that let's say I am wanting to but a $5 item, and they start to haggle at $50. It is often easier just to walk away.
By the end of week one, I have found a good local supplier of fresh fruit and vegetables, and she even sells fresh herbs – I am in heaven! She is so friendly and the prices are the same no matter if you are an Expat or local.
I've made friends with several suppliers, and a local fruit cart (see photo above) where I can get mangoes for 20 cents a piece. This is the good side of the local street sellers.
Bread is also delivered by a man on a bike with his crates piled high.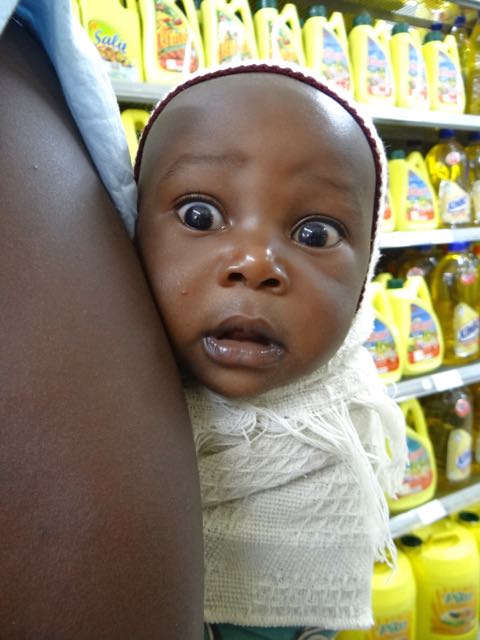 A Photograph To Help Buy Food
One time when I was in the supermarket we were all smiling at a baby as the mother passed by. The Mum and her friends laughed with us. The startled look on the baby seemed permanent, so I asked if I could take her photo.  She said, "sure, fifty 'bob' ", gesturing she needed money to buy food.  I took the photo and gave her the 50 shillings (.50 cents US – it was worth it).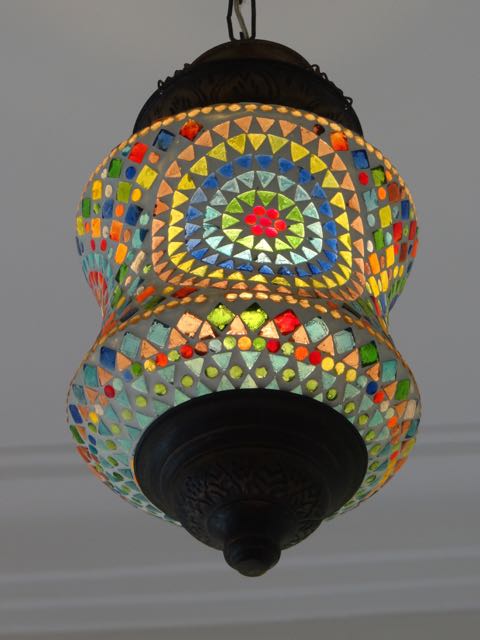 As  Type This, The POWER Goes OUT!
As I type this blog article the generator has kicked in – yes we have a power outage – the power has gone out! Thank goodness we selected a place with a backup generator.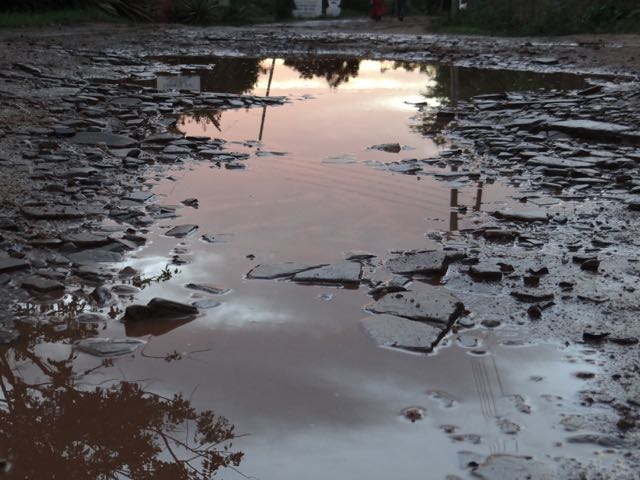 It's Off-Season Now
Now because it is the rainy season about 80% of the Expats leave and return to Europe. The place is empty, and about 80% of the main hotels and resort close. Businesses also close or have very tired and dusty stock.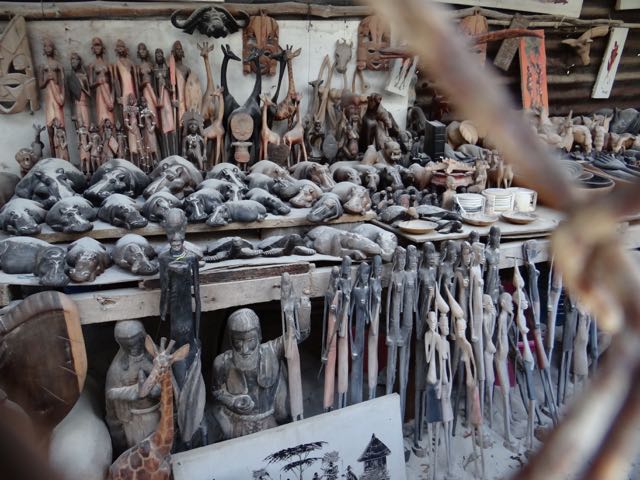 Local Life
We love to walk. So each day we have either a morning or afternoon walk to a new place. If it is fine weather and the tide is out we might head to one of the most beautiful beaches in the world – right here on the southern coast of Kenya.
At first, when we went walking, this was hard. We are the new Muzungu's (white people) on the block. The touts are all keen to make a sale, and they chase us and pounce on us. We tell them "we live here" and they back off.  After a few days, it is just "Jambo" or "hello" and they leave us to our walk.  It is hard as we meet so many that haven't made a sale all day. They are hungry. We try to buy from a few, but there are so many. Sometimes they chase us – desperate for a sale.  It's hard, and it breaks my heart.
One family, I think I might take some food for one day, or pay them for an interview. I'm still working out what to do.
When I posted about this family on Facebook, someone asked me if they think they are poor by their standards. I think they do think they know they are poor. I think they know if their child became ill and they couldn't afford the medicine to help them, they know they are poor.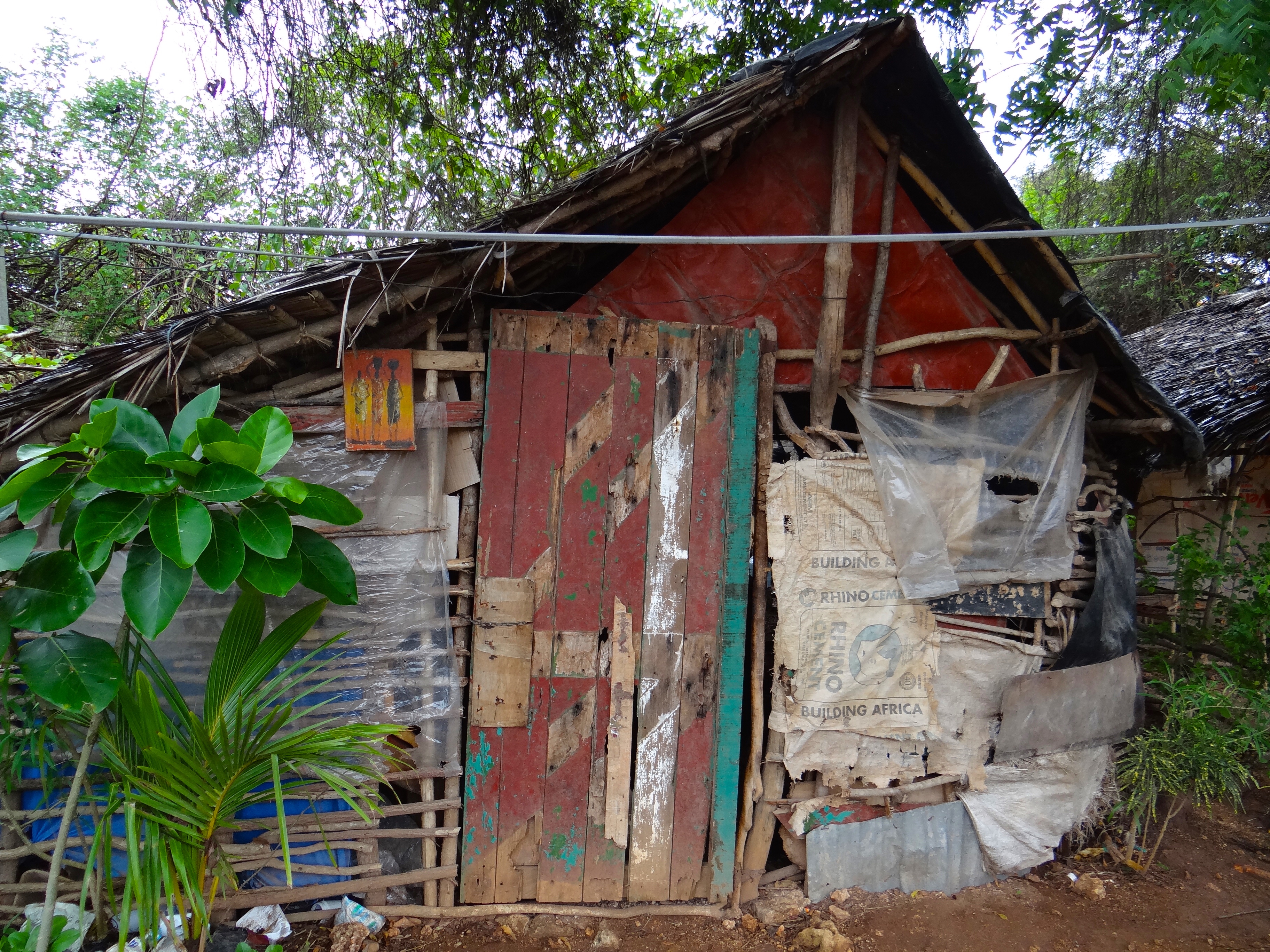 Drugs and Drinking
One of the hardest things to comprehend is a few of the locals and their 'substance abuse'. We see some of the younger to middle age men who are clearly on drugs or drinking.  One climbed a tree and sat on the electrical wire to cut branches of the tree down so he could have firewood.
This week we saw some desperate road-side souvenir sellers and we decided to be kind and go buy them ice creams, but when we returned they stunk of alcohol, so we kept the ice creams and gave them to the apartment staff.
Just today, as we walked along some of the Rasta-style street sellers sat around drinking beer and had a marijuana openly in front of me as he unrolled a small stash wrapped in newspaper.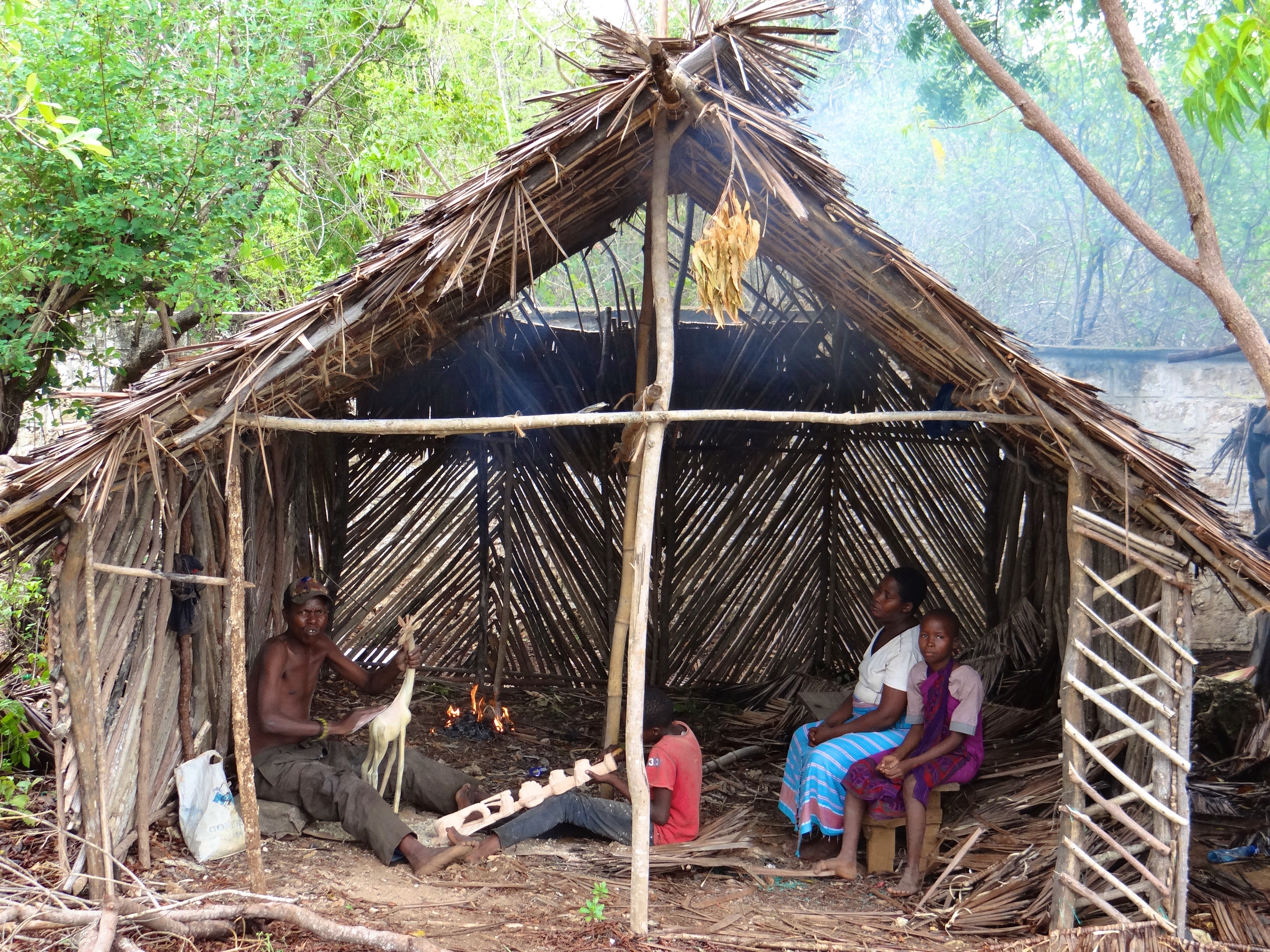 Locals Need Self Worth
How would you go earning $5 a day?
What would you spend it on?
How would you feel?
Where would you be as far as self-worth?
What if you didn't even make $5 a day?
What if you made nothing. No sales at all???????
Well, I'm not sure if this is accurate but we have been told by two sources that 'hired help' like a house cleaner makes from a measly $5 US a day.  But it gets worse because the street sellers and touts make nothing some days in the offseason.
So some friend of theirs comes along with a 'substance' and that numbs the pain. It numbs the pain that they are hungry. It numbs the pain that they have made no money. It numbs the pain that they feel worthless.
This is not just the youth in Kenya, but this is also adults.  People that need to feed their families have no income.  Old men that sit and just about begging me to buy – this one particular man just about got on his knees. His stock was old and worn out and some items were even broken, but so was his spirit, and that tore at me internally.
What do we do? It is so hard? It is so hard to see and just to walk away from, because it lingers in my mind.
As I talk to one man in a makeshift wooden rundown hut, he tells me he has to rent the hut per year, so that makes it even worse for the poor old man I saw that was begging me to buy.
This is the side of Kenya that tourists don't see.  This is the real Kenyan people that struggle. That will do whatever they have to feed themselves.  It seems the scales are not balanced.
Yet I see so many who strive to be entrepreneurs. That want to rise above, and they try hard, and I am so proud that they do this.
I think the saddest story came this week when a 29-year-old mother was caught trying to sell her newborn baby.
Still, other locals tell that they wait for weeks or even months for some of the struggling hotels and resorts to pay their wages.  They work on – in hope, but feeling worthless when they don't get their measly salary.
In other places in Kenya, the staff is waiting for salaries from as far back as December 2016.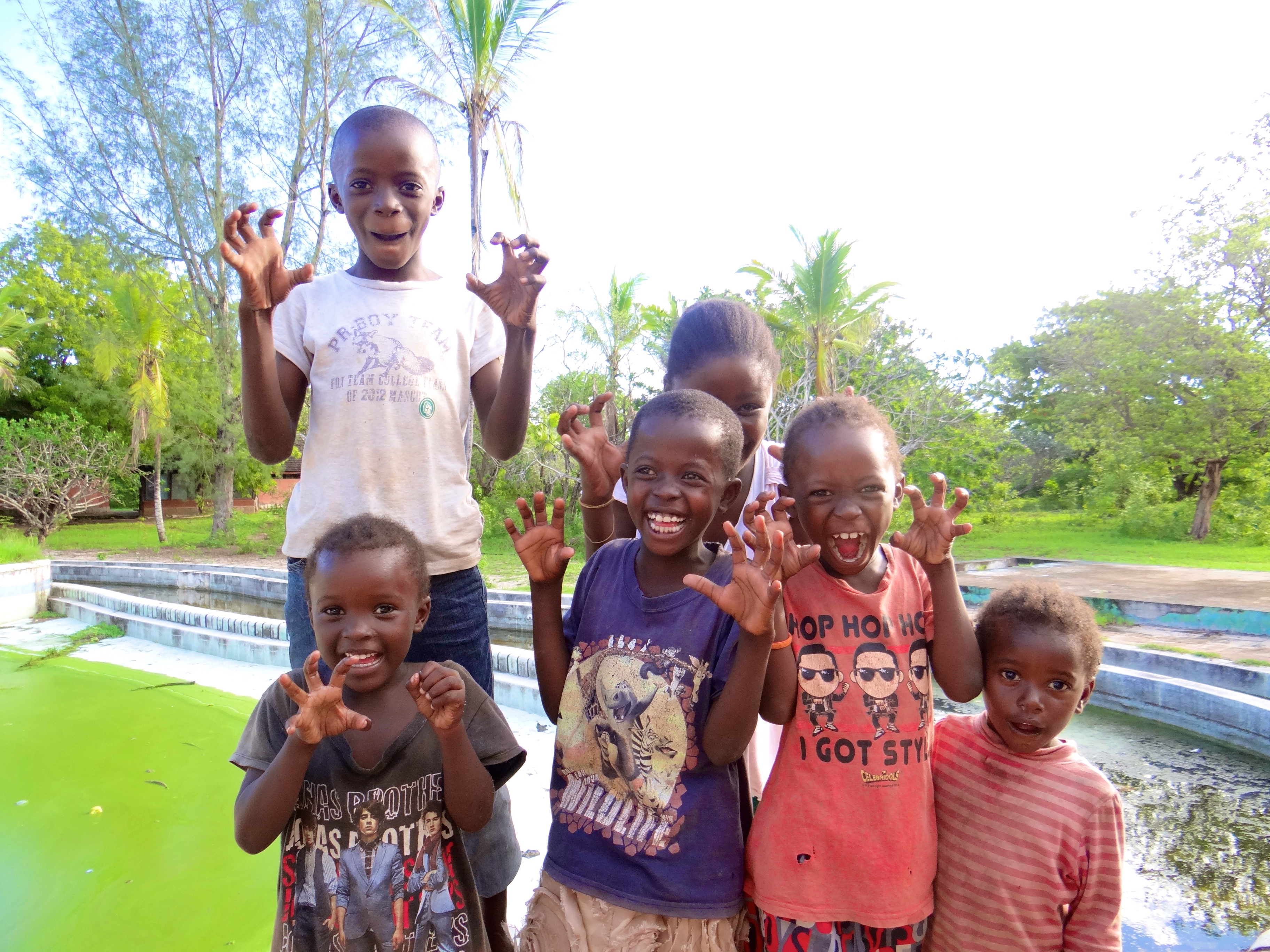 The Coastal Children
We love meeting the local kids as we go on our daily walks.  They usually call us over and ask us to take their photographs. Sometimes they will pose for us, or walk with us, but they are generally very friendly. We love them and try to encourage them.  I ask their age, and tell the girls they are beautiful.
We try to make friends with them so they know we care.
I hope we can make a small impact on little lives whilst we are here. We love making friends with the children.
What pleases me is that the local governments are trying hard to improve the welfare of the kids too. Even this week some good news is that milk is being provided in some of the schools free of charge to help nourish the students.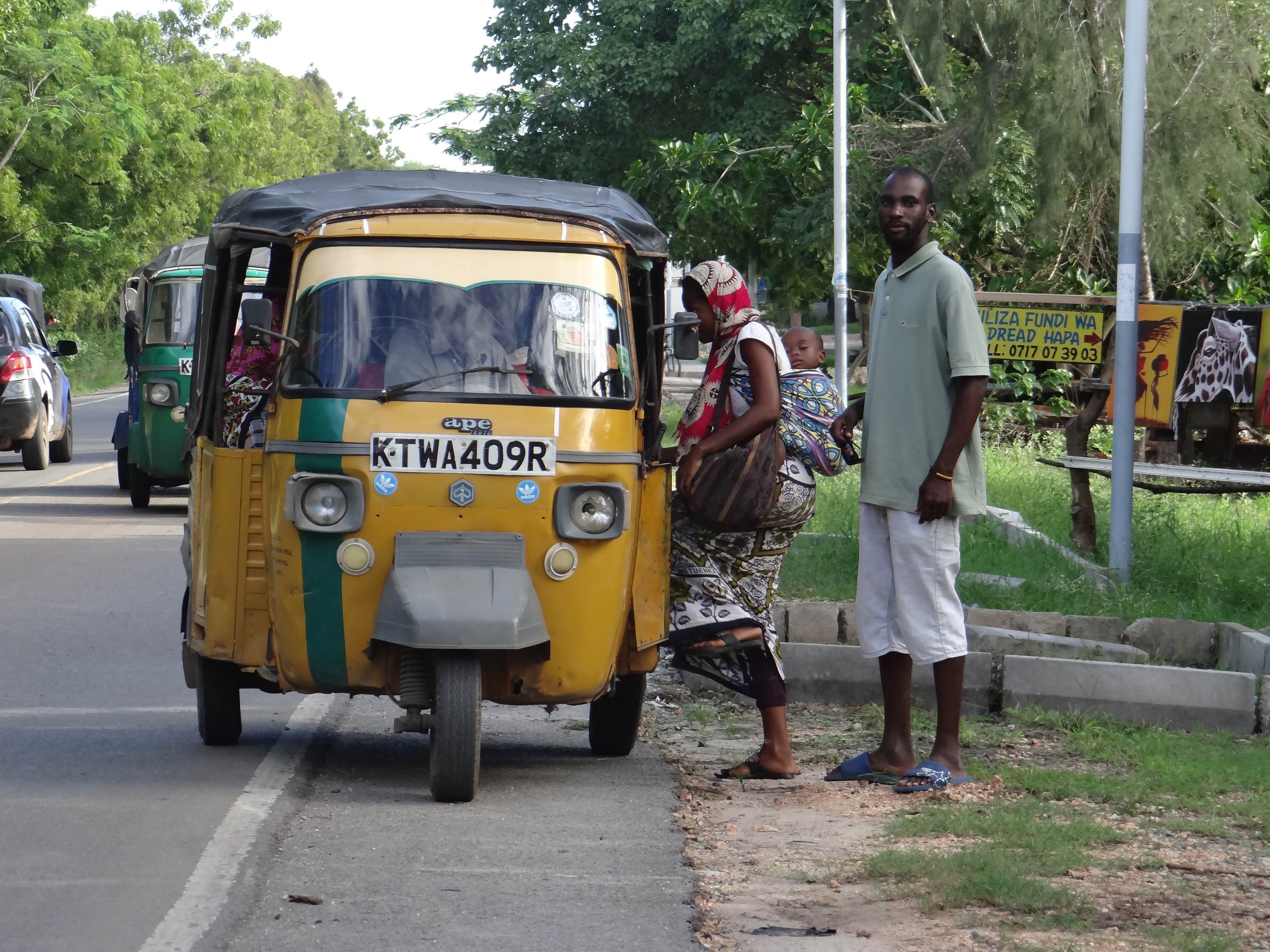 Tuk-Tuks
Mainly, only the foreigners or really poor walk. Everyone else that is local takes Tuk-Tuks. Prices for a shared Tuk-tuk start at 20 shillings (20 cents US), so they think we are weird walking. They will beep, turn around and do anything to try and get us in their Tuk-Tuk, which really is pesky when you just want to go for a walk. I've learnt to give a low wave off or just not to look now. Engaging in a conversation means they will try to haggle a ride.
Still, Tuk-Tuks are safer than a Boda-Boda (or motorbike) where numerous accidents occur, and many people end up in the hospital with head injuries and loss of limbs.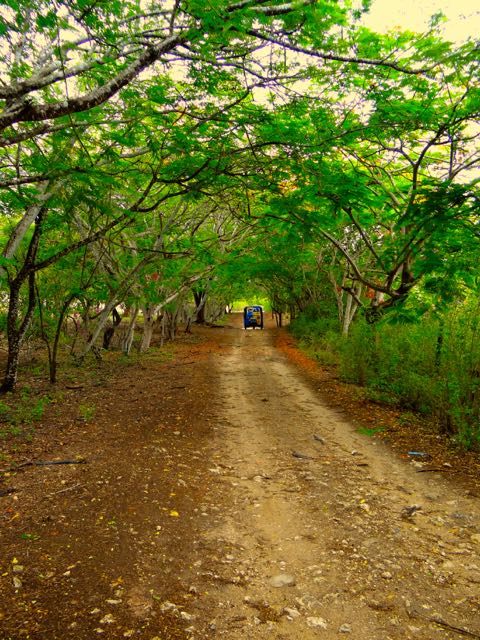 Drunk Taxi Driver
Local cars are used as taxis here.  There are no official taxis that I have seen anywhere. We had a taxi driver one day named Peter* (name changed) and we took down his phone number. On a later day when walking with Robert looking for a place to rent (we had to leave that house just an hour later) I ran into Peter the taxi driver. Robert steered me on, and sternly told Peter to leave, and later as Peter spoke I understood why. He was DRUNK!  We had used Peter on another occasion and he had a man driving, stating it was his car, but I think in real life, Peter had been drunk then now that I think back.
We've since found a driver we can trust, but even he tried to rip us off by charging us more than was quoted when we rang, and the price was way too high – Sigh! But at least he isn't drunk!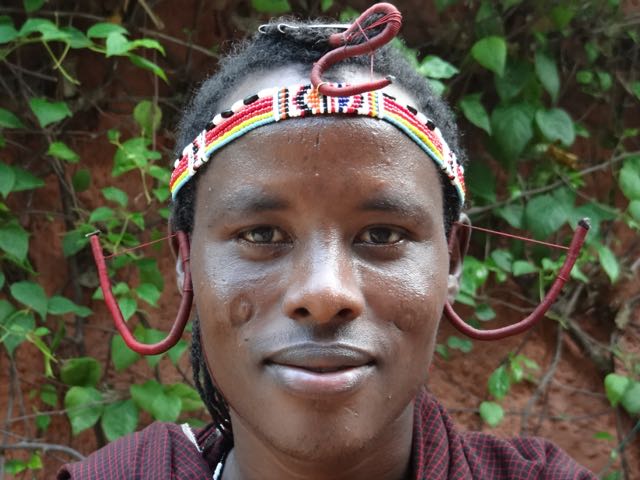 Friendly Kenyans
I think the thing that we love the most is the friendliness of most Kenyans.
They have wonderful warm smiles, they will always greet you as you walk along the street, so expect to say "Jambo" at least a hundred times if you go for a stroll.  Often they will joke with us.
The local sellers now call me "Mama Kenya", and I like that. However, on two occasions they have said I (Mama Kenya) live here, but my son does not, or he is new here.  That is strange!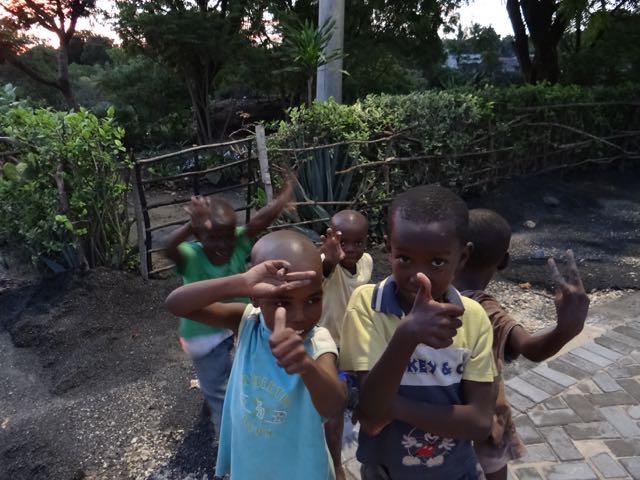 What's Next, You Might Ask?
Well, we might just stick around a while and perform a few random acts of kindness. Explorason is working on a great new Young Entrepreneur idea he has and we will share that with you soon.
We love the white powdery beaches of southern Kenya, and even though we might not be able to get out and walk on them every day, they are there waiting for us soon when the sun shines again.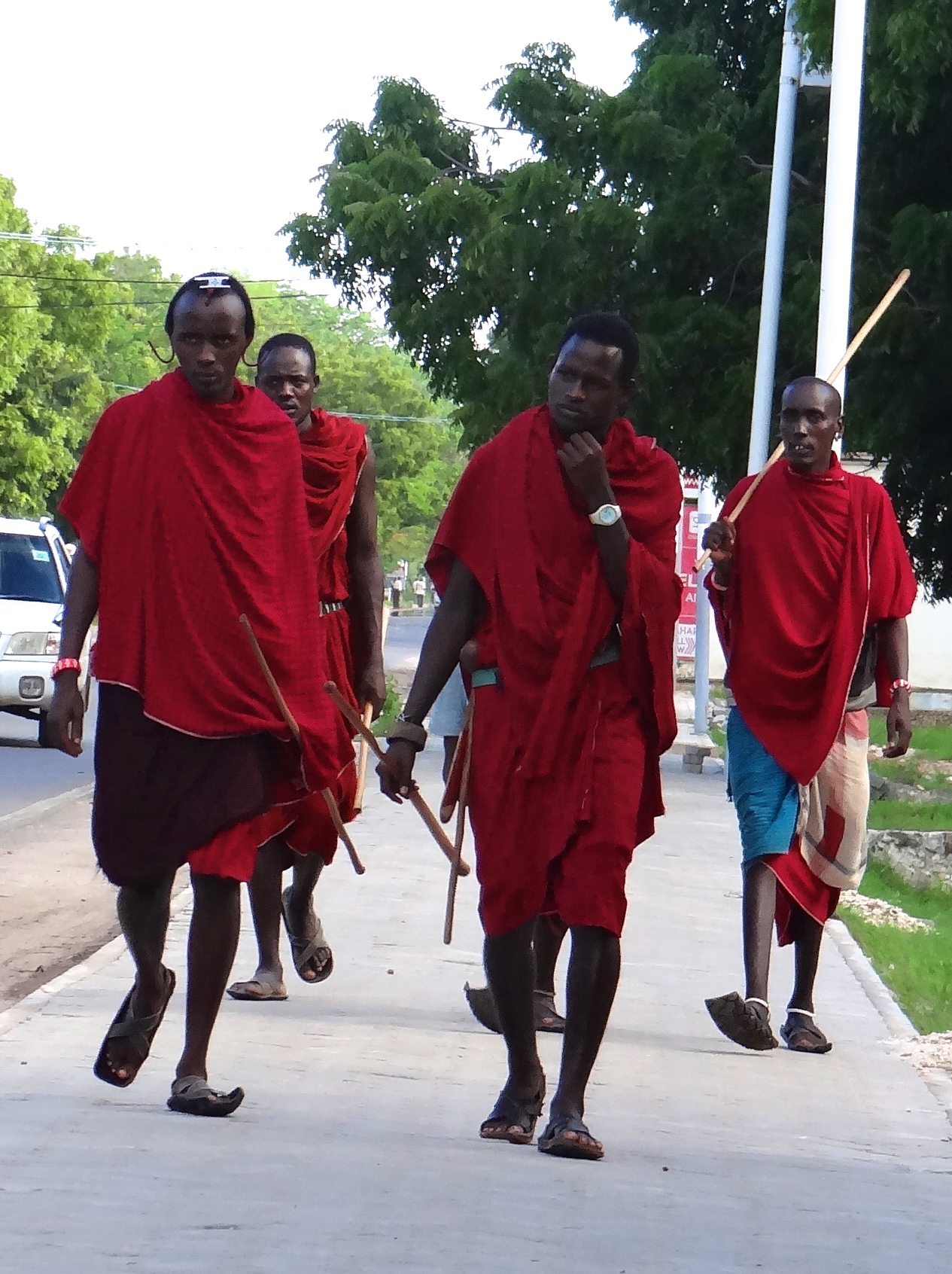 The Askari (Security Guard) With An Australian Accent
As we exit our property the Askari says "Welcome", and salutes me.  As we are now on very friendly terms, I explain we say "have a good day".
The next day as I go to leave he says "Have a good day" in the broadest sounding Australian accent. This cracked me up!  I never knew I could sound like that.  We've changed it so he says "Have a nice day" now, but gee, he is funny!
As we walk off smiling, I realize how happy we are here in Kenya.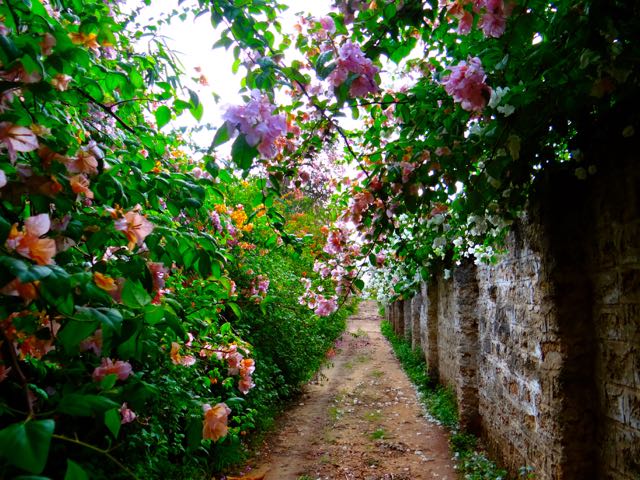 Questions and Comments
Do you love  African traditional outfits?
If you were given a chance to visit any African country, which country would you choose?
Let us know what you think in the comments section below.