If you are planning a trip to Africa, why not stop in for a few days to the islands of Zanzibar?
When we flew here on Qatar Airways, half of the passengers stayed on board the airplane and flew onto Kilimanjaro, whilst the other half disembarked with us for time on this island paradise. Some travelers were here for 3 or 4 days, and others staying a couple of weeks or more, exploring this island surrounded by white sandy beaches.
For us, we are on the main island of Unguja (which most people refer to as Zanzibar) for at least a whole month, so we have plenty of time to explore, but we have struggled to find all the things we have needed in our accommodation choices when we first decided we wanted to travel here.
So we have decided to put together a list of all the things we think you need to consider when selecting a resort in the white paradise of Zanzibar.
Top Ten Tips
To Find The Perfect Resort In Zanzibar
1. Location
Selecting a resort that has the right location for you is so important.
Many resorts are set back on the land side of the main coast road, and a few are even inland.  Others are only accessible via really bad dirt roads, often requiring a 4WD, and the roads can be difficult to access, and at times dangerous, so a resort on a 'main' bitumen road is my first preference.
I liked that we had a petrol station about 5 minutes drive away, and a local village nearby (which was handy when we discovered we were out of toothpaste).
The accommodation on Zanzibar we prefer is to be right on the beach.  Keep in mind you will enjoy on the eastern side some fantastic sunrises; and on the west, the evening sunset. 
I loved my morning walks on the beach, collecting shells and having time to think with my toes squished in the pure, white, soft and cool sand.
The Indian Ocean water here surrounding Zanzibar is aquamarine blue in many places, and which means no matter where you are, you can expect a long walk out if you wish to swim when the tide is out.
Some coastal areas also have mangrove trees which are great for those who love nature. It can be a 'bird-watchers dream' location too.  Mud and sand crabs and scores of colorful fish can also be found in the ocean water.
2. Safety, and Security 
Resorts need to be safe. They need to make you 'feel safe' without feeling like you are in 'prison grounds'.  
Good resorts on the East coast of Africa will use the Masai men as night watchmen, which add color and character to the property. This can be especially reassuring on the coast. 
Security gates, resort walls, and day security guards are there to only allow registered guests into the better resorts.  For some more laid-back properties, we noticed locals walking through the property, and the kids hanging out on the hammocks etc.  Whilst this can be cute, it can make you feel a little nervous about your possessions.
With an in-room safe for your valuables, and our vehicle locked safely behind the gates of White Paradise Resort, we found this resort to be exceptionally safe and secure.
Zanzibar overall feels really safe to us, and we felt safe driving around the main island in a 4WD we've hired from ZanCar.   The police are plentiful, often checking registration, and licensing, as well as speed so should anything go wrong, that adds to the feeling of safety.
Even health-wise we felt safe here as Zanzibar is '99% Malaria Free' (Govt spray yearly and one of the safest places against malaria in all of Africa).
Another safety feature here at the resort is the handmade beaded ID bracelets. Made by the Masai here, it is an extra security ID for All-Inclusive Guests to be easily identified from non-guests.
3. Swimming Pool 
With the tide retracting extensively twice a day, it is important that your accommodation has a swimming pool if you want to make the most of your day in the sun.
White Paradise Resort has the largest swimming pool in the area, and the double blue water night lighting gives it a magical glow in the evenings.
I'd enjoy my morning coffee by the pool, and afternoon tea was served around 5:00 pm, where on one day we had the most delicious Spiced African Tea with traditional sweets freshly made by the chef.
Sometimes I could easily see the ocean directly from in the swimming pool (if the tide was high) as one end of the pool is infinity as it looks out seaward.
4. Luxury Villas And Accommodation
White Paradise Resort is brand new at the end of 2016, and so everything is fresh and lovely. I think it is the 'Best of the best' among 5-Star Boutique Resorts in Zanzibar.
It is rare in Zanzibar to find a resort with air-conditioners in rooms. Those that are located close to the beach make good use of the sea breeze. Others will use ceiling or portable electric fans. So, to have virtually silent air-conditioning in our villa was a huge bonus for us, and I even slept with a light quilt on at night. This meant a good night's sleep which is important to everyone.
The decor is a mix of modern style with traditional African mix, and the suite is spacious with a king size, 4-poster bed with mosquito net.
There is room for an extra bed that is 90cm wide in the same room if needed, and all the villas are the same size with a double front verandah and one-way tinted glass so no-one can see in during the day – total privacy!
The housekeeping came each night to turn down our bed, drawer the mosquito net, and spray the room, but neither of us experienced a 'mozzie bite' in our villa whilst we were staying here.
Our bathroom was 16 square meters and the massive expanse also looked out onto a private garden area. It was fitted with a bidet along with 'his and hers' sinks, and plenty of space.
Inside our villa, we had a table and chairs, couch and flat Smart TV.  I loved we had plenty of room to unpack and also that all the wooden furniture is made from coconut timber – one of my personal favorite timbers in all the world.
The all-inclusive package also provides some drinks in the mini-bar fridge and large bottles of water, plus coffee and tea making facilities in the villa too.
5. Tranquillity with Meticulous Grounds 
As I sit here typing this, butterflies are plentiful in the garden outside the glass doors and are fluttering about before my very eye. Not only that but tiny Hummingbirds and honey-eaters suck the nectar from the hibiscus flowers. 
It is tranquil and relaxing here and very private, with sun-beds by the pool or private ones adjacent to the side of our villa.
The natural African surroundings are just stunning, and the gardens are manicured daily by the groundsmen.  This means the gravel and sandy grounds forms beautifully sculptured patterns before my very eyes.
Although the gardens are newly planted, they are already full vibrant bougainvilleas in assorted colors.
Yes, this is Africa!
6. Fabulous Food 
Delicious and healthy food make up a big part of your vacation, and if you like the food, the choices, and quantity provided to you, it certainly adds to a happy holiday.
The excellent chefs at White Paradise Resort have a reputation to uphold, and the Head Chef is well known for his meticulous presentation, excellent home-made pastries, and overall kitchen skills. 
There is an extensive á la Carte Menu, and loads of fresh fruit juices, fruits, salads, and vegetables for the health conscious. Local spices were used to prepare the meals, and I fell in love with the coconut curry sauce served with my grilled vegetables and rice on my last day.
With an all-inclusive option, the large menu proved to give us more options that we could try during our stay.
Of course, the tradition of Afternoon Tea remains as a strong British influence and is served each afternoon. The Coconut Slice is my favorite and the Spiced Tea is delicious too.
7. Drinks PLUS A Sunken Bar
I find that a Sunken Bar complete with bar stools is rare in African resorts, but we enjoyed lovely afternoon cocktails chatting with one of the friendly bar staff.
There is also a bar available inside the massive open-sided dining building with 'Makuti' roofing, which is a sight to behold!
Our fresh coconut 'Welcome Drink' was also pretty awesome I might add complete with hibiscus flower!
8. Things To Do 
Excursions Booked Right On-Site
Guests want to experience as much of Tanzania as they can if they have come from another continent, so I was pleased when I was able to organize an excursion for Explorason's birthday.  
I sat with their professional staff member, who talked me through the options we had available given our time-frame, and we ended up selecting the half-day snorkeling trip in the north to Mnemba Atoll.
Our Snorkelling Experience
We had a private motorized boat, and I've never seen water this color blue before – it was amazing!
Explorason loved the snorkeling and the captain of the boat was with him in the water the whole time. We went to several spots, and we learned so much. Did you know fish like bananas?
We went to several spots, and we learned so much. Did you know fish like bananas? We learned that and so much more on the day, and it all forms part of our world schooling.
Bicycles
There is nothing worse than being bored on vacation, but with bicycles are available at no charge to guests, and we could explore the local villages or one of the other adjacent beaches.
There was no time to be bored here, in fact, I wish there were more hours in the day – there was always something to do!
XBox 360
They also have an XBox 360 for guest special use, which of course Explorason thought was 'the best' thing!  This was also great if when he had to stay indoors when he was recovering from a sunburn.
TV And MultiMedia
The room had a large flat-screen TV complete with Multimedia Entertainment System and Console.
Plus, each room has good strong wifi, and the resort has a secure internet password system.
This was the best wifi we had on the whole island!
And the wifi is FREE. Yes, some resorts charge for wifi, and most resorts have weak wifi.
Chauffeured In Style To Other Beaches
When the tide is out at the beach, the 'hotel limousine' takes guests to places where there is more water at that time for fun in the sun.
9. Personalised and Friendly Service 
We found each and every member of staff made us feel important.  Whether it was the housekeeping placing flowers on the bed, or the general manager, barman or chef.  
They all went out of their way to talk with us, teach us a few words of Swahili, and made us feel important and excited about being here.
On my son's birthday, the whole team came out to sing to him too!
One of the staff even bought my son a gift of a Tanzania football team shirt and a scarf. We were so touched by this gesture.
My leather shoe broke, and a staff member glued it for me.  I broke another pair of beach shoes, and the housekeeping lady (when I admired her flip-flops) offered to go to the market in Stone Town that afternoon and purchase me a pair the same.
We were both so touched by the kindness that we found with individual staff really becoming more like friends to us.
10. Special Celebrations
We only discovered the White Paradise Resort at the last minute when I needed to find a resort for my son's 12th birthday.
The hotel management quickly came to the rescue, organizing dinner in an old wooden boat (on land).  The chef talked with me and discovered our favorite cuisine, and set to work creating a feast for the birthday dinner.  When it came out, the plates were huge, and the lavish garnishing were chef's masterpieces.
A traditional band played all evening for us, and one musician was just so happy, I smiled non-stop every time I looked at him.
The chef made a special chocolate cake for Explorason and all of the staff came out and sung 'Happy Birthday' and 'Jumbo, Jumbo Bwana'.  He will remember the night for the rest of his life!
I believe they have special Honeymoon packages at the resort available too, and being a boutique-sized resort, I think this would make an ideal location for any honeymoon couple.
This property is only a few months old so a bit of a hidden gem and not really a family resort.
It is also one of the resorts that are not closing for the rainy season, so you will find their prices are fantastic right now.  (What is interesting is the rainy season hasn't really started yet, and even when it does, most say it doesn't affect more than a couple of hours most days, and the weather becomes slightly cooler.)
Bonus Tip
Decide if you want a large resort or a boutique resort. Large grounds can mean a ten or fifteen-minute walk every time you want to go to breakfast, reception, the swimming pool, beach etc in some of the massive resorts further around the coast. However, a boutique resort means it is all available at your doorstep. Saving you precious time.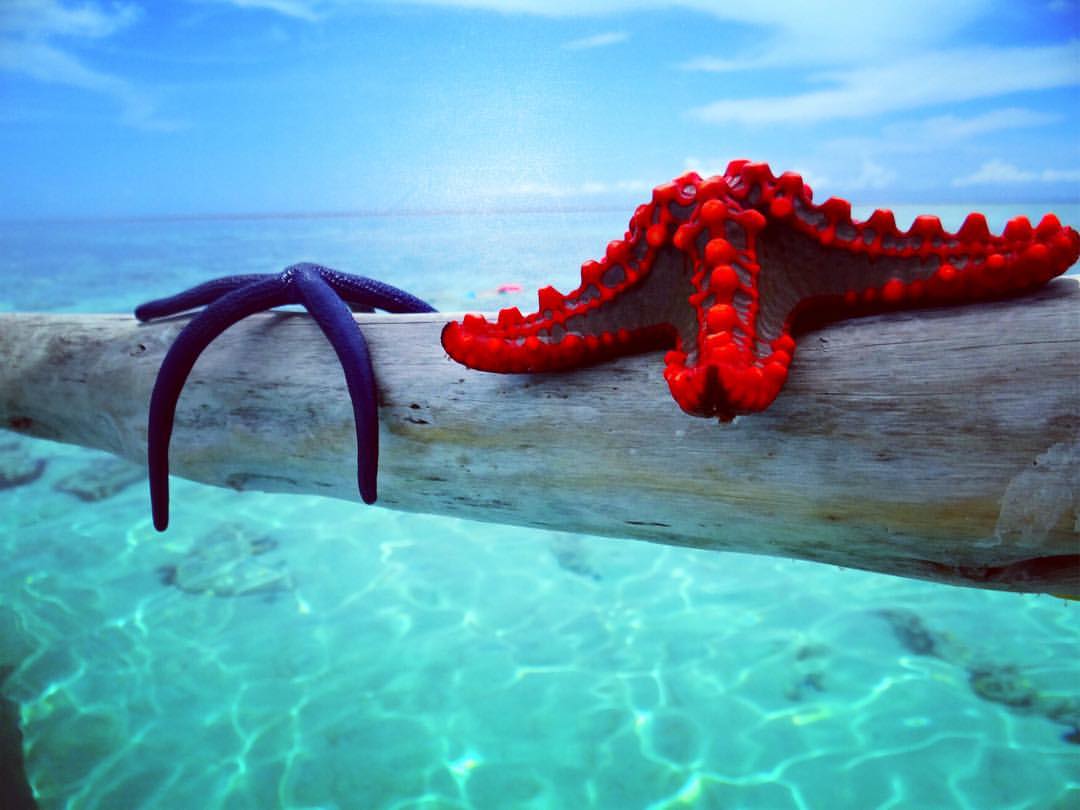 ©Exploramum and Explorason – White Paradise Resort Zanzibar, Tanzania – day snorkeling excursion
My Good Mistake
The truth is I booked a resort for Explorason's birthday and it wasn't this one!
Originally the resort I booked had the same name as another resort (in two adjoining countries), and a week before my sons birthday I discovered we had booked a resort in Kenya, not on the spice-scented island of Zanzibar, Tanzania.
I remember how sick in the stomach I felt when I discovered this and it was only after several emails going back and forth. My title of the email clearly said 'Zanzibar', but it was overlooked.  The resorts were in no way related either so we had no way to fix the problem easily. So, we placed the beautiful resort in Kenya on hold and set about finding a new birthday location.
I'm so pleased we discovered White Paradise Resort because our time here was just perfect from start to finish.
Conclusion:  I am so impressed with White Paradise Resort and everything they did for us in helping to make our stay a really special one for Explorason's 12th birthday celebration and both of us would personally like to pass on our thanks.
email: reservation@white-paradise.com