"OH MY GOSH! "    I look up as I'm drinking my coffee on a misty Summer early morning, to almost come face-to-face with a Koala, looking right back at me.
We are housesitting in a hilly suburb about 20 km from the center of the city of Adelaide.  This is suburbia.  This is Australia. This friend of mine is housesitting!
Most mornings I do not need an alarm clock.  Just before the sun rises, the Kookaburras start their morning laughter in the trees.
Not one, but maybe 100 Kookaburras fill the air with their unique 'laughter'.  It is a majestic morning chorus. A chorus that I have enjoyed every morning and periodically throughout the day, for the last month.
There were days I would look up as I sat on the balcony with my morning coffee and the kookaburras were thick in the branches above.
As they laughed, it was a sign to me, that 'today is going to be a happy day'.
Nature talks, and I listen.
We first came back to visit Adelaide a surprise in November.
After three years away from traveling the world, we were missing the family.  My father has been quite ill after heart surgery, and it was his 90th Birthday.  So we organized to fly back to Australia to surprise him, and the family.
It was a wonderful and very special day, and so glad we made it.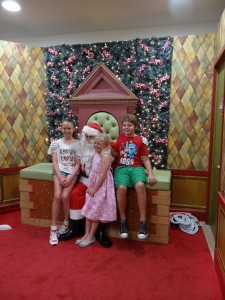 For my Dad to have all 'his girls' home for his 90th birthday, was very special. (There are six, yes six, of us 'girls').
(One of my older sisters also organized a surprise, as she and my niece came from the USA – yes we were in cahoots).
Sometimes travel can be so hard when you are away from family.
A family is important, and we knew that Explorason also needed to have this special memory with his Grandpa too.
It was a great time to catch up with some longtime friends over the following weeks and then it was the lead up to Christmas. And a traditional trip to Santa and the city.
We still have many more friends we haven't seen – yet.  But those we have, we've loved the time with them.
Christmas Day, of course, is a family day.  With a large family, it is hard to get everyone in the same place at the same time, but we did pretty well.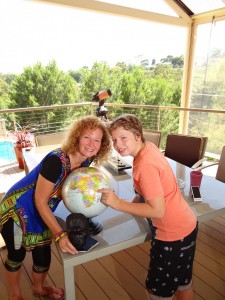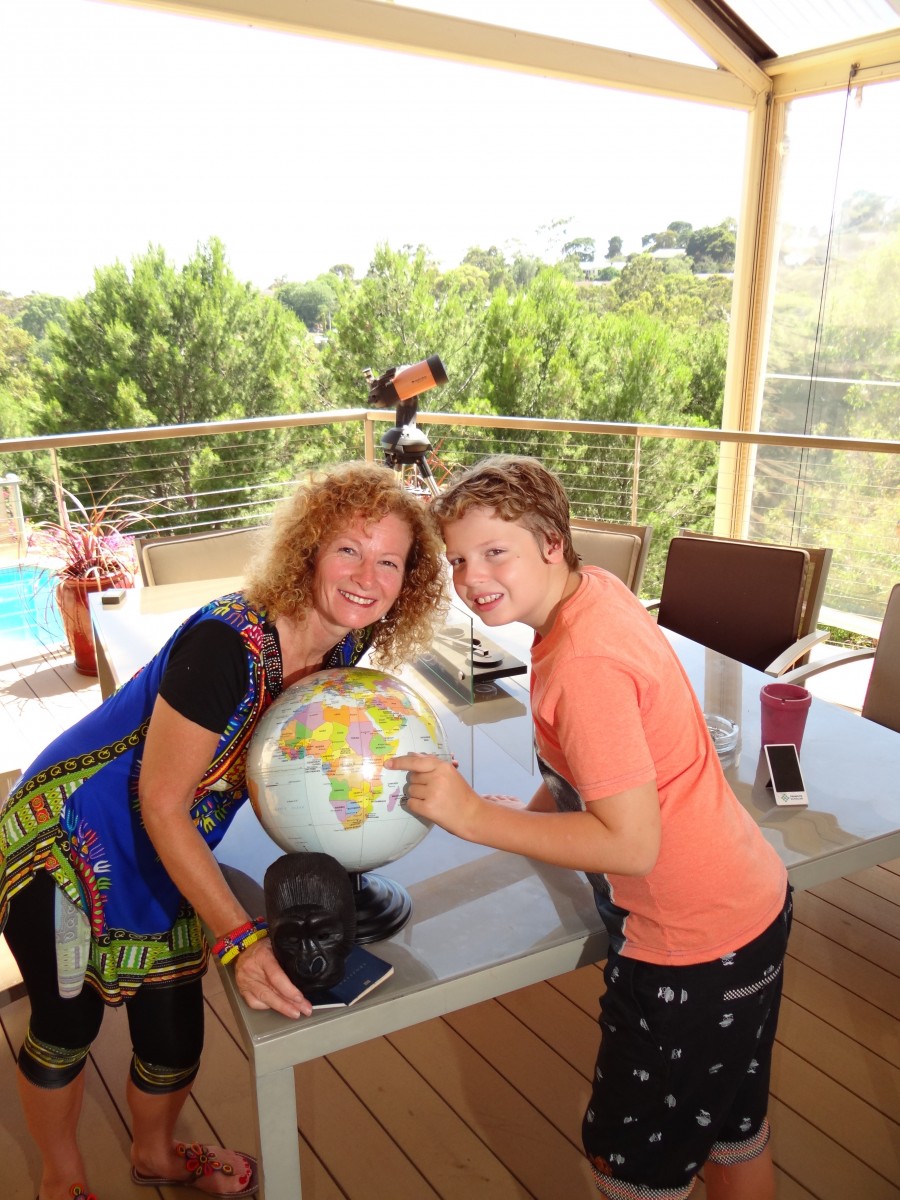 Coming back to Adelaide for a visit has also meant we have been interviewed by the state newspaper, The Advertiser, and this then leads to a national magazine contacting us for an article that will be published this week.
Then an international newspaper contacted me.  I think we are on a roll.  I guess we are getting a little famous!
But we found we weren't in Australia long before we were invited to Bali.  Off we went to Bali Indonesia for some of January and my birthday.  It was time for some exploring and world-schooling.
Then back to Australia for this amazing housesit.
We'd met the homeowner a good month prior, and we knew we loved her dogs 'Bert and Ernie'.  Two dogs she had 'adopted', and although not related, they really were like brothers.
As soon as we moved into the housesit we found we were in love with 'Bert and Ernie'.
'Bert' so reminded me of Explorason's pet dog Coco – whom we'd offered to a friends daughter to mind when we left Australia. (You can read about that here). Sadly, we'd not been able to locate our dog since 2013 despite our best efforts.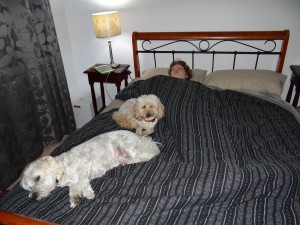 Not long after we moved into the housesit, Explorason became quite ill.
He had an incredibly high fever; night sweats; hallucinations; terrible headaches; a dry and persistent cough; and he needed a series of pathology test to identify his illness.
He would sleep for up to 16 hours at a time. His illness lasted two weeks.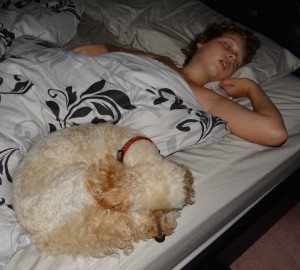 There beside him faithfully were the two dogs, 'Bert and Ernie'.
Finally, after numerous tests, he was diagnosed with Mycoplasma Pneumonia.
Immediately they prescribed the correct antibiotic to kill this rare bacteria that is devoid of cell walls.
As soon as the medication kicked in, Explorason was well on the road to recovery.
And the dogs enjoyed having him back to join our walks.
I'd been taking 'the pups' for quite a few daily short walks whilst Explorason was ill.
So 'Bert and Ernie' were pleased when he recovered and he could venture out with them.
It was time to jump in the little car that the owner had kindly left us to use, and take them to the Doggy Park.
This was the most economical car for fuel I've ever driven!
Here 'the boys' met many fellow friends and sniffed, and ran, and played.
Just before the end of the housesit, we headed out for a Saturday evening dinner, past the local reservoir.
There we met photographer Paul Case, as he was intently photographing the mob of kangaroos.
Turns out that two mobs of Kangaroos live within the reservoir grounds (thanks Jan Livermore for that piece of information), so we were delighted to see this troop 'up close and personal', right within the suburbs of Adelaide.
It seemed to be way too soon that the time to end our housesit had come upon us.
We delighted in cleaning and presenting the house for the owner's return.
We brushed and gave 'Bern and Ernie' extra cuddles on those last days.
As we farewell this Adelaide housesit, we once again pass the area where the Kangaroos hop freely.
They call Australia the lucky country.  I think it just might be.
Best housesitting sites to join (in alphabetical order)
Housesit Match Use code "Redeem Coupon" section.  Enter EXPLORE50 and get 50% off membership
Trusted Housesitters Use code EXPLORAMUM – 10% off annual plans. Valid until the end of year
OTHER HOUSESITTING SITES ALSO INCLUDE:
This blog is my own opinion, and does not reflect the opinions of any person, house-sit or owner, company etc mentioned here.