We have finally left the Kuta hustle and bustle, and have hired a private driver to take us to Ubud.
Today we are told is one of the Hindu ceremony days (of which there are many).  It is something to do with the 'god of the trees', and as Hindu appreciates all of what is in the earth, they now will be dressing traditionally, and visiting the temple with their offerings.
We have booked a stunning place to stay out of Ubud.
It is a brand new cliff-side villa, and we actually met the owners originally when we were housesitting in France.  We then had time with them again in Athens, Greece when we met up at TBEX.
And now we are having the opportunity to catch up with them again.  That is one amazing part of world travel.  We seem to meet up with some lovely families, and they then become friends.  Our kids will grow up together, bumping into each other at different times all around the world.
Yes, traveling kids make friends, and we have countless friends we seem to see time and time again!
It doesn't take long and the kids are playing with each other.
It is the father's birthday, so there is a delicious chocolate cake being made in the kitchen, and after it is cooked, it barely has time to cool and be iced, before excited children are singing "Happy Birthday to You".
Since the first time we met their family, another boy has been added to their merry throng of world travelers, and he is just such a beautiful little guy.  He has the sweetest disposition, and such a contented and happy child.
I'm can see smiles and hear laughs, but before long the excitement and play get a little out of control.
So it is time for a swim and some cooling down.
I head next door to get changed. Our villa is owned by our friends and they rent it out and we are amongst the handful privileged few who were able to use it – it is so new!
There are two levels, and it feels very modern open and airy.  I fall in love with the big woven platter on the side! We slept downstairs with the air-conditioning on low and used upstairs in the daytime.  It even had pool access through the glass door downstairs in the bathroom, plus it has an outdoor shower!

The upstairs main bed area is a semi-open en-suite with a pebble shower, and huge bath.

Then the kitchen area and open plan living area is in front of that.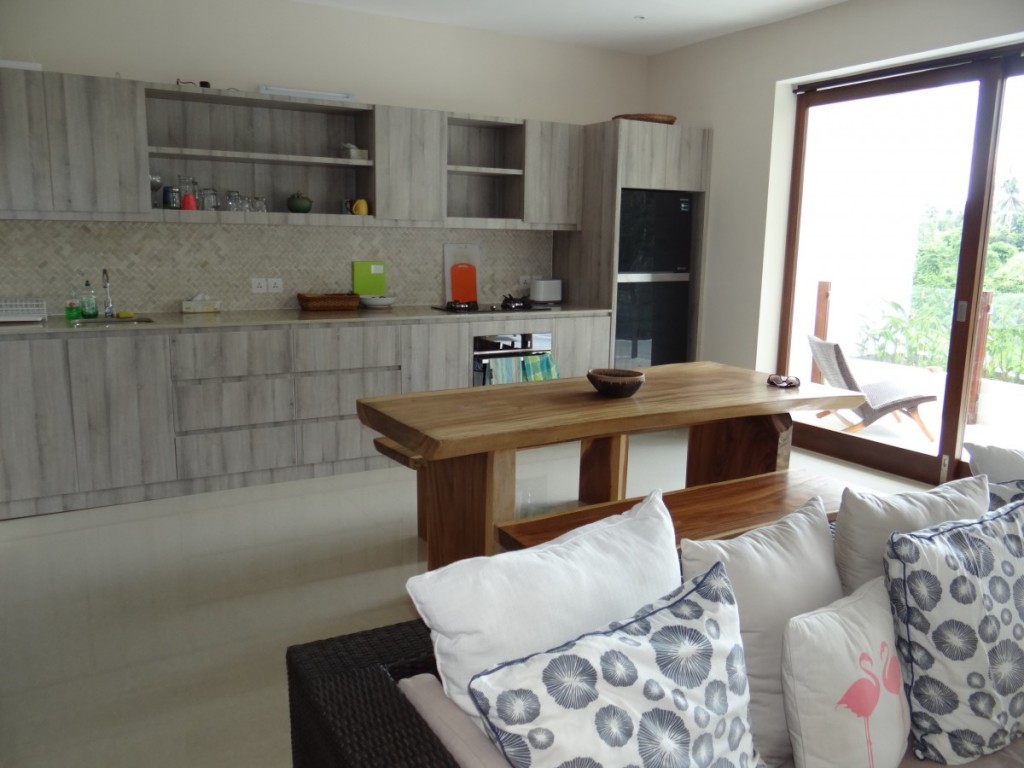 Both Explorason and I decide we could live here in a flash, and I am sure that is exactly the same feeling our friends had when they found this land, and then decided to build.  It must have felt like a miner prospecting and finding gold when they located this idyllic location.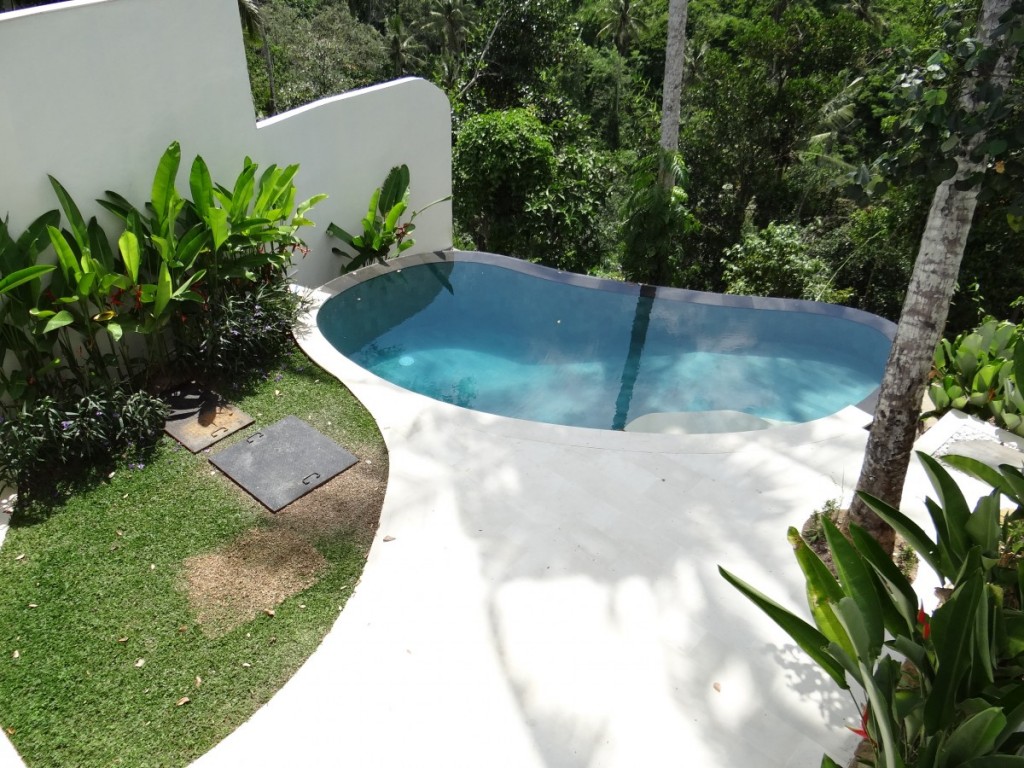 Around 5:00 p.m. we arrange for a driver to collect us from our beautiful mountainside villa and to take us into Ubud.
As we are crossing the street I hear my name being called "Ruth, Ruth", as a female scooter zips past and comes to a rapid halt.
I'm taken by surprise, and it is Sabina King. We spent Christmas 2014 with their family and another world traveling family The Benders.
We had spent a fun few days visiting Bran Castle in Romania and also the Bear Sanctuary where the children learned all about the rescued bears.
So we arrange for a catch up the following day.  I love this life!
We are so hungry we don't look around and find ourselves sitting in an Indian Restaurant before we know it.  The food was OK, but the service was below standard, and the prices were higher than what we'd pay for an Indian meal in Australia, so I'm not even going to recommend them to my readers.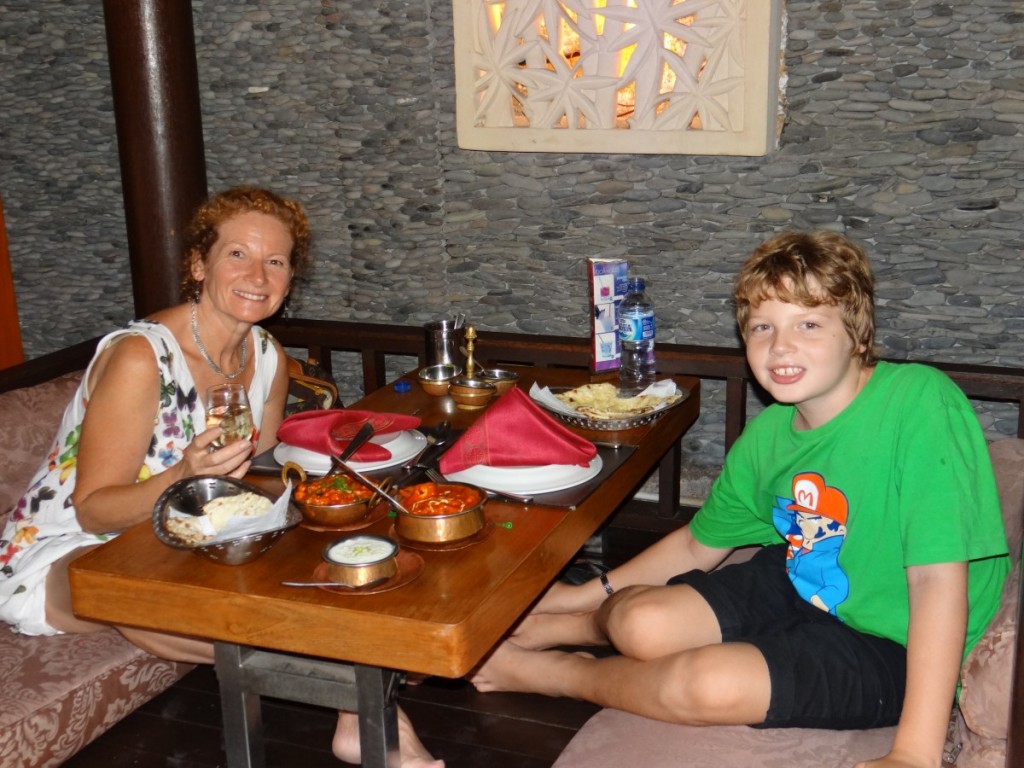 Explorason was so disgusted after he discovered he was licking a woman's body on his swizzle stick. We laughed but for a ten-year-old, this to him was horrifying.  I couldn't resist taking a photo.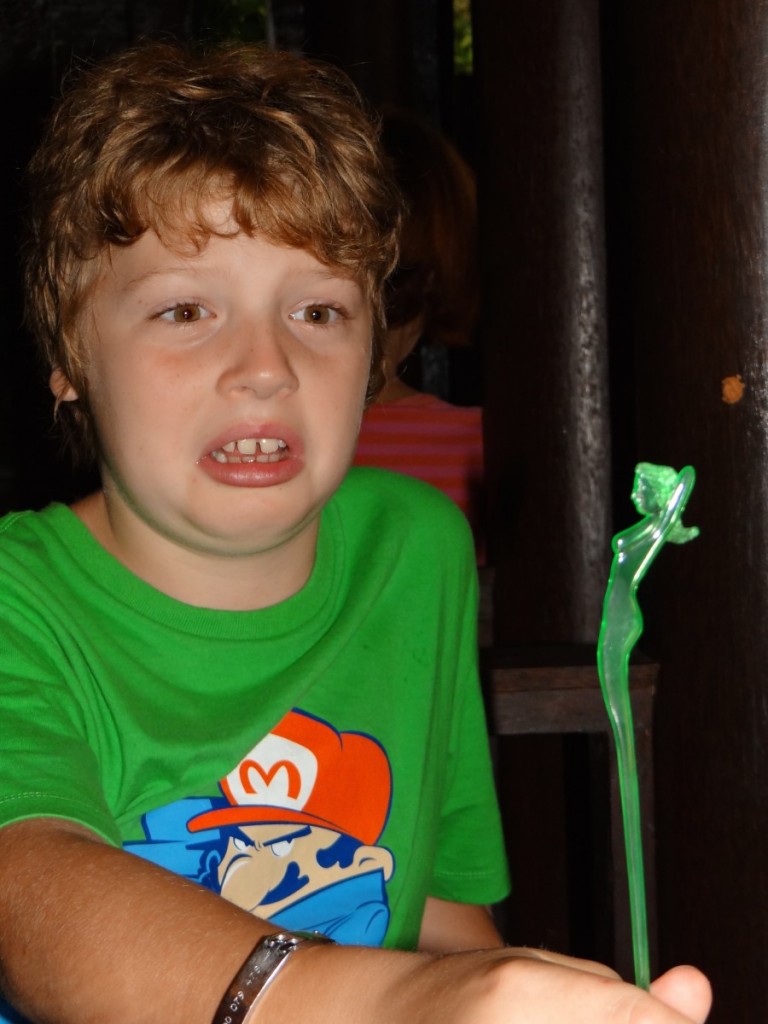 Next day we all ventured through the thick Ubud Sunday traffic to arrive at the Kings home. It was right across town, and Ubud traffic was thick, so it took a while.
Adults stood around chatting, laughing, talking travel, drinking coconut milk; and eating healthy vegetables and dips – it felt so good.
Explorason loved playing with the Kings children as well that day.  Another boy also joined them that was moving back to Korea.
That night we returned to the villas for a late afternoon swim.  It really was such a peaceful and magical location.  I know they had excellent wifi, so I could have been on social media but instead chose to enjoy the lush surroundings, and the friends we had.
We made dinner (the villa has a full-size kitchen) and enjoyed a bottle of wine and it just felt so 'normal'.  This is life!
Next day we wanted to see where the oldest two boys went to school, so we tagged along. It was shown and tell and he had the class thoroughly engaged in his plane he had been given in Australia for Christmas that he had built.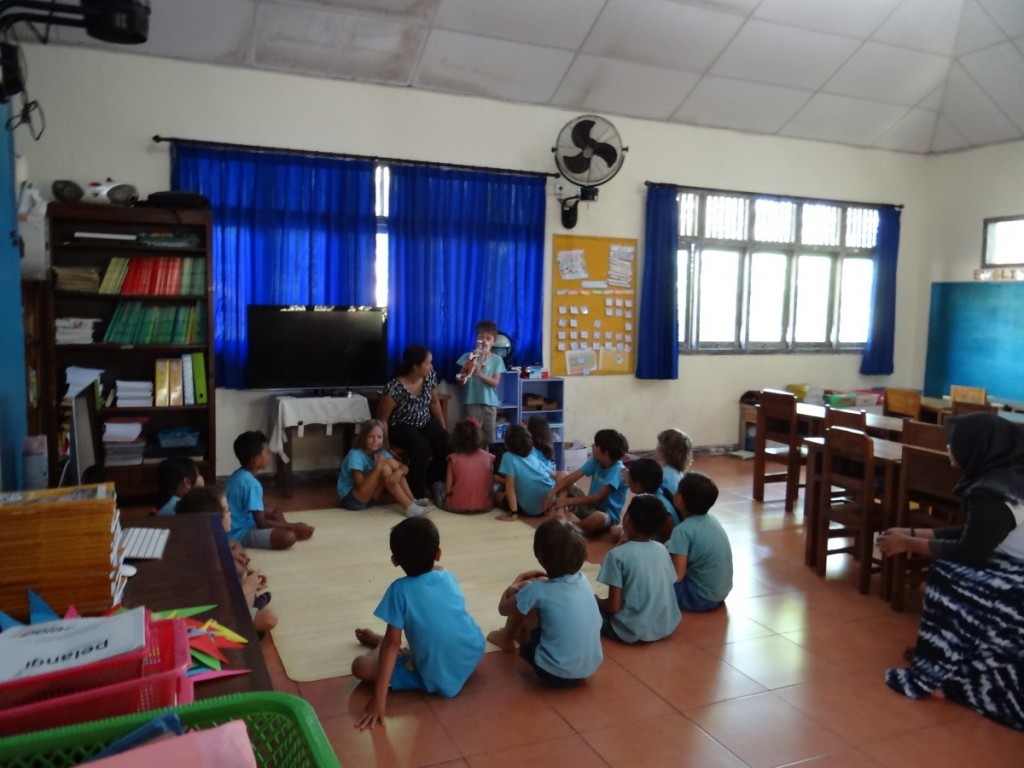 I was really impressed with the clean water and recycling system the school had too.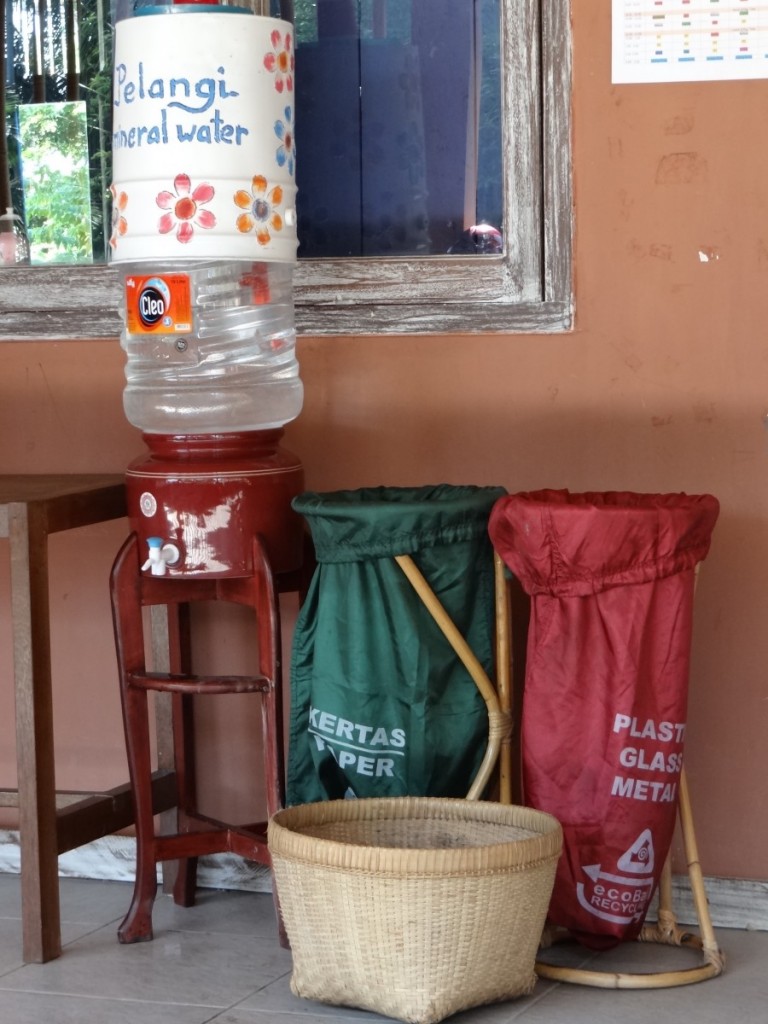 Our school ends and the kids are farewelled.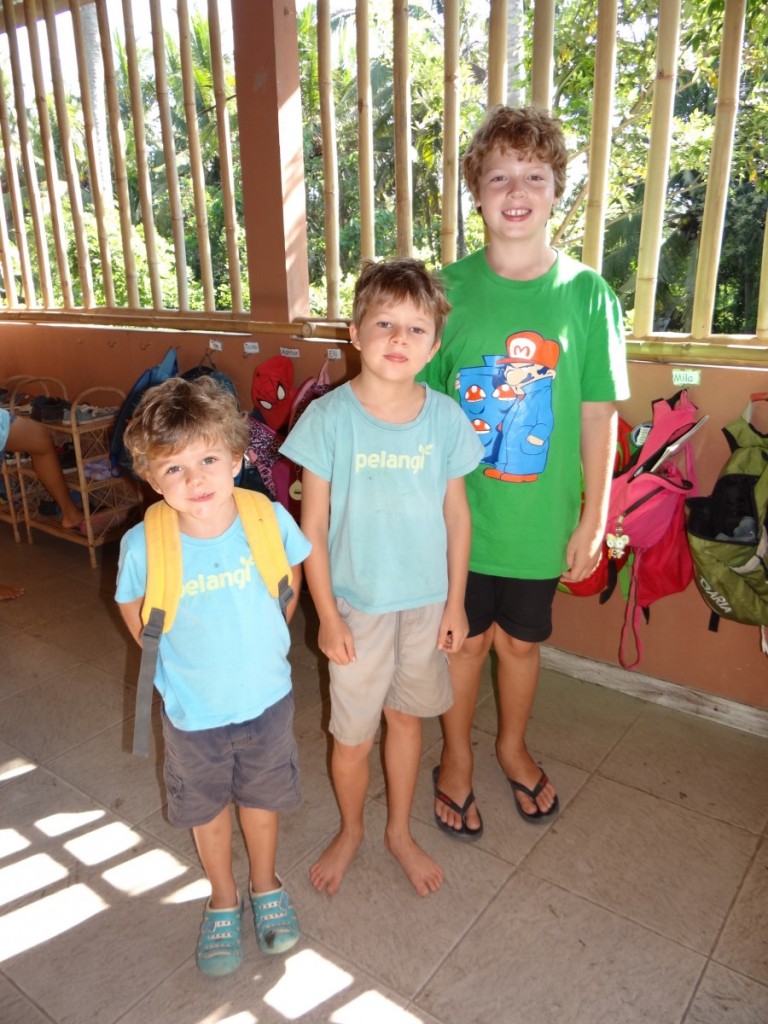 We then go shopping with our friends. She knows I'm in love with the giant woven tray in our villa, so she takes us to the wholesaler!
I'm in heaven. In fact, I decide to buy two. (And yes folks I did get them to Australia OK – wrapped in newspaper $0; then plastic at airport $8; allowed by airlines as included baggage $0, and checked at customs $0)
So right now they sit in storage along with more than another dozen boxes of goodies from around the world.  I can honestly say it is getting harder and harder not to have our own home as right now we live in Australia in the upstairs part of a pre-furnished house.  We want to enjoy all the little (and big treasures) we have bought from around the globe.
Like these trays or maybe they'd be nice mounted on a wall, or turned into a coffee table, or ????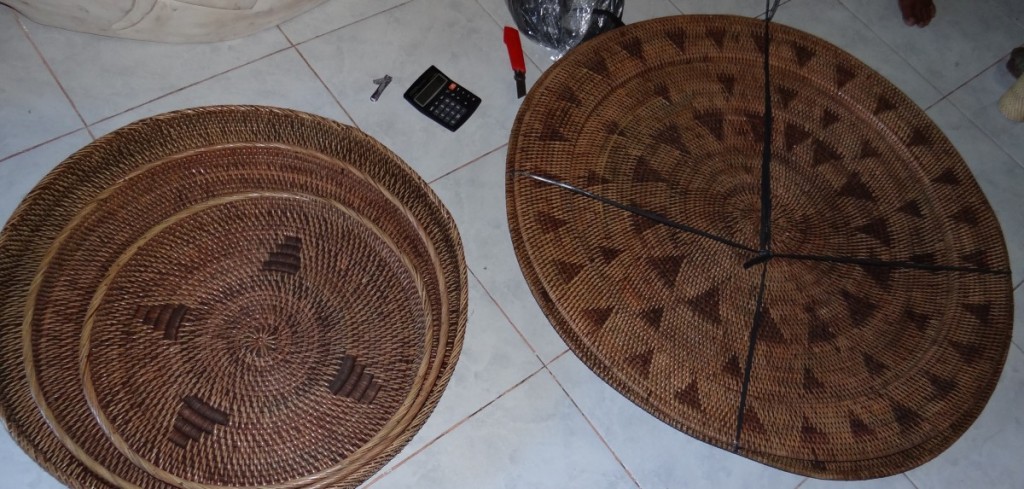 We say goodbye to our friends as we are picked up to start our tour.
Our mini-van collects us and as we drive off I think – 'I am going to see you again – someday – somewhere.
If you would like to rent this lovely villa here are the details.
Accommodates:
4   
Bathrooms:
2   
Bedrooms:
2   
Beds:
2