When I think of BALI, I think of 'B' Words.
Bars. Bikini's. Bags of Shopping. Bintang Beer. Basking in the sun. Bartering. Beaches and so on…  But there is more to Bali than these. Way, way more, and as we try to include education and fun with our travels, we decided to take a stress-free tour – which is probably the best way to see Bali.
Tours can be organized privately for individuals, couples, and families, or mixed in a small group.  We did not sit on a massive coach with 30 other people but went in a deluxe transit minivan style. Complete with air-conditioning, and plush seating, with room to choose a seat, or even lie and have a sleep.  We had a small group of five of us.  The other three were from Italy, and all lovely people, and we got along well (well we thought so anyway).
We selected a 5-night tour package, which would show us many of the main attractions of Bali, focusing on the Balinese lifestyle with Alliance Indonesia owned and operated by Balinese for more than twenty-five years.
I'm going to split up the articles on this tour, because we and did so much, and I want to share it all with you, so here is the first part.  Days 1, 2 and 3.
So let the fun begin!  Here is what we got up to…
Day 1 – Meeting The Tour
Our driver and tour guide collected us in Ubud from our cliff-side jungle Villa, and as we drove down towards Sanur, we enjoyed learning about a few of the places we passed.
We arrived at Prama Sanur Beach Resort mid-afternoon, and wandered around the huge grounds and along the beach, and then grabbed a bite to eat in the main street, and did a little shopping as there were some terrific market shops nearby.
(Note to self: if you see something you like, don't think 'I will come back for it later', because it is difficult to find where you saw the bargain and to get the time to return. This happens again later, as you'll learn as you read on).
We then had time for a swim in one of the two massive swimming pools.
By 8:00 p.m. was scheduled for us to meet the Tour Operator owners and the other tour members for dinner at the Prama Sanur Beach Resort Tirta Restaurant for a lovely traditional Indonesian Buffet.  I enjoyed fresh coconut water to start – yum!  As we sit and wait we hear a gecko, and we see its red eyes glowing above us, and its sticky padded feet (first photo).
We enjoyed traditional Balinese music and this lady had the softest honey-sweet voice ever. Her hair went all the way down her back.  She had the sweetest smile, and it was lovely to sit and listen to them as we ate our dinner.
Day 2 – And We're Off …
Our tour doesn't start early.  I, however, I arise before Explorason (prior to sunrise) to take photographs on the Sanur Beach.  So glad I did. There were fishing boats nearby, and it was a blaze of color.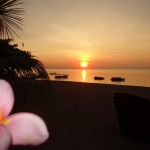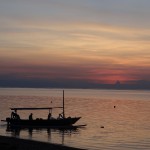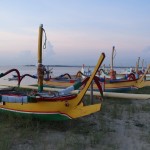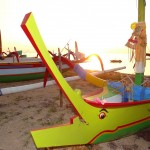 What I like about this tour with Alliance Indonesia is that we are three nights at the same resort.   No packing up every night, or ridiculously early starts.  This is a family-focused tour, so the morning commences quite sanely.
Barong Morning Dance
First, we head off out of Sanur to a Barong dance performance, in the town of Batubulan.
This lasted about an hour, and we were able to meet a Barong dancer at the start.
We sat in a covered small stadium and were right in the front, so we managed some excellent photographs.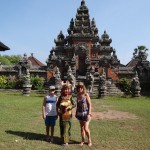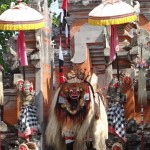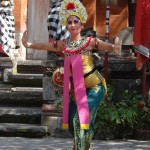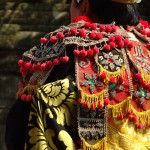 Family Home
Because I am very focused on world-schooling Explorason, it was important to me that we learned about the Balinese lifestyle and their culture, and home life etc. So next was a visit to see how a home area is laid out – and there are several buildings, not just one.
Gianyar
We then head past beautiful rice terraces near the Gianyar township, and I see some 'killer' crochet rugs.
My one shopping regret of our trip to Bali is not buying one of these Granny Afghan style crochet rugs.  I'd consider going back, just for that.  I, to this day, do not know why I didn't go back.  Now I have 3 shopping regret for things I didn't buy around the world.
Kintamani district, Batur Volcano and Lake
Kintamani is the majestic volcano area, but as we finally arrive, it just starts to rain.  What timing!  But not to worry; we sit as a tour group and have a fabulous buffet lunch at the Grand Puncak Sari Restaurant.  The food here really was top class.  I ordered a glass of ice five times to go with my drink. It finally came when I paid the bill, but not to worry, because we used it to chill our water instead.  Sometimes language can be a bit of a barrier, or they were just so darned busy they all forgot, or maybe they didn't have any and sent out for it?.  We'll never know.
I also managed to perform a random act of kindness to strangers, as I passed a couple at a table in a dilemma, that had forgotten about the tax in public restaurants and had found themselves shortchanged.  I was able to pay their shortfall "so they didn't have to do the dishes", we laughed.
It finally stops raining – yay!  We headed outside for the panoramic view of the active Batur volcano and Lake Batur below.
Kehen Temple
Next stop is Kehen Temple.  We have to cover our knees with a traditional sarong, and the ladies give me a frangipani flower to wear in my hair – which I thought was a nice touch.
I was fascinated with the Blue Willow and other Chinese Antique pottery that was cemented into the walls from hundreds of years ago. Valuable antiques that made part of the temple walls.
Penglipuran Village
Later in the afternoon, we went to see the traditional village of Penglipuran.  It is a stunning and meticulously clean tourist village, where visitors are invited freely into people's local homes.
As we wandered around the surrounding area, we took a back lane and came across some illegal cockfighting.  I had to sneak the camera up to take the photo.  I felt so sorry for the cocks, as they are trained to attack each other, for man's greed for money.
Tirtaempul Temple
then onward we go and we head to see the Tirtaempul Temple, where the Balinese Hindu visit for purification. These are what Hindu's believe to be 'sacred healing waters' surrounded of may fountains.
It started to rain again, and some local kids were earning a little extra money hiring out umbrellas.
Some of our tours used the water to place on their heads. I saw people drink the water, and others fully submerged themselves in the water.
We see a priest performing a ceremony with some local colorfully dressed ladies.
Our tour seems to be moving at a pretty good pace. Bali is a small island, so things are close together, which was good for the tour.
Elephant Cave Temple
Next stop was the Elephant Cave Temple which is one of the Balinese cultural heritage sites.  This place is also quite famous, with its unique ancient cave ornamentally decorated facade.   It reminded us a bit of the facade main face at the entrance to Luna Park in Australia, so we had a bit of fun. Explorason went into the cave, but the air was heavily thick with incense smoke, and I could hardly breathe, so I didn't go enter far.
In front are some lovely baths, and I managed to get some fabulous photos of this little girl playing down by the fountain. She was such a sweetie.
Gianyar Night Market
As we headed back to Sanur, we stopped for about an hour for the colorful Gianyar Night Market. These poor chickens had been dyed, and Explorason wanted to buy them all and set them free.  I am not sure why they had to dye them, and I wish I could have conveyed what we thought, but it made true to the fact it certainly was a colorful market!
Dinner
We finished back in Sanur with a traditional Balinese dinner and show at Legong Restaurant.
Day 3
We watch a squirrel at breakfast as guests feed him, and his friends.  I never knew there were squirrels in Bali.
Tanah Lot
We head off to Tanah Lot in the afternoon after a fabulous lunch at the Lada Hotel Restaurant at Sanur Beach Resort.
The weather wasn't so flash so we figured there wouldn't be a brilliant sunset.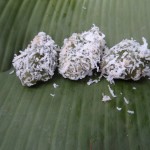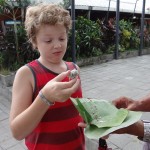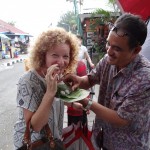 As we arrived, our guide had us try traditional Balinese sweets.  As I bit into it, the gooey center dribbled down my face, and all over my top. What a mess.  Guess this is when it is handy to have a child that can stand in front of me for photos!  Explorason was NOT too keen to try them LOL. Love his facial expression.
We walked along with the hundreds of other tourists (which mainly seemed to be Asian coach groups), and as we did there were ladies coming from the temple after making their Hindu offerings.
Here the black lava rocks tower and jut from the oceans jagged liquid claws, as they hold the sacred 16th-century temple 200 meters offshore like a hand holding it out of the water.
I like the fact that because we are a small tour, we can be as short or long (within reason) as we like because the guide is not 'rounding up the pack' of tourists to get back on the bus.
The weather cleared up a bit as we went to the main Tanah Lot area.
This area has changed a lot in the last 20 years since I have been here.  In 'the old days' (gee I'm getting ancient) this was a dirt track, and there wasn't any market around.  'Tourism is certainly changing the world', I think to myself as we all pound along their pathways.
Explorason and I are quite different.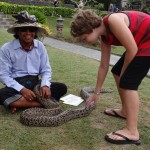 He decides he wants to go and FEEL a live snake. Shudder. Shudder.
I personally could not think of anything more revolting, apart from actually holding one. To me, this is just gross.  He held a snake when he was five years old, so he obviously doesn't seem to mind them.
He and I do NOT think alike!
Then to make it worse, he wants to go to the Snake Cave.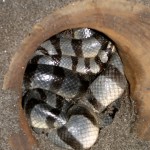 Here the snakes are said to be the guards.
We pay a donation to go in and look at them.
Again – this gives me the creeps!
'Poop' Luwak Coffee!
I've been badgering our Tour Guide to try the most expensive coffee in the world!  Luwak Coffee.
Yep – This is coffee that the Luwak mongoose has eaten the seeds of, and it has then been poo-ed out!
Right next to Tanah Lot is one of the Luwak Coffee Farms, so we head in.
We get to see all the different types of coffee, and the process is explained to us. Once the Luwak Mongoose digests the coffee been, it is said their stomach produces certain gastric juices that ferment it.
The coffee bean is too tough for the stomach to break down, so it is omitted from the body of the Luwak.  Yes – Luwak Coffee is coffee that has been pooped!
We were given free of charge a sample tray to try many of their varieties.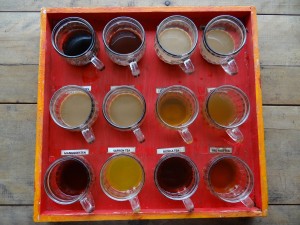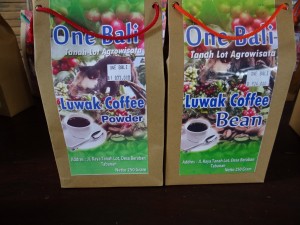 Dinner at Maya Luxury Resort -Reef Restaurant
It is about 8:00 p.m. and we have a quick tour of the stunning Maya Resort.
This is a new Resort in Sanur – just gorgeous in every way -a place we both decided we would love to return and stay at, though it is more adult-focused with the lovely long pool.  (I've so many stunning photos of this property if anyone would like to see them! Just message me on Facebook)
I was pleased I had a nice designer shawl/wrap. It nicely covers the dribble marks from earlier in the day on my blouse.
Dinner was in their beachside Reef Restaurant and was a lovely menu.
Yes, I'd come back here in a flash!
Stay tuned for the rest of our tour.
We've only had two full days so far, and we have seen so much of Bali already.
If you'd like to book a tour, please contact Alliance Indonesia and …
 make sure you tell them Exploramum sent you!
Tel : +62361 421341 / 412981
email : info@alliance-indonesia.com
Please read our Disclaimer here
Disclaimer: This post may contain Affiliate Links, Sponsored Content, or…