Flores Guatemala – 3 days of delight (and Tikal too)
We take another mini-van.  This time it was from Lanquin to Flores.  The couple in the next room were on the shuttle, and the couple from our journey to Lanquin were n the shuttle.  It was a familiar crowd.  Firstly we had a 15-minute delay while the road was repaired.
Interestingly, next, we seemed to stop off for the driver to collect furniture and this wasted a good 20 minutes whilst it was strapped to the top.  I jumped out and asked to use the baños at the casa, and was glad I did as he didn't stop for lunch till nearly 2 p.m.  Lunch was in the middle of no-where, but thankfully another van pulled up, and we all started to talk about what we wanted to do, or others were doing, and where they were staying.  Someone noted an inexpensive hotel.  A German lady was going to do the same tour I wanted, and so I was able to glean information from her. It was a good stop.
The bus ride also includes a short ferry ride, but you stay in the shuttle van.
When we finally arrived in Santa Elena, a small man with a scar running down his face boots us all rudely off our mini-van.  The Russian couple gets upset at how rude he is.  I need an ATM and next thing when the new minivan (which now has our bags in the back seat, and not on the roof) takes me there, the rude man is there telling me there is no fee for the ATM I had just tried which read "$3.50 fee if you wish to proceed".  He was getting under my skin.  I waited to use another ATM and fortunately, there was no fee.
You cross a small bridge to Flores.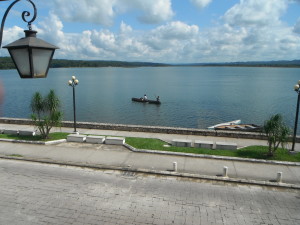 We all went to the same Flores budget hostel – really budget "Mirador de Laguna" or some similar name – it is green and yellow and faces the lake. Basic double rooms are 90 Quetzales – bargain.
Flores is a little town on a flooding island where time seems to have stood still. Old people pull their chairs out to the curb of cobblestone streets and sit and greet you at night. Many restaurants face the lake, and it is a nice place to stay, even if our hostel is super basic.  You can also walk across the bridge to Santa Elena and go to Burger King, the mall and a great supermarket, or an ATM.
What surprised us most was the little man with the scar seemed to pop up all over the place. Trying to sell us tours.  Trying to sell us connection buses. As if his San Juan bus company was going to get a cent of my money.
We booked through the hostel for Tikal the next day.  We asked for the sunrise tour and were told we could stay at one of the 3 hotels at the base of Tikal.
The next day we stored our bags and headed off in the mini-van at lunchtime with the German lady.  The van took ages to collect people, sort our return trip vouchers, and paid tours, saying things were lost and missing.
Somehow I thankfully had only paid 80 Quetzales for myself with my son free (supposedly sitting on my lap).   But when we asked to only do the sunrise tour, we were told we had to use the guide included (wow – never knew he s included) and the guide wouldn't arrange to stamp our park entry for the next day, as we had been told we could.  In hindsight, we should have just jumped out of the mini-van and asked the parking attendant ourselves, as we met several others that had their ticket stamped for the next day's entry (if you enter the park after 3 p.m., as we did).
We were told we HAD to do the sunset tour, so we dropped our bags and arranged to use the tent camping for the night at Jaguar Inn, which included the air mattress, and bedding in a small tent undercover.
We changed our shoes, grabbed our flashlights, some snacks, water, and insect repellant. It was hot and humid and perspiration was pouring down the back of my legs – gross.  We walked, climbed, and listened as the guide explained the area of Tikal and it's history to us.
We entered the Grand Plaza and I could barely walk.
My twisted knee injury from 2 days before was really aching.  I sat while Explorason ran around, climbed, and yes, explored!
He didn't want to leave. I didn't want to walk another step.  But on we went.  It was heading toward sunset, and we yet had to climb Temple IV to view the sunset.
I am glad it was a wooden staircase and could use the banister to haul me up.
We sat and watched the sunset, and I had the good sense to pull out the flashlights just before now.
It was quite dark, in fact, it is a jungle, and jaguars and other night creatures are known to come out, so we were a little nervous as we walked on.  The worst we saw was a tarantula – nice and hairy!
On our return, the guide then tries to make us buy another entry ticket for both my son and myself (so far I had only needed entry at 150 Quetzales for me to get into the park for that day).  He said we had to have one for the next day.  100 for me, and 50 for my son. He then said we also had to pay 150 Quetzales for a guide in the morning for the sunrise tour.  Worse was the pass was only valid 6 – 8 a.m.  I was quite cranky by now.  I knew he was trying to get extra money off us. So I never tipped him for the day. I told him we would work it out in the morning.  It is a sad fact that locals think we are all "rich Americans".  However, I am an Australian single Mum.  I am in no way rich, and in fact quite concerned about going over my daily limit in my fast-dwindling budget.  So as only the German lady and I were left in Tikal, we decided we would talk about it over dinner, and try to work it out with the ark in the a.m.
Once back at the hotel, I bought my son a drink, and settled him on the computer, while I went for a shower.  The bathrooms looked like they hadn't been cleaned in a year. The women's shower had no lightbulb.  There is no roof on either the men's or ladies'.  Someone stuff was left there, and the slats on the door were partly missing in spots.  Oh, and the shower was only cold.  But I was so hot and sticky, and dusty, I didn't mind!
We met our German lady friend for dinner (she had a hotel room) and a good chat about our problem. All other guests had their tickets stamped for the next day and had a free entry as they had come after 3 p.m.  Ours were stamped for only today.
By 9 p.m. we were ready for bed.  The other tents had now filled up with fellow explorers and we chatted as we got ready for bed.
By now my son was making shadow puppets on the tent wall and wanting to stay up all night. He was loving camping!   I looked up to an amazing array of stars – so bright – just awesome, and the stillness when all had stopped talking was fabulous.
Alarms broke the night sounds at 3 a.m.  We all rose for the sunrise tour.  It was dark – very dark.  Little did we know there were no lights as the generator only goes for limited hours at night. We went and found our German friend.  She was struggling with her flashlight in her dark hotel room. It was weird. Trees dripped the night's dampness, and I thought it was starting to rain, but it was still humid.
We walked to the ticket office with the others.  They were then told they needed sunrise tickets for 2 hours but could use their other ticket all day. They also needed to pay for a guide.  Most of them went back to bed.  We negotiated a deal with a guide, and I ended up only paying 50 Quetzales for me, and 100 for the entry ticket – nothing for my son.  The entry ticket was never checked by the way!
Once in the park, it was hard to see anything, and whilst we had a more informative guide, it was a repeat of the sunset tour.  We waited in silence to see the sunrise. But the foggy mist was too thick.  We saw no morning lights.  But we did hear the forest come alive.  Slowly one by one howler monkeys started their morning call. Soon the forest was in a screaming roar.  It was so loud and sitting above the trees and listening as it came toward us louder and louder was quite incredible!
My son and I left the rest up there in the morning low light.  After a bathroom break, we headed off to the Grand Plaza.  Here we had the Plaza to ourselves.
My knee was feeling better and we climbed and had fun exploring it all alone.  We consulted the map a few times as to how to get back. The park is not well signed in places, and can get confusing, and is a large spread out the park.
We headed back to the hotel.  Breakfast at the Jaguar Inn is incredible.  I think it is the nicest breakfast I have ever had!
Soon our German friend came back and we sat and talked. We both decided that we were glad the mess-up had happened with the tours, as last night was far better than this a.m., but this a.m. had made the whole of Tikal gel together, and our time wandering around I the morning mist was quite special.
We headed back to Flores and checked in for another night.  This time we 'upgraded' to a 120 Quetzales room with hot water, and a balcony.  Off to Burger King so I had a happy son.  Stocking up of snacks for the next day trip, and then it was time to research where to head next.  We decided it was Mexico. And the Caribbean side.  So I bargained the tickets with the hostel and reduced the price by 50 Quetzales.  Then it was time to write down a few hostels.  As I am trying to do so, a rowdy group arrives and is yelling so loud I can't think.  I ask the tour guide nicely if she can quiet it a bit.  Next thing the little man with the Scarface tells me to "shut up and go to my room".  I was shocked.  So I told him to butt out and then just ignored him.  My gosh – he seemed everywhere.
Just as we are watching the sunset over the lake, the German lady arrives with a fresh coconut. We sit on the balcony and enjoy it, and decide to go together out to dinner.
We find a fabulous place on the other side of the island. Most places have different kinds of happy hours, so always ask for prices and drinks, and you may find wine or nice cocktails at a bargain price.  I am poured the largest glass of white wine I have had in months.  1 drink lasted me the night – bargain!
We felt like we had made a new friend.  As we parted our ways I was thankful that in the trials, and the beauty of the last 2 days I had a new friend I had shared it with.  I had seen the positive spirit in this lady, the thrill of discovery, and the joy of life, and it had been a wonderful thing to share!
Questions and Comments
Are you a family that permanently travels around the world?
What is your take on families that travel permanently?
Have you visited Flores Guatemala before?
How was the experience?
What did you make of their culture?
Do share your comments with us below