When we decided we wanted to visit Turkey, Cappadocia was high on the list of places to see.
And a balloon flight over the valley, along with staying in a cave, were the two things on our 'MUST DO' list.
There are a lot of balloon companies to choose from, but Cappadocia Voyager Balloons stood out from the rest.
They were the second company to start here (if I remember rightly) and they have really strict safety standards.
Considering our life was in their hands, this won me over, and so I made them my first choice.
I was awake just after 4:30 a.m. – excited for the day ahead.  Explorason was up and dressed and we went to the hotel reception, where the driver awaited us.
I've been on balloon flight once before and we were the lone balloon in the Australian Wine area at the time.
So when we went to the office/shop, I was shocked to find vehicle after vehicle all coming in with fellow flyers.  Word was out as to how good Voyager Balloons are.  I also had no idea they would have more balloons than one that would go up at the same time either – in fact, if I remember rightly, they have six.
We enjoy a light breakfast and a wake-up coffee, and then we are off in the mini coach to where the baskets await us.
Our pilot gives us some instructions before we take off. Safety is always first, and we feel so good about this.
Just look at how many are flying and this is just one of four directions?  There were balloons everywhere – it was like a festival, and yet this is low tourist season. 

Below us, we can see grape vines and apricot trees in the fields between the fairy chimneys.  We also learn about the monasteries and who used to live in these weird and wonderful homes made by volcanic force and wind erosion.
There are only pigeons living there now, but it was once a home for so many.
As we ascend, we learn there can be up to one hundred balloons take off at a time. Explorason says he counted over eighty, but I am not sure – but there was a lot.
We are surprised how elated and excited we feel. Our pilot is a master at flying and tells Explorason all about how the balloon works, and also about the landscape below us. The fairy chimneys are amazing.
As both the balloon and sunrises, the sky is filled with color. The snow of two days ago is visible on the mountains.
The landscape is so majestic. I could load about one hundred photographs – there was so much to see.
But what surprised us the most was when we went through the clouds.
In fact, we were …
Flying above the clouds in a hot air balloon!
How incredible.  Indescribably and breath-taking. Silence filled the basket of fellow flyers.
And our shadow caught in the sun's rainbow circle – just for a split second.
Wow – what a feeling.
What was nice was that we had such a great group of fellow passengers on the flight too. We really all got along well, and that really made it special too.
When we land, it is so impressive that he actually lands right on the trailer. Now that is skill!
We then are given a certificate, which we will cherish and eventually when we get a home, it will go on Explorason's wall.
After this, the 2 children are given juice, and the adults get to enjoy a glass of bubbly – and a nice drop at that!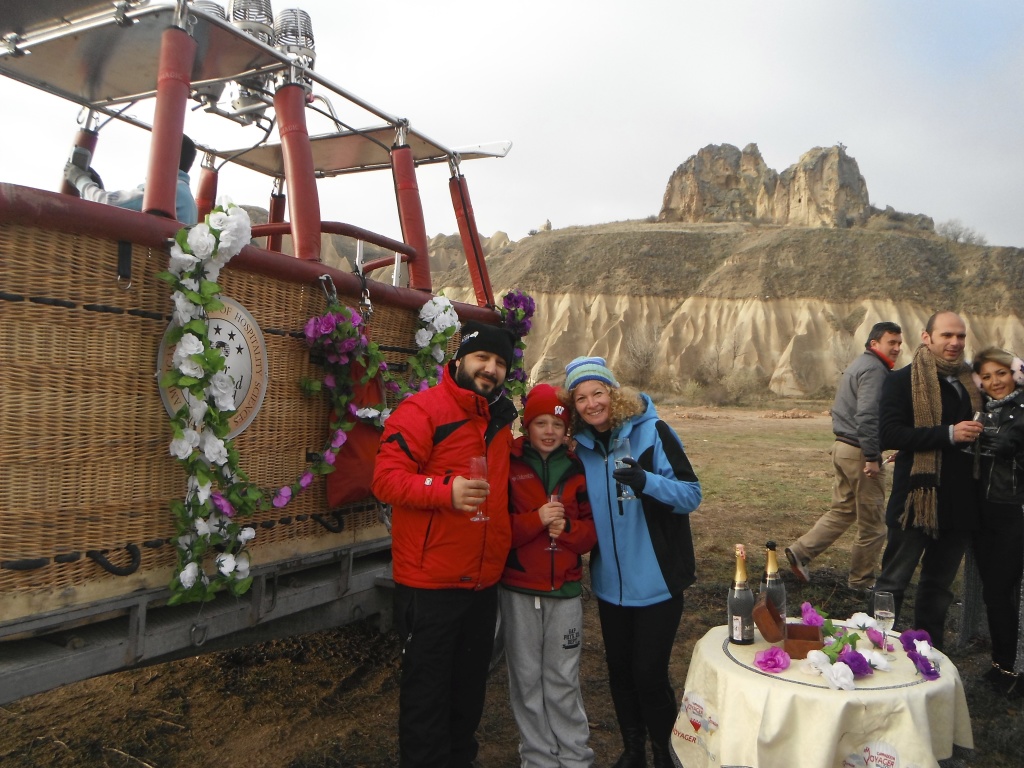 It was a fantastic way to start our time in the Cappadocia region.  We just had an amazing time – Thank you Voyager Balloons.
Attraction Name: Cappadocia Voyager Balloons
Location:  Muze Yolu Cad. No:36/1 Goreme, 50180 Goreme, Cappadocia Region, Turkey
Telephone:  0532 717 5050
Website: http://www.voyagerballoons.com
Date visited: November 2014
Child-friendly: Yes – please check for ages accepted
Questions and Comments
 What do you make of my visit to Turkey?
Are you a family that travels permanently?
What inspired your decision?
How has the experience been?
Do share your comments with us below.
FOR GREAT SPECIALS, CLICK ON THE LINKS BELOW