Everglades Holiday Park AirBoat rides and Alligators
As we arrive at the Everglades Holiday Park, I am amazed to see so many people enjoying the Everglades.
We park the car and go to the ticketing office, which also happens to sells Dippy Dots – our most favorite ice-cream, so we are delighted to grab one of those each and head down to the waiting groups at the edge of the water.
Several airboats are coming and going. This is a happening place! Obviously, the word is out that this is an awesome adventure, and is not to be missed.
Several birds bathe and flutter their feathers in the Coca-cola brown water, and soon we are called for our very first airboat ride.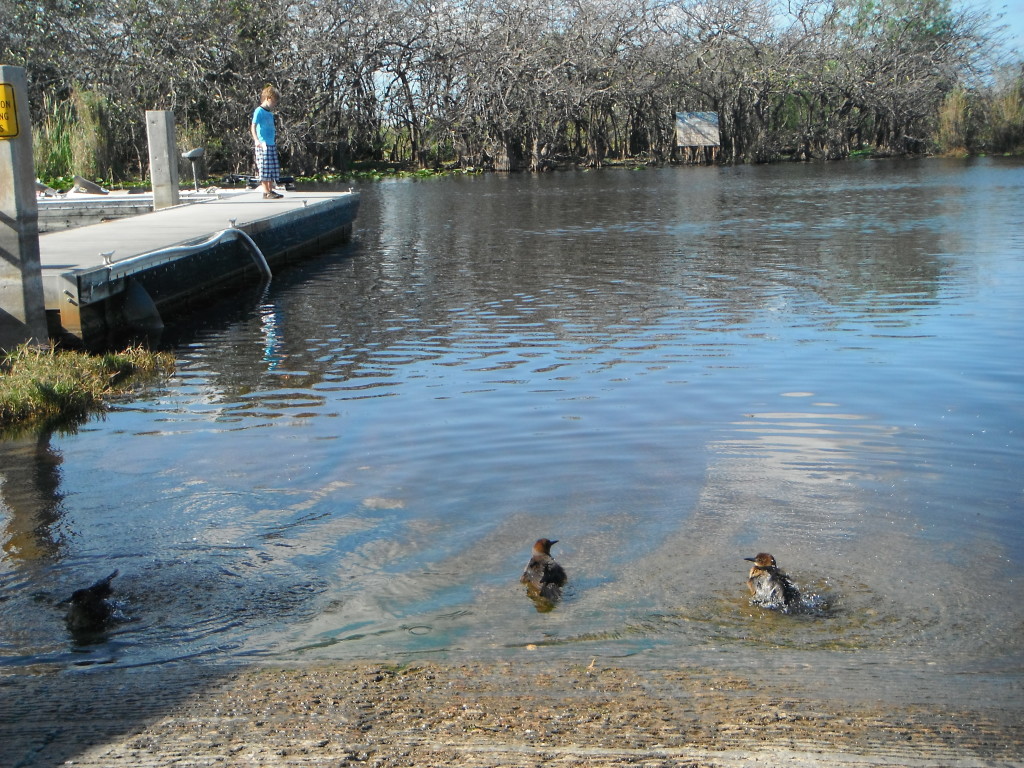 We line up and the kids all scoot to the front. Little ones are given life-jackets which impresses me, and the boat is not overloaded. There is plenty of room to select a seat. There is also a great perspex front window, and so that stops the wind getting in our eyes as we take off.
Take off? Did I say that?  Well, it feels like you are taking off!  The motor is like a huge fan, so instead of a speedboat style engine that can get caught in the grasses and plant matter, this boat can skim over the top, and not damage nature, so yes it feels like it is taking off!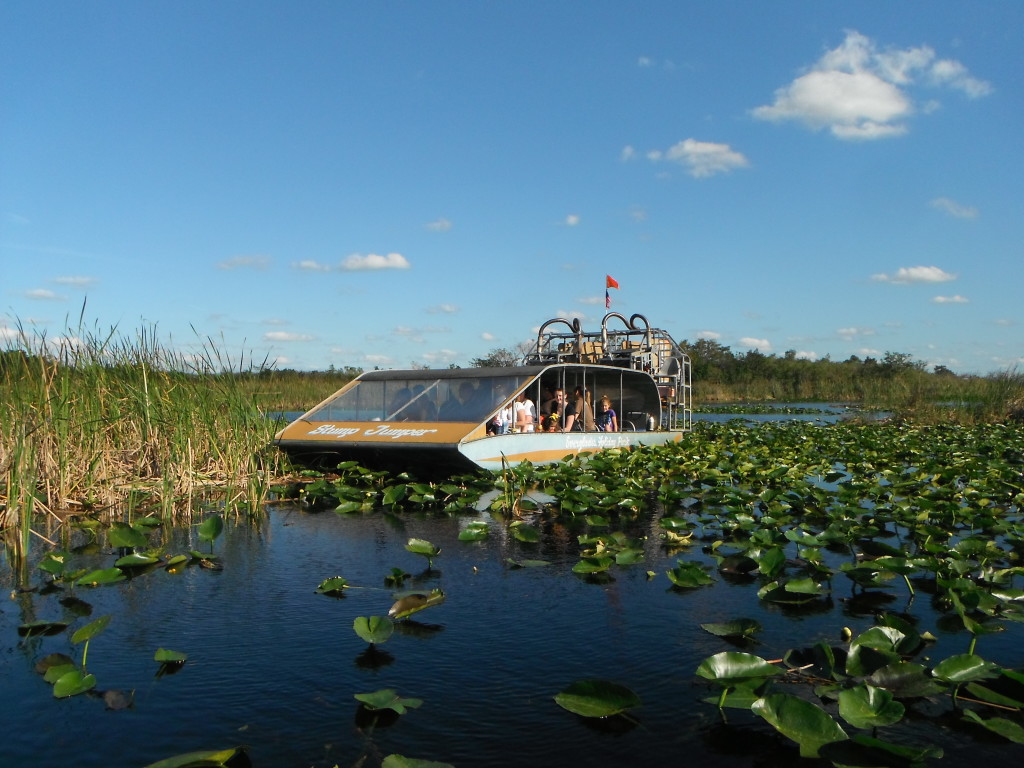 It is not quiet. Make no mistake there is noise, but it is only when you go fast, and not al the time, and you quickly get used to it.
The first area we go through feels like we are heading straight into a scene from Moses and the bulrushes.
Here our driver (who is on a speaker/microphone) tells us to keep our hands, feet and other parts of the body inside the boat.
It is beautiful. Simply stunning! We learn how the channels were originally made, and what I love is that this is educational.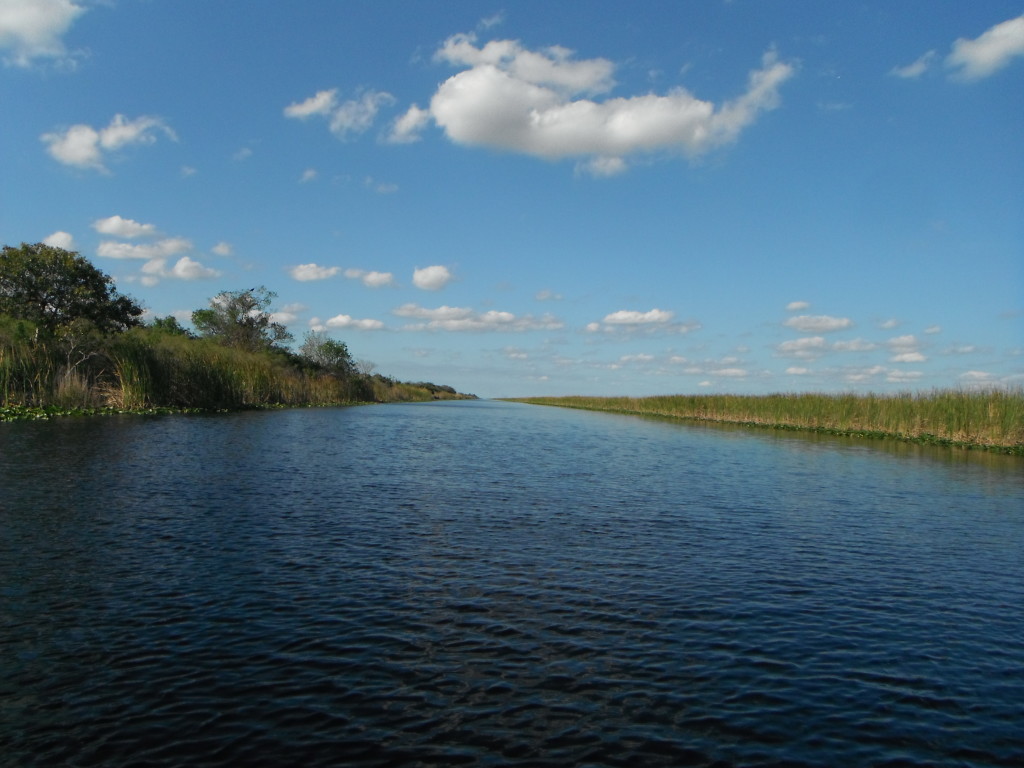 As the sun glistens on the water in the late afternoon and makes the lily pads look more like an endless roll of fabric, I can feel the serenity. Oh, this is an incredible place to visit!
The blade grade of sawgrass can cut your fingers to smithereens.  The yellow lily pad flowers can house many a dangerous insect or spider, yet I see a couple of children dancing their hands in the deep chocolate waters.  This annoys me. Why are some parents so irresponsible?  The company clearly gives safety instructions for a reason. They also explain why not to feed the alligators.
Alligators? Yes, there are alligators, and soon we spy a couple.  First off is a medium sized guy sunning himself.  We learn that their backs are like solar panels, taking in heat from the sun, as they are cold blooded.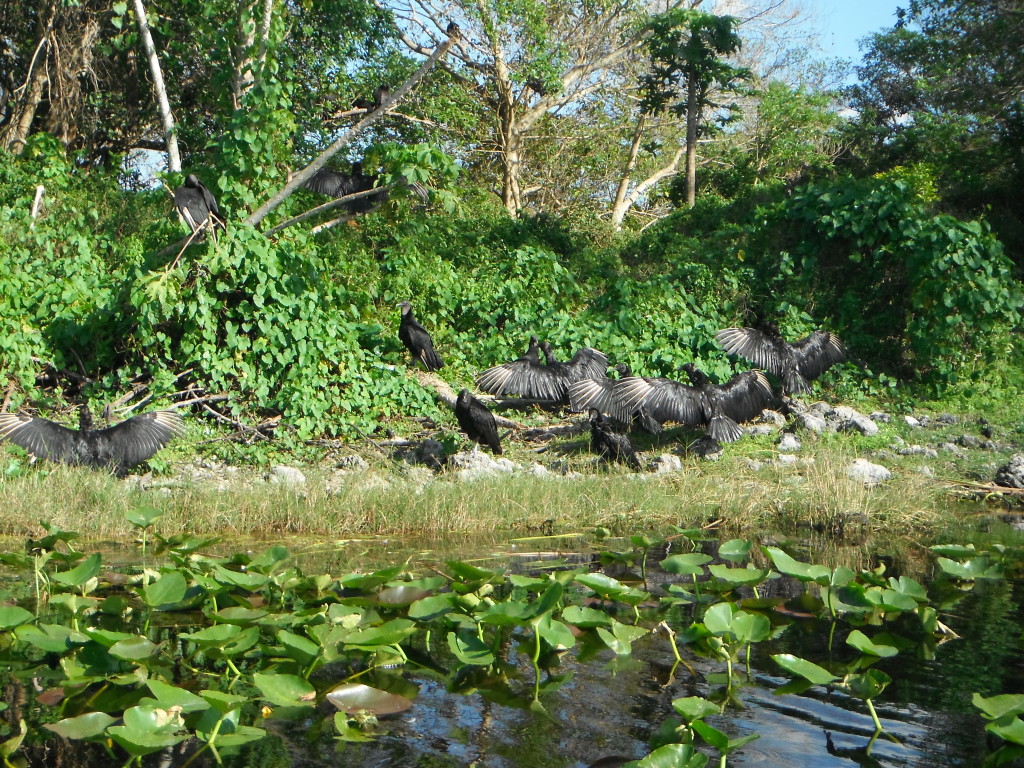 Next is very educational.  We see our driver and guide stop our airboat in search of a worm.  It leaves trails as it eats through the inner veins of the leaves.
Then he finds it.  It wiggles and shows itself and BEWARE. This dude is not nice.  Ingest him, and you will find you have a big mess to clean up from your bowels in record time. It is not a tequila worm.  It is a diarrhea worm!
Our driver also points out many of the varying plants and trees we can see. They may look dead, but in reality, they are hosts to bromeliads, air ferns, and many other plants.  You look closely and can see they are alive, and a few green leaves are sprouting at the top.
Interestingly, the trunk of a few plants look like an alligator, so soon you find it is difficult to spot which is which.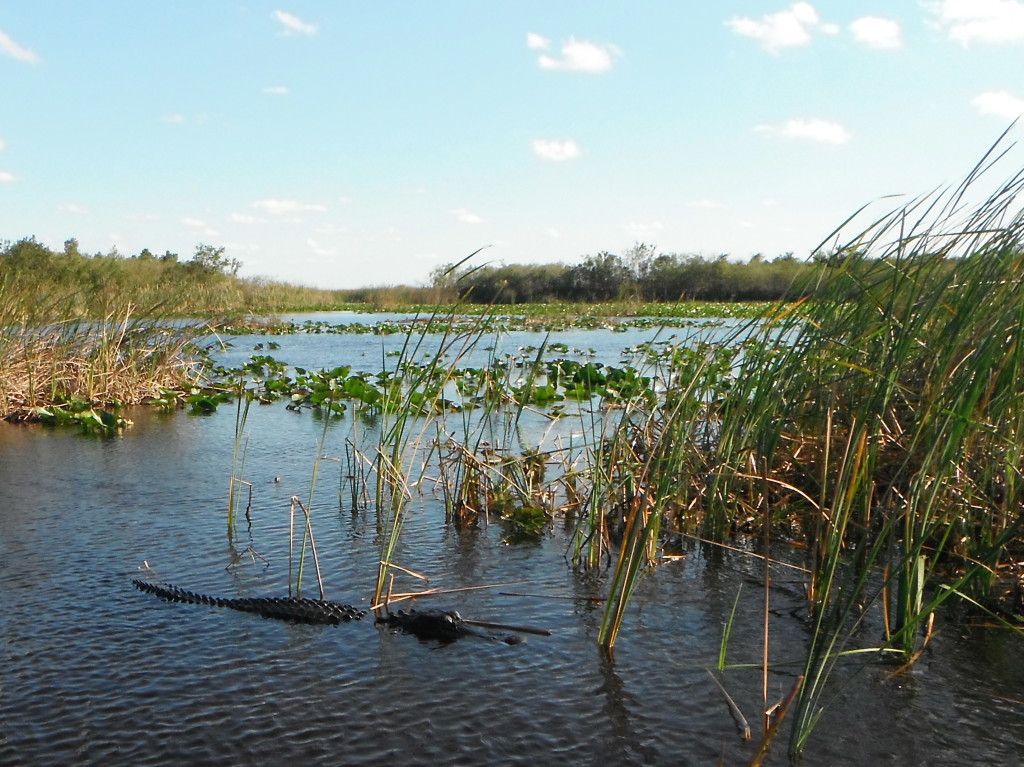 But an ugly big guy comes along. Even though he can hang out underwater for up to an hour, he is cruising along, and we are pleased to get a pretty good view of him.
The airboat starts its return journey. I cannot believe we will be out here for an hour. The time is flying by.
But wait. Another dude is sunning on the banks. So still, you would think he is a prop. We get amazingly close to this alligator.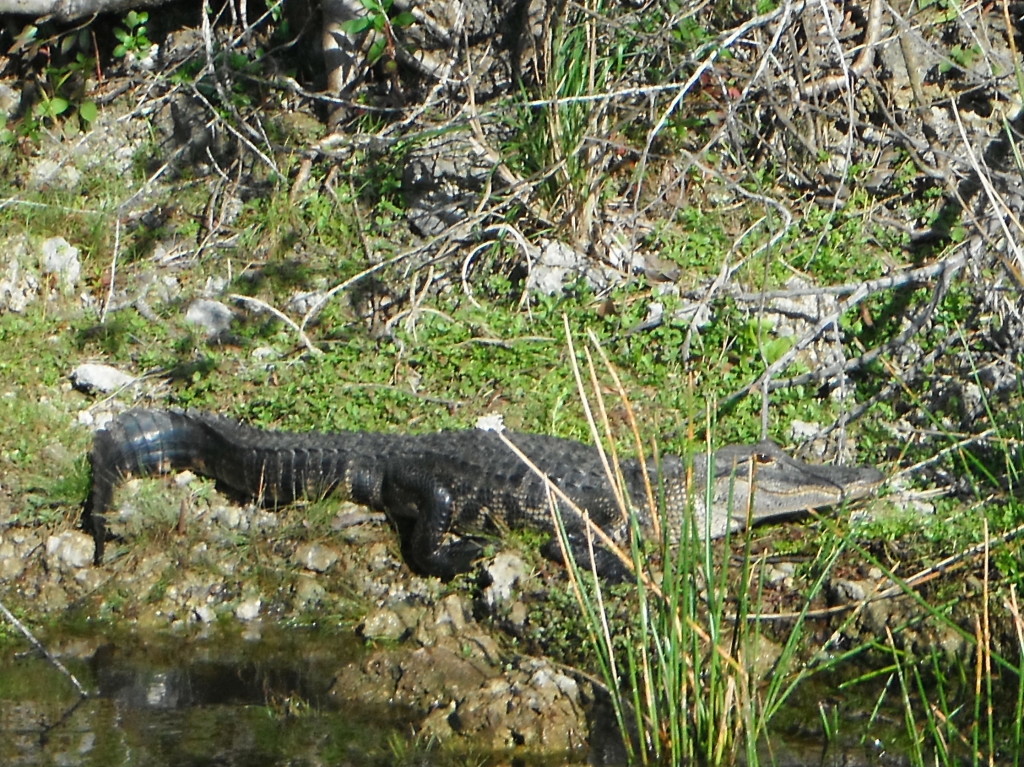 It is time to head back, and it has just all gone too quickly. We love the people we share our boat ride with. The guy in front had a fabulous sense of humor and was so quick-witted. By the end of the trip, I was in stitches.
As we exit the Airboat, there is a lovely photo of my son and I waiting for us, along with a keychain. It is a hard copy and so sorry, can't show you right now!
Next, we wait for Chris. One of the famed GatorBoys. Here is a pit of 'gators. They lie in the sand. Waiting. Waiting for 'Chris' the tall handler to come in and 'entertain' the crowd of 99.9% Americans and Canadians, and the 0.01% Australians – us!
There in the corner lies a few of the beasts.  Medium sized snappers. Yikes.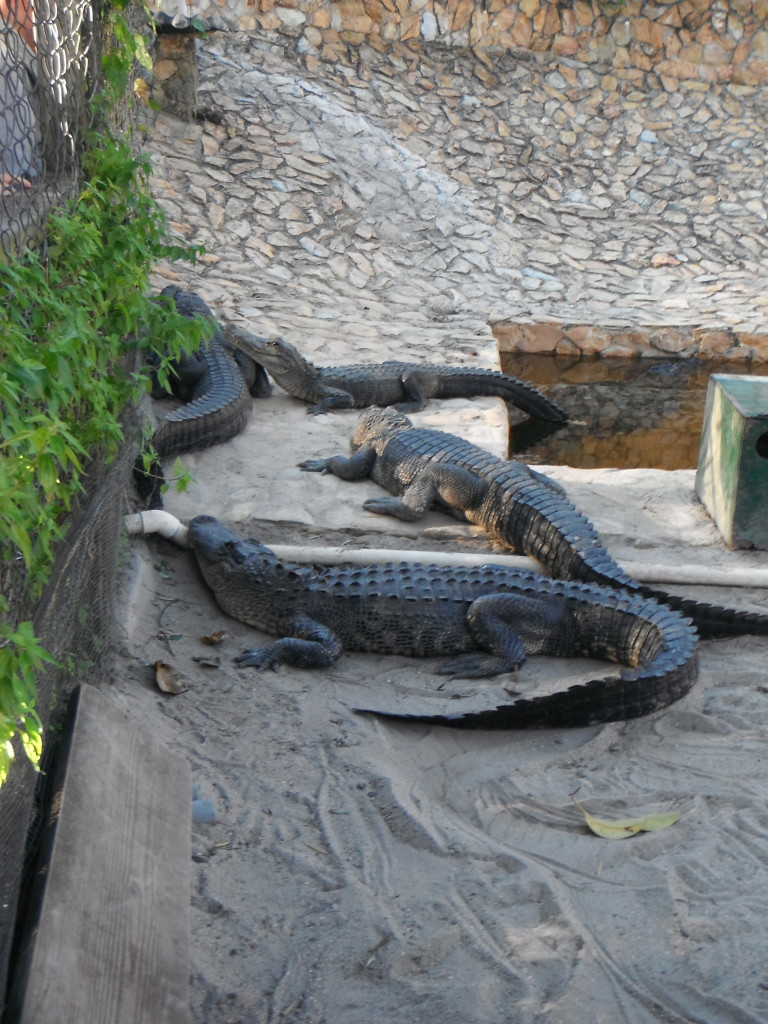 Chris enters in and drags an alligator around. The big beast seems not to be too upset – yet. Chris has no shoes on. He is treading in a pool FULL of alligators. Madness?
Chris is The Man. The Gator man that seems to understand the beast. He is the American Crocodile Dundee.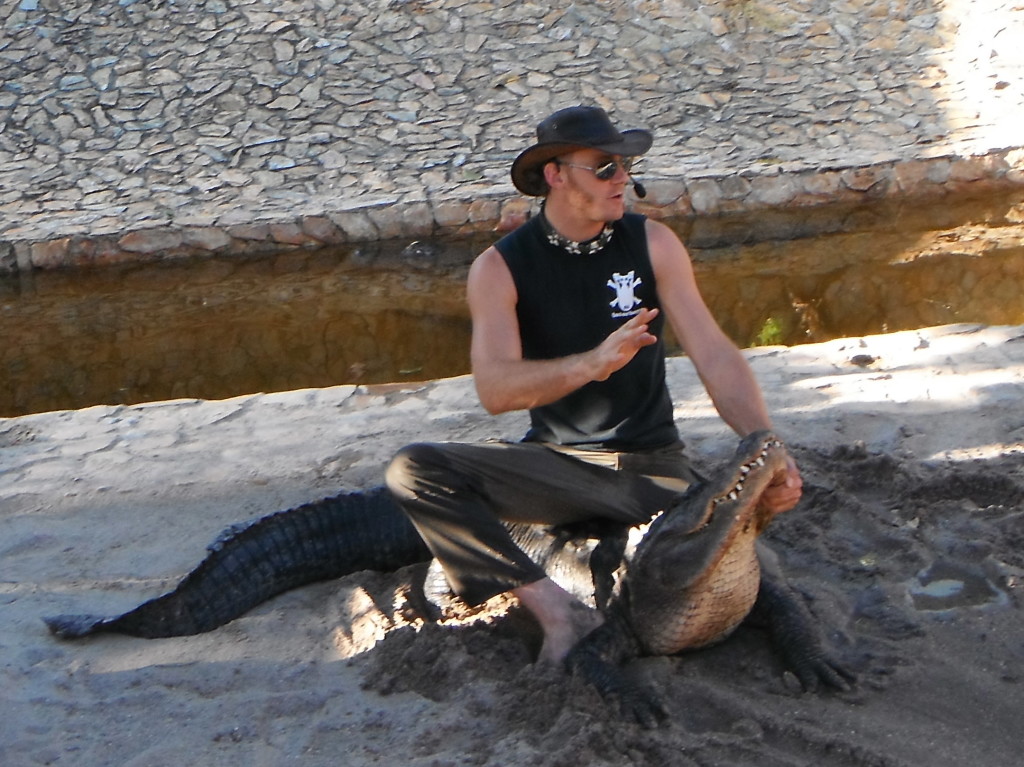 His chin rests on this big fella as he displays how to rope it up. Impressive? Definitely impressive.
Thanks, Everglades Holiday Park, we had an amazing afternoon.
Attraction Name: Everglades Holiday Park
Location:  21940 Griffin Road, Fort Lauderdale, Florida 33332
Telephone:  954-434-8111
Email:  info@evergladesholidaypark.com
Website: http://evergladesholidaypark.com
Date visited: February 2014
Child-friendly: yes. Lifejackets are also available.
Questions and Comments
What fascinates you about Florida?
Have you been to the amazing Everglades?
How was your experience?
Do share your opinions and comments with us below.