Xtreme Indoor Karting Mini Golf and Arcade Florida
One thing Explorason has always wanted to do is to drive indoor motorized karts.  But he has only just become tall enough, and he is excited to finally get the chance.
We arrive early.  Being from out of town we are not sure how long it will take us to get there, and so we sit and have some lunch, and make sure he has closed in shoes and is ready when it opens.
First off they check his height. We both complete and sign an indemnity form. He is given a bracelet to show he is a driver.
He is also given a head sock to keep, which he thinks is pretty cool. This is great as it means the helmets are clean inside.
Various sizes of helmets are available, and he is given a form and card to take to the staff member at the track.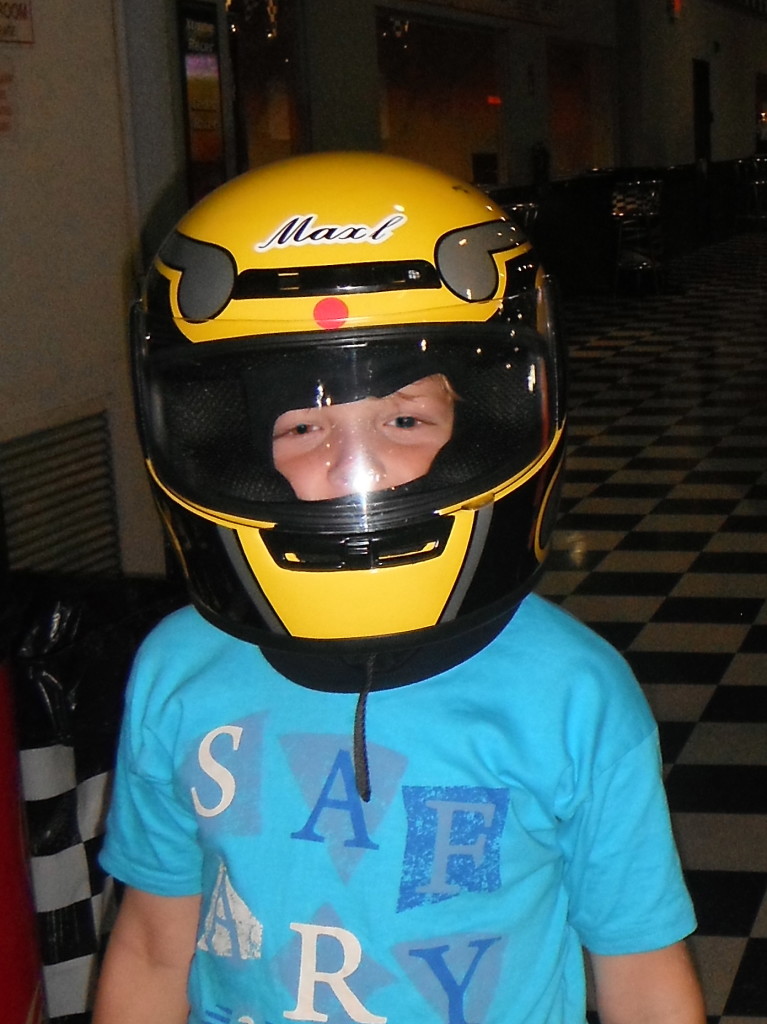 The rules and safety of the track are then read out to the riders.  In this case (because we are here early, there are only 2 drivers).
I like the way the staff member gets down to the level of the drivers and teaches them the principles and safety.
My son didn't realize he was supposed to beat his own lap time, and so he went slow and practiced, but for an 8-year-old it doesn't matter, as it is more important he works on the safety principle.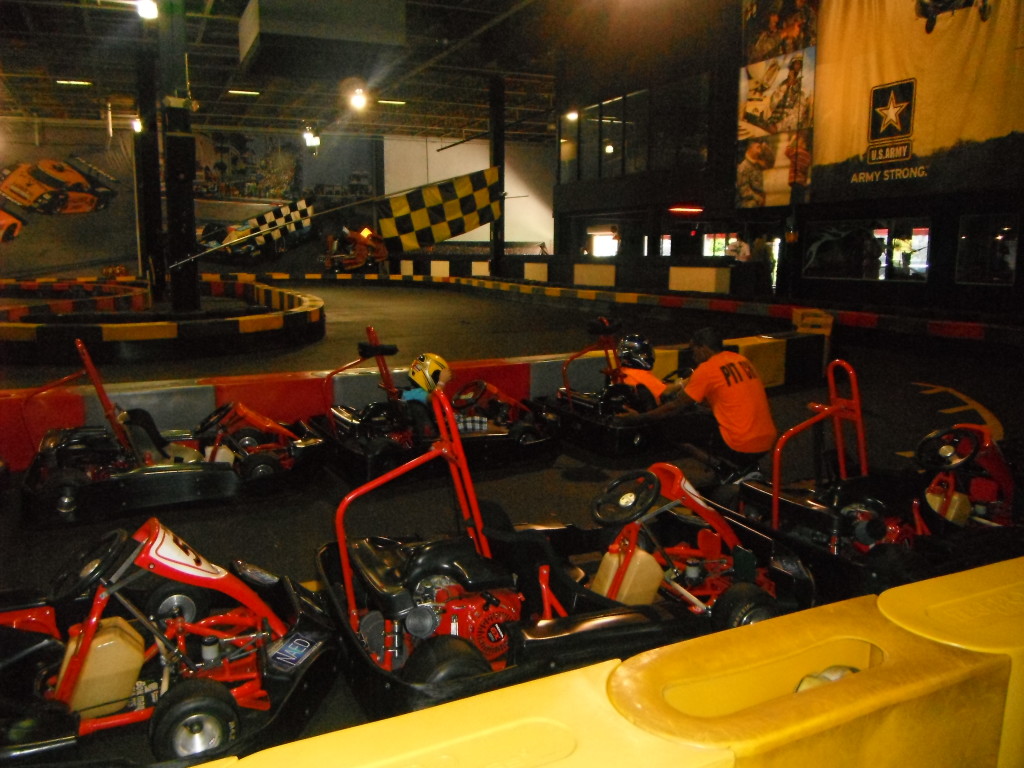 Soon the boys are off. In fact, they are going around the track so fast, it is really hard to get to a spot to take a photo in time.
I am sure that there is a big grin under that helmet!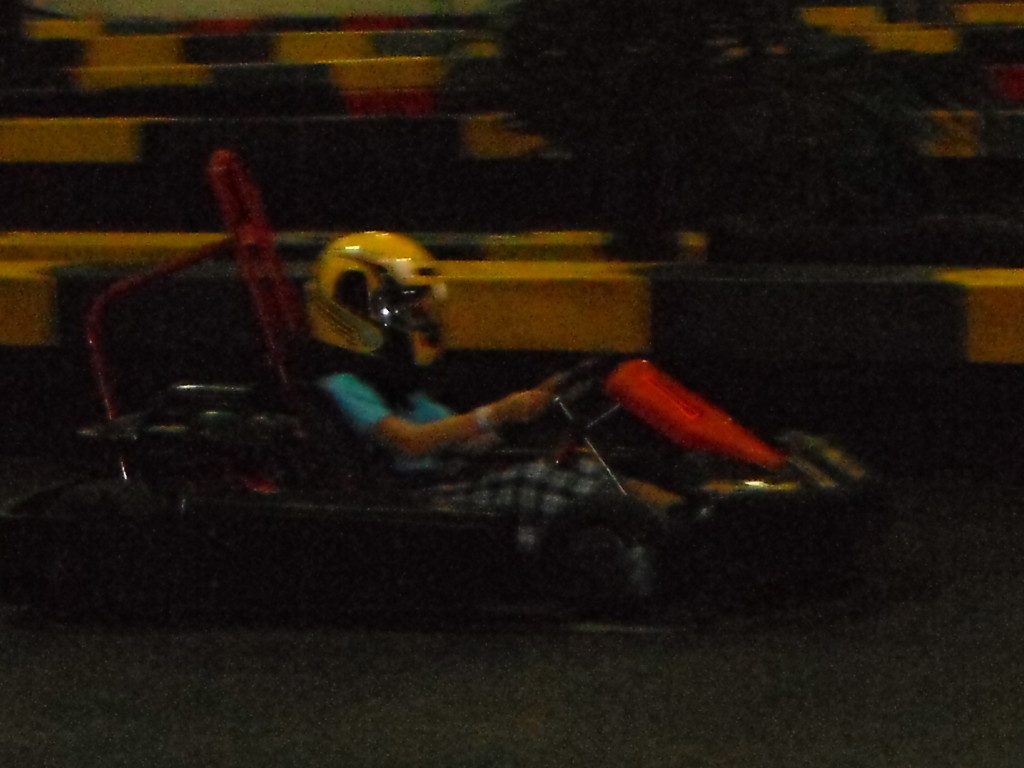 Before long they are given the flag to end and drive back.  It was a great time and a great experience, and I am glad the track was pretty clear of drivers so he had a good time to learn the skills he needs for next time.
I am really impressed by how well lit, safe and large the track is.  I know that corporate groups come and use it for team building, which I think is a fabulous idea.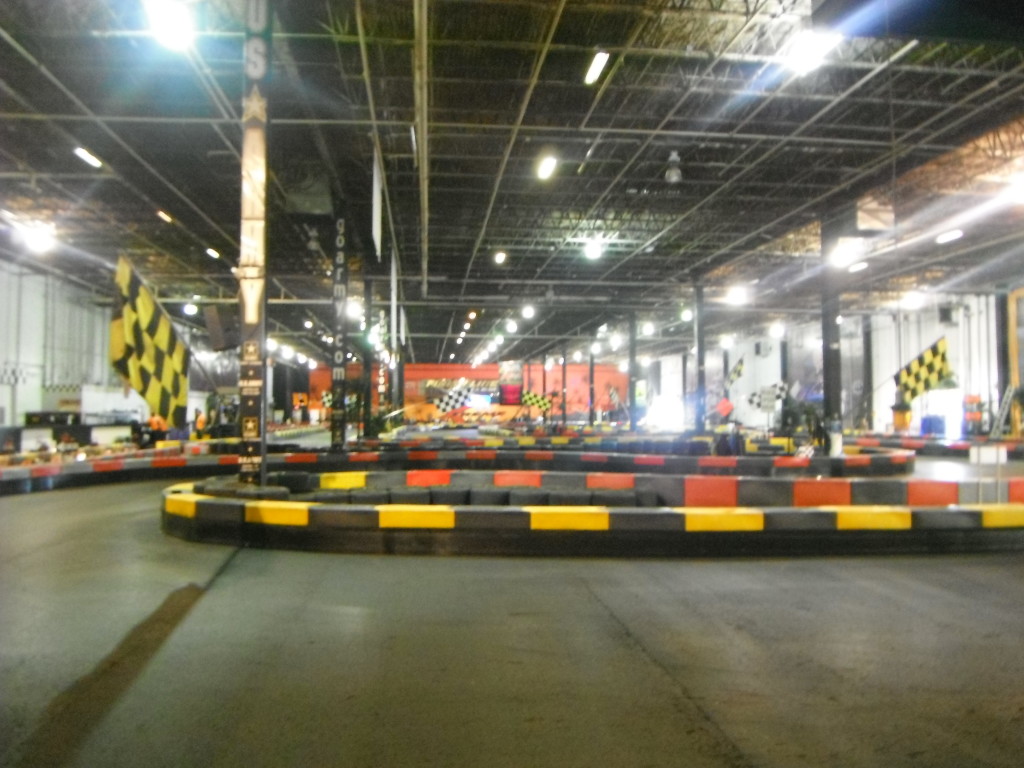 We then head to the mini golf 'race track' at the front of the giant building. Now we LOVE mini – golf.
It is quite nifty in design and is easy to follow. There is no set Par, so it is good for kids, but there are quite a few tricky holes.
I like the motor designs they have used. Simple and fun. It is nice that it is indoors, so if the weather was inclement, it wouldn't matter.
This is a pretty cool shot. Not many I get photographed in, but I manage to get it through the exhaust pipe and manage a hole in one!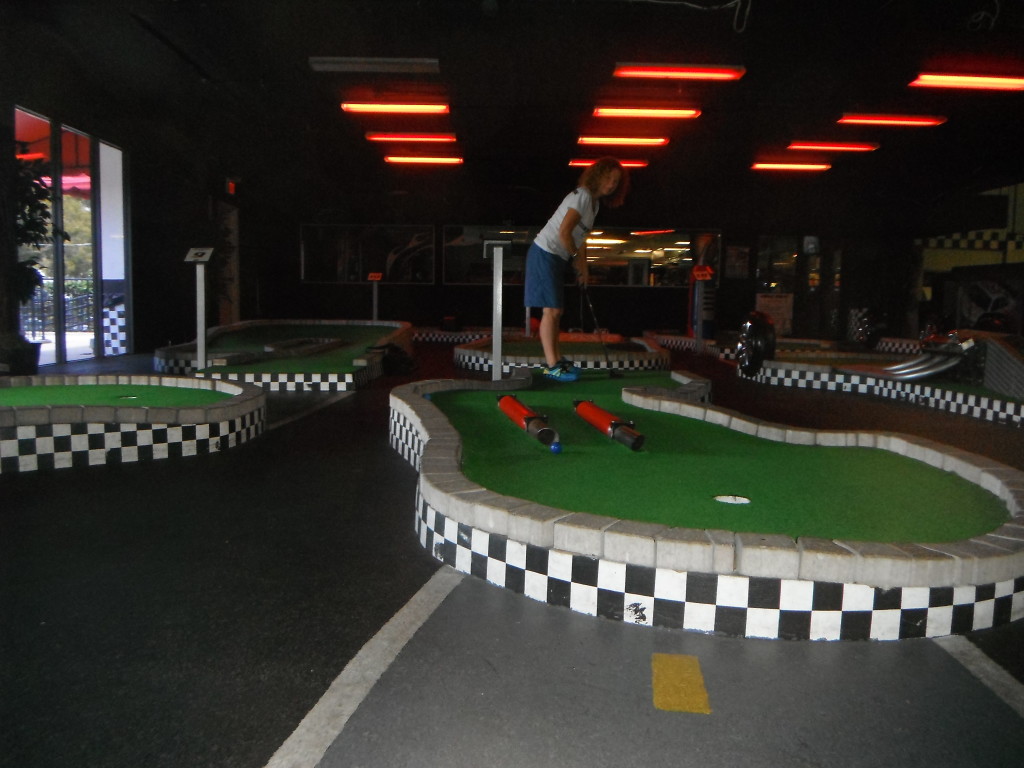 I love the screwdrivers in the central area.  Everything is of good quality here.
We head for the 18th hole, and yes, there is a 19th hole and a great cafe. We enjoyed the nachos and a drink break before tackling what was next.
And next?  1 hour each in the Arcade area. There is a fabulous range of driving machines, skill testers, ticket spinners and more.
It was fun to race against each other, and we even found a game Explorason used to play at our local Pub in Adelaide.  He was thrilled!
I had several turns on the motorbike game.  As I can ride a bike, this was fun. No falling off and skinning these knees, and no helmet to messing up the hair.  I was addicted.  It was quite hilarious!
We hated to leave.  But we had more to see and do that day in the Fort Lauderdale region.
If you do get to Fort Lauderdale this is worth the 15-minute drive from downtown.  It is a huge complex, and both adults and kids will have a ball.  We did.
Thanks, Xtreme Indoor Karting for an awesome time!
Attraction Name: Xtreme Indoor Karting
Location:  5300 Powerline Rd, Fort Lauderdale, FL 33309, United States
Telephone:  +1 954-491-6265
email: info@xtremeindoorkarting.com
Website: http://www.xtremeindoorkarting.com
Date visited: February 2014
Child-friendly: Yes but check criteria for height etc.
Questions and Comments
Do you enjoy traveling with your child?
How do you strike a balance between family, your career and recreation?
Which places do you enjoy going to with your child?
What activities do you engage in?
Do share your comments with us below.