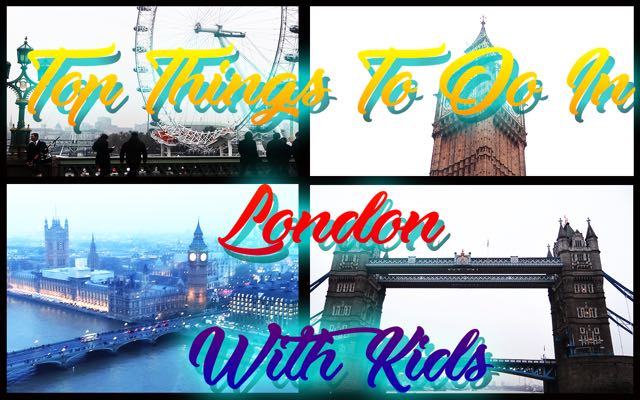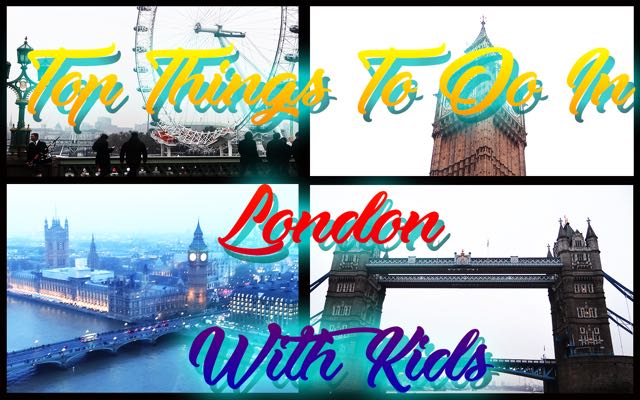 Going to London, England?
We just spent a week-and-a-half in London and loved every minute!
For us, it was the lead up to Christmas, so it was the season for festivities, Christmas Markets, English humor, street decorations, silly Christmas jumpers, and shopping!
But between all that, we managed to see and do a lot.
TIP: My tip to parents is to stay somewhere central, so the kids can have a break during the day since little legs and bigger legs all get tired.
So here is our list of recommendations of things to do in London for families.
(In no particular order)…….
Coca-Cola London Eye
Book the Coca-Cola London Eye at sunset.
Unfortunately, we selected a foggy day, but even that proved a magical sight as The Shard peak was swallowed up in clouds giving it a mystical feel.
But to see the city of London at sunset from the London Eye would be incredible! And the London Eye is the perfect viewing platform.
Available for booking through Visit Britain or iVentureCard.
Bubba Gump Restaurant
You may think Bubba Gump is only for Americans, but we really enjoyed the quality and quantity of both food and service here.
In fact, we ate so much for lunch, we didn't need dinner!
Explorason LOVED the dessert!
Available for booking through iVentureCard.
Bicycle Ride around London
London Bicycles are the perfect way to explore London.  We enjoyed our ride along the Thames River, through the back lanes, and also there is a bicycle superhighway right in the heart of London.
We rented by the hour but they do a great 3-hour tour too.
Imagine cycling past Big Ben (officially it is Elizabeth Tower, and the bell is 'Big Ben'.)
Available for booking through London Pass.
The Original Hard Rock Cafe
Did you know the original Hard Rock Cafe was started by two American guys that lived in London? They couldn't get a good burger, so they opened the Hard Rock café. Bruce Springsteen came in and reserved his seat with a guitar, and this the collection of music memorabilia started.
They also give you free passes to their museum if you dine here.
An added bonus is the free flow of soft drinks and coffee.
Available for booking through iVentureCard.
Coca-Cola River Cruise
One of the first things I'd suggest doing is taking this River Cruise.  Very informative; loads of fun, and a great way to get your bearings around the city.
Also perfect for weary legs, as it is nearly an hour of rest and relaxation. Choose indoor or outdoor seating.
Available for booking through iVentureCard.
Westminster Abbey
Visit Kate & Wills' Wedding Venue!
Central and easy to find, Westminster Abbey is the perfect place for young and old. The children will enjoy 'walking over dead bodies' (the tombs are all under the floor.)
My son had a great time talking with one of the guides, and history came alive here for him.
Loads to see – I'd allow 2 hours.
Available for booking through London Pass.
Stay on a Canal Barge at Little Venice
We stayed 5 nights on a fabulous Canal Barge at Little Venice.  Explorason thought this was a great adventure.  Feeding the swans, geese, and ducks straight from the kitchen window – just amazing!
Book through Boutique Barges.
Tattershall Castle Paddle Boat Restaurant
Just a short walk along the Thames River and you will find an old paddle steamer. Don't be fooled if it is a wintery day and the decks look empty. Head downstairs and a lovely antique decor awaits you.  For value for money dining, I'd put this as number one!
Sit by the window overlooking the Thames River – no matter if it is hot or cold outside, it is perfect inside with a million dollar view.
For value for money dining and great food, I'd put this as number one!
Available for booking through iVentureCard.
Kensington Palace
We visited Kensington Palace on a Saturday.  They had FREE kids activities, story-telling, crafts, and the squirrels are almost tame in the Orangery garden.
Plus Mum can 'ooh and aah' over Princess Diana's dress collection too.
Available for booking through London Pass.
Platform 9 and 3/4 Kings Cross Station – Harry Potter
Free!  Line-ups can take a while, but it is a fun photo opportunity and a great gift store beside it.
A must for Harry Potter fans.
The Shard
Visit The Shard for a breathtaking view of London.  We finished our time in London both sipping a lovely drink and watching the London lights twinkle below us.  One of my favorite things to do!
Available for booking through London Pass.
Walk along the Thames River Bank
There are some great seats for kids to have fun on, free shows (Explorason was asked to participate in a magic show), and loads of shops to pop in and out of.  Also Free of Charge.
Free of Charge. Details here.
Covent Garden Markets
Each weekend, Covent Garden hosts local craft markets, and during the week it is a great souvenir market.
Free to wander around. Buskers will entertain you, and at Christmas Lego had an awesome display.
Buskers will entertain you, and at Christmas Lego had an awesome display.
The waffles were pretty awesome too!
Covent Garden Market details here.
Fish and Chips, or an English Pub Meal
Only some pubs accept children, but nothing beats a Sunday Roast in a quaint English Pub.
We also love good ol' fashioned  English Fish and Chips. Thick cut chips with salt and vinegar and a bonus if you get 'scraps' or the crispy bits too!
Ride a Double-Decker Bus or Navigate the Tube
Grab an Oyster Card for your transport, and ride a red London double-decker bus.
The cards are refundable a the end and save you money on transport.
The Tube we both loved and Explorason enjoyed fine-tuning his navigation skills.
Get your Oyster Card here with iVenture Card.
There is so much to see and do in London.  We hope to return in 2017 and explore some more.
If you have any great ideas for family-friendly activities in London, please leave your comment below.
This list is our own selection.   We have tried to be as factual as possible and apologize for any error.