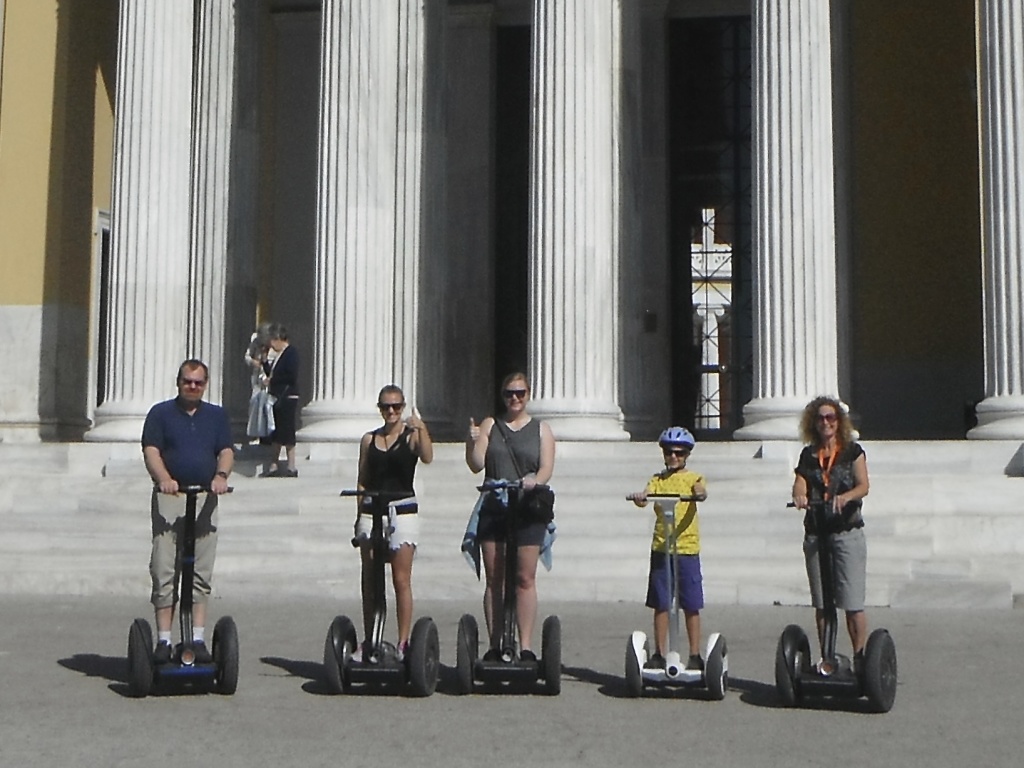 Yay – we explore Athens on a Segway
How excited is this nine year old?
On our world journey, we have tried several times to ride a Segway, but due to Explorason's age, we never found a company that allowed it.
But Athens Segway Tours were different.  They have special smaller Segway that short adults and older kids can ride.
We were all ready to go.  Comfortable clothes, sunglasses, sunscreen and a good learning attitude.
They even provided a locker for my handbag, so I just wore the key around my neck, and was able to clip my camera to the strap too – very practical.
(I did forget a bottle of water, so must remember that next time!)
First off Explorason is fitted with a safety helmet.  It is optional for adults, but a requirement for under 18 year olds.
He has a lesson going up and down the small side road, and the instructor is awesome with him.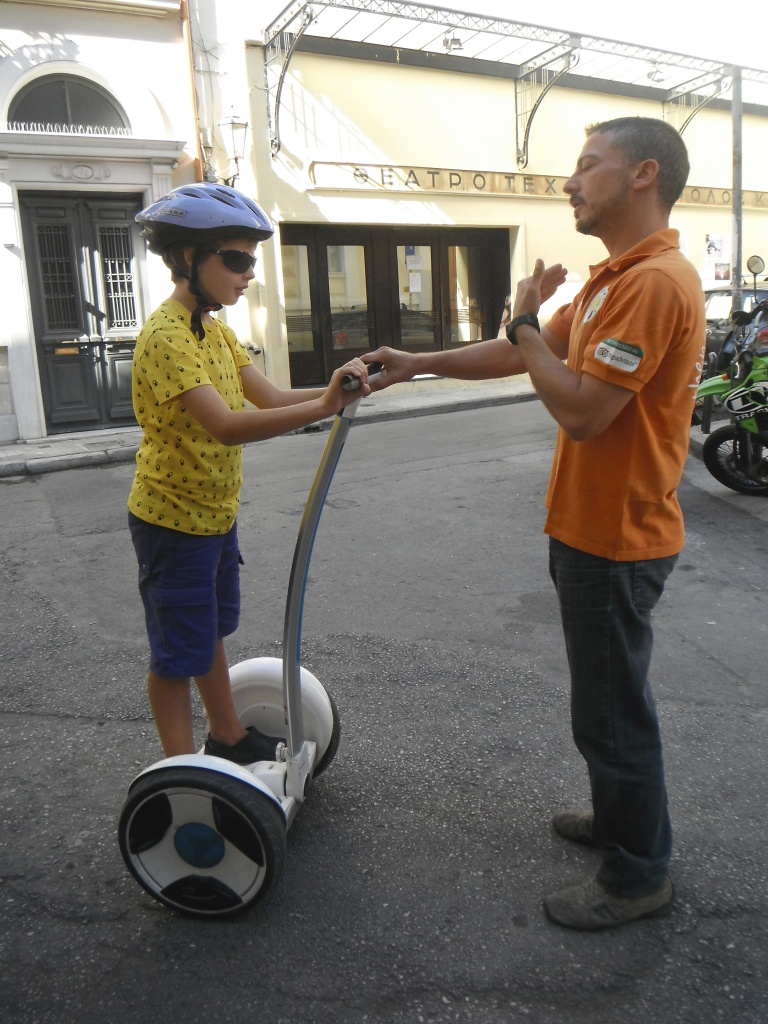 Segway are all about balance, and there are some tricks and techniques to learn. You can't just 'hop on' and take off. They do not stop when you get off!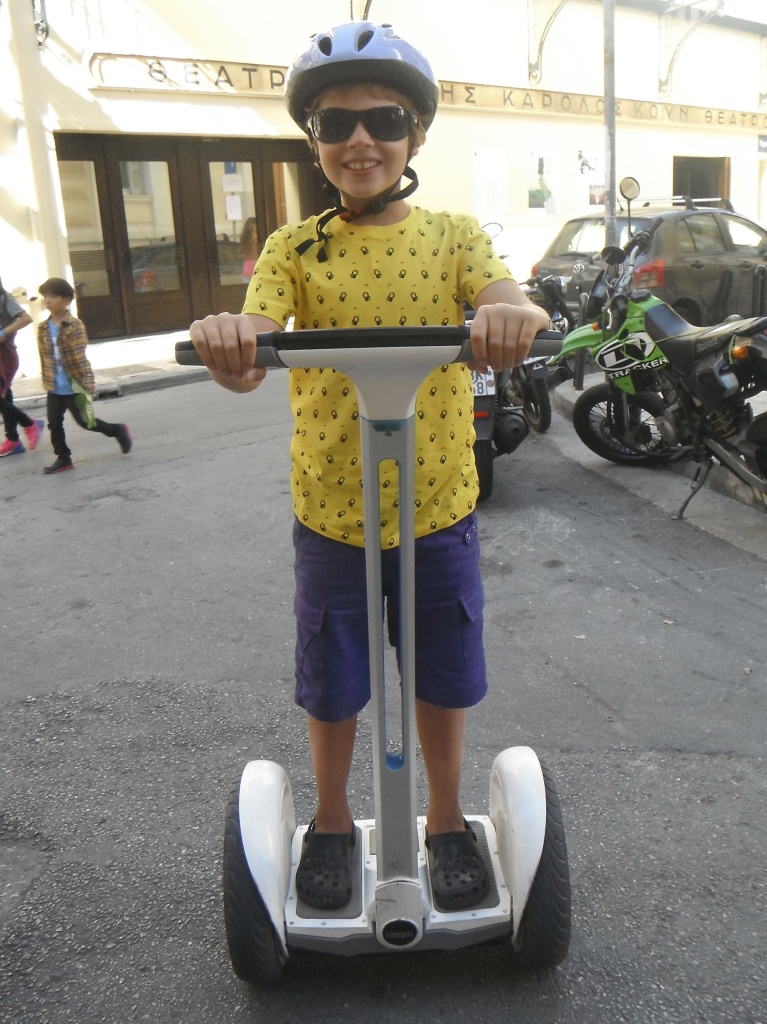 Next is my turn, and honestly I don't think I was as good as my son with my balance.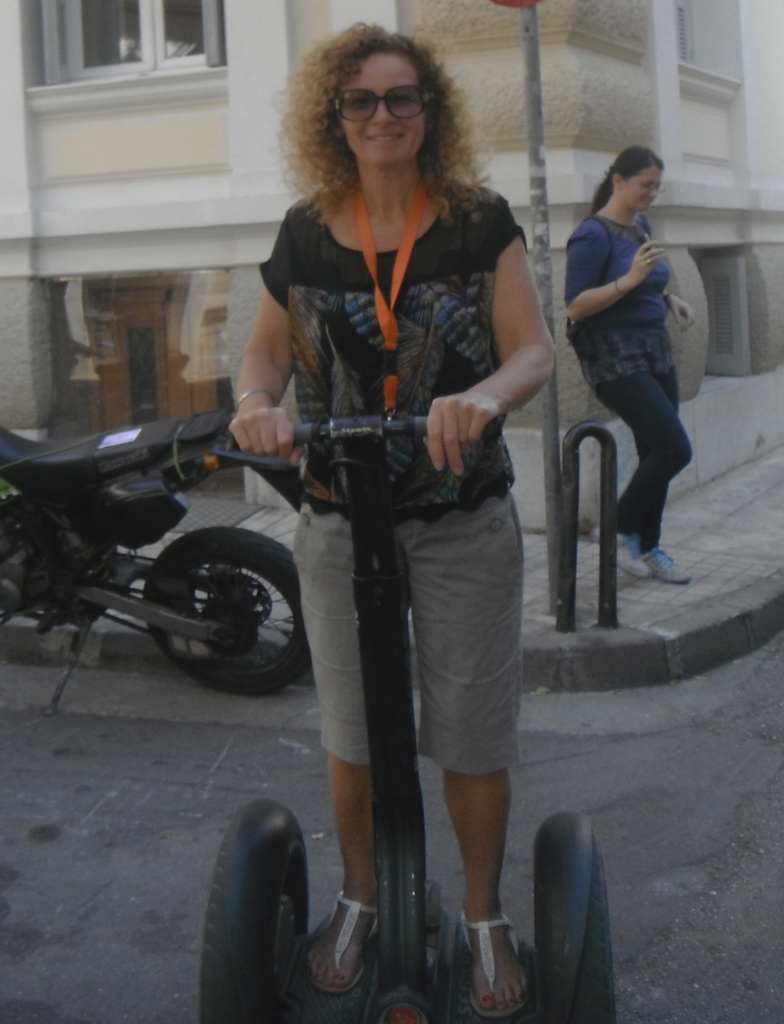 We learn a few road rules as a group, and then we head off.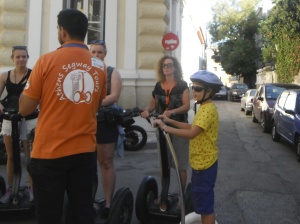 They had two instructors to help us cross the main busy road of Athens.  I am glad they did, as there is a dip that takes a bit of work to get over.  In fact one guy didn't get going fast enough, and we had to wait a whole change of lights.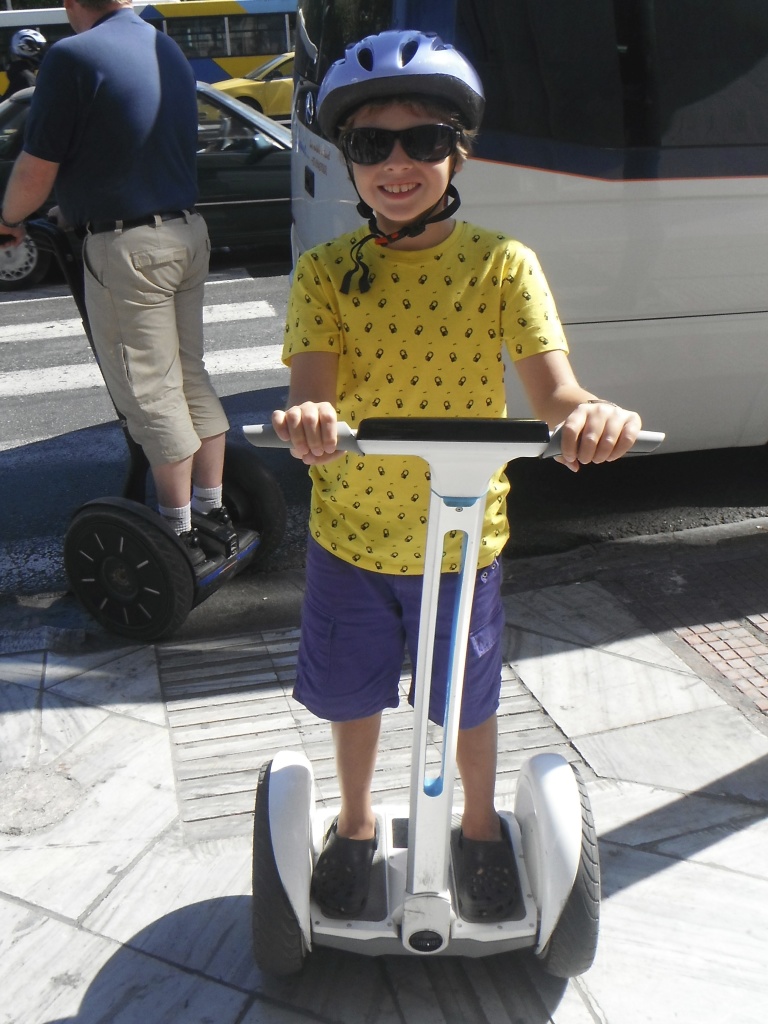 We did a National Garden Tour but they have several to choose from.  The Acropolis Tour is most popular, but we had already been there, so we wanted to see a different part of Athens.
As Athens Segway Tours say – "Modern Athens resembles the architecture and aesthetics of a big Western metropolis. Pay a visit to a small oasis in the centre of Athens? Here we go!
Wandering around this cool green spot of Athens with our experienced guide, you will discover the park that is considered to be an oasis in the centre of Athens."
Our first stop was Zappeion: first building that was erected exclusively for the revival of the Olympic Games in the modern world.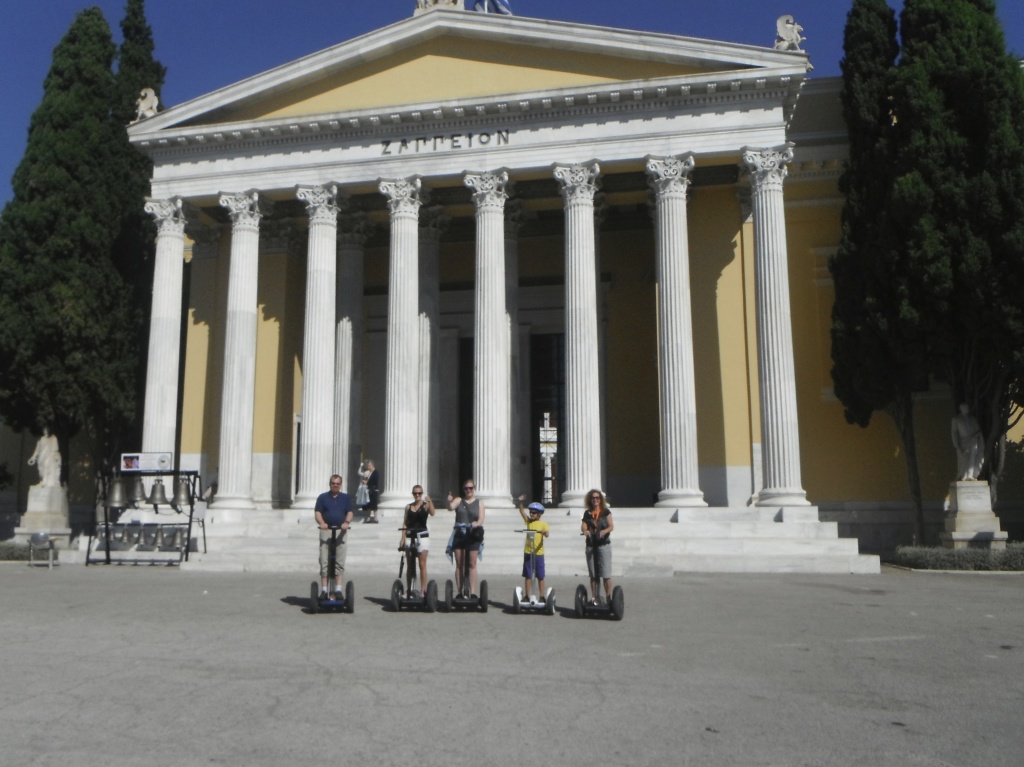 Our next stop is the Olympic site.  The Panathenaic Stadium: ancient stadium and for many centuries it hosted games.
It is a time to get off the Segway and have a rest, and maybe buy a drink or a souvenir.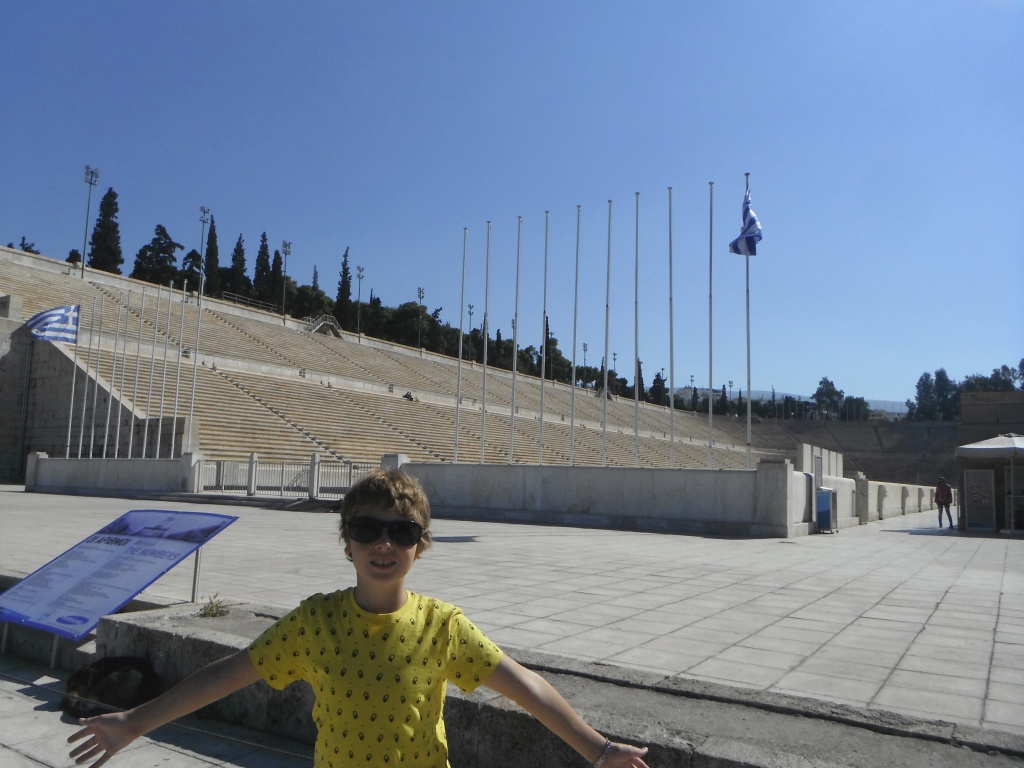 Here Explorason and I did a naughty thing and had a race.  You can't go too fast on a Segway or it will try to slow itself down.  Unfortunately Explorason learnt the hard way about speeding, and he hit the ground, but like a trouper he hopped back on for the other half of the two hour long tour. A skinned elbow, amongst other scrapes, was a good story to tell at the end.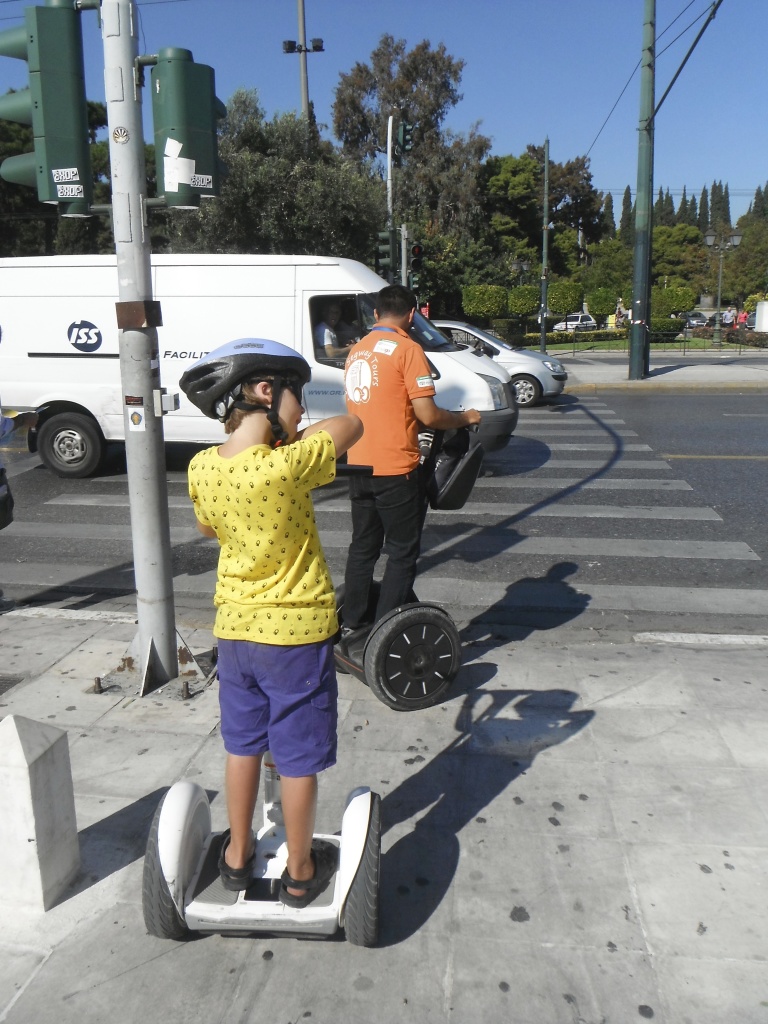 We quite enjoyed the information about the Ottoman and the 400 years of rule in Greece.  Even a Segway ride can be a lesson!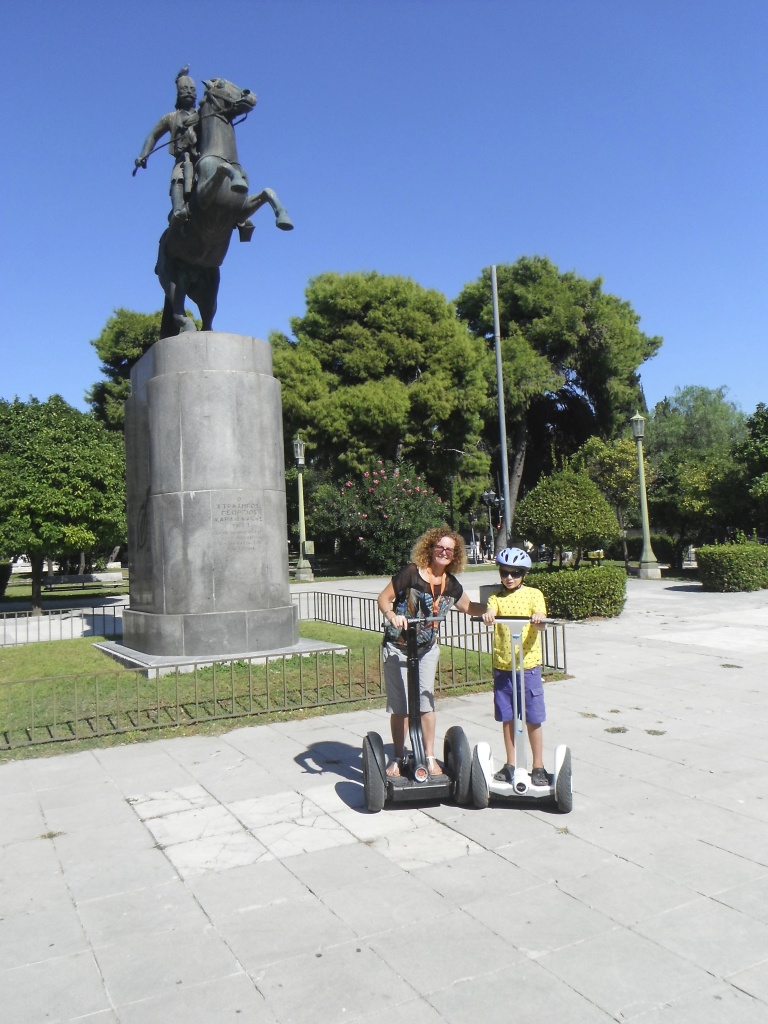 Next stop is Parliament House: the Old Royal Palace, and the Presidential Mansion: official residence of the President of the Hellenic Republic. And the guard in his traditional uniform.
We learn the attire weigh over 30 kg – if I remember rightly.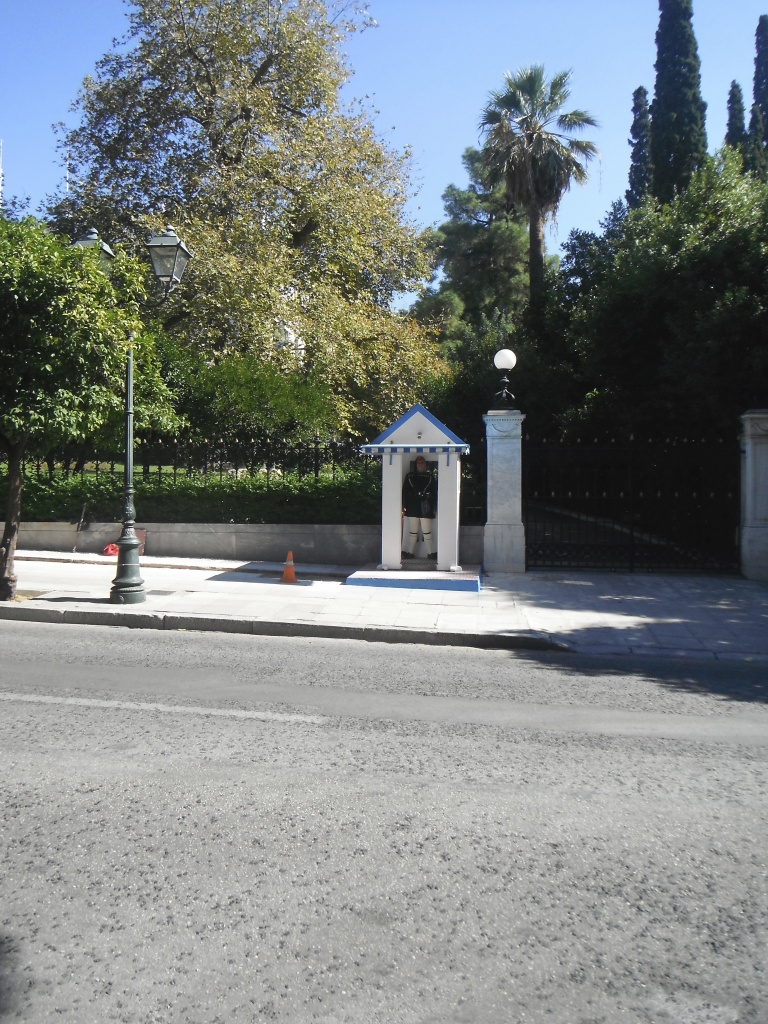 We then went through the Botanical Gardens. That was another time to have a break and we saw a small zoo inside.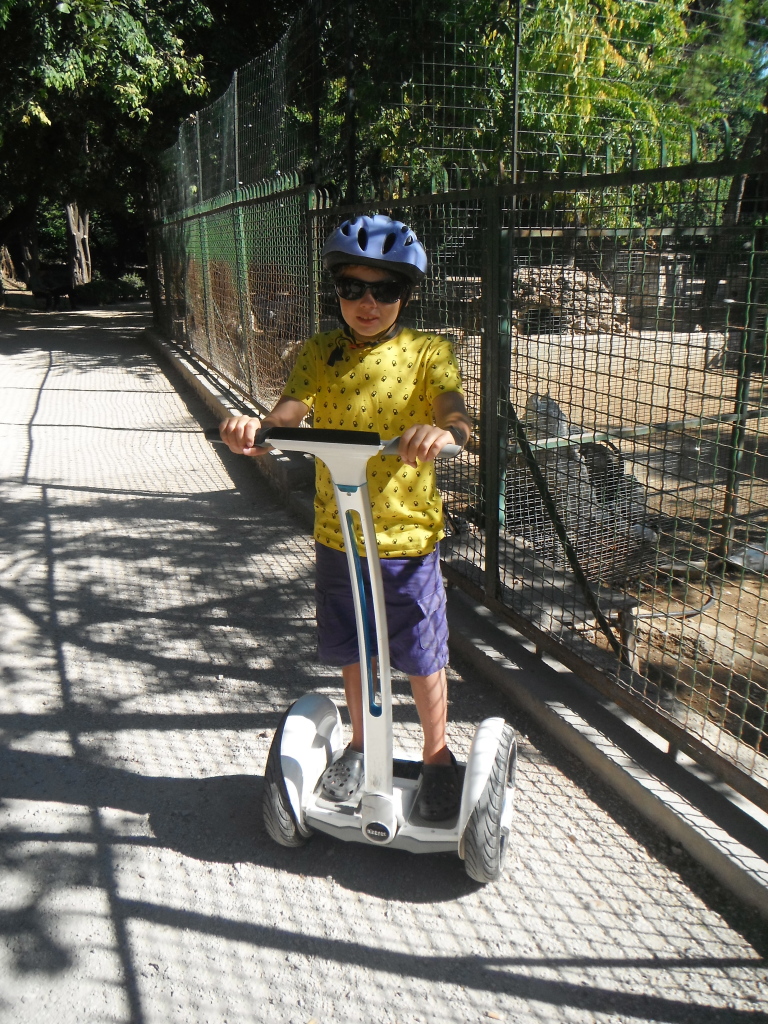 Lastly we see the underground ruins.  Temple of the Olympian Zeus: colossal ruined temple in the centre of the Greek capital Athens that was dedicated to Zeus, king of the Olympian gods.
Not to forget: Tomb of the unknown soldier, The Arch of Hadrian, Roman Baths, Presidential guards and much more!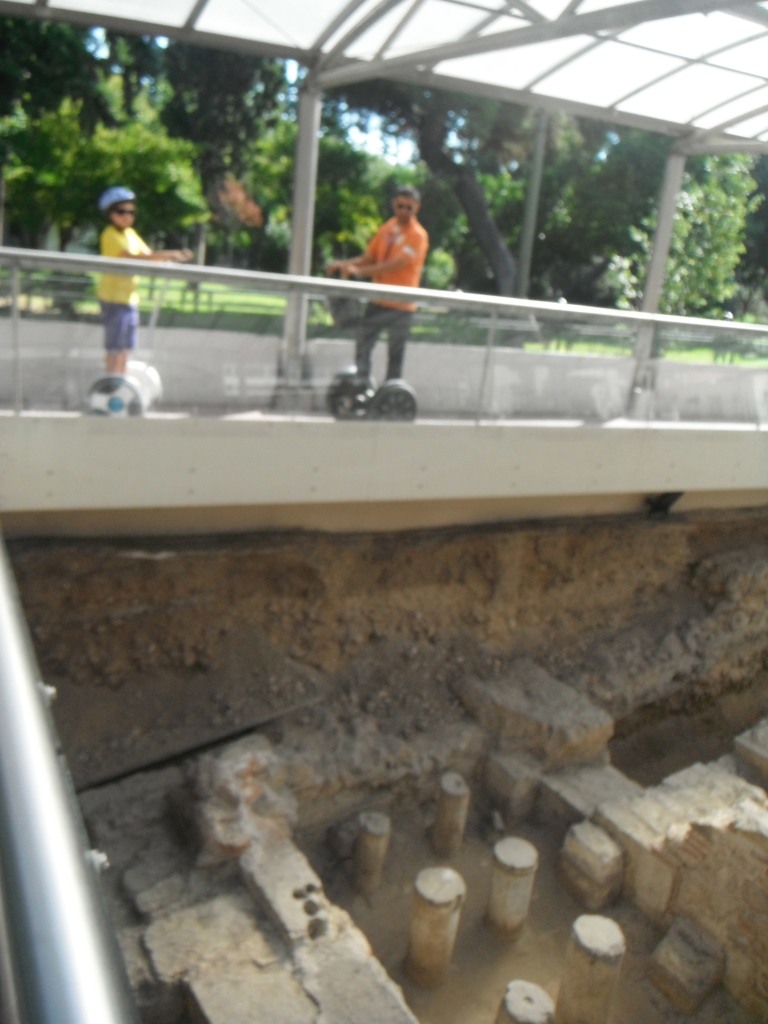 We had a really great two hours.  The instructors were so friendly and nice.
And we hope we can go again if we come back to Athens next year and share with you another of their exciting tours.
It really was one of the highlights of our times in Athens.
Thanks Athens Segway Tours – it was fantastic!
Attraction Name: Athens Segway Tours
Location: 9, Aischinou & Frynihou Str. Plaka, Athens, 10558, Greece
E-mail: info@athenssegwaytours.com
Telephone: (+30) 210 3222500
Fax: (+30) 2117109331
Mobile: (+30) 6983245246
Website: http://www.athenssegwaytours.com/en/
Date visited: October, 2014
Child friendly: Yes – check for age and size requirements.
Duration: 2 hours
Price: 59€ per person which really is great value.
You can also read the Wyld families adventure when they used Segway in Grenada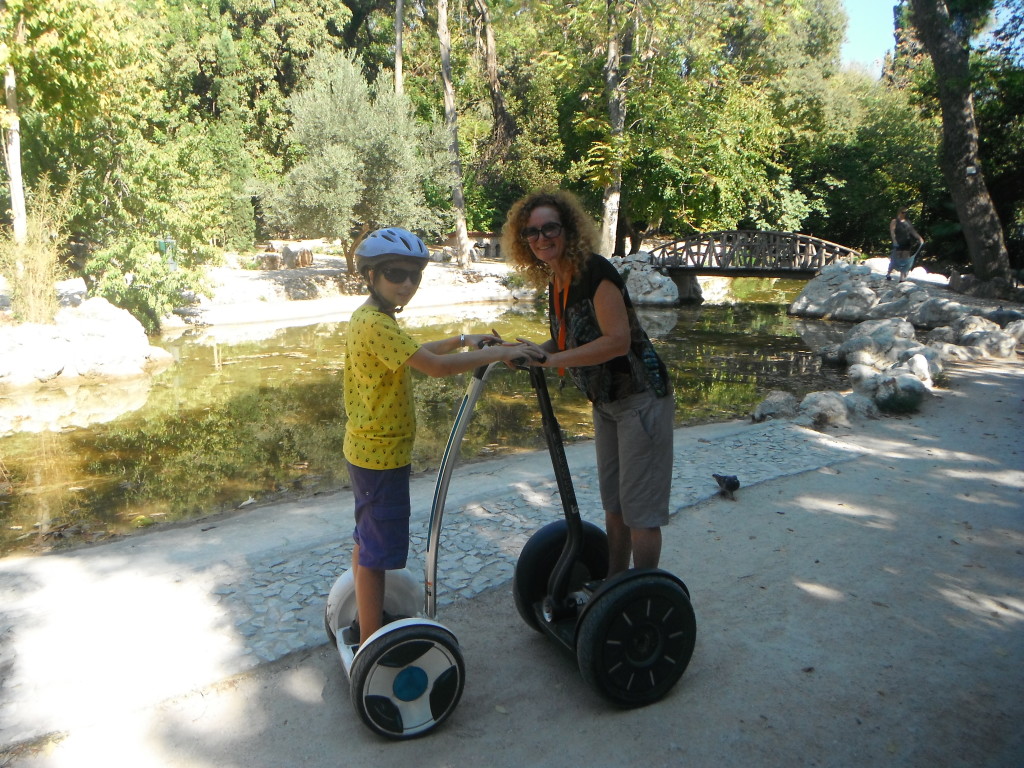 Please read our Disclaimer here
Disclaimer: This post may contain Affiliate Links, Sponsored Content, or Review.…