"Mum, Can I do a 'Go Fund Me' for Elijah*?" Explorason came in and asked last night.
He had been out opening 'Madafu', the young coconuts together with our Askari named Elijah*.
Explorason and Elijah* get along well and we often take Elijah* a spare plate of dinner, a nice drink, or a yummy dessert to help fill his tummy on his lonely nights.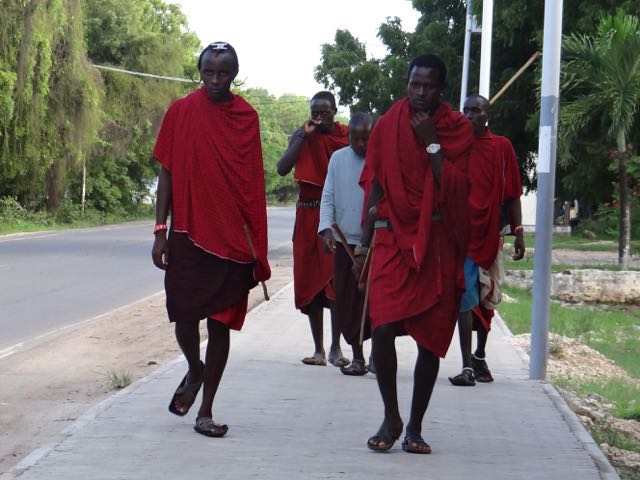 ©Exploramum and Explorason – Askari are security guards (note Elijah* NOT photographed here)
Elijah* is a lovely Christian; a quiet and gentle soul of a young man.  He is, I'd say, in his early twenties.  He works for 12 hours every night as our security guard.  He has a small (open one side) hut, but it has a wooden bench only and he sits each night waiting and watching.  He protects us as unfortunately, there are so many poor in Kenya, they often resort to drugs and drinking to numb their pain, and others become thieves in desperation to feed their families. Elijah* protects the compound from those thieves.
Elijah* sits every night in the dark with no light.  His mobile phone is his only company.  He can use his earpiece to listen to music (or access something to view, depending on if he has access to wifi.)
His phone is also his light in the darkness.  It is important to keep him awake, and I'd hate to sit in the darkness with nothing to do for 12 hours – how horrible.
He also needs it as his young son has just been ill and he required medical treatment, so he needs to be able to connect with his family.
Not to mention he can't even tell the time!
He needs to be able to ring for help if there is an emergency at the property.  How could he call if there was a fire? How could he phone the police for assistance if someone attacked him, or broke in? How could he call if he found a guest needing an ambulance?
YES, Elijah* needs his phone!
But last night Elijah* mobile cell phone 'shorted out'. I don't know about the problem.
Explorason came back and told me, and said Elijah* would be having a hard night sitting in the dark on his wooden seat.
So I asked my son to tell Elijah* to bring the phone to me.  I tried a new adapter and a new cord.  I cleaned it out but I couldn't even get it to charge.
With that Explorason and I talked and decided we would do a quick 'shout out' on my personal Facebook page.
Why get other's involved in Random Acts of Kindness?
The reasons we wanted to involve other people in this helping are several.
1. Recently we helped someone by gifting a substantial sum as he in agony with dental problems.  I think he needed a root canal PLUS also apparently 4 fillings in the end. I knew him and trusted him the $$ would go to getting his teeth fixed. How can I see a man left in pain? (At the time I was ill and in pain and I knew I'd do anything to fix my agony). We've also gifted many drinks, food, clothing and shoes, and a couple of times money (we rarely give $$).
2. Giving to one staff and not the other 'directly from us' if ever found out could put Elijah* at risk. It breeds favouritism from us and we can't be seen doing that as they all have needs, and we are constantly trying to do little things to bless them all. Where if it is from a third party, we are not the ones seen to be giving out cash, we are merely passing it on.  It keeps us safe too.
We figured the phone would cost about $40 to fix.
I contemplated asking for the phone and getting it fixed myself, but I knew I would get a 'Mzungu' price – which is a lot higher than a local would pay.
Within ten minutes we had our first donation of $20! We were so excited for Elijah*. We called Elijah* over and told him.  As soon as it comes through on Paypal we told him we would call him back.
An hour later (after a few Paypal issues on the sender's end) we had Elijah* $20.
Elijah* was all smiles saying "Thank you, Mama, Thank you, Mama"
But what happened next surprised me.
This $20 gift opened Elijah* up to talking to me.
Elijah* then told me that he earns $100 US (or 10,000 Kenya shillings) a month.  From what I've noticed Elijah* works every night, with no nights off.  I think his shift is 12 hours long.  Divide $100 by 30 days is $3.33 US a night!
Elijah* has a wife and two small children: a baby and a 4-year-old.  His 4-year-old recently got bitten by a dog and the wound became badly infected. But because he had no money for medical treatment or medication he had to take a loan of 500KS of $5 and the payback can be 50% or 100% more.
I wish I had known!  But Elijah* is a quiet man so he would never tell me.
His rent is $20 a month.
His boy has to start school (they start school at 4-years-old here) and that is $1.50 a month.
That leaves him $20 a week to feed four people. To clothe them, to afford his transportation to and from work. To buy shoes (his uniform is supplied) and whatever needs they have.  How can you feed and clothe etc four people on $20 a week?
Gosh, the more he told me the more I had an understanding of how tough life is for people here. And he considers himself blessed to have a job. So many don't!
From this conversation, we learned about real life in Kenya. We learned about how the locals have it tough and the real cost of life and existence.
A little while later as I was going to bed, a couple of friends messaged me asking for my Paypal and email address.
A dear lady in England gave 5 GBP just as I was falling asleep.  Bless her. Every bit was going to help Elijah*.
I woke to a surprise!
I woke to a total in USD of the following:
$20 from Giver #1 (for Askari) Last night
$6.15 from Giver #2 (for Askari)
$20 USD from Giver #3 (for helping locals in need)
$20 USD from Giver #4 (for Askari)
$?? A message of promised $$ (for helping locals in need)
This means we can give Elijah* the $40 PLUS the $6.15 would cover the money he loaned for his son's medical expenses but I believe the loan sharks double the debt so he will still have the interest of 50-100% to pay off.
So what Next?
We are nearing the end of our time in Kenya.  We are going to try and wrap up our blog work this week so we have a few days spare next week.
We'd love to collect some more money and to go and help local families we have met (like we did in Fiji; like we did last time in Kenya, and also Uganda to name a few).
We generally will NOT be handing out money to strangers.  This encourages them to look and act like poor people. It encourages them to beg.  We want to encourage them to work and to retain their dignity and self-worth.
Some we will on occasion try and buy from if they have an item we want, or employ them for a task, but at a good and fair price so it encourages their business.
'Caring For Kenya' Bundles
We will, however, hand out care bundles.  We will get some staples like rice and beans, milk and vegetables and make up some bundles. We will need to hire a tuk-tuk to go and get the items, and then another each time we pass out the food.   We'd like to include a sanitary pack for the ladies, and a roll of toilet paper, and a bar of soap too.
We have a plan that each bundle has a little extra. The person we give then must go and give a small quantity to their neighbor in need. That way they get the joy of helping another person.
One thing I have learned about Kenyans, they don't complain.  Sure the cheeky kids or the beggars and street sellers know how to give you their story or ask for help, but the everyday people you encounter never do.  They never complain, and they have it tougher. Way tougher than I daresay most of you will ever know.
And I know that the principle in the Bible of "give and it will be given unto you" works.   Also, I know that blessing others can give you a real buzz. It makes you feel good inside.  It gives you more satisfaction and joy than buying a cup of coffee, or a new gadget, or piece of clothing.
If you would like to be involved in our 'Caring For Kenya' Random Acts Of Kindness you can do so.
We love having our readers involved in helping to bless strangers they will never meet. People who can never say thank you to them in person, but knowing somewhere out there you have helped to lift the burden from someone.  You have helped to make life a little easier.
If you would like to help us there are several ways you can give.
Paypal
You can give to our Paypal using this email address exploramum@gmail.com but please be sure to put a note with it that it is a 'donation for Care For Kenya bundles', otherwise we end up with having to pay tax on the donation. If possible select USD as it is easier to convert to Kenya Shillings ($1 = 100 Kenya Shillings approx). If not your local currency can be converted OK.
Australia and International Bank
You can email me if you are in Australia, and I can provide you with bank details.  Again please include a note with the donation. This is a great way to donate.
If you are transferring from an international bank like USA or England we will lose about $10-$15 in the transaction, so please allow for that.  However, we can still do this but it is the least favorite as we lose $$ we could be giving to people, not the bank.
Go Fund Me – Available on request only
You can request we set up a 'Go Fund Me'.   We will do this on request only because they take 10% and so we would rather people give directly.
Our Promise
You have our word that 100% of the funds will be used for this.  We have done this in the past a few times.
We'd love you to help, but if you can't that is OK too.  You can just be motivated to do what you can in your corner of the world.  Go out and do your own Random Act of Kindness to a stranger.  Pick a flower and give it, smile, help someone in need.  Take this as a gentle reminder that the world needs kindness and love.
And for those who have been involved in our Random Acts of Kindness so far – THANK YOU.
UPDATE 27th June 2017
Elijah's* phone is unfixable. So we have given him a total of $50 and hope it is enough that he can get another one with a big screen. I want to get him a cover once he has his phone to keep it protected too.
We will keep you posted when he returns tonight.  He says to say thank you and to tell you all you have blessed him more than you will ever know.
We also received another 3X donation to help
$47.90US, $50AU, and $50US – thank you
In the coming days, once all the donations are in, we will put everything together.  We are excited to bring hope and happiness to the lives of strangers.
(Elijah* – name changed to protect his privacy and keep him safe)
Questions and Comments
What 'random acts of kindness' do you love the most?  

Tell us if you have been the receiver of 'random acts of kindness' and what it was, and how it made you feel?

Tell us in the comments below – we'd love to know.