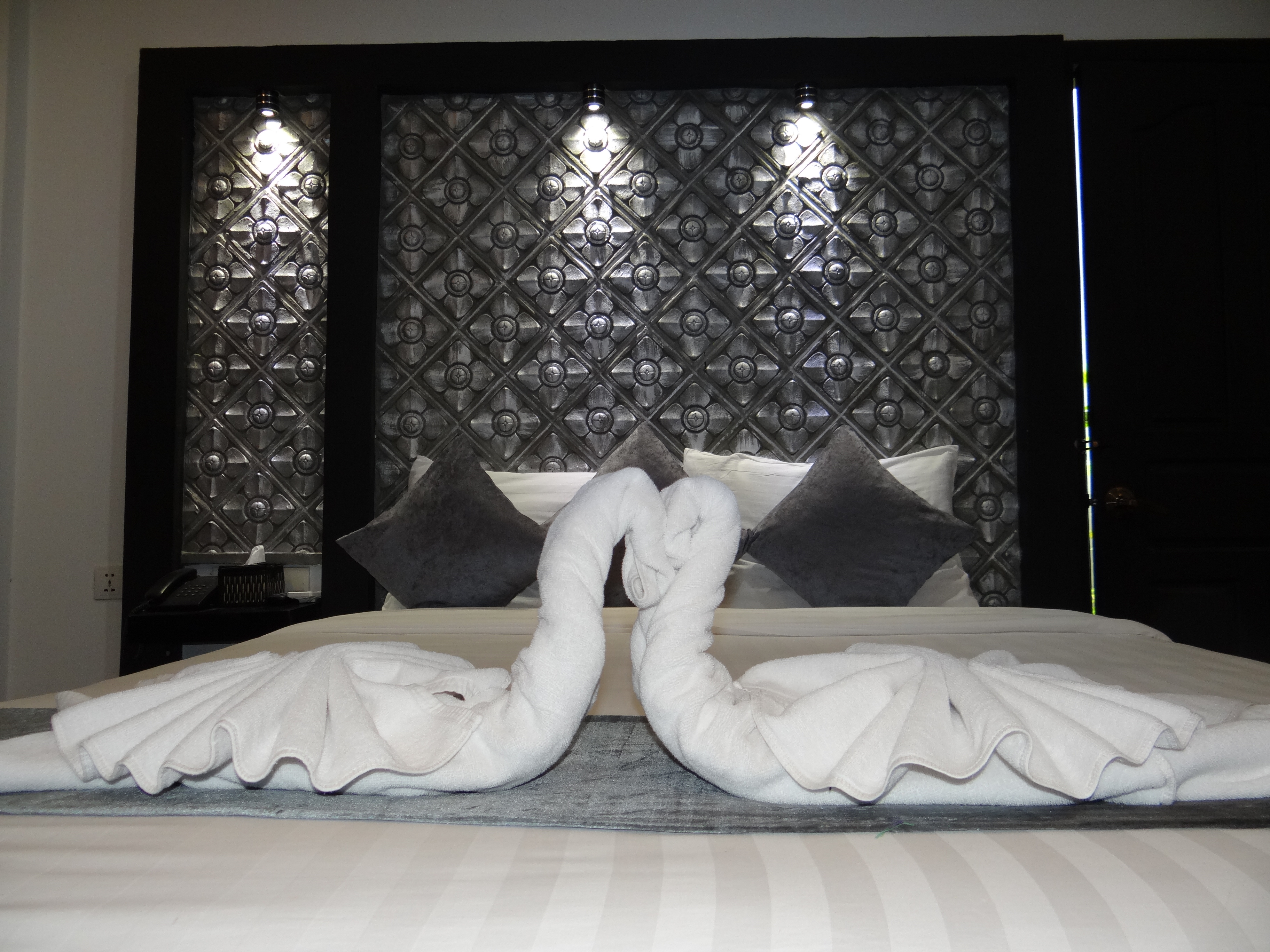 Siem Reap is famous. Famous for Angkor Wat, and also famous because the iconic movie Tomb Raider was filmed here.
What is interesting about Siem Reap is that it is a relatively small city and that the hub for tourists in the main part of the town revolves around the Pub Street, and the Old and New Markets.
We've been in Cambodia for a week. A very wet week, where the rain really hasn't stopped. The wet season is supposed to be over but it seems to have extended this year, and after we left Vietnam by bus, we arrived in Phnom Penh.
But with incredibly heavy rainfall, we hoped in vain that taking a trip to the coastal region of Sihanoukville would rid us of the torrential downpours.
But instead the weather worsened, and after checking into our hotel for the night we endured the stinging rain as we walked to the beachside restaurants.
Next day as we loaded our luggage into the van and drove to the ferry, where we discovered that the water on the road was up to half a meter in parts, and we could not even exit the van near the ferry terminal. The rush of water filled the stairwell of the van, and water seeped in through our luggage zips.
Explorason was in a state when he discovered the ferries for the day were canceled, and in consultation with other passengers, most of us decided to swap our ferry tickets for a night luxury bus with beds.
This appeased Explorason, who then was so excited to sleep in a real bed as we drove along. Fortunately, the 'luxury coach' was only half full, so we each ended up with our own cubicle and double bed.
With a guard at the coach door, we were all ordered to shed our shoes and place them in plastic bags. This was fine until I needed the restroom. There was NO way I was going into a Cambodian coach toilet bare feet!
This problem was solved by the guard, who then handed me two shopping bags to put on my feet. This slippery technique was very 'B-Grade', and slippery and wet metal floor on a moving bus with untied plastic bags, and a door that didn't lock proved to be very challenging at 2:00 a.m.! I nearly went a 'necker', and there was nothing to hold on to.
After finally escaping the lavatory cubicle in one piece, I didn't know what to do with the disposable shoes (AKA plastic shopping bags). But the guard grabbed them off my feet, and with one mighty flip, he threw them into the stairwell. This might have been fine for him but droplets of moist liquid showered over me. It was a really gross moment, and I quickly found my hand-sanitizer gel and tried to 'de-germ' myself with a quick rub down.
For the rest of the night I lay in my bed feeling somewhat soiled, and finally, we arrived at 6:30 a.m. in Siem Reap.
Our luggage was dragged through muddy puddles to a shed where we were then given tickets at $2 for a tuk-tuk.
However, the tuk-tuk driver didn't want to help get our bags back through the mud. By this stage, I was over the dirt and thank goodness a 'knight in shining armor' from the UK came along and he carried my suitcase for us to the road.
Just past 7:00 a.m. we arrived at the Fancy Boutique Villa, and graciously the staff arranged an early check-in.
We were shown to our VIP villa – a really lovely modern room looking out onto a shared courtyard garden.
We both showered and I have never been so thankful for the great service we had her this a.m.
Nothing was too much trouble for the staff who ensured we settled in nicely.
We enjoyed a hearty breakfast at the Fancy Cuisine.
Rested up, we were ready to go out by mid-afternoon. We walked no further than two blocks when the rain came bucketing down!
Trapped in a lovely French Café, we enjoyed a late lunch of warm goat cheese salad which was just divine, but not very Cambodian!
This was all well and good until the rain abated and we were trapped by floods prevented us from getting across our intersection.
Amazingly, at just the right time, a tuk-tuk came along and ask if he could assist me. Like a damsel in distress, this driver assisted me over more than 1 meter of water until I was safely inside his carriage.
We were so impressed with this driver that we took down his phone number (Lee – 098 685 132) and organized him for the next day to take us to Angkor Wat.
By evening we were ready to go exploring.
Arriving early to the Night Market area, I enjoyed a glass of wine whilst getting a manicure and pedicure. All for about $12 US (including the drink.) With the help of a little assistant sitting next to me selecting the nail varnish colors, this was fun!
Explorason really just wanted to relax at the villa, so we ordered take away at an Italian restaurant, and returned to dangle our feet in the swimming pool whilst savoring our meal. It was the perfect end to the day.
That night I had the best night's sleep I've had in a long time.
I woke early and whilst Explorason remained asleep, I made a lovely hot coffee with the in-room facilities.
Sitting outside our villa and overlooking the pool as I have my morning quiet time was just the perfect start to the day.
With another filling breakfast in the modern restaurant, we were ready to start our day at Angkor Wat. Lee, our tuk-tuk driver was waiting for us and had prepared a map.
His English was good, so we discussed the morning's agenda and off we went to purchase our tickets. Now, this is worth noting – the ticket office is not on the road to Angkor Wat but way off in another direction, but thankfully Lee knew the ropes.
I had not brought passports, and with ID children under 12 years are free, but we were unaware of this. Thank goodness, I had my son's student ID and this sufficed.
Also, it is good to know that the 24-hour ticket is NOT for 24 hours, but for the calendar day only.
Lee delivered us right to the causeway front of the moat that surrounds Angkor Wat.
Women yelled at me that my dress did not cover my knees, but I had brought a wrap in case.
However no-one questioned this, and I saw quite a few people with short dresses entering Angkor Wat.
We decided to do our own thing here. We occasionally overhead other guides, but we just wanted to wander at our own pace.
We wanted to take some cool photographs, and so I was drawn to a short horse or mule that was colorfully decorated.
About two hours later we had finished our time here, and there is a gorgeous coffee shop at the front that has lovely clean and free amenities that we retreated to.
The cool air-conditioning and iced chocolate drinks were God-sent as the humidity can be really draining.
On returning to the tuk-tuk, Lee extracts iced water from an esky chiller under our set – this guy is great!
We then moved onto various other temples where Lee would pull up the second we asked or park and we would run over and take photos / quickly explore.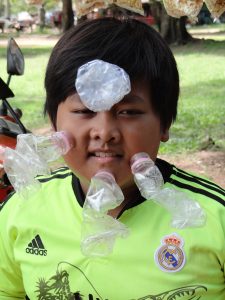 We stopped at other temples along the way, and at a beautiful pond.
We darted in and out with much more flexibility than an organized tour – just right for my son.
We even had time to do U-turn and stop and photograph a boy who was suctioning plastic water bottles onto his face.
He was so funny!
We wanted to take some cool photographs and find something different than a pile of old stones, and ruins which can get boring for a kid. I was drawn to a short horse or mule that was
I was drawn to a short horse or mule that was colorfully decorated.
Our last temple of the day was where the Tomb Raider Movie was filmed.
As we entered a band of men played happy traditional Cambodian music. We then looked closer and discovered they were all land-mine victims. Blind, or with missing limbs these men played music and sang. It made me realize how thankful we should be, and how we complain about life not being what we want.
Yet a million dollars can't grow back limbs or give back sight. I was really moved by seeing these men, and I felt a shift in my attitude.
As we wandered around the temple we had a great time exploring.
I found a little room boarded off, and popped my head into the semi-darkness and with the aid of the camera flash discovered the brightest lime-green moss.
We had a great time on our own, but we did realize the worth of a guide when we a helpful one came along and willingly volunteered to show Explorason where the dinosaur carving could be found.
We returned early afternoon to Fancy Boutique Villa for a rest and for planning our next surprise adventure!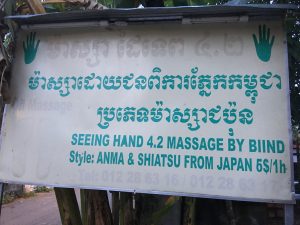 That afternoon we arranged for Lee to take us for sunset photos, but it bucketed down with rain again about 10 minutes into our journey.
So much so that we returned to the Villa.
I just about paddled my way down the lane for an incredible massage by a blind lady and man.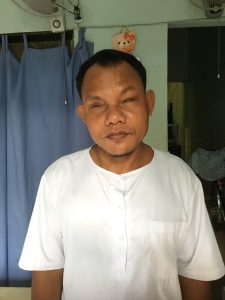 I endured nearly 2 hours of deep tissue massage, starting with the lady.
Then the man took over as he sensed a little better where I needed some extra work.
He then suggested I return next morning for a 2nd treatment and at $8 it was worth every cent.
The second session was one and a half hours and this man is extremely gifted.
I guess being blind gives him that extra sense?
I have never experienced any like this!
We dined in that evening as the rains poured down.
We loved the ultra-modern decor and the personalized service we received at the Fancy Boutique Villa restaurant – Fancy Cuisine!  The meal was fantastic!
Plus, the meal was fantastic!
I wish I knew which bottle of red wine he opened – it was the best I have had in SE Asia so far.
We have decided to change our plans completely and tomorrow we have an exciting new adventure thanks to G Adventures.
For a quiet place to stay, with the little extra touches, and at an affordable price, I'd recommend the Fancy Boutique Villa.
….. ….. ….. ….. ….. ….. ….. ….. ….. …..