The aroma of freshly ground coffee beans wafts through the air as I wake to look out over the rooftops of Stone Town, Zanzibar.
We've slept in many weird and wonderful places in our travels, but this is the first time we've slept IN a Coffee House!
One thing I am personally finding as we travel the world is that I am a true explorer and adventurer and that I love finding unusual places to stay.
Finding The Coffee House
Stone Town is a UNESCO World Heritage Site, and in many ways reminds me of a mix of a Moroccan city and Havana Cuba. My thoughts on this are because here firstly there are no cars in this ancient town, just small laneways. And because externally, many of the buildings appear old and crumbling…..
…. However, as we wander away from the U-shaped Indian Ocean beaches, and deeper and deeper into the maze of lanes, we find the Zanzibar Coffee House.
Actually, their building is NOT old and crumbling at all. It is tastefully restored.
We are here in the hot and muggy rainy season, so we have had to wait out quite a torrential downpour, and after this, the laneways are a little bit of an obstacle course as we wheel our luggage along. But, then this IS the rainy season!
… … … … … … … … … … … …
Welcome
When we arrive, the traditionally dressed staff at the Zanzibar Coffee House welcome us with big smiles and help us into the small hotel lobby area with our cases.
We are offered to clean up in the restroom at the rear of the restaurant (we are a bit mud splashed from our walk here), and then we are passed a Menu where we can select whichever Welcome Drink we desire.
I like this unique idea.
Most hotels and resorts, we find, give you a drink without any care as to whether it is your taste, but this guarantees you are getting something you love right from the start. Very smart!
We are staying for the next three nights at the Zanzibar Coffee House in the Bourbon Suite up on the top level.
… … … … … … … … … … … …
Antiques And Artefacts
The whole building has a lovely mix of Colonial and Arabic style which I personally really love too, and is something that attracts me greatly to the Eastern coastline of Africa.
… … … … … … … … … … … …
Bourbon Suite
We ascend the wooden staircases past a central atrium area that has an open sky above us. This works well for both ventilation, and also to water the lovely potted plants.
Our main room is HUGE!
A single wooden daybed is housed between two of the front open double shuttered windows. Explorason obviously claims this for himself, and I get the huge King-size Double Bed.
Our room has plenty of traditional African antique and traditional furniture and interior design items.
… … … … … … … … … … … …
En-suite
We have our own en-suite, which I later learn is a bonus, as some of the rooms have a bathroom separate from their room or suite. Being historical as a building, they have tastefully refurbished it without destroying walls, so this means a few of the en-suites are rather large and spacious – and separate.
… … … … … … … … … … … …
Safety
Locks come in all shapes and sizes and are a big part of Stone Town. Whether it is heavy latches, antique padlocks, or old doors, we found this to be a very security-conscious place.
Let me tell you more about locks and safety…
A wooden trunk is available as a huge safety box for us at the end of the bed, or a safe is tucked discretely inside the chest of drawers.
And there is a huge old style lock and key to our suites double front door entrance, as well as a modern triple barrel lock.
Our Bourbon Suite feels very safe.
At night the front door of the Zanzibar Coffee House is kept closed and secured so guests need to knock to enter, and outsiders cannot come in, and there is a night guard.
I like the high level of security here!
… … … … … … … … … … … …
Five Senses
Next morning Explorason is enjoying a sleep in, and I've enjoyed the cool breeze and the chirping of birds outside the window as I sipped a coffee in my room.
I realized at that moment that all of my five senses were satisfied at the same time.
Taste, Sight, Touch, Smell, And Hearing.
It was strange, but I think I first realized it as I felt the warm and gentle breeze and then as I sat relaxed in the chair, it was then I had this sudden revelation that this was not something I'm always conscious of, yet here I was quite conscious of this single moment in time.
… … … … … … … … … … … …
Breakfast
There is a knock on our wooden doors, and one of the African traditionally dressed ladies invited us to breakfast upstairs.
Breakfast is served on the rooftop in an open-sided terrace room. I think this area is probably one of their greatest assets.
There is wifi on the rooftop, and besides a fabulous view over the buildings, it is breezy and fresh.
We could choose to sit in the sunshine or to dine inside.
… … … … … … … … … … … …
Stone Town Doors
One of the famous attributes to Stone Town is the Arabic-style doors. Explorason and I both grabbed our cameras and went out one day just capturing local life and moments. This was fun.
We deliberately 'got lost' in the enchanting alleyways.
There seemed to be people always asking us if we needed help where to go, but we were fine.
… … … … … … … … … … … …
Basket and Palm Leaf Weaving
If you are a lover of woven goods, then Stone Town is the place for you. Colored traditional grass mats and many styles of baskets can be found for sale.
Woven Mats are known as 'Mkeka'. They can be oval shaped with pointed ends and have colored raffia died bands.  They are famous all over Zanzibar along with woven food covers.
The least expensive can be purchased at the local market right behind Zanzibar Coffee House, and the more exotic styles are about triple the price in the more touristic zones closer to the four and five-star hotels dotted around the coastline.
… … … … … … … … … … … …
Sunsets
Stone Town is a great place to enjoy an African sunset.
Head up to the rooftop of The Coffee House, or head down to the waters edge for an evening cocktail.
Watch the local kids jump off the sea wall.
Wherever you go, providing you are high enough you'll get a great view of the sun sinking over the Indian Ocean.
… … … … … … … … … … … …
Local Market
Just a short walk behind Zanzibar Coffee House is the local fresh produce market.
This is another place that is a photographers dream.
And near the bus terminal, a short walk away is another marketplace. Locals and tourists are both welcome here, and knock-off designer brand shopping is one of their attractions.
This market is a great place for men's clothes, and shoes. We also bought a phone charger cord here, and odd clothing items we needed too.
… … … … … … … … … … … …
Ferry
The ferry to Dar Es Salaam on the mainland of Tanzania is also within a walking distance of the Zanzibar Coffee House and it is here we say goodbye to over five glorious weeks in Zanzibar.
Where are we going next and what are we up to?
You'll have to wait and see!
… … … … … … … … … … … …
Zanzibar Coffee House And Stone Town
Address:
Market St, Zanzibar Town, Tanzania
Phone: +255 24 223 9319
… … … … … … … … … … … …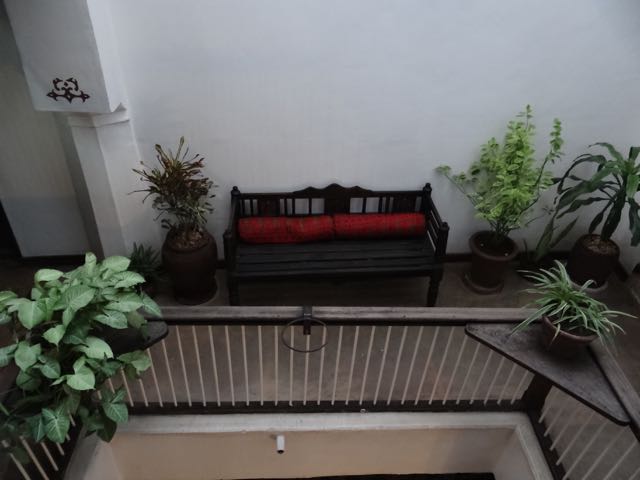 ©Exploramum and Explorason – Zanzibar Coffee House – Antique furniture
Questions and Comments
What are some of the things you love doing for fun?
Does drinking coffee help in any of that?
Why don't you leave us your thoughts in the comments section below? As always, it will be a delight hearing from you.