Sizzle, sizzle, sizzle….
Our sausages are grilling to perfection as we chat and drink with a lovely family from Wales, UK. The kids are playing 'Hide and Seek', and couples swim in the slightly heated pool behind us.
We are staying at McLaren Vale Motel and Apartments, and it is the perfect place to stay, and here's our list as to why.
Location
McLaren Vale Motel and Apartment is the very first accommodation you will found as you drive into McLaren Vale.
To the left is the Information Centre, and then you'll find them to the right, so the perfect place to start and stay.
It overlooks the vineyards, and the sunsets from our outdoor setting were 'to die for'.
A couple of Canadian ladies and myself tip-toe to the edge of the vineyard to snap a few photos.
Then I'm joined by an English couple for a sunset glass of wine outside our apartments.
We chat on a couple of evenings prior to dinner, as it was just so relaxing.
YES, this is a perfect location.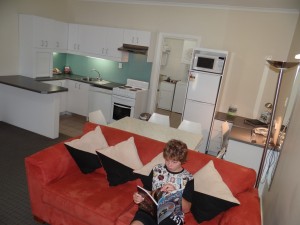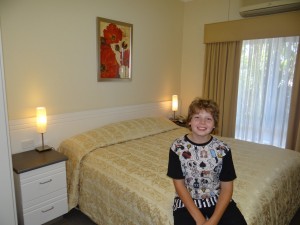 A spacious living area in the Apartments
The apartments come in a range of room sizes.
We booked a King Size 2 bedroom apartment at the rear of the property.
If you have a family or are two couples, this apartment would be perfect for you.
The living area is large with 2 full-size sofa lounges too.
Smaller apartments are also available.
Massive storage space in all rooms (in my opinion) so if you came to stay for a week or a month, you'd have plenty of room to place your possessions.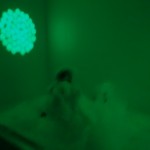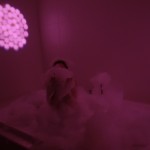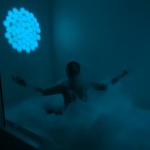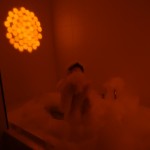 Full-size Jacuzzi Spa with colored mood lighting
Whether you want to entertain the kids, and clean them at the same time; relax and pamper yourself; or have a romantic getaway.
The full-size spa is perfect for everyone.
Available in some apartments only – enquire when booking.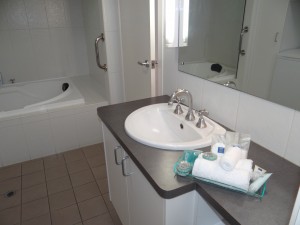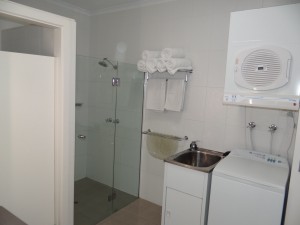 Bathroom and Laundry
Our bathroom was huge. A massive shower cubicle; a private separate lockable lavatory; vanity wash-basin area; and complete with a full range of quality toiletries.
Plus – a large washing machine too – what more could I ask for?
Kitchen
We had planned to eat out whilst in McLaren Vale. However, we changed our mind when we arrived.
Our apartment was equipped with a full-size hob stove range; oven; microwave; refrigerator with freezer; all the cooking utensils; pots and pans etc., and we soon found we wanted to stay in.
Finish it all off with the dishwasher (with even the soap supplied) and there was nothing we needed – except our own food of course!
BBQ Area
Stainless steel outdoor kitchen; all the utensils and a massive BBQ is another great draw-card for McLaren Vale Motel and Apartments.
Set by the swimming pool and gymnasium, and right by the outdoor seating area.
We enjoyed our BBQ and made new friends.
A lovely evening breeze gently cooled this undercover area too.
Heated Swimming Pool
We arrived on quite a warm day. The swimming pool is slightly heated to take the chill off the water (I don't like cold pools even in summer), so this was perfect for both of us.
Lovely sun-beds and Arabian double lounger are perfect for relaxation after a day of wine tasting.
Lush Palm Setting and Courtyard Fountain Area
You'd think you were on a tropical island, not in the 'Driest State in the Driest Continent' on this planet.
Palm trees are plentiful and well cared for.
There is also a gorgeous fountain courtyard, where guests relax, play cards, and enjoy an evening drink.
Massive Continental Breakfast supplied
When we made our booking, we were advised that a light continental breakfast was supplied in the apartment and would be replenished each day.
Let me tell you, it wasn't light. It was massive!
Brown and white fresh bread; condiments with real butter; fruit pots; gorgeous local Mt Compass 'Mountain Fresh' fruit juices; an assortment of cereals; crackers and cheese; muffins; plunger coffee; instant coffee; tea and drinking chocolate; and fresh milk – to name just some of what was supplied!
Way more than we needed and this gourmet array alone is a great reason to stay.
Family Owned with fabulous service
I'll leave the best until last.
McLaren Vale Motel and Apartments has been family built and owner for over 35 years. The friendly service can't be beaten.
We found them to be really caring; interested in our world journey, and always willing to help with every question we had.  Even when Explorason accidentally put the 'Do Not Disturb' sign on the door instead of 'Please Makeup Room' sign, they came to the rescue. It was 5:00 p.m. when we returned, so Explorason skateboarded over to tell them of our dilemma, and they came over and replenished our supplies and assisted us.
When we asked about 'Things To Do With Kids in McLaren Vale', owner Mark supplied me with a detailed list of interesting activities and places to visit.
I was also really impressed with the high standard of cleanliness of this property. Obviously, this family takes pride in their business, and love what they do, and it shows.
It was just an absolute delight to stay at McLaren Vale Motel and Apartments and I can't find a single fault in anything – it is a 'ten out of ten' lovely place to stay for families in McLaren Vale, and both Explorason and I felt like it was 'home away from home'.
McLaren Vale Motel and Apartments
Website: http://www.mclarenvalemotel.com.au/
Cnr Main Road & Caffrey Street, McLaren Vale South Australia 5171
Ph: 08 8323 8265
Also, check out my friend's website:
Please read our Disclaimer here
Disclaimer: This post may contain Affiliate Links, Sponsored Content, or…