Miccosukee Indian Village and Alligator show
– Everglades Florida
Australian single MUm and her 8-year-old are about to explore some of the Everglades in Florida today.
And we are excited!
When we are driving along, we see a few airboat rides available, but being a world-traveling duo, we really want to learn about the traditional culture. Part of our world journey is what we call 'World schooling'.  It is where you use the places and the environment around you as a living classroom.
So today we are learning about the Indian American culture.
The Miccosukee Indian village is on your left as you are driving east to west.  It is huge – and has a wonderful statue area out the front – ideal for your entry photo.
When we arrive it is lunch-time.  The huge car park is dotted with cars and RV's, and several people are enjoying the picnic tables under the shade.
So we thought we would too.  But what surprised me was that we had alligators swimming right in front of us!  
As we entered the village through the gift store, we were impressed with how warm and friendly the staff all were.
We were shown through to the start of the reservation village area and asked to sit in the Cooking Chicken for our first lesson.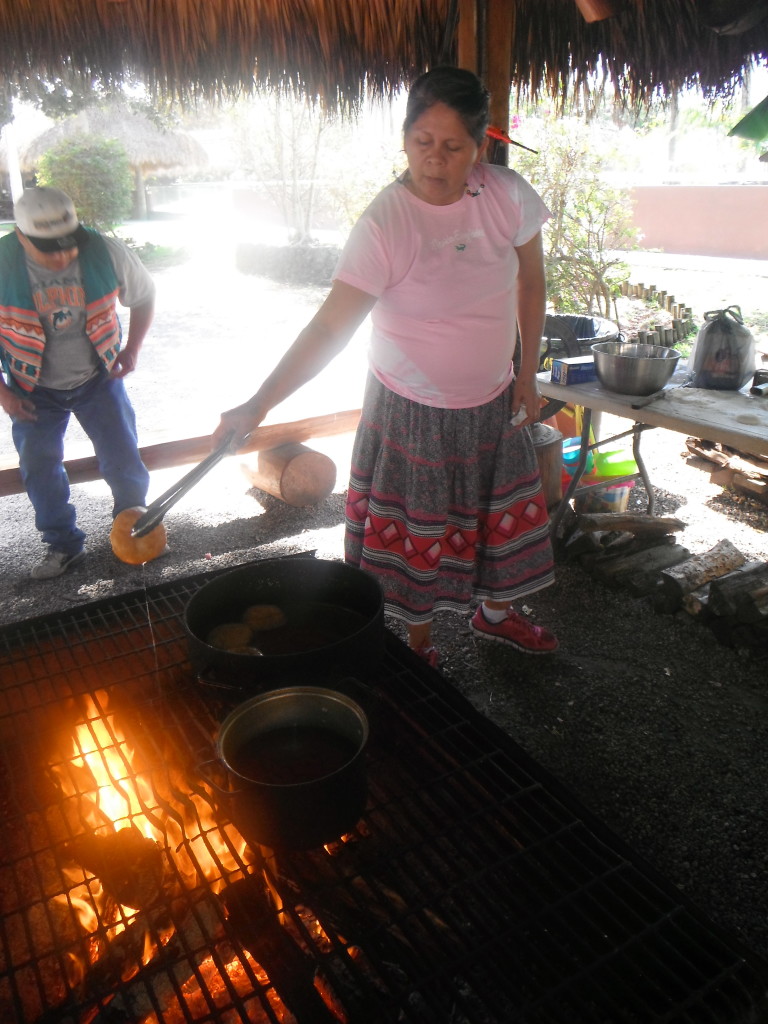 We were in for a treat!  The lovely couple explained the traditional Indian cooking methods, and then we were able to sample both pumpkin and sweet fried bread. Quite like a donut and very Moorish!
This chick is not where you normally would eat. There is a separate one for that. Smoke stains the roof and poles as the four long cypress logs make the centerfire area.  We learn the logs last several months!
Fire-marked pots and pans hang from the ceiling. This is an authentic situation and it is a great time to learn for both of us.
Next, we head to the Sleeping Chickee.  The thatch roof of palmetto leaves and grass makes the cover for this living, working and sleeping area. The raised table sometimes has greased legs – why?  To keep the snakes from slithering up when you sleep of course!
Miccosukee Indians are known for their intricate patchwork and sewing skills. The girls start to learn when they are quite young.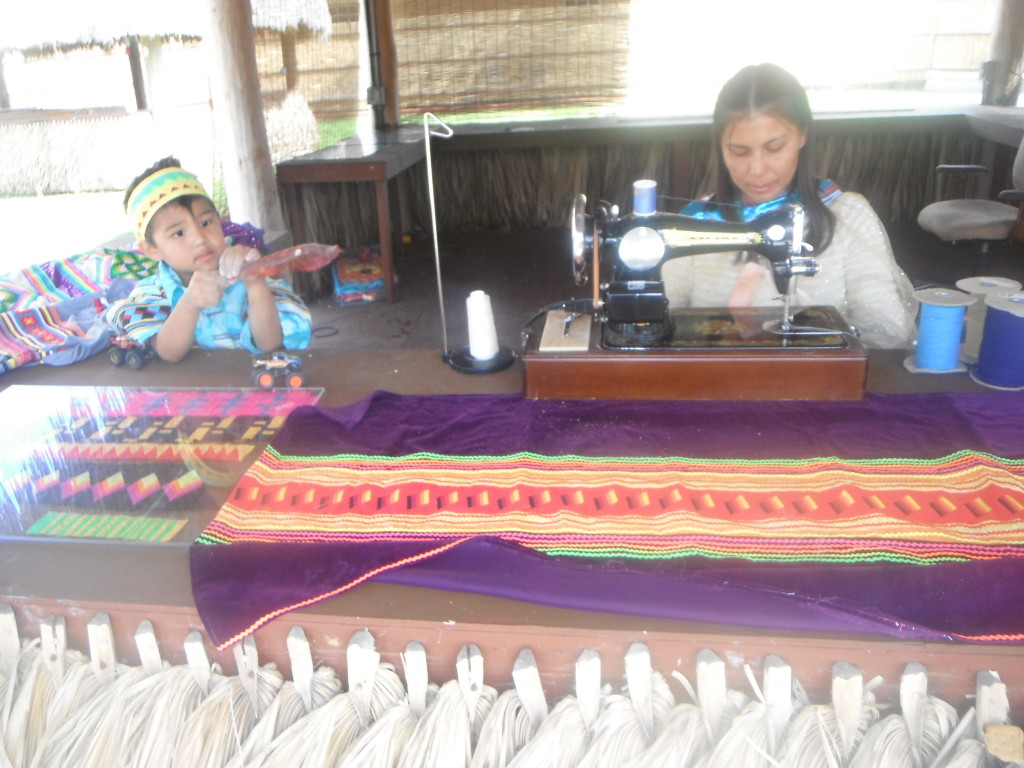 The attention to detail is quite remarkable with a combination of panels and rickrack used to form glorious designs.
Here is a close-up of some of her work.  This is hand-made and she is very skilled.
Her son is too young for school, but we learn they have a choice of an Indian traditional school learning local culture, or a public American school.
As we wander around the village our time is cut short.  We are about to see an Indian at the village show us how they used to, and still handle the alligators that live in the Everglade waters and swamps.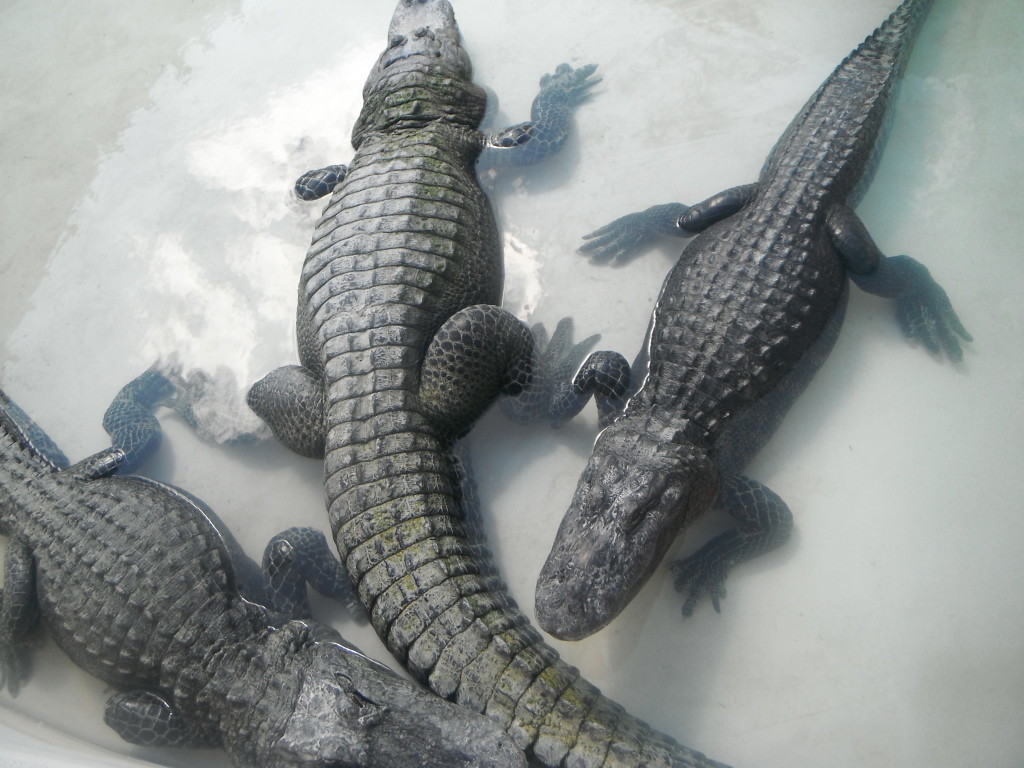 But I am impressed that even nature knows how to get something for free.
These three turtles are getting a free ride and sunning on the back of the alligator.
These young ones are not ready for the alligator show, so they enjoy their own space in this pit.
We head over to see a really funny tribesman show us his skills with these beasts.  Several shows are available daily, so check out the times before you go, and make sure you don't miss this event.  It is by far the most superior show in the area.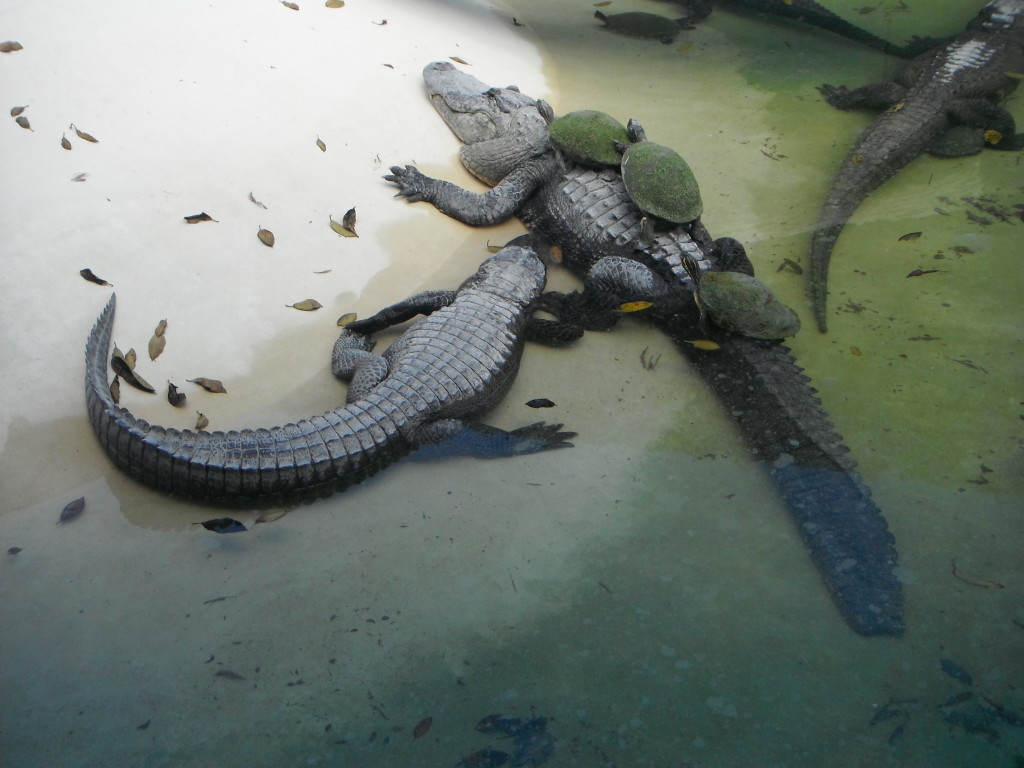 He shows us handling skills (for professionals only).  He teaches us the difference between crocodiles and alligators (I remember it is the shape of their jaw for one!)
We learn they have 40 teeth both on the bottom and top jaw, making a total of 80 teeth, and that their teeth are hollow with new teeth forming inside, so when one falls out, they are replaced.
We also start to talk between ourselves about cold and hot-blooded creatures – something we have personally been reading about in a Magic School Bus book as we travel, so it is all falling into a good learning time for my 8-year-old son.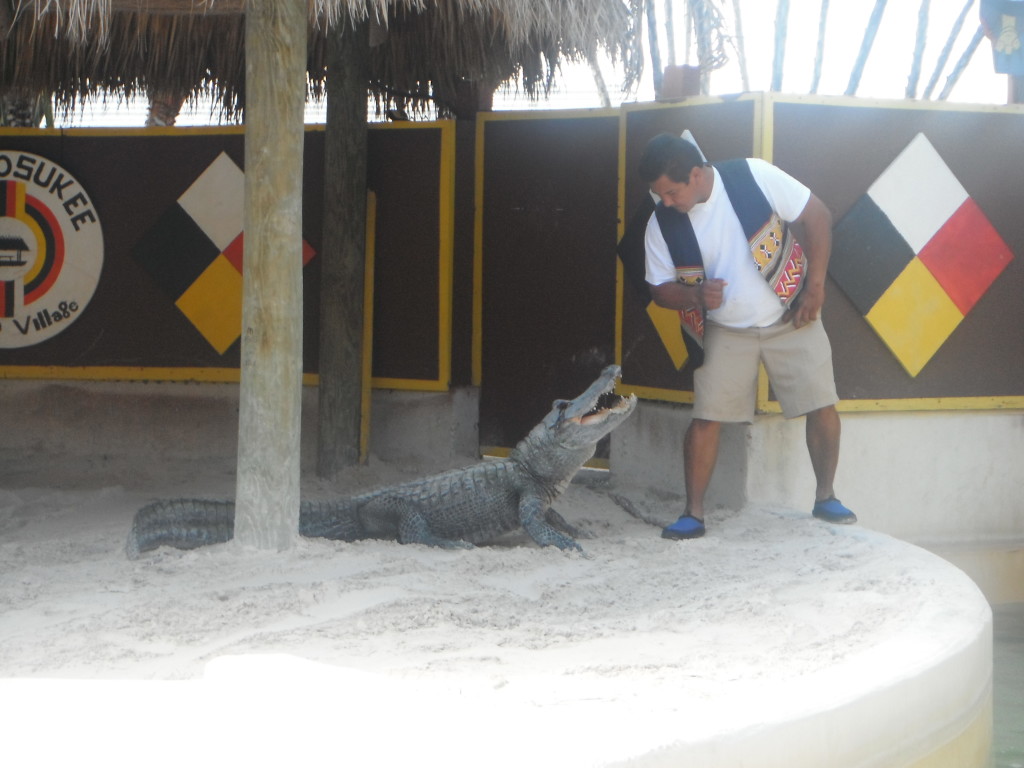 We learn alligators can stay underwater and not breath for at least an hour too.
This guy is incredible!  The skills he shows are fabulous and there are great viewing areas for photos on 3 sides too.
You can see here how he sits on the alligator.
What amazed me most was how he showed us when and how he can put his whole hand in its mouth!  Creepy!
He finishes the show by showing us his chin skills. This is how they used to handle them, so their hands were free to tie a rope around the jaw.  Alligator goes off really quickly, so they would kill them, and eat them fairly fresh.
Now comes something you don't often get for FREE.
Each person is given the chance and training to hold a baby alligator.
I held this one for several minutes, and my son took the photo – which wasn't bad for an 8-year-old!
At first, he was too frightened to hold it alone.
One thing I never, ever do is push him to do things he doesn't want to do.  That produces fear. But I do encourage him to try new things.
He gives it back and walks off. He then gives it a second thought and decides he wants to try it on his own.
So our patient tribesman shows him exactly how to hold it.  I do feel for this poor alligator. He is really getting squeezed!  But I am proud that it is a safe environment and that he was talked through thoroughly before the event, and told what to do in an emergency too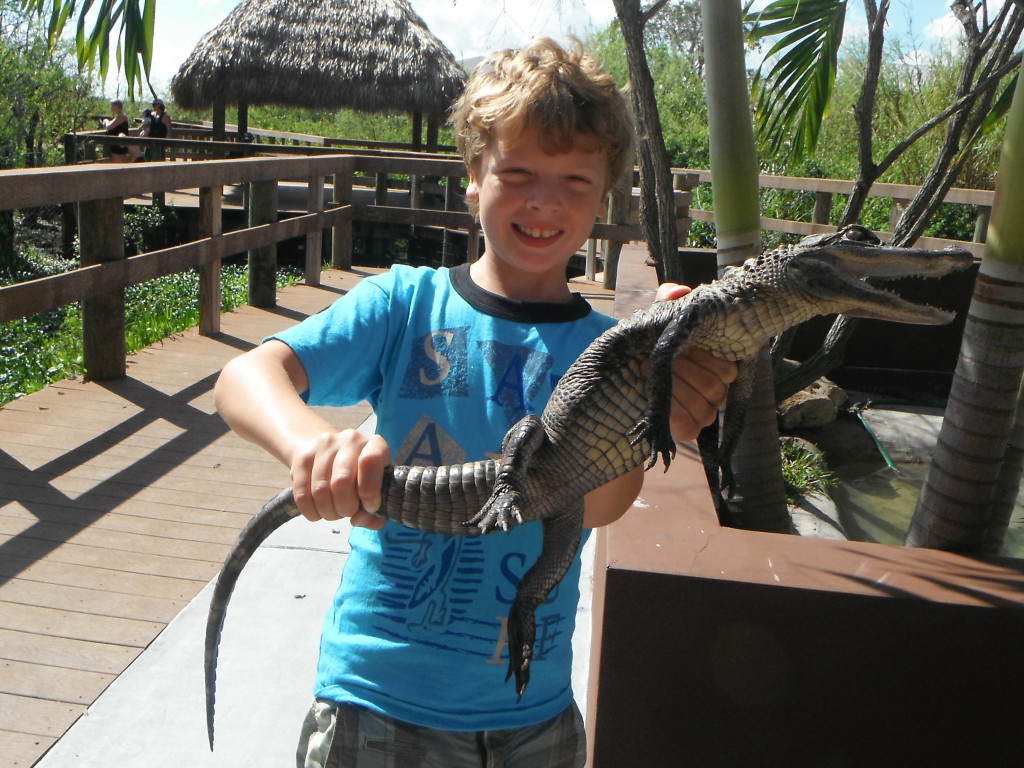 We head off to anger over the boardwalk area. This goes over the Everglades and swamp area. We see the razor snap sawgrass, and then we spy moving creatures that are black.
No, they are not alligators, they are their village pigs.  Enjoying the mud, we almost have a conversation with the big one as he heads up toward us.
We finish off in the Museum.  Inside is "Tiny". He was used in films until he crushed some-ones ribs. Eventually, I think they said he dies at 90 or 100 years of old age.
Explorason commented on how he really loved the museum the most. This surprised me, but the displays were a lot more professional than some we had seen in poorer countries in South America, so I guess that might be why. We also watched a short film giving an insight into the Indian culture.
As we wandered out through the gift store, we were impressed that a lot of the artifacts were made by the Indians and not just a shop full of tacky souvenirs. There were bow and arrows and some authentic pieces for sale. We bought a tiny stone ax to add to tour Christmas tree ornaments.
I am so pleased we visited the Miccosukee Village!
Attraction Name: Miccosukee Indian Village
Location:  MM 70, US Highway 41, Tamiami Trail, Miami (Everglades) Florida
Telephone:  (305) 552-8365
email: info@miccosukeetribe.com
Website: http://www.miccosukee.com/indian_village
Date visited: February 2014
Child-friendly: Definitely YES
Questions and Comments
What fascinates you about Florida?
Have you been to the amazing Miccosukee village?
Did you participate in the alligator show?
How was the experience?
Do share your opinions and comments with us below.