We chose a budget bungalow and it overlooks the beautiful pool area when we stayed in Tulum.
We were hoping for a front room, but they are booked well in advance – not surprising seeing they have access straight onto the beautiful beach.
Our room had a tight-fitting mosquito net.  The first few nights we never needed this, but as the weather warmed, we did see a couple in the room and used it with great results.
I love how our room overlooked the pool, and I could sit and read in the morning on the balcony before my son woke up.
This is an Eco hotel so you will find the water is pumped up to the tanks, and the electricity is wind-powered with solar panels over the pool shelter.  Being conscious of the environment is great!
The pool area has huge double sun beds – ideal when it is windily on the shoreline to come in and top up your tan, read a book, or play some cards.
We loved the fact there were enough chairs and sun lounges and natural shade umbrellas out by the beach.
The water is warm, and we took our own lunch out there each day.
It is a great place to build sandcastles, and play as a family together.
There is a hammock under the trees to relax, or for a bit of fun.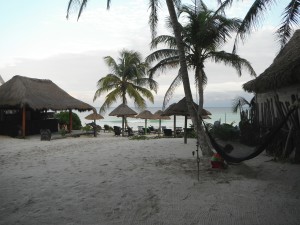 The endless beach is perfect for a morning walk/run (as so many do here), or an evening stroll.
We planned to stay for only 3 days but extended.
It was only a 100 Pesos taxi ride to the supermarket or the main intersection where you can catch collectives to the turtle beaches or cenotes.
Come and enjoy this fabulous location. This hotel does need upgrading, so is priced accordingly.
For the price, you can't beat it anywhere along this gorgeous Caribbean coastline!