Exploring Quito, Ecuador with a Child
I want to go exploring Quito this morning but I wonder if my son will ever wake up here at our Quito accommodation. Last night he was up very late reading his new book (we found in a great English bookstore yesterday) with so much excitement. It gets past 9:30 a.m. I make another coffee – and wait.
Finally, he emerges and is full of joy and ready to go exploring Quito!
World Schooling Quito
We will be taking it easy today. He does his written assignments and computer discovery tasks and there are no complaints. The point system we implemented in Panama for world schooling works well.
He wants to go and see more museums – he gets two points for each museum or church we visit – as long as he learns while we are there. We aim for ten points a day with his education – it works so well.
International Women's Day
As we go exploring Quito together we head into town we notice hundreds of people carrying flowers? I think it is because there are so many hospitals in the area. No – it is International Women's Day. The students are giving out flowers – and this lovely young man gave me a gorgeous rose – this is the first time I've ever celebrated this day and it feels really special to me.
Quito Museo
We keep on exploring Quito until we then decide to go and find Hugo at Sucre Casa. He has told us he will show us around any museum in town.
Next thing he has been joined by two other guides. So we first visit the Quito Museo. This is a great place to learn about the indigenous locals of the area. It was once a hospital, and also a church, and was only restored about 10 years ago. Here, Hugo shows us an amazing inlay wood map floor.
Then we head for traditional desserts that are made near here. I get some sugar coated corn, called 'Dog's Pop' and it was interesting.
Iglesia De La Compania
We then visit Iglesia de la Compania – the company of Jesus church. A striking example of architecture. Inside we are not permitted to take photographs, but it is well worth a visit. So much gold – like I have never seen before. From here we bid farewell to Hugo, and jump in a cab.
El Panecillo
Next, we head up to the top of the hill to El Panecillo.
You pay $1 and can climb inside. I am amazed at this is the Virgin from Revelation Chapter 12. I thought it was an angel. Inside is a little church. The stairs are pretty steep – no good for anyone with vertigo.
Outstanding Views
My son finds it so funny that I hate the edge. He marches me around six times and laughs. The city views from here are incredible.
In the distance is snowcapped mountains of the Andes.
Taxi Gone – Bus Assists
We head down. Oh no – our taxi has taken off leaving us stranded and no other taxi is in sight. It is unlikely at 5:30 pm that a taxi will come up this hill and we are a long way from the old city. So we talk the Quito Hop-on Hop-off bus to take us down. There is a super-nice guy who is running the bus and wish we had done the tour.
As the bus meanders down, we pass the locals in the street. We have been advised not to walk this area as many tourists are mugged. We drive past the shops and through the old city.
Puppy Cuddles For $1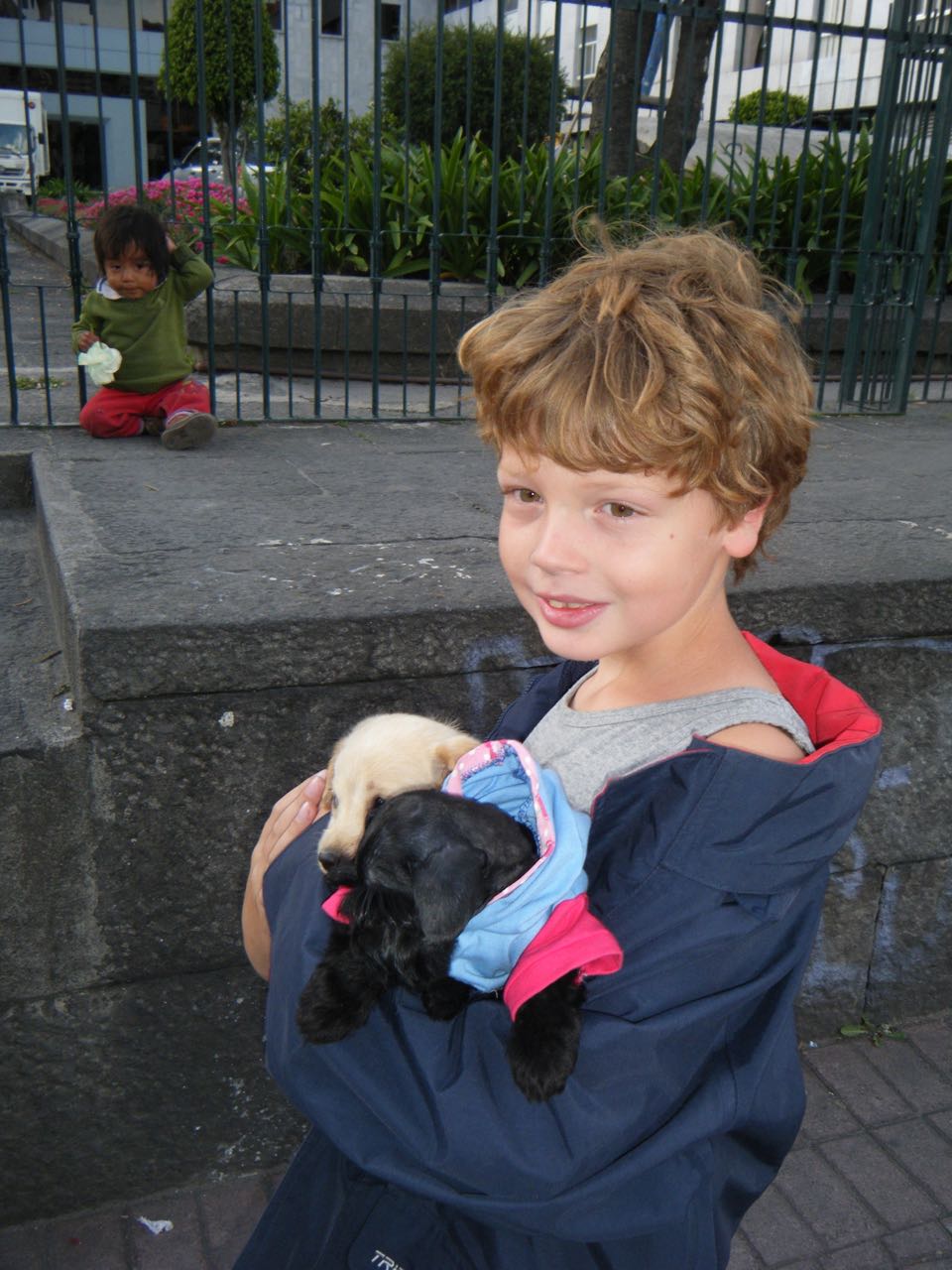 We hop off the bus and walk back to our hotel. As we do so there is a man selling puppy cuddles for $1. His child in the back looks dirty and poor. I tell him we don't have a $1 (we are still very slim on waiting for our funds to be returned to our bank from our Travel Money Card skimming) for a cuddle. But, we do have a stack of soaps from the hotel so he is pleased with the exchange. And, my son is pleased with the cuddles as he is really missing his dog Coco back in Australia.
Random Acts Of Kindness
As we wander home we pass out more of the leftover toiletries we have from the hotel. We have so many but there are a lot of homeless. It is our Random Acts of Kindness starting again. I think we gave out about 40 items etc. It was a nice feeling to give.
We talk and decide to do more random acts of kindness tomorrow.
Conclusion
Quito is well worth a visit and back at the hotel we enjoy dinner and watch the city lights below from our Inn window. It feels so safe with my son. We really are having a wonderful trip of a lifetime and know this is a precious time. We are in no rush for our time in Quito to end.
Questions And Comments
Have you ever been to Ecuador?
What would like to visit if you were exploring Quito?
Tell us in the comments below – we'd love to know.