Saigon River snakes its way through Ho Chi Minh and is the most sought-after real estate position in the city.
River Life
To stay with a view of the Saigon River in luxury style is like having a movie screening outside of you highrise hotel window.
Day and night the scene before us is always moving.
The rich and the poor work and play here with a mix of industry, tourism, and leisure all forming part of the ant-like craft that moves about in the muddy waters below.
As I sit and type this article a jet boat (taking tourists to the Mekong Delta) zooms past a tiny worn-out and tired old wooden craft. Fishing boats, cargo ships, barges filled with river soil or topped with shipping containers glide past – almost submerged in the water.
Docked further on are a mix of luxury cruise ships, riverboats, and even a wooden junk boat.
One source of entertainment (albeit sad for the workers) is watching the overfilled barges laden with the river soil come aground on a low point of the river just along from the Le Meridien Saigon where we are staying.
From our 19th floor window, we have a perfect vantage point to watch how they solved their problem.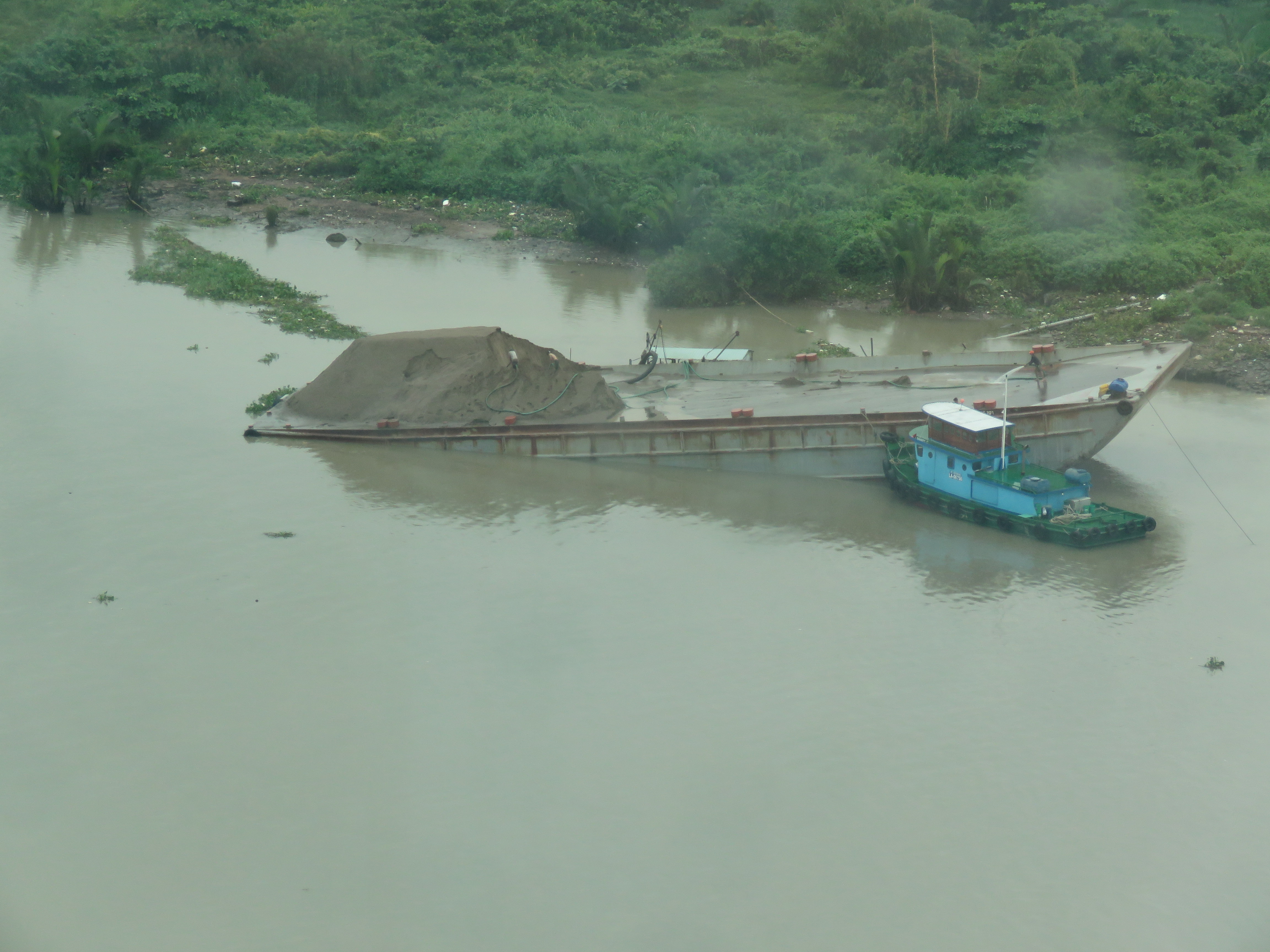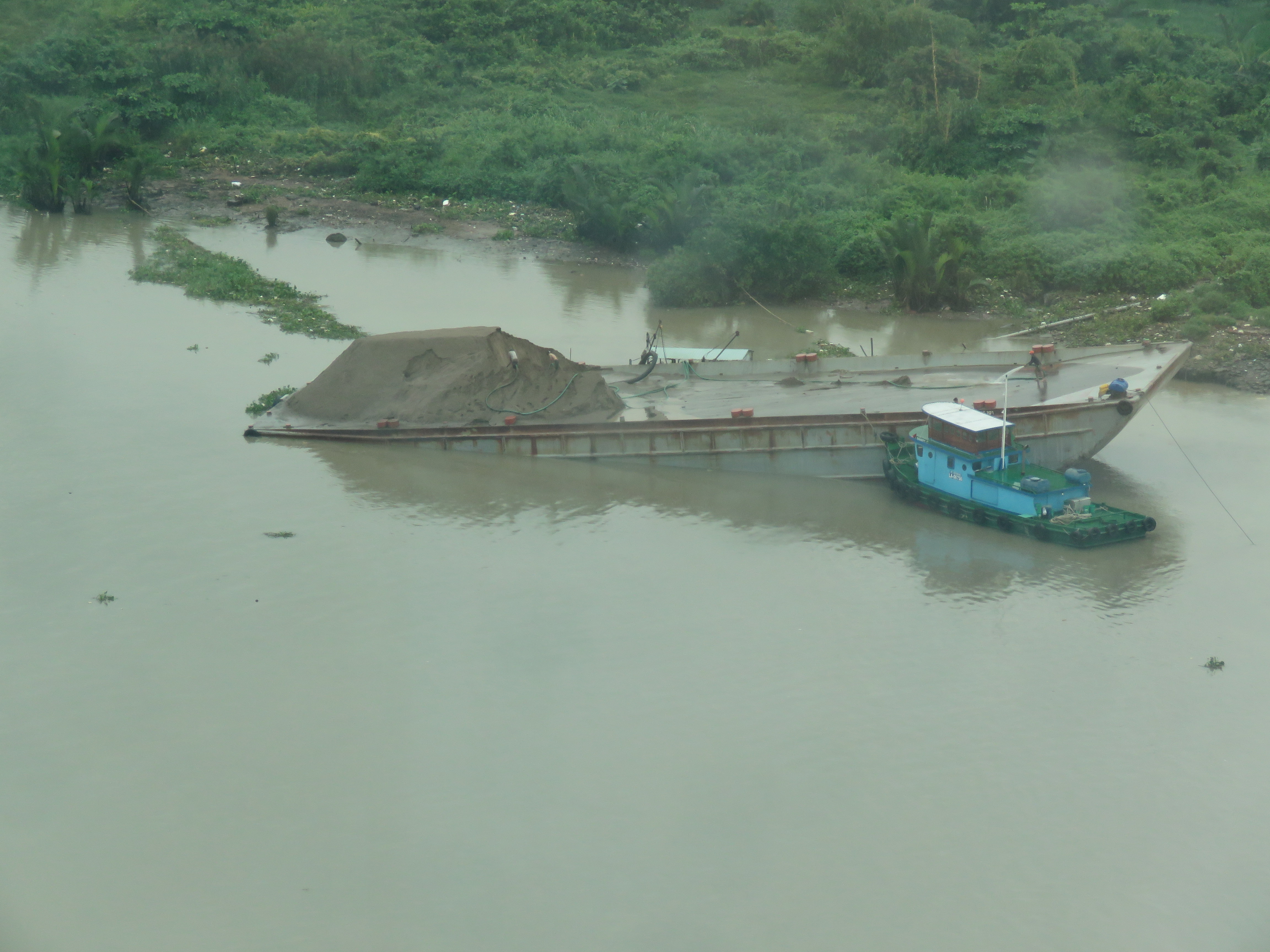 This is a day-long procedure where they manually offload the river sand by hand shoveling and squirting pumped river water to blast it back into the river and to raise the level of the barge.
Sadly the barge yesterday started removing the sand at one end.  This happened to also be the wrong end and by offloading the river sand, the barge tilted dramatically and almost sank! However, seeing they had 'hit bottom' in one corner they only partly submerged.
Perfect Vantage Point
Finally emptying its load completely, the tug was able to free the barge around 5:00 p.m. and the empty barge was then pulled to freedom.  A 12-hour costly mistake for the crew. Explorason watches intently from his favorite Chaise Longue he has claimed for himself.
As they leave the river is just lighting up for the evening. The Heineken beer has eight massive billboards positioned along the banks, and it is a pretty scene as the darkness falls and the city slowly lights up.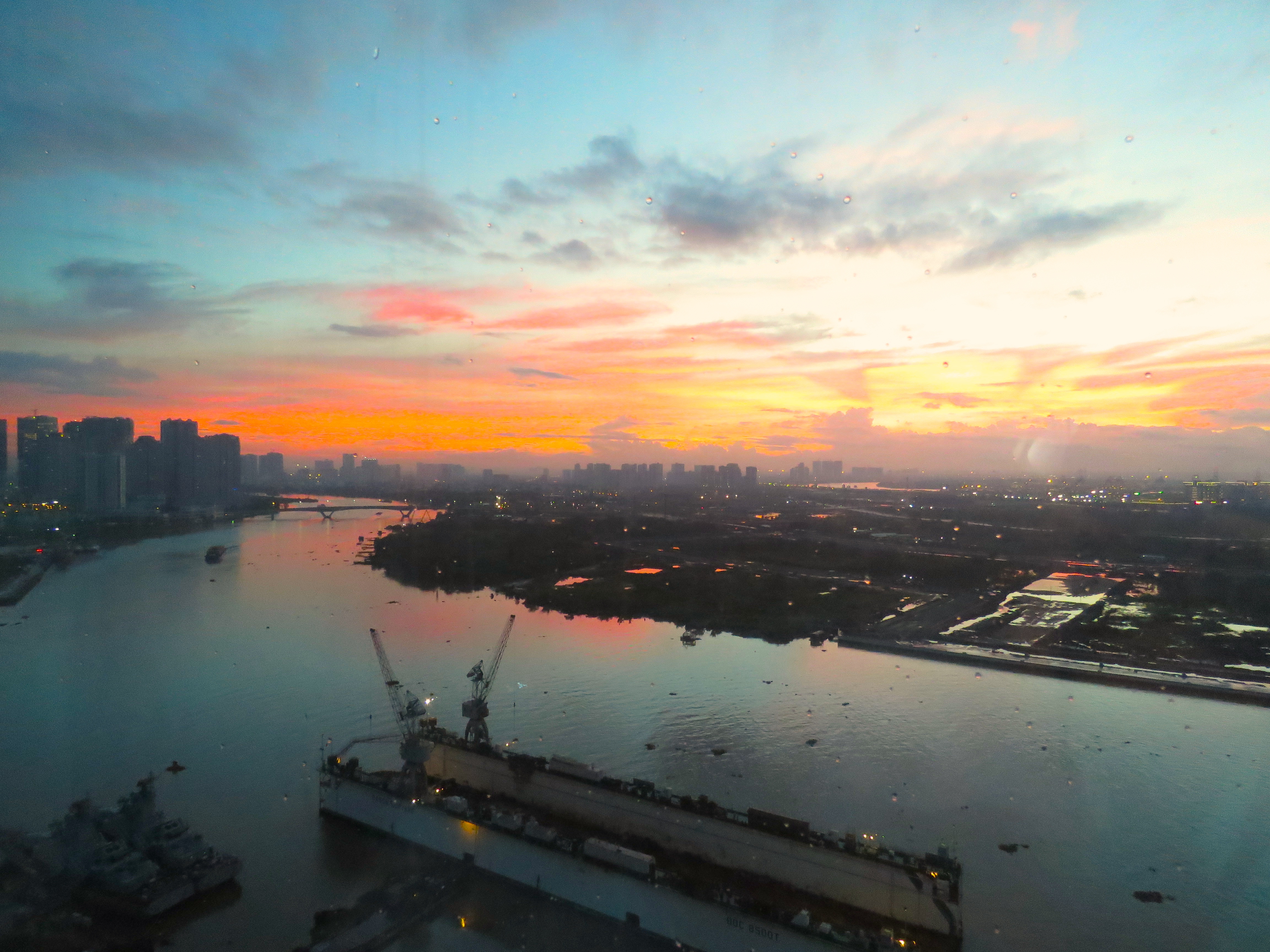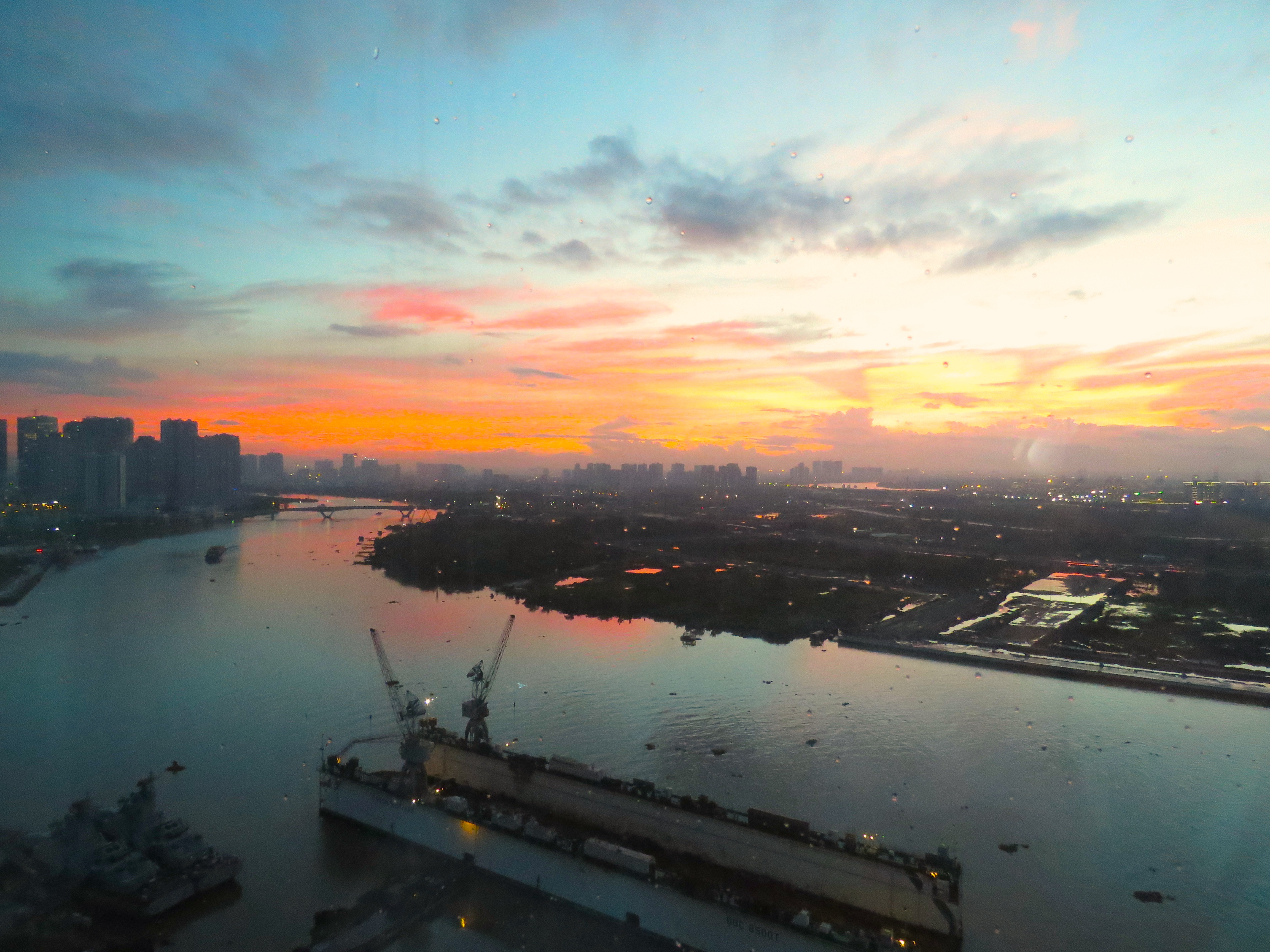 Low and behold, I wake at 5:00 a.m. and another barge have come aground in almost the same location.  So we have a new event to watch today and Explorason has a world-schooling lesson is learning quite a bit too!
On our last morning, I also woke to a pretty sunrise. Good Morning Vietnam!
Room Choices
Le Meridien Saigon is the first Le Meridien hotel in Vietnam. It is a new luxury hotel that only opened 12 months ago, so everything is lovely and fresh.
We opted for twin beds when we booked with a city view but later changed to a room with a king bed so we could enjoy the Saigon River view.
Explorason was glad of the change – he was busy creating his latest art on his laptop and enjoyed sitting for hours by the window watching all the events on the Saigon River.
En-Suite Bathroom
There is an airy bathroom that maximizes natural lighting with a glass partition. Of course, there is a blind of privacy when needed.
Explorason loves a rain shower head, but I love a power nozzle, and there is a choice of either one and also a bath.  I opt for a bath and a glass of wine with my Christmas novel on our first evening.
It is Sunday and our day to relax.
I'm also coming down with a head cold, which is no fun at all!
Daily Indulgence
Included in our room is a felt folder that provides information on all the latest up to day information on Le Meridien Saigon.  It also includes a Complimentary Coffee (or in Explorason's case Hot chocolate) Voucher for each day.  This is served in the
This is served in the Latitude 10 Coffee Lounge and is a great place to relax with a book or to meet up with other guests.
Wine and Dine
There are so many places to wine and dine here at Le Meridien and we try as many as we can whilst we stay here!
High Tea
Explorason was keen to book High Tea here after he read about all the delicious treats they had on offer – in particular, French Macaroons.
As it is served in a relaxed area, I agreed.  So glad we did!  It started at 2:00 p.m., which was a perfect 'fill-me-up' between an early lunch and a late dinner and served in Latitude 10.
Le Meridien has been the perfect place to stay for our last couple of days here in Saigon. Most of our time was spent in our hotel planning our next leg of our travels, but that meant we were able to experience all that Le Meridien Saigon had to offer us as their guests.
We can't believe this is our last day in Vietnam. Tomorrow we board our flight to another country – not too far away.
We will keep a secret and you have to wait to see where it is!
Breakfast
We were up bright and early on our first morning. We need to go back to the Saigon Square market to purchase winter clothes for our next leg of our world journey.  Last time we went, we made the mistake of waiting until the heat of the day to try on sweaters, and Explorason nearly had a 'melt-down'.
With a little more insight, we decided that first thin was the go!  So by 7:00 a.m. we were seated in the Latest Recipe.
Ther are actually so many choices that I am a bit overwhelmed. I start my day with one of their power juices with mango and it is a great shot.  Cheeses, sweet and savory and everything in between is served here.  I also love the petite mango French Toast.
There were plenty of kid-friendly choices including choco-pops for cereals and chocolate donuts.  Plus bacon and even English baked beans, Explorason's all-time favorite breakfast foods.
Lunch and Dinner
Bamboo Chic is a contemporary restaurant with an ultra-modern decor and amazing Asian cuisine on Level 9 – adjacent to the pool area.  So glad we came here as there is a dynamic view.
Lunch and Dinner are also served at Latest Recipe where the huge international buffet and à la carte menu is displayed over several food stations in a chic and casual atmosphere that we thought was rather French inspired.
We dined at Latest Recipe on our first evening that we stayed here, and I was amazed at how many families were there.
Recipes are written all over the walls – it is a very original and super clean feeling decor, which I really thought was creative.
The selection of seafood was incredible.  Diners select their fresh produce and t is cooked before our very eyes.  I enjoyed the salmon which was cooked to perfection. In fact, I went back for seconds.  Explorason had chicken satay, and healthy salad, because he needed room for the desserts.  The chocolate fountain was a HIT with all the guests.
All the children were dressed nicely and very well behaved which was lovely to see.  I love the way Asians in particular, make an effort to dress up for a meal a little more – something I feel is getting lost over time.
Snack Time
Tucked away in the foyer of this hotel is the famous Art Cacao that is a magnet for both locals and travelers alike.
Daily freshly made and baked goods like bread, buns, éclairs, and croissants can be sourced here as well as a quick healthy salad. Ideal for anyone on their way to a meeting or out for a day of exploring.
Explorason Explores The Explore Bistro And Pool Area
In front of Bamboo Chic, the Explore Bistro offers healthy options and 'revitalizing elixirs' in a poolside setting that is adjacent to the gymnasium.
The swimming pool overlooks the Saigon River but is also undercover which is perfect for the tropical weather.
We are here in the rainy season, so I could stay dry beside the pool under cover as I watched Explorason enjoy the pool.  It is perfect here at Le Meridien for kids of all ages, and we found it to be a very 'kid-friendly' hotel.
For a little sun, there is the sundeck where those, who seek a tan, can lie and watch the boats glide by.
Hair Cut Time For Explorason
In the street that runs parallel to the hotel, there are many restaurants and shops. I noticed there were many massage parlors in the area. However, walking on my way to the pharmacy (to purchase some over-the-counter medication as I have a sinus infection or head cold) I discovered a unisex hairdresser, so I returned with Explorason in tow.
His last haircut was in Adelaide about 5 months ago, and he was well due for another one.
Here in Vietnam, many people call him "baby" and he hates it.  Time to look like 'a boy' again.  He was chuffed as the hairdresser thought he was 16-years-old so that made his day! Maybe he is even starting to look like a young man? To think he started traveling when he was only seven years old!
 SaiGon