Sailing around Croatia Islands
Croatia is a country well known and loved for its many beautiful islands. Though numerous, these islands are unique both in their overall formation and their eye-catching attractions. The amazing thing is that many are visible right from the coastline – even as you drive along, but nothing compares to sailing around them – it is just magical!
It is for this reason that we feel compelled to share our Croatia experience, hoping that those on a family travel will develop a great a desire to visit this beautiful country.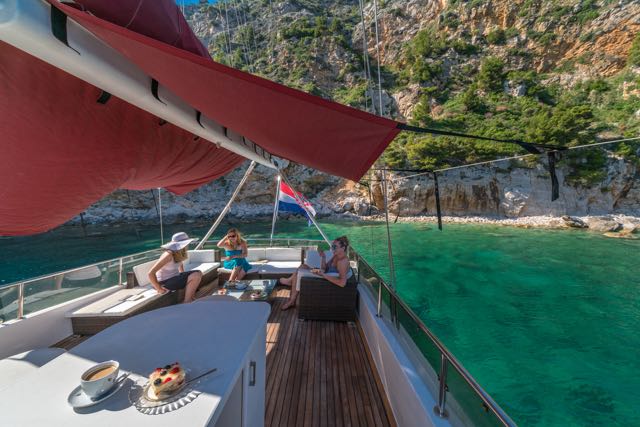 What is a Gulet?
If after reading this article you decide to sail Croatia, we advise you book your sailing experience enjoying a stunning wooden Gulet. Gulets are luxury vessels that sail around Islands in the region, carrying you across some of the most talked about sites. Luxury travel experts believe that gulets are the best way to have a tour of the region via a sailing vessel, especially when sailing around Croatia.
Even if you are embarking on a sailing adventure as single parent travel, this could be the experience of a lifetime. We've enjoyed cruises as a family before and the idea of a private sailing vessel just had that extra privacy and freedom.
Here are some detailed reasons you should sail around Croatian Islands – specifically in gulets:
Family Time
We were surprised to learn that there are numerous sizes of Gulets available for hire. Some are small, only having 4 cabins for 8 tourists. However, there are large ones that have 16 cabins, with a capacity to accommodate up to 35 guests on a single tour of the islands.
Through it, visitors can find their envisioned Gulets. They also get to receive expert advice regarding Gulet services, just in case they feel stuck and need professional advice. Initially, we were concerned about the cost of hiring Gulet fleet services.
Just like many families, we imagined the prices would be on the higher scale. As we would find later, we were very wrong. Families get to choose services that are within their budget. Those on a low budget can go for low budget Gulets while those on a high budget can choose the more luxurious highly priced ones when sailing around Croatia.
Facilities onboard
Imagine your own private jacuzzi onboard as you sail the blue water?  Relax day or night – with your own Gulet you can choose this experience.  Pop the kids to bed and 'grown-ups' can have some adult relaxation, or enjoy it as a family during the day.
National Parks
You might find it hard to believe this, but there are national parks in some of the Croatian Islands. They offer a serene environment for relaxing the mind through fun activities like biking, swimming and nature walk. How cool is this? We recommend you try Mljet National Park, where you will definitely be able to enjoy all these activities. Each island seems to have something unique for its visitors. At least this is what we learned from our time in Croatia.
There are so many aquatic and litoral national parks here and you can enjoy them when you sailing around Croatia. Try having an idea of the island you would like to visit or else you would get confused or overwhelmed as there are just so many stunning choices. The good thing about Gulet cruises is that you get to see some of these parks during your sail since they use the best routes.
Heritage Sites
Croatia has a total of eight UNESCO world heritage sites. These include the Plitvice Lakes National Park, where natural dams and waterfalls can be spotted and wildlife exists in the surrounding.
There is also the Old City of Dubrovnik, Episcopal Complex of the Euphrasian Basilica, Historic City of Trogir, Cathedral of Saint James, Stari Grad Plain, and Stecci Medieval Tombstones Graveyards. This is a place where history literally exists. It is a learning ground for kids and adults alike on matters related to the practices and lifestyle of ancient Croatian communities.
We not only learned a lot but also had done much fun in some of these sites. Gulet rides will take you through the Islands with the most unique natural attractions and formations.
Mouthwatering Local Cuisine
Croatia is one of the few places we have had mouthwatering seafood dishes. Some of the local Croatian cuisine you might want to try includes black risotto and Boskarin. Don't worry if someone in the family is a vegetarian – there is a long list of vegetarian cuisines they might like too.
Professional chefs sailing around Croatia with you to ensure you get the best meal when you go sailing around Croatia. Just in case you find yourself not loving the local cuisines, you can always request to be served with something else you love. Whilst onboard here, you are like a royal family.
The experience is fun, memorable and worth creating. It is never just about sightseeing. It is also about the comfort and satisfaction you get while moving from one point to another. This is our advice from our family to your family.
Whether you have spent a few hours relaxing with your fishing rod or purchased seafood from one of the local fishermen, dining aboard your own vessel means you have the choice to prepare culinary seafood delights for breakfast, lunch or dinner.
So if you are feeling tired or stressed and need some quality time relaxing, then this gullet cruise experience might be just perfect for you?
Questions and Comments
What are your thoughts on Gulets as a private sailing vessel?
Would you give a wooden Gulet a try on your next trip to Croatia?
What appeals to you the most?
Photographs:
All photography in this article and associated social media are either the ©
Exploramum or

 ©

Goolet LTD and published with the written consent