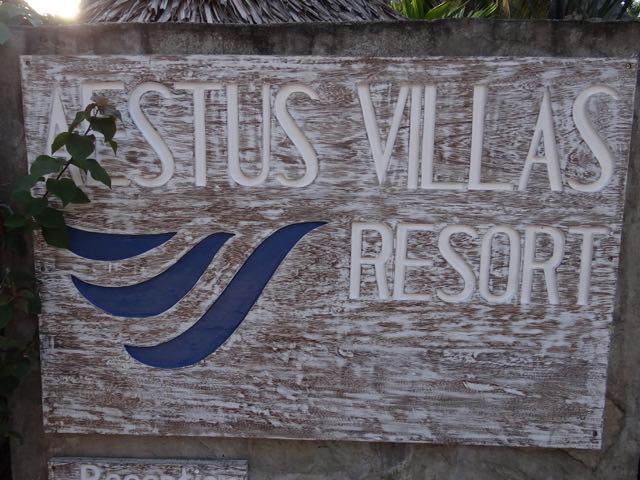 When you think of Africa, you might conjure up images of staying in a (Makuti) thatched grass roof building, with swaying coconut palm trees, monkeys scampering about, and set in lush green gardens with bright blooming vegetation. You might even imagine a uniformed Swahili staff member will warm dark skin that will greet you with fabulous service, presenting you with a cool drink, and beaming at you with their white teeth smile.
You might even imagine a uniformed Swahili staff member will warm dark skin that will greet you with fabulous service, presenting you with a cool drink, and beaming at you with their white teeth smile.
Kenya is known for the friendliness of the Kenyan people, and this is my memory of our last time on the Kenya Coast when we stayed in 2015.  I remembered places we stayed at last time with sweeping lawns, and the beautiful tropical gardens, and how I felt a million miles away from the hustle and bustle of stressful western life.
We needed that experience again, for we were quite shattered from our recent travel troubles.
As many of our readers and followers know, we really love Kenya.
In fact, we love it so much, that we have returned for a second time within two years, and now we have returned to investigate and explore more of the East African coastline, this time at a slower pace.
Location
This time we are exploring areas we have not been to before.
Although we have been to Galu Beach, this is the first time we have ventured away from the beach, crossing Diani Beach Road and heading slightly away from the coast.
Boutique Villa Resort
I am so glad we did! Because here at Aestus Villas Resort Kenya three separate villas/buildings comprise a small boutique-style resort accommodation, set in some of the most beautiful and massive manicured gardens I've encountered in Africa.
Perfectly clipped rolling lawns lay beside a carpet of blooming low ground covers that hug the base of pretty flowering shrubs of every color imaginable.
The gardener here is a talented man who knows which plants to 'marry' together, so the garden really is something I think that is quite special, and for myself, it's a major drawcard. (Many might not know I was trained in horticulture and owned a landscaping business).
Serenity And Nature
Waking up here is a like waking up in the Garden Of Eden!
Pretty birds sing, and I watch as a troop of monkeys dine on the fruits of the trees in a property opposite. It is tranquil, peaceful and ever so quiet, yet we felt completely safe. (There are day and night guards here too).
Tranquility
It is so nice. I just adore the gardens. I sit each morning sipping my coffee outside on the verandah in perfect silence.
I feel so relaxed, and I watch Explorason start to enjoy Africa once more.
Explorason had a rough time in Tanzania, and he was having second thoughts of continuing our journey along the East Coast of Africa, so I am glad that I can see the joy return in my 12-year-old son once more.
I feel a change in our mother-son relationship too.
We spend time relaxing, and not even leaving this small boutique villa property on some days. It is not big as a resort, and it is very lay-back
When we feel the need to be refreshed, we take a leisurely dip in the pristine swimming pool, which we have all to ourselves.
Some nights, Lucia (the lovely Italian lady who owns the property) turns on the garden and pool lighting, and we take an evening dip.  The water is the perfect temperature and this cools us down before dinner.
It's only a 5-10 minute walk to the beach, so I do take a couple of late afternoons strolls to the beach. The touts pounce on me as soon as they spy my camera and white skin, trying to book me a dhow boat ride for the next day or to sell me a shell.
A Maasai warrior meanders up beside me. They all tell me they remember me, even though they have never met me before, which cracks me up. On the second evening's walk, the Maasai appears again informing me "I have changed my price for you".
On the first day I walked on the beach the sand was pure white and the tide was out, and one Maasai seller was trying to sell me an animal skin shield at a ridiculous price. I politely informed him I paid one-eighth of that price for the last shield I purchased two years ago.
So on my return to the beach, he tried again, adding in a spear decorated with horses hair and beads.
Sometimes I enjoy talking to the Beach Boys or Touts if they are polite, and other times they can be rude and annoying. But I will give them credit for their tenacity, as they are persistent! I see a seller who has carved coconut bird feeders – my gosh – I bought one from him last time we were here! I love seeing the familiar faces. They don't remember me, but I remember them.
On my way to returning to Aestus Villas Resort Kenya, I meet a sweet teenage girl named Catherine at the local store-hut. I've stopped to buy Explorason a soda, and Catherine asks me to sponsor her for a school charity collection which is going to aid medical needs for children in a remote area of Kenya. I do wonder if the money will ever get to the school, but she seems sweet and nice, and I hope it does. So I sign up both my son and I and she takes my Kenya Schillings and clings to it tightly.
Service And Style
This is the first time we have had our own personal cook.  We were relaxed and so we just wanted simple meals. He would ask us each morning what we wanted for breakfast, and he'd finely dice me up the yummiest fruit salad that would accompany pancakes.
Then we would discuss what we'd like for dinner, and he would take off and buy the freshest ingredients from the market.  Returning early afternoon to prepare dinner for us.
Food, Glorious Food!
I know many of you would have had your own personal cook preparing lobster or something exotic, but after eating in hotels all the time, we wanted lovely fresh salads, vegetables, and home-style food.
Explorason has been wanting sausages for weeks, so he was delighted when chicken sausages and mash were served one dinner time.
African Authenticity
I love the traditional style of African decor. Lucia's husband is from western Africa, so it is not surprising that the decor is authentic in every way.
The 'makuti' roof is open underneath but has a protective netting to keep stray animals and birds out, but to let the air circulate through.
Traditional Flair And Furnishings
Intricately carved wooden doors and traditional furnishings make Aestus hold true traditional charm.
For us, we were worn out after all the stresses of illness, and travel dramas we had in Tanzania.
We relaxed and fell in love with Kenya and Africa again!
For that, I'm forever grateful.
Thank you from the bottom of my heart.
Had we not come here to Aestus Villas I think our travel time in Africa would have come to an abrupt end.
This is a small piece of Kenyan Paradise. Simple, relaxed, and completely tranquil.
Of Aestus Villas Resort here
Palm Park 1, Near Lantana Galu Beach, Off Diani Beach Road, Galu, DIANI, 80401 MOMBASA, Kwale District, Kenya
aestuskenya@gmail.com
Phone:
+254 711 511151  +254 790918635
Questions and Comments
Have you ever spent a night in a traditional structure?
What was your experience?
Share it with us in the comments section below.