Paris in Fall
A season where carpets of yellow or orange leaves, and Explorason has enjoyed this beautiful season.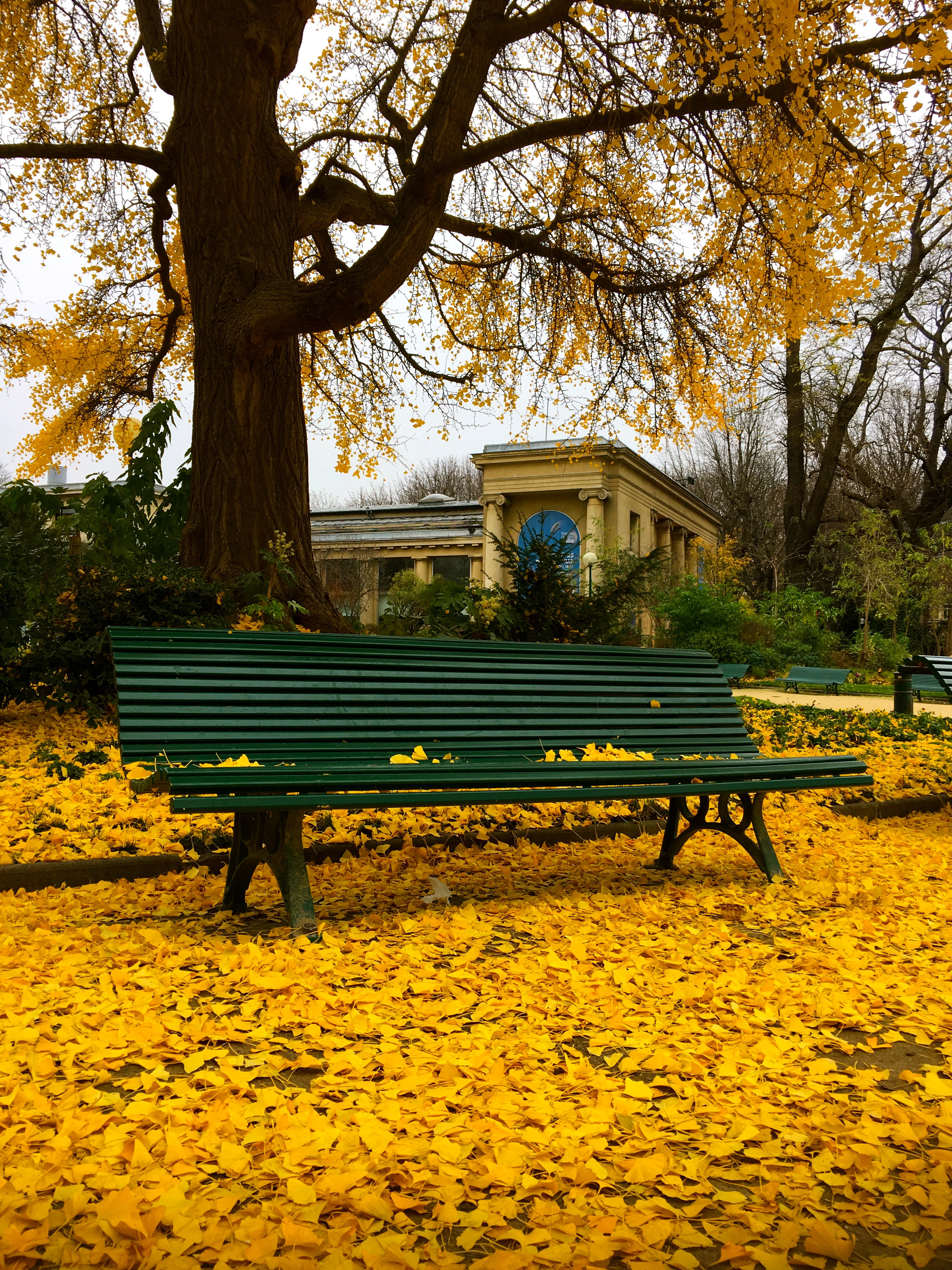 But just as the season ends and the leaves fall, so our time comes to an end in Paris.
It has been two glorious weeks, and although I have been to Paris several times, I declare this time to be my favorite time.  We have not been rushed, and we have also enjoyed Paris at the start of the Christmas season.
Leaving The Hotel
We leave Pullman Paris La Défense and the doorman assists us to the top of the stairs with our two large suitcases, and a small trolley case.
We walk easily to the Metro but manage to get lost trying to find a way down.
We eventually find an elevator, but it has security – the lady speaks French and refuses to open the doors, and my pitiful attempt at French is lost.  Explorason persists with the buzzer, and she gives in after 5 minutes, and 'voilà', the doors open!
Purchasing Train Tickets
Purchasing train tickets is 'a piece of cake'.  Eurail gives clear and easy instructions on these steps.
We go to the train office first and purchase our ticket. We had already been in yesterday to activate our Eurail Passes so we knew the trains went hourly, and we had to reserve our First Class seats. We paid the seat reservation fee, and decided to delay an hour 'just in case'. Lucky we did. "Go with your gut feeling," I tell Explorason.
Metro Ticket Dramas
The first really tense moment came when trying to purchase a Metro ticket.  We queued for 3 machines and one by one they wouldn't work, and we would move to the next one. At the end (45 minutes later) we had to ask two Americans if we could 'jump the queue' in case we missed our train. Paris Metros are very understaffed and do not have nearly enough ticket machines.  The ticket machines they do have do NOT all take cash, neither do they all sell all the tickets.
We then have to locate our Metro line and we manage to get into the wrong one and have to sneak out and into the correct Metro line – not an easy thing with luggage in tow.
We then find the elevator isn't functioning, so we get a great system going on the escalators.
Once we are on the first Metro, I am feeling pleased.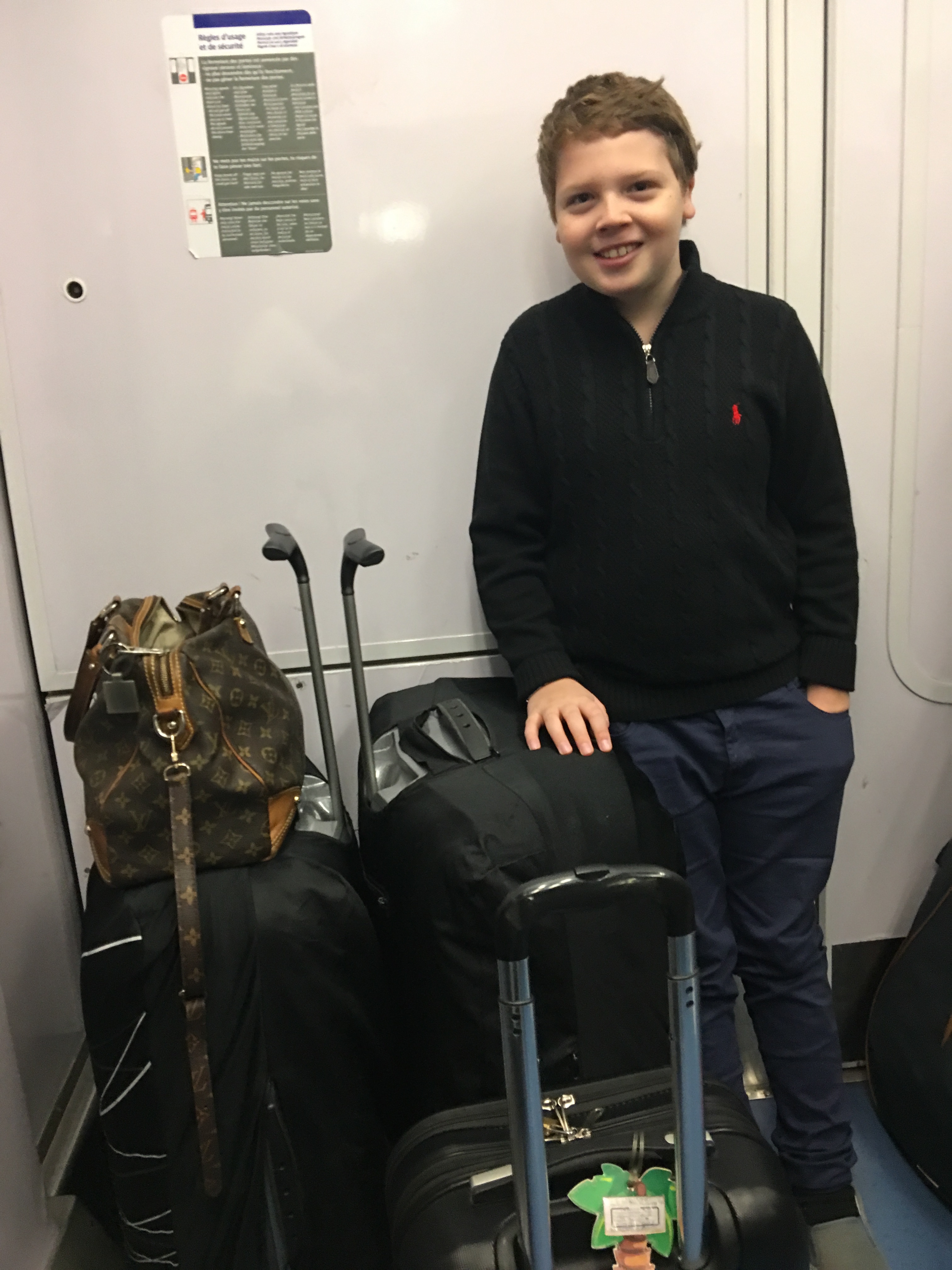 We change trains maneuvering up and down escalators, and find our way to the International train station.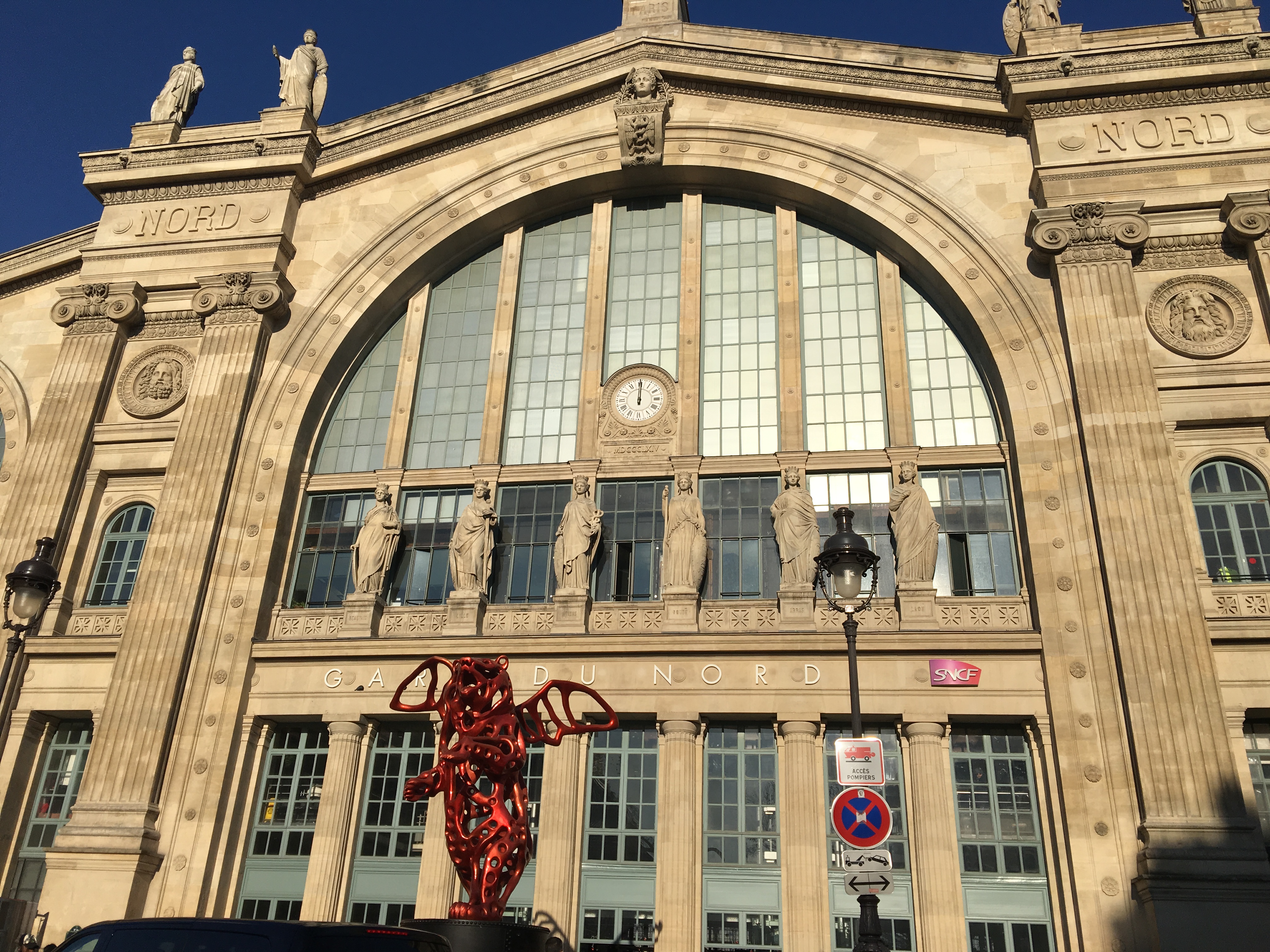 Good Information Assistance
Here the nice Information Assistant informed me to activate my ticket in the yellow machine. I found all the staff to be ever so helpful.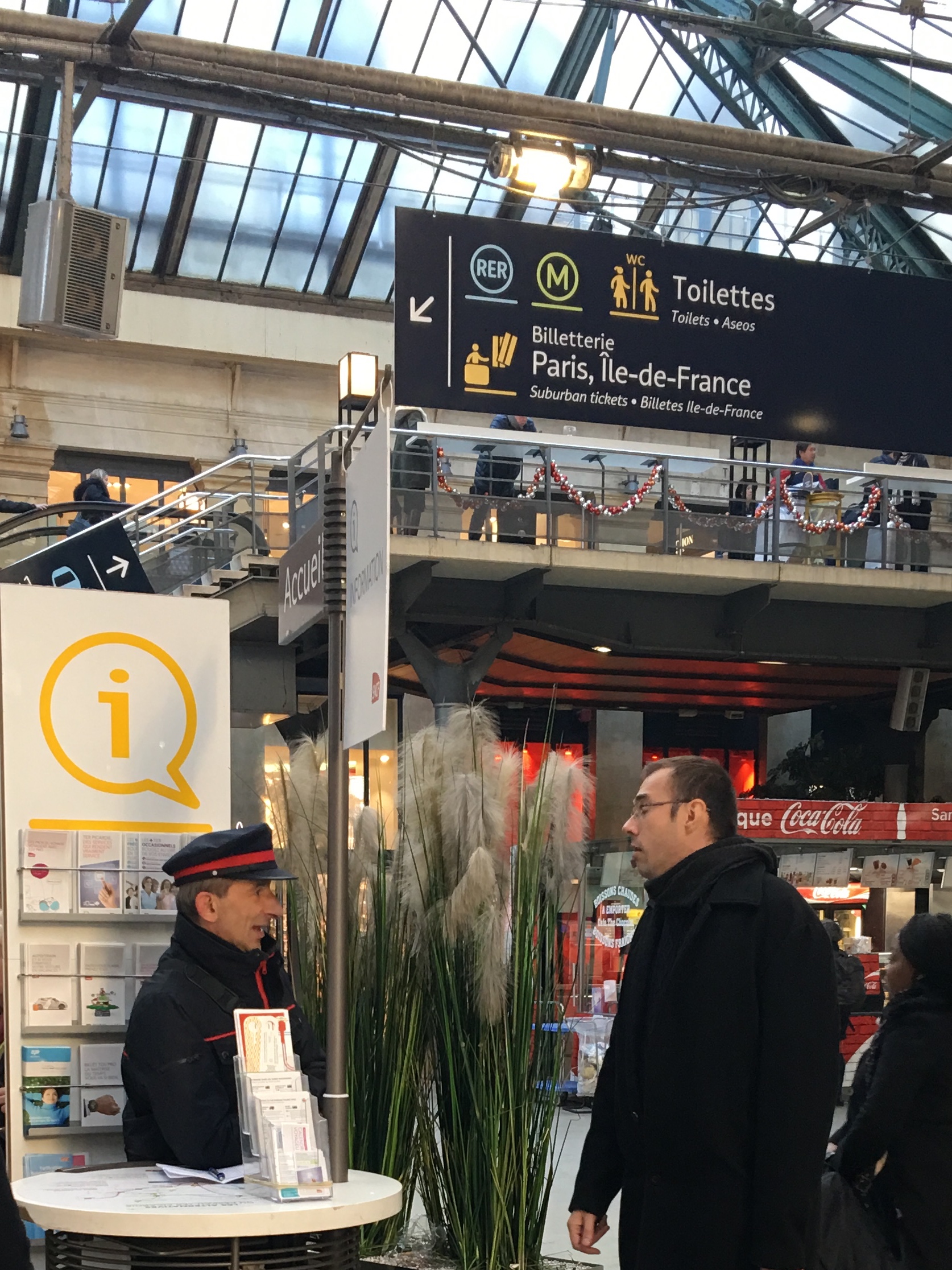 No Stalling In The Stalls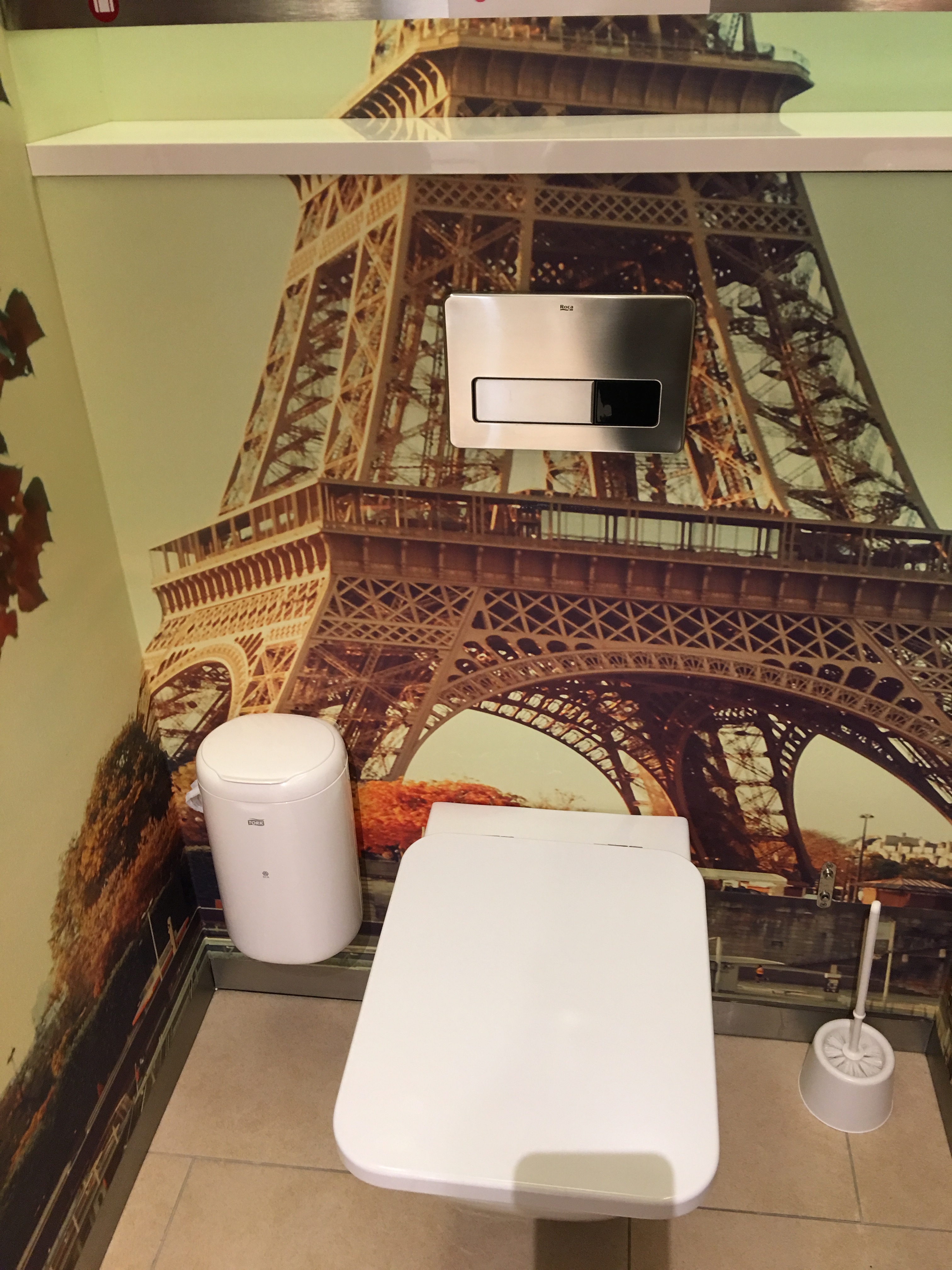 It costs AU$1.20 or 0.80 EU to use a public toilet in Paris, France.
I paid my money into the turnstile, and no-one was around, so when I saw this nice wallpaper I pulled out my phone to take a photo after I finished in the cubicle.  
I would have been 15 – 30 seconds to take the photo but…..
… a lady came up, obviously eager to use the restroom. She pulled vigorously at my jumper/sweater, and about thumped me out of the way! Then she was 'going off' verbally at me in French.
Guess what? I got evicted from the public loo – the attendant came in and whatever the woman told her in French meant I was dragged out!  They wouldn't even let me wash my hands!
Still – I got the bottom part of a photo …..  
A new meaning to 'minding my business' … Toilet business that is!    No stalling here. Get it – Stalls. Stalling. OK, bad joke!
Waiting For The Train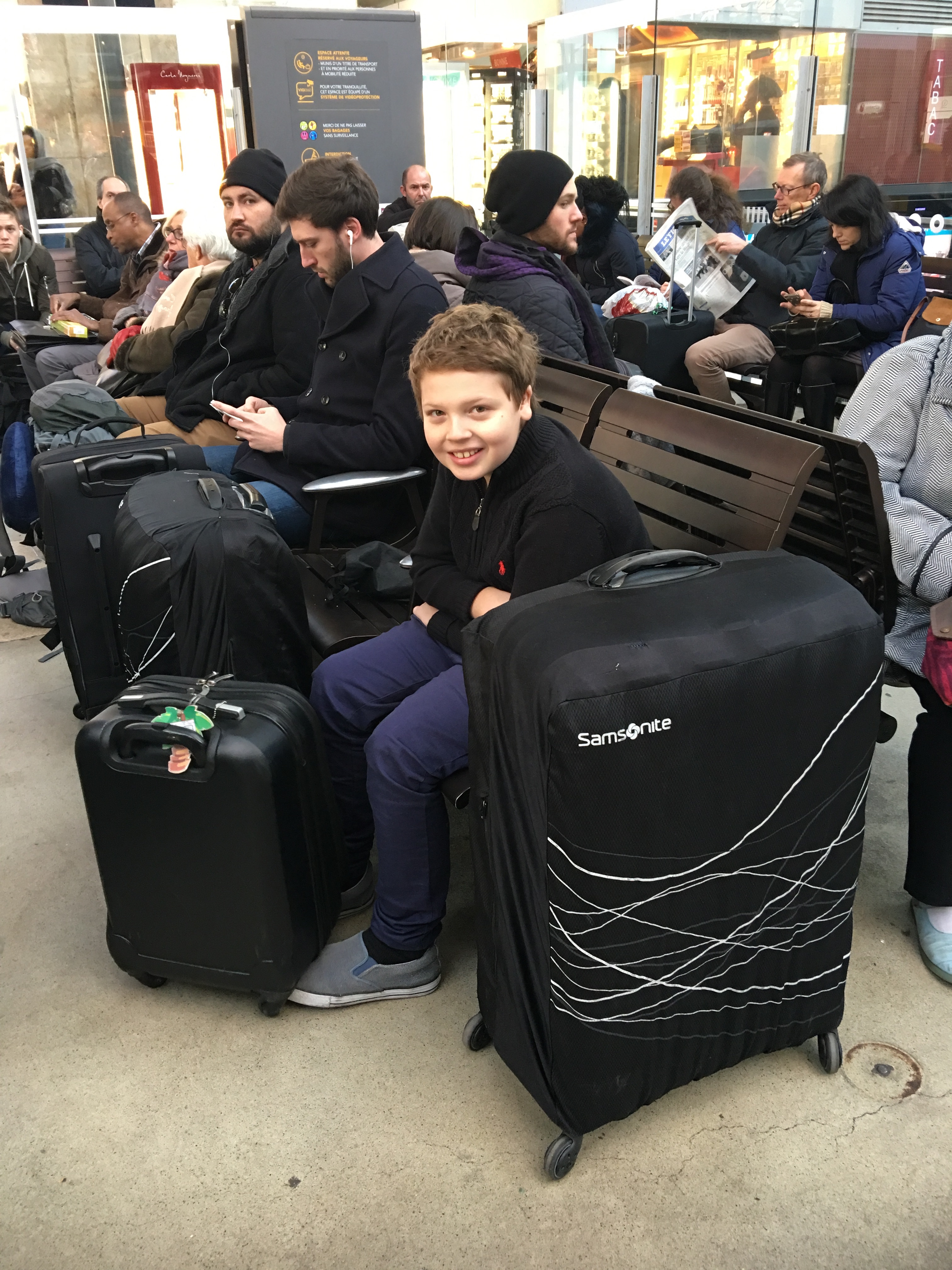 Back to Explorason who was guarding the cases.  He's a bit cold, as we packed our Arctic jackets so it was easier to handle everything getting on and off the trains.
Had we been a little later, (I believe from 3:00 pm) First Class
Eurail
passengers are welcome across the road to use the restaurant as a type of lounge.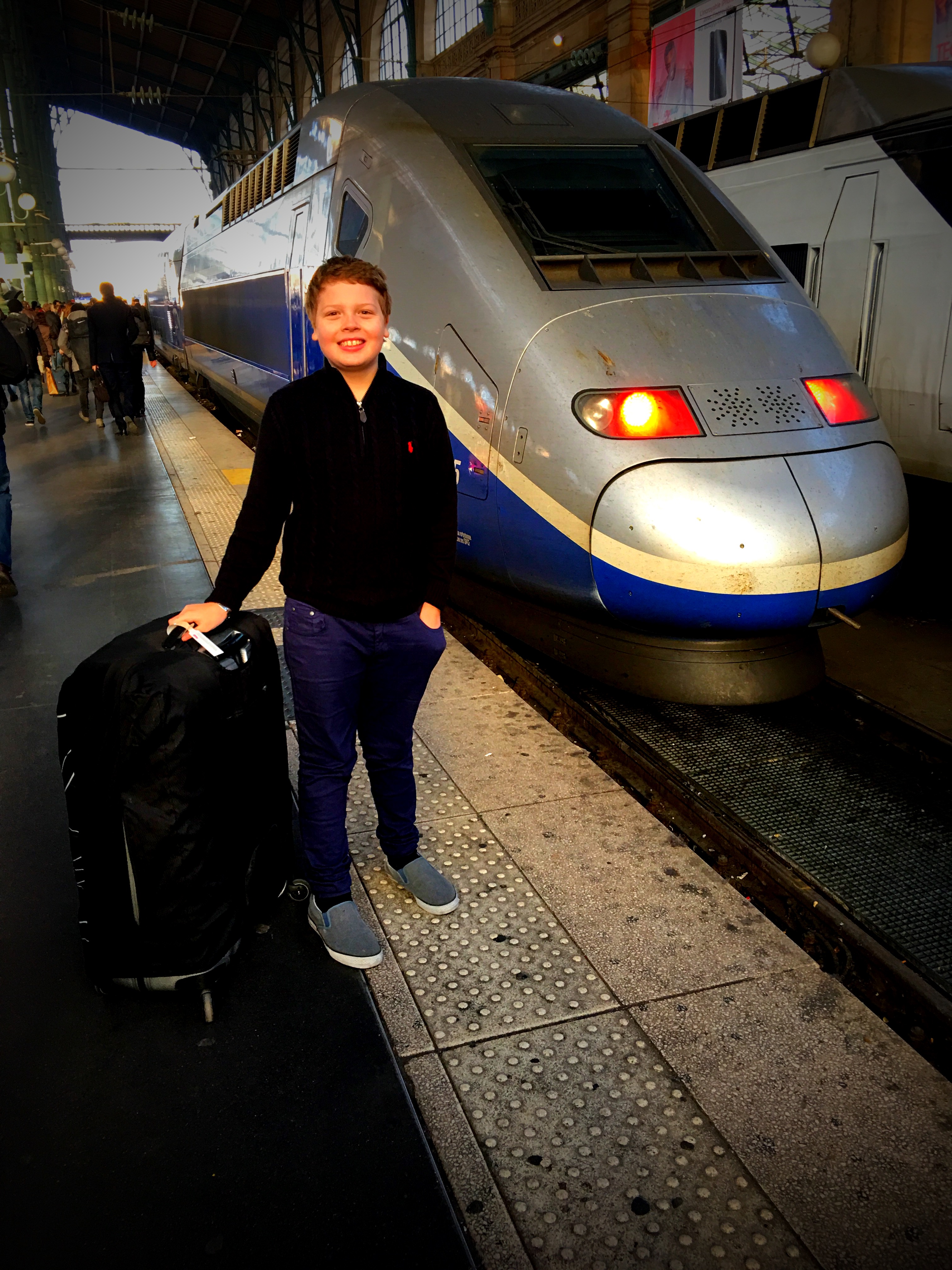 We didn't have long to wait and twenty minutes prior to the train departure, it shows which platform it departs from.
Being First Class we need to walk to the end of the platform as ours is the first carriage.
Here a man barcode reads our tickets and we both place our luggage in one of the many storage areas.
Our First Class Train Carriage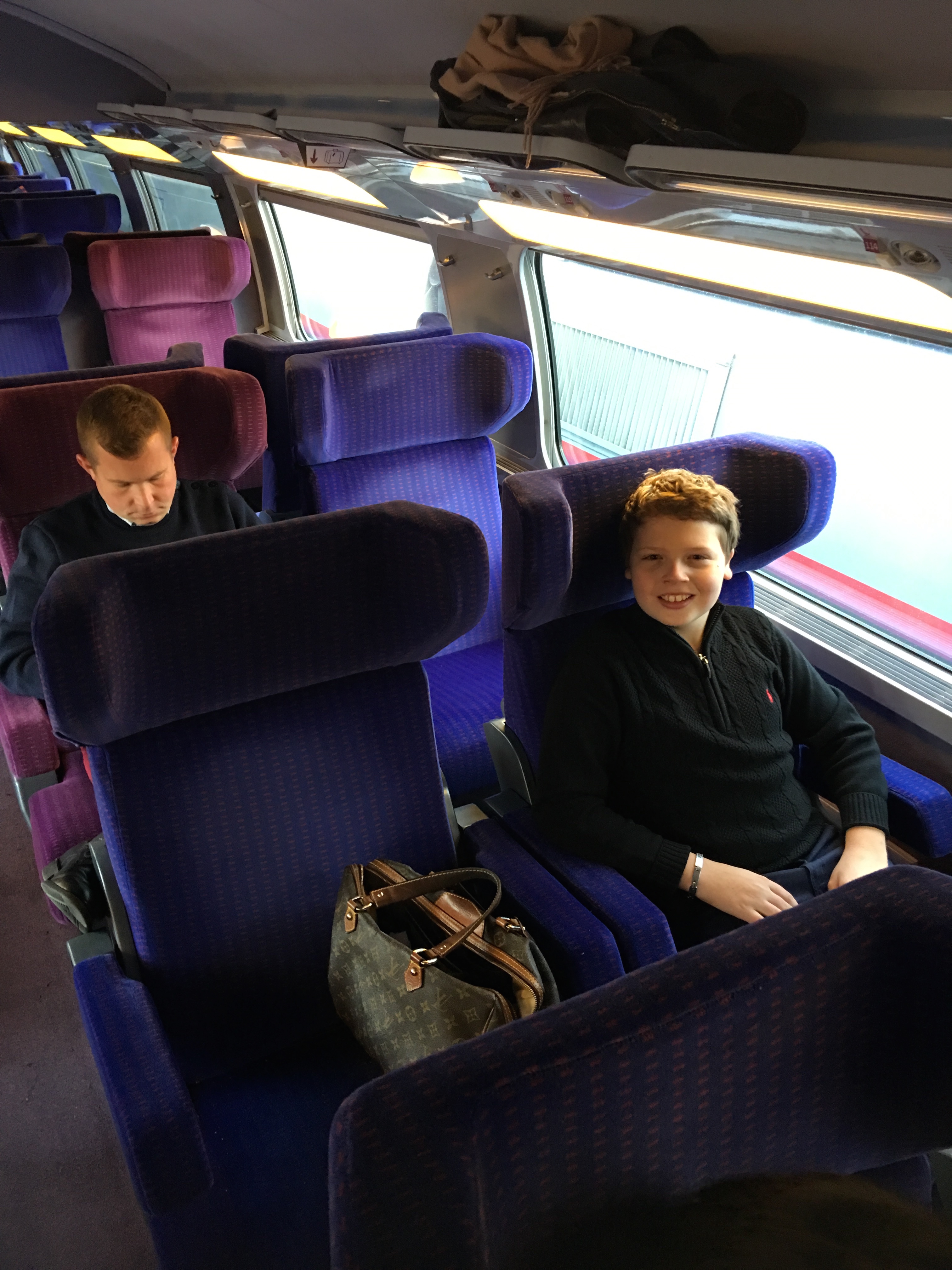 This is a lovely warm carriage, and the seats are plush.
We are soon zooming through the countryside, and Explorason sees a couple of white clumps of snow and is really excited.
In exactly an hour we are in the north of France in Lille – Time flies by. There are electric sockets and fold out tables so for those who have computers, they can get to work.
Mine however died yesterday, and I'm hoping Lille will have an Apple repair shop – top priority, but tomorrow is Friday so I can't leave it – as we will leave Monday morning. These are the struggles with travel that few understand.
I should have checked online – we took a taxi to our apartment we had booked and it cost me $20 AU – when really it was one tram stop away!
Oh well – we can certainly use the tram when we leave.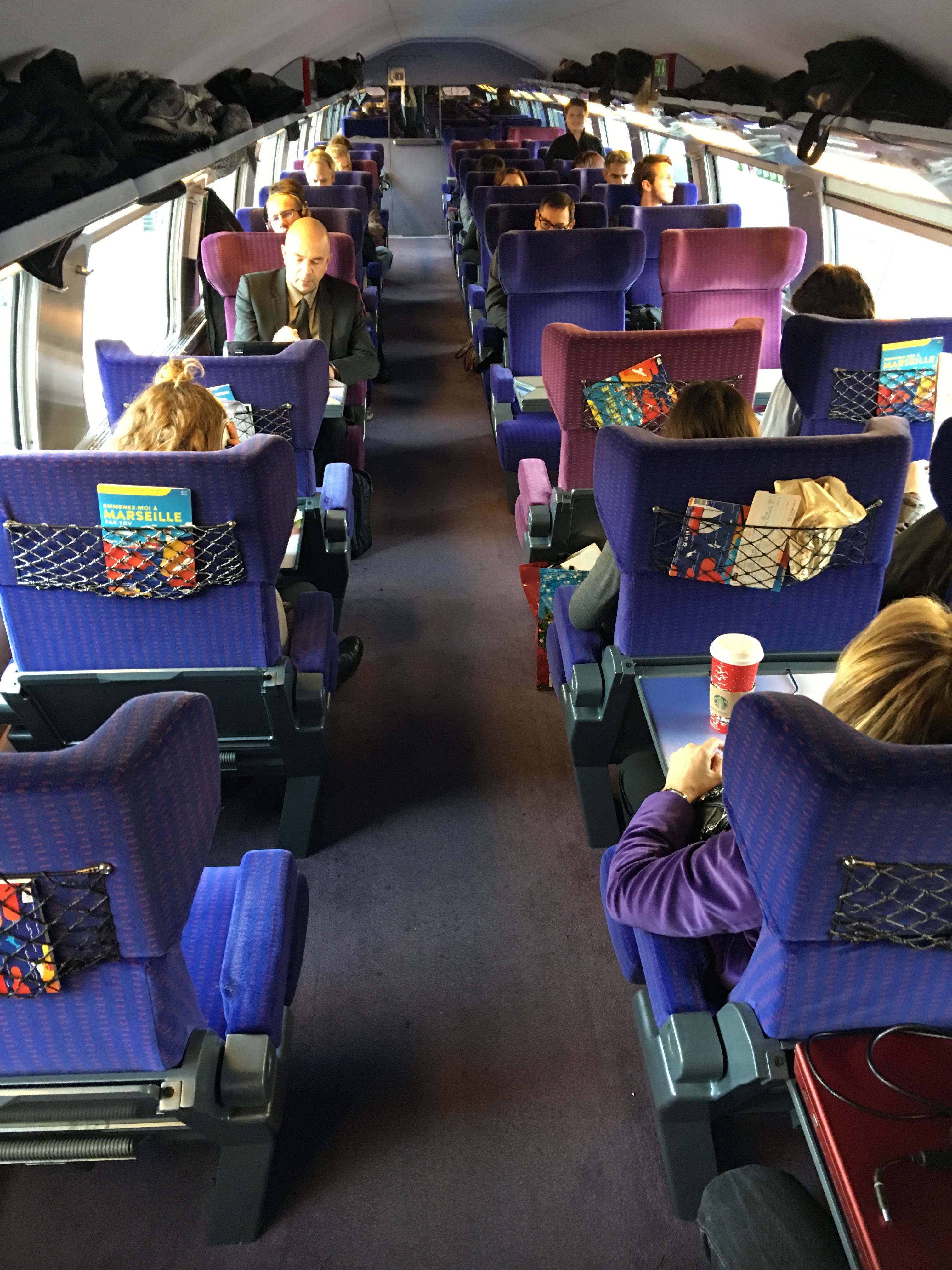 Blow Your Horn
When the taxi arrives at the tiny one-way street there is nowhere to stop.   A lady in the vehicle behind is in a rush and doesn't want the taxi to stop and let us and our luggage out of the trunk.
So this driver leans on her car horn, which might be OK for her, but not OK for me, who is standing right by her bonnet of the car (hood) and I cover my ears and run to the curb. This causes the taxi driver to get into a really 'ticked off' mood, and he then goes at half the pace.  This annoys her all the more.  I personally just want my luggage inside, and leave them to what looks like a fight emerging.  The entire time she is blasting her very loud horn and screaming obscenities at him in French.
Food And Relaxation
With a headache looming from the car horn incident, we settle into our tiny apartment that has a kitchenette and overlooks a park, and once unpacked we both head to the small supermarket nearby to get supplies.
It seems like a nice night for a warm crusty French Baguette, a variety of cheeses from different regions of France, some tasty meat slices, and the cork to be popped on a lovely bottle of Bordeaux wine for me, with a nice fruit juice for Explorason.
We feel snug in our apartment and relaxed and my headache is finally abating.
Fixing The Computers – Thanks Apple
We actually take a while to get organized the next morning, but we are on the tram and into the Apple store in Lille with both our laptops and ushered upstairs.
When I explain to the lady that we'd love some assistance today, she allows us to be seen in 20 minutes instead of returning in the afternoon for a technical assistant appointment.
The staff was lovely.  Both computer issues were rectified, and I purchased a new cord which we hope the shorting of my computer stems from.  I was so impressed with their service, I even put it on Facebook. Just awesome, so thanks – Apple Store, Lille.
Just awesome, so thanks – Apple Store, Lille.
The Historic City of Lille
We have a little look around this small city, but because the laptops were heavy, we decided to return to the apartment and complete our travel plans for next week and visit Lille tomorrow.
It is a lovely historic old city and was eager to explore.
With a nice dinner in the apartment, it is good to relax and have family time.  I take a nice hot bath and read a book. Travel can be stressful, and it is nice to relax and feel like 'home'.
Feeling recharged, we head out after lunch on Saturday to explore historic Lille.
International Visitors
We are in for a shock.  All around us, accents from many countries can be heard.  German, Dutch, Irish, Scottish, American, Australian, and a lot of British have descended on this small city for the famous Marché de Noël à Lille.
Modern Homewares
We walk through the ancient streets and lose ourselves in the honeycomb of laneways and cobblestone streets.
There are some lovely ultra modern homewares stores, and both Explorason and I have a passion for homewares. In fact, I owned a homewares store and an import business many years ago, and the desire for beautiful art statements in a home is always with me. Explorason has the same desire.
Lack Of Toilets
One thing to keep in mind if you visit Lille at Christmastime is the severe lack of bathroom/restroom facilities within the city center near the Christmas Market.  We went once to the EuroLille shopping center and the queue to purchase a ticket to queue to go to the toilet was agony. Only two toilets in the huge shopping center meant this took an hour.   On two other occasions, we snuck into restaurants and also asked at a hotel reception. Another time we would purchase a drink at a store and use the facilities there.
Town Squares
There are three main central squares at Christmas time, with one known as the Grand Place.  One you will find has a Merry-G0-Round and children's activities.
The next has the Big Wheel, a nativity hut, and a giant Christmas tree, and there is a building with steps and a platform so this is a popular photographers' hang out.
Then the third area has the Christmas Markets.
Christmas Markets – Marché de Noël à Lille
The markets on Place Rihour (with 81 wooden chalets) are packed. There is security a the entrance and it is a one-way stream of people.  We actually go through this market area two times. The second time in the market it is getting difficult to find a place to stand and not to get knocked, which is a bit of a challenge when one is sipping a hot Vin Chard (Mulled Wine).
There is security a the entrance and it is a one-way stream of people.
We actually go through two times. The second time in the market it is getting difficult to find a place to stand and not to get knocked, which is a bit of a challenge when one is sipping a hot Vin Chard (Mulled Wine).
As we leave it is a sea of people all shuffling along. The daytime is much better and less crowded than the early evening.
Food And Drink
YUM.  We loved the food here! Nutella Crepes, Hot Chocolate, Vin Chaud, Chocolate-Dipped Marshmallows, Gingerbread, and loads more.
We never made it to sunset.  I was hoping for some great photos of the Big Wheel and the colored lights.  Explorason had eaten one too many sweet treats, and it was time to head back to our apartment.
Our feet were tired, our bellies were full, and our hearts were feeling very Christmassy indeed!
It is a fun market to attend.  Book early because accommodation on the weekend is usually sold out.
Opening Hours
Open every day from 11.00 am to 8.00 pm.
On Fridays and Saturdays until 9.00 pm.
On Saturdays December 3, 10 and 17 until 10.00 pm.
On December 24 until 6.00 pm, on December 30 until 8.00 pm.
Closed on December 25