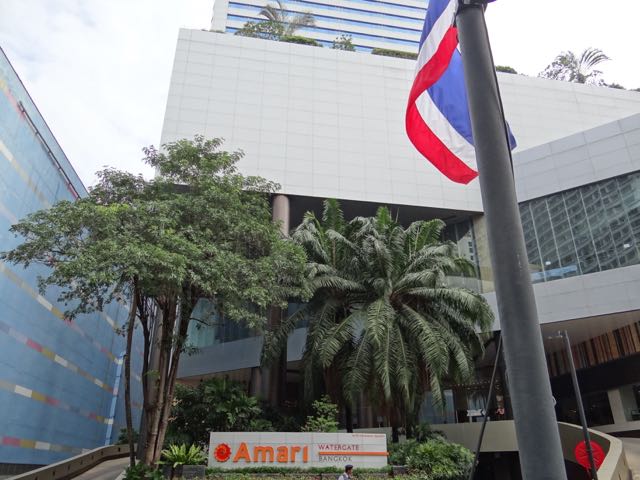 Recently we spent several lovely days in Bangkok, Thailand.
We have been traveling in and out of this amazing city over the past two weeks, and on each occasion, we try to find somewhere next and exciting to stay.
More and more, we find that 5-star hotels are offering a fabulous option of an Executive Package or Executive Lounges, Suites, and Rooms.
For the traveler who likes comfort and style like ourselves, we are finding the Executive Lounge to be a real draw-card when we are selecting the property we wish to stay in.
Here are our top reasons that entice us.
 Avoid The Lobby
The Amari Watergate is a very busy central hotel. The location is perfect and is in the heart of the shopping district, and this means it draws many business and leisure travelers.
When our taxi drives us up the elevated front ramp to their grand entrance, our bags are collected by the concierge and are ticketed.
We are ushered via the elevator, upstairs away from the busy spacious and modern lobby area.
Executive Level Exclusive Check-In
Escorted past a small desk, we are invited either to be seated at the front desk or to sit and relax in the Executive lounge.
Here the million dollar view of the city awaits us.
A refreshing cool scented towel is offered and a choice of hot or cold beverage.
Whilst we wait, 'Finger Food' is also available.
Restrooms are also provided on the Executive Lounge Floor.
All of this is perfect for the weary traveler and is also perfect for parents traveling with children.
Making New Friends
5-Star travel can often mean that the exclusivity can be so private that it can be lonely.
However, with the last few Executive Lounge's we have used, we found it was a great place to meet with fellow travelers and make new friends.
Elite Breakfast
One great benefit of selecting the Executive Package or joining an Executive Lounge is that the option of a quiet breakfast is available.
Here at Amari Watergate, they are renovating to present an exciting new food station concept for their dining.
Meanwhile, breakfast for most guests is served on the 5th Floor.  We tried this as an alternative one morning, and it was very busy.  This is not surprising because the hotel is so sought after. I much preferred the quiet ambiance of the Executive Lounge where we were served in style.
Happy Hour
From 5:00 p.m. each evening, the Amari Watergate Executive Lounge comes alive!
This is the time for Happy Hour.  Wine, selected cocktails, beer and non-alcoholic drinks are served.
Wine, selected cocktails, beer and non-alcoholic drinks are served.
A massive buffet of finger food is also on offer.
We loved each evening in the Executive Lounge and it was the highlight of our stay.
Not only was it the perfect place to watch the sunset over Bangkok, but the food was delicious and the wine was amazing.
We enjoyed this time too because each evening we met some amazing other guests.
Executive Rooms And Suites
Flowers are included as part of the Executive package, as was a Welcome Platter of exotic tropical fruits.
And Explorason devoured the Gourmet boxed Amari Watergate Macaroons as he reclined by the window in the first five minutes!
Fabulous Views
The Executive Rooms all have fabulous high-rise views.
Our luxurious room was conveniently located one floor below the Executive Lounge.
The Important Extras
There is a great list of reasons to select an Executive Room or Suite.
These include:
A fully stocked refrigerated and non-refrigerated mini bar.  Coffee and Tea facilities. Universal power outlets. Iron and Ironing Board. Security Safe. A myriad of luxurious toiletries that are replenished daily. Hairdryer. Eco-friendly glass-bottled water. WiFi and cable channels. Large Flat Screen TV. Desk and stationery … and more.
Facilities
Every grand hotel needs a swimming pool and what better way to top up your hotel tan than beside the incredible open-air swimming pool.
We loved our stay at the Amari Watergate, and especially the Executive Club Lounge facilities offered here.
… … …   … … …   … … …   … … …
Website: www.amari.com/watergate
Address:
847 Petchburi Road, Ratchathewi, Bangkok 10400
Phone: 02 653 9000
Email: dtbk@dusit.com