Pinch me. Am I awake?
Walking into 5-star DaLa Spa is like walking in your own living dream. You are awake. You have to pinch yourself that it is real. Or is it?
I wander through the tropical lush gardens of Alaya Ubud Resort, and from the first step inside, DaLa Spa exudes opulence.
Where in the world am I?
Old world Indonesian charm abounds.  In some ways, it reminds we of Africa.
In other ways, it reminds me of a scene from a British Indian movie.
And then again I look and see that the antiques and artifacts are indeed Indonesian.
Yes, this is Ubud in Bali, Indonesia – the heartbeat of this island.
The attention to detail is perfection itself.
Once I have been greeted and completed the standard Spa form, I am then offered a selection of oils in order to select my personal preference.
At this stage Explorason is my cameraman – so we can show you a little more of DaLa Spa.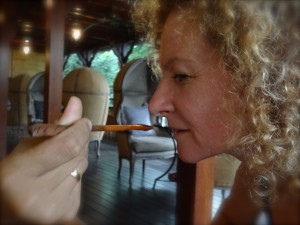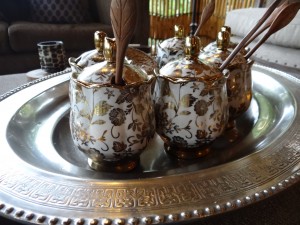 Are they going to cook you, Mum?
Once the staff has ascertained the Spa Package I have chosen, they set about to prepare the fresh ingredients that will be used in my pamper treatments…
… Shaving ginger roots; crushing lemongrass; and grating various other delicacies that will all go together to sooth, refine and massage my skin and body – no Explorason, they will not be cooking your mother!
A brave lady?
I am shown downstairs past numerous Indonesian antiques that I adore, into one of their pre-prepared spa rooms and invited to change.
A range of oils are then offered and one is selected and I set back to relax as she starts with washing and scrubbing my feet. Poor lady – really – who would want to do that to my feet? The feet of a woman who has walked many parts of this earth.  These feet have seen better days – she has a mission ahead of her!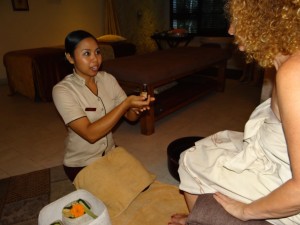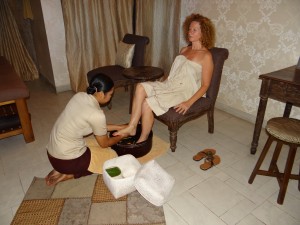 Is there a lion on the bed?
I am invited to the massage table, and my mass of frizzy orange hair looks a bit like someone has laid an Africa lion under the sheet!
It is about now that Explorason is ushered out of the spa room and accompanied back to our Alaya Ubud Resort room (where I am sure he is promptly ordering room service and a huge piece of his favorite chocolate cake from Petani Restaurant downstairs).
Rub and Scrub and into the Tub
After a massage, scrub and a whole lot of pampering (no photos please), and total pleasure – it is time to head to the bath.
An infusion of seven flowers and an essential oil is gently sprinkled over me as I relax in the warm water.
My lovely therapist offers to take a photo of me in the floating garden of delights.
She then draws the curtain and leaves me to explore the insides of my closed eyelids.
Why then do I feel guilty?  I think of the people I have met on our world travels that have very little in life and I feel I don't deserve this time of pampering.
But I do.  I've traveled far. I'm a single Mum. I juggle finances, planning, educating and more.  I tell my mind to hush, and to enjoy this moment of bliss.
Everyone deserves to feel special. I do, and you do too.
You deserve to feel special
Finally, I hear a softly spoken voice inviting me to use the shower, and dress and head back to the land of the living.
Hours have passed and it is dark.
I sip a lovely herbal tea accompanied by freshly baked treats, and I feel a little like the queen in these glorious seats. It could be an ideal setting for a high tea!
A grand ending to a grand spa.
Definitely, something I will never forget.
I hope one day you too can experience this because you deserve it.
Contact Details
Address: Jalan Hanoman, Ubud, Bali 80571 Indonesia
Website: http://alayahotels.com
email: experience.ubud@alayahotels.com
Telephone: +62 361 972200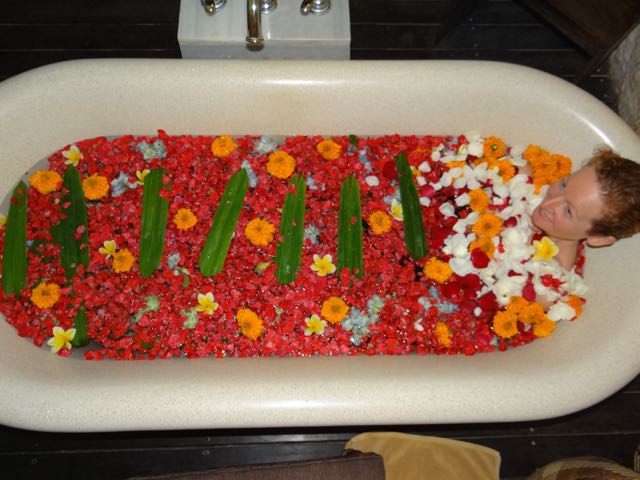 Please read our Disclaimer here
Disclaimer: This post may contain Affiliate Links, Sponsored Content, or…