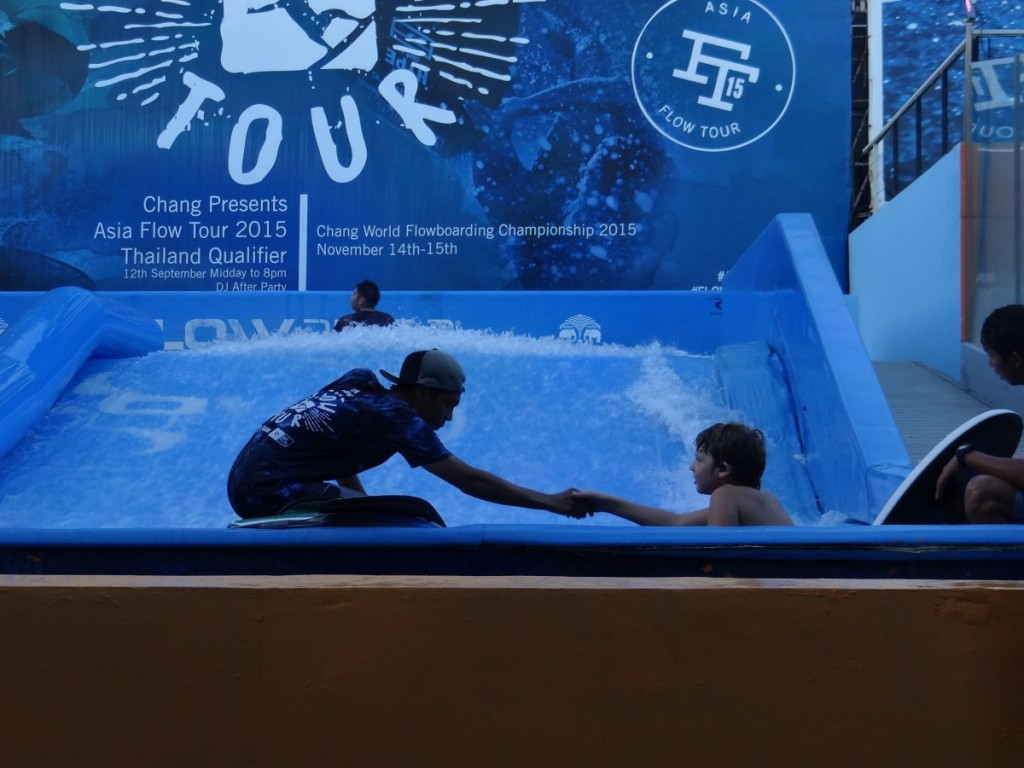 ©Exploramum and Explorason – Flow House Bangkok – meeting the instructor
Surfing in Bangkok ?????
We had heard rave reviews from our friends about Flow House Bangkok, so we decided to pay them a visit whilst holidaying in Bangkok, and have some family fun.
I thought for a brief couple of minutes of having a lesson and joining in, but I wanted to take photographs, so decided to leave Explorason to have the fun.
The Flow House Bangkok lessons are included, and the staff is trained to guide you.
We found they started new sessions each hour, and my ten-year-old son was there just ten minutes before the hour, so popped off to get changed, and quickly jumped into the pool.
His instructor gave him individual attention, whilst I sat back and ordered a drink and something to eat.
He was quite nervous at the start but I could tell he really loved it.
He managed to get up on his knees but that didn't last long the first time, and he flew backward and cracked his head at the side, but fortunately, the sides are quite padded, so he had a little rest and 'soldiered on'.
The folks from England at the next table cheered him on, and he LOVED it !!
The hour was over before he knew it, and he was pumped.
Explorason thanked his instructors from Flow House Bangkok and wanted to go again for another hour, but we were running out of time, and the evening was upon us.
We watched as more experienced riders used a rope to assist them in standing and balancing.
Had we been in Bangkok longer, this was the aim for Explorason to conquer on his next visit.
The great thing about Flow House Bangkok is that they have a professional surf shop; a bar; and a restaurant, so when Explorason returned he had built up quite an appetite, and we could order a delicious meal and a huge milkshake for him too.
My son begged me the whole time whilst he ate to have another hour session, but we had plans for the evening.
I'd highly recommend this for families of all ages.
Address: 120/1 โคงการ เอ สแควร์ ถ.สุขุมวิท26 แขวงคลองตัน เขตคลองเตย กรุงเทพมหานคร 10110, Thailand
Phone: +66990838787
Facebook: Flow House Bangkok   Twitter: Flow_House_Bkk    Instagram: Flowhousebangkok
Website: www.flowhousebangkok.com
Please read our Disclaimer here
Disclaimer: This post may contain Affiliate Links, Sponsored Content, or…