Great Lakes Road Trip the USA
Today we have a bit of a quick drive back through the corner of Pennsylvania from Ohio as we visit Mazza Winery on our Great Lakes road trip after leaving
Niagara Falls
. Luxury travel experts say that this is one of the most visited places by families on a family travel in the area. This is why we get attracted to it on this single parent travel adventure.
We continue on the coastal back roads, and follow the trail that has green signposts.
Mazza Winery
Here you buy tokens to try wines – not free tastings like in Australia. I used to work in Cellar Door at a Winery in Hunter Valley and so I found this quite strange.
Just after this, we found a great discount store as we venture on our Great Lakes road trip. I didn't keep the name of the store but told the guy I would add it in. So if you are reading this blog, let me know and I will pop the name in. Great antiques and collectibles at a bargain price.
Geneva On The Lake
We spent 2 hours in this shop – on the left heading towards Geneva area. As we drive into Geneva on our Great Lakes road trip there sits a wagon offering free rides. Considering we haven't had a lot of fun of lately, we really enjoy this.
We get a short ride around town. The people are lovely, so we offer a nice tip since this has really been a load of fun. It is a really pretty town.
We love the horses! We had driven through Geneva – on the Lake. We then try to find accommodation early and then have a break.
Sleeping next to the Bermuda Triangle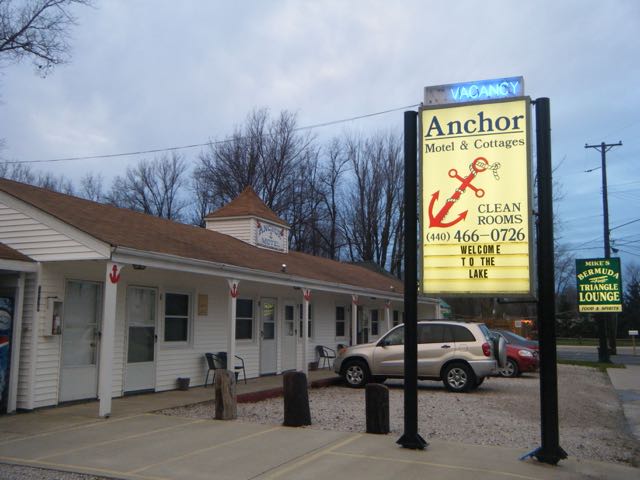 We end up heading back 45 minutes drive on the same road we had just driven to try finding a 'different' or 'quaint' motel. That is how we find The Anchor Motel with a pine and log feel room.  It might look old fashioned with wood everywhere but it has a great feel to it – outside!
Alas, the walls are paper thin and the internet is not working – we paid for Wi-fi. Plus, it is also next to a bar. Never stay next to a bar! At 1:00 a.m. this Saturday night, I am praying! On one side they have the pub music, and the room next door is partying on. On the other side, he is abusing his girlfriend as they now got drunk – I can see why this accommodation is open in winter!
No wonder it is called the Bermuda Triangle next door as we have noise on all three sides!  As soon as there is light, we are out of here but earlier in the day we had a great time in this town.
Local life
The only highlight was meeting some nice people down the road. Snowman cupcakes were given to Explorason – I loved the hospitality.
Cleveland
We drive straight through the city of Cleveland on our Great Lakes road trip. I decide I need more Amish and some tranquility and we go on a hunt.
Vermillion
We find so many nice places for photographs. This is Vermillion.  It is a quint little town and I adore it but it is too early in the day to stop and stay here, so onwards we drive on our Great Lakes road trip.
Cedar Point Resort Castaway Bay
Then, we suddenly drive through Sandusky to Cedar Point Resort. I have no idea this is waterpark  – 4 parks, in fact within the resort and complex – it is massive and a waterfront complex that is gorgeous.
We get an awesome deal on accommodation in the resort and decide it is time for a treat, and to stay at a resort which is surprisingly quiet.
There is a wave/beach pool. Also a cargo crossing – I attempt this and strain 2 muscles! I am feeling rather so unfit – yipes. My son, however, gets addicted to these ropes!
This water bucket goes off every 3 minutes and plonks water down which Explorason is thrilled about as he keeps trying to trick me. There are loads of slides, but we both enjoy these two the most as they are gentle for a seven-year-old.
This is a fun pool, with basketball, and climbing objects.  There is way more to do than I show on this blog.  This is a really clean and well-staffed waterpark. Right in the middle of the Resort Hotel accommodation so it is easy to go to and from our room.
The fireside is glorious in the main resort area. There are loads of kid activities and it is a real family place.
Snoopy, Charlie Brown, Lucy, and Santa all make appearances.
They have games and activities for kids day and night and it is just brilliant and such good value.
Scavenger Hunt
This Sandman is so cute which replaces the snowman. It is located near the games arcade. We do a Scavenger Hunt and end up there.
Grotto Spa
I love the Grotto Spa as it is indoor and outdoor and I hang out in here relaxing for what seems to be an eternity.
Nearly empty
This resort has over 200 rooms, and only 10 are occupied because it is so close to Christmas – but kids haven't finished school. There is more staff than guests. We meet friendly families – it is really nice.
Kids activities are included
One of the activities is painting for the guests. The children can choose to paint all sorts of things. We work together on a Birdhouse. Later that same birdhouse is shipped back to Australia and is hanging in our garden from the tree.  These memories last years and years.
Then there is decorating Christmas cookies as the next activity and we consider today a world schooling day. There are so many cookies, and only a few families doing this activity and as we are traveling we rarely get to cook, so this is added fun. Kids work with the parents – and we get to decorate and keep the cookies.
TGI Friday's
There is also a TGI Friday's Restaurant. We have Kids-Eat-Free passes. They have synchronized lights with music along the lake wharf outside so we sit and watch that. It's so lovely! What a great end to a good rest – we feel recharged and ready to go on.
New Tradition?
I think we should make it a pre-Christmas tradition for us to recharge at a resort before each Christmas. Let's see if we do!
Local Christmas Decorations and Lights
Oh – and right opposite we have a whole street of lovely Christmas lights too.
Our Great Lakes road trip has been excellent so far but we must head on tomorrow as we need to meet our friends in another state soon.
Questions and Comments
Have you been to the Niagara Falls?
What are your experiences?
Do share yur comments with us below.