Meteoron Panorama Restaurant
We had a really early start from Athens the day we arrived at Kalampaka,  and so we walked through town from Hotel Alexiou it was a lovely stroll to the top end of the road just as it curves up the hill.
Here we arrived at Meteoron Panorama Restaurant.
We dined here last time we visited this region 2 tears ago, and we wanted to come again, as we have been friends with the owner ever since.
I think that is what I love about travel.
I love the people we meet, that they become part of our world journey, and then we can return as friends. It is a unique and special aspect of our world travels.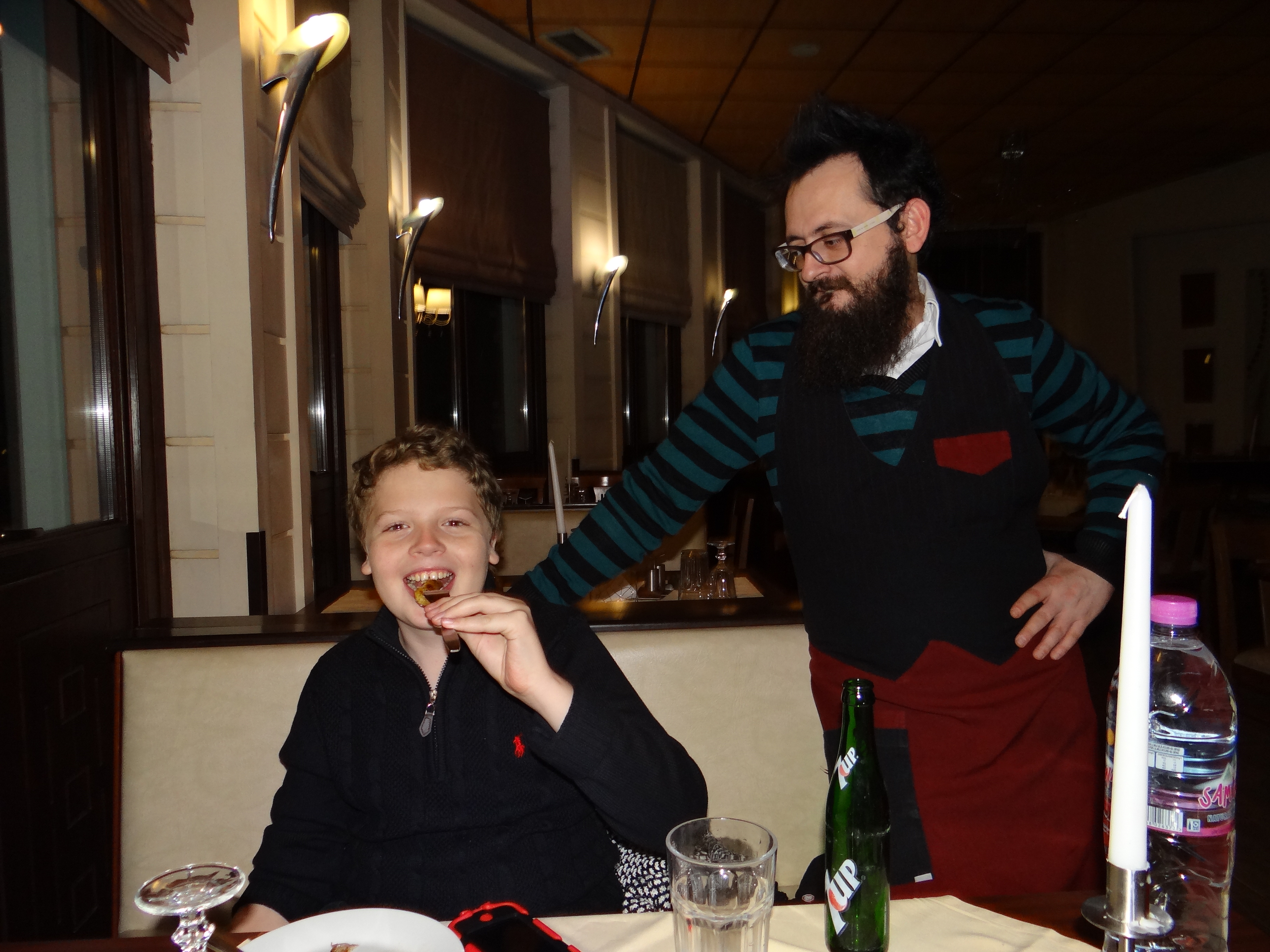 A Fun Waiter
What was new this time was the waiter, who was just so funny!
He had Explorason set challenges for each other and both were trying Greek foods and culinary delights, and the whole evening was such good fun. Most of the time, the waiter would pretend so it was quite a game, especially with one of the mushroom dishes for Appetiser.
We enjoyed a huge range of starters from the local area and as it is all home-made, it is just like you have stepped into a Greek home, but with a brilliant view.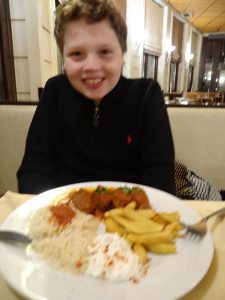 By the time the main course arrived, we were both already full, but of course, we just HAD to eat it.
After all, this is Greece, and the food always tastes better in Greece!
Greek Wine Tasting
We then learned they offer wine-tastings here too, run by the owner's daughter Christine.
We missed out this time as we don't have long here but I hope we can come next time, so I am adding in the information as a personal reminder. Meanwhile, if any of you are in the area, I'd suggest you add it to your travel itinerary.
Picnics And Hikes
In summer, they have an area at the rear, where they set out for picnics. You can order a picnic basket and sit outside.
Then armed with your map for the old path that leads to the Byzantine Church of Virgin Mary, you can hike the Meteora area. This is an incredible church; make sure you find the hidden floor and ask about its history.  It is really awesome! Dreams are made of these kinds of days!
Dreams are made of these kinds of days where you have a Greek picnic like this!
Summer Evenings
In the front is an open-air dining and verandah and sunset drinks area which would just be delightful.
Here a million-dollar view is on offer in the daytime with the rocks of Meteora right behind the Meteoron Panorama Restaurant.
For winter it is cozy and warm inside. So this is what we experienced the night we came. I think Meteora has a special place in our hearts, and I am sure each time we visit
I think Meteora has a special place in our hearts, and I am sure each time we visit Kalampaka, then we will make sure to take a walk up the hill and experience true Greek home-style cooking.
… … … … … … … … … … … … … … … … … … … … … … … … … … … … … … … … … … …
Then on our last day, we were dropped by our Visit Meteora tour to a restaurant on the edge of town.
Elias' Garden Restaurant
At first, when you enter in winter it looks like it might not be open, but inside this restaurant is toasty warm.
We are greeted by a friendly lady who invites me to try some of the boutique wines of the region.
The whole restaurant has a quaint feel to it.  It is like stepping into someone's home. Photos of famous customers line one wall, and then on other walls are antiques, old wedding photographs memorabilia  I love it.
I asked the lady serving us if she could suggest some dishes and I am so delighted with the choices she came up with.
Explorason really loved the home-made sausages, I think she said they were stuffed with leeks. He followed that up with chicken on a skewer.  I ordered the softest salmon for my main course and it was divine!
My favorite, however, was my Appetiser, which was baked Feta that was almost a creamy consistency in my opinion.
When I asked her how they cooked it (because I'd love to make it), she told me they have cooking classes here!  Now that would be awesome!
Sunday Cooking Classes
Each Sunday, you can book in to learn how to make Greek food with authentic home-style cooking.  I was so upset we were not going to be here Sunday. Darn! We both would have loved that.
We chatted away to the lady serving us and really felt like a friendship was bonded. She surprised me that she is not a fan of social media so we can't keep in contact personally, but she did suggest we come again in summer when the courtyard and garden are all set up.
I think we would love to do that.
We really love Greece so much, but we especially love Meteora.
… … … … … … … … … … … … … … … … … … … … … … … … … … … … … … … … … … …
Meteoron Panorama Restaurant
Tel: ++30 24320 78128
Fax: ++30 24320 78138
e-mail: info@meteoronpanorama.gr
http://www.meteoronpanorama.gr
facebook: Meteoron Panorama Restaurant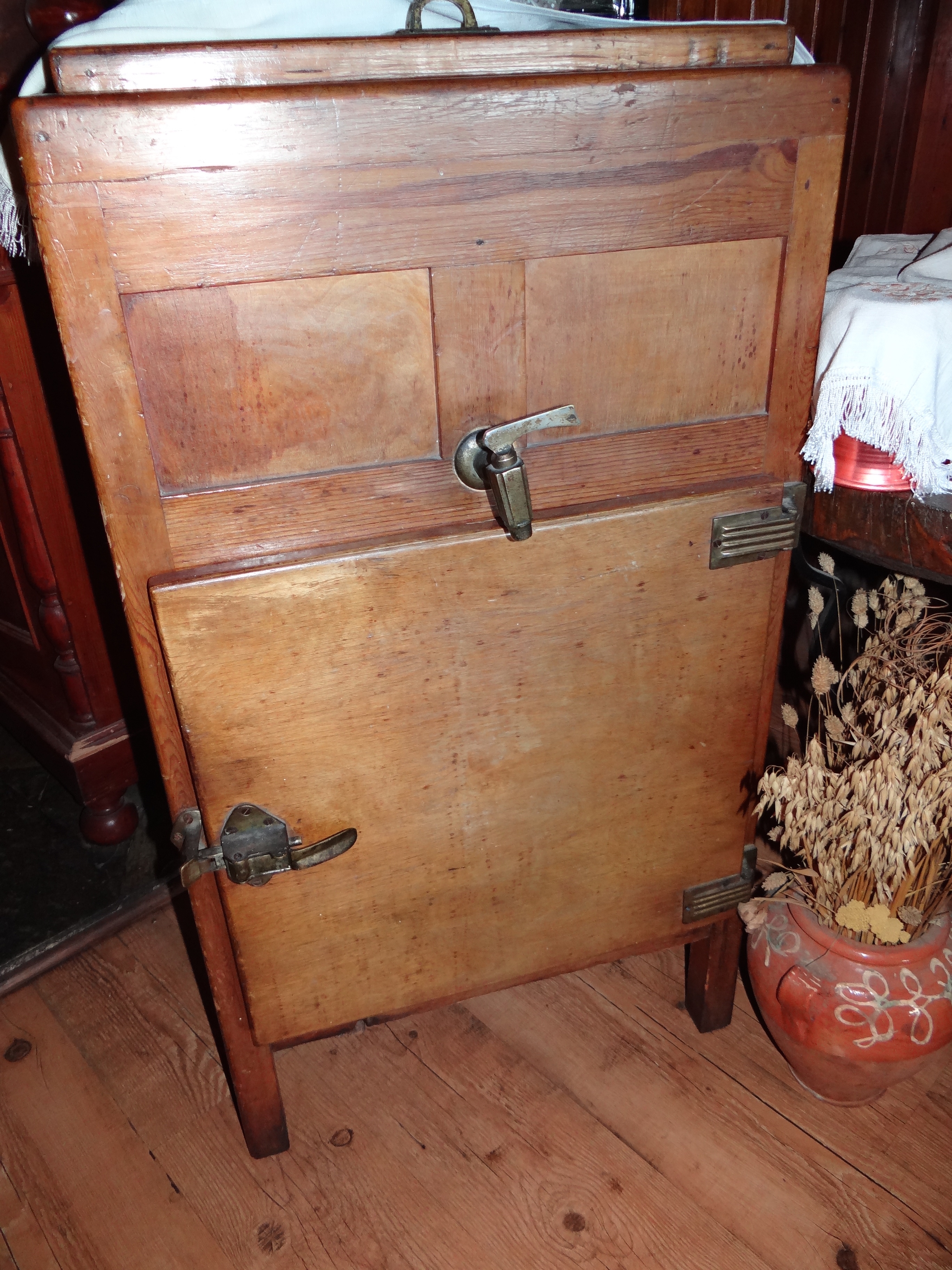 … … … … … … … … … … … … … … … … … … … … … … … … … … … … … … … … … … … 
Elias' Garden Restaurant
Tel: ++30 24320 23218
Fax: ++30 24320 23218
e-mail: info@gardenrestaurant.gr  
http://www.gardenrestaurant.gr  
facebook: Elias' Garden Taverna Restaurant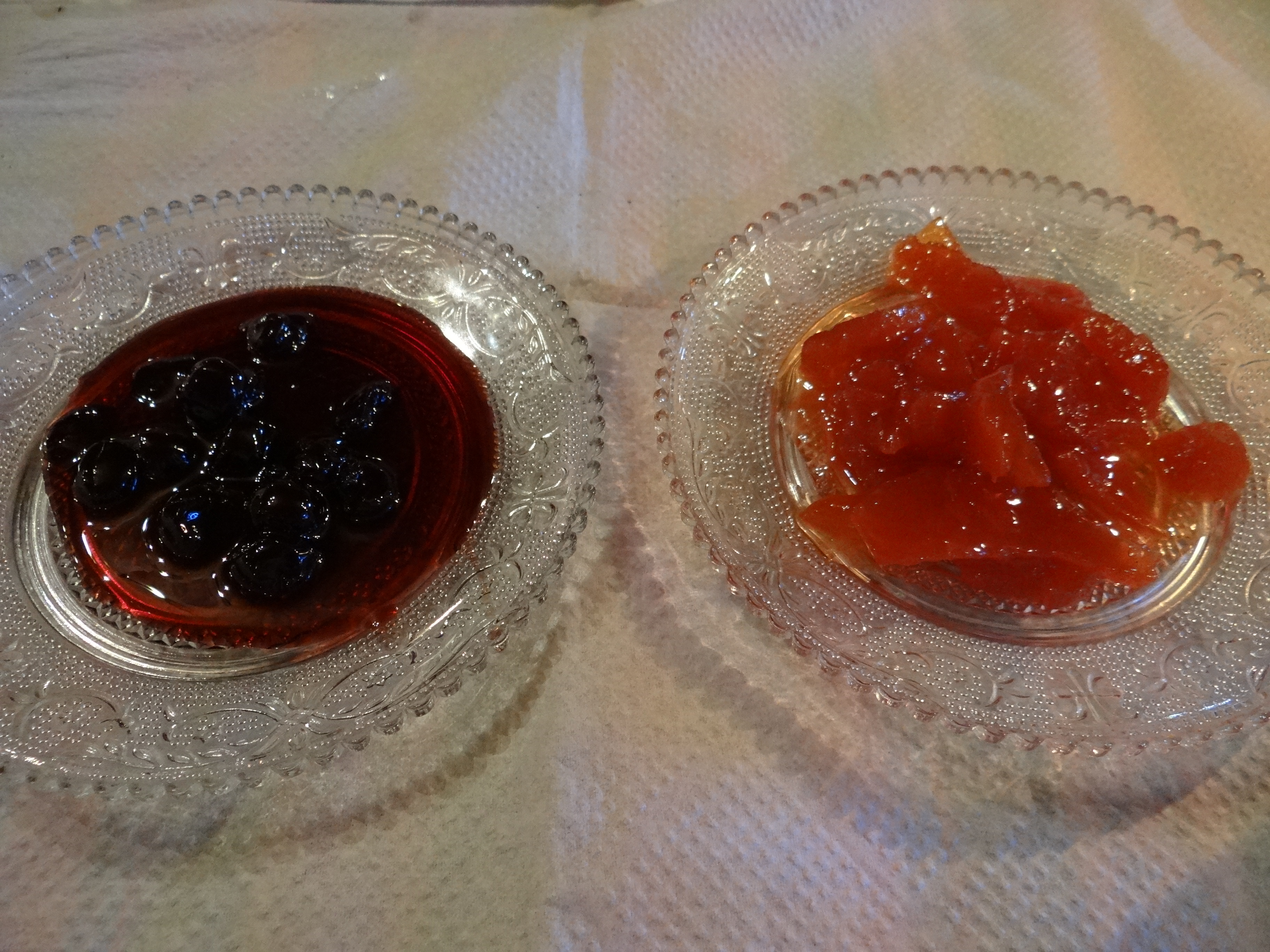 … … … … … … … … … … … … … … … … … … … … … … … … … … … … … … … … … … …
If you enjoyed this article or found it useful – please consider sharing it.
Questions and Comments
What is your most favorite cuisine?
Have you ever enrolled for any cooking classes?
Hope you will be comfortable to share with us something about you in the comments box below.