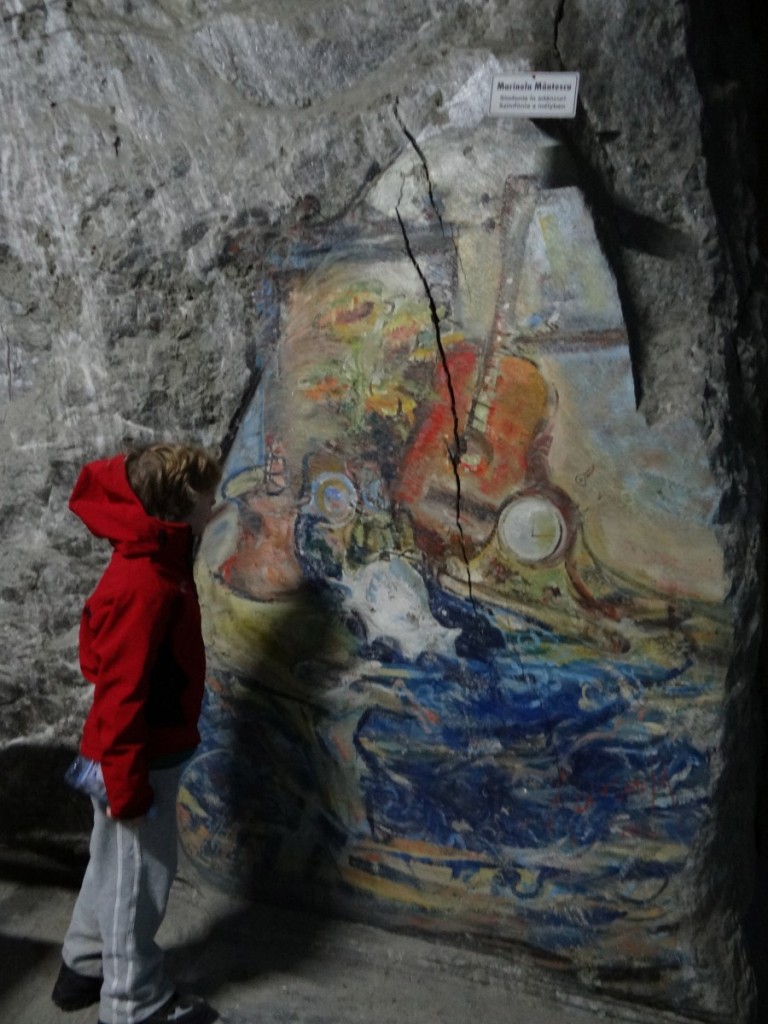 We really think we are wanna-be explorers, and our names suit us – Exploramum and Explorason.  We have a passion to explore; to discover; and to experience the places that are 'not so touristy'.
We have just had an amazing time in Romania, predominantly in the country regions, and after quite a few weeks we regretfully have to leave.
Leaving the north of Romania, I drive through Hungary, to a small town called Szegholom, and ended up in a tiny hotel over some sort of school for the night. But it was great as we met a couple of English speaking people, and they helped us with the currency conversion and booking the room.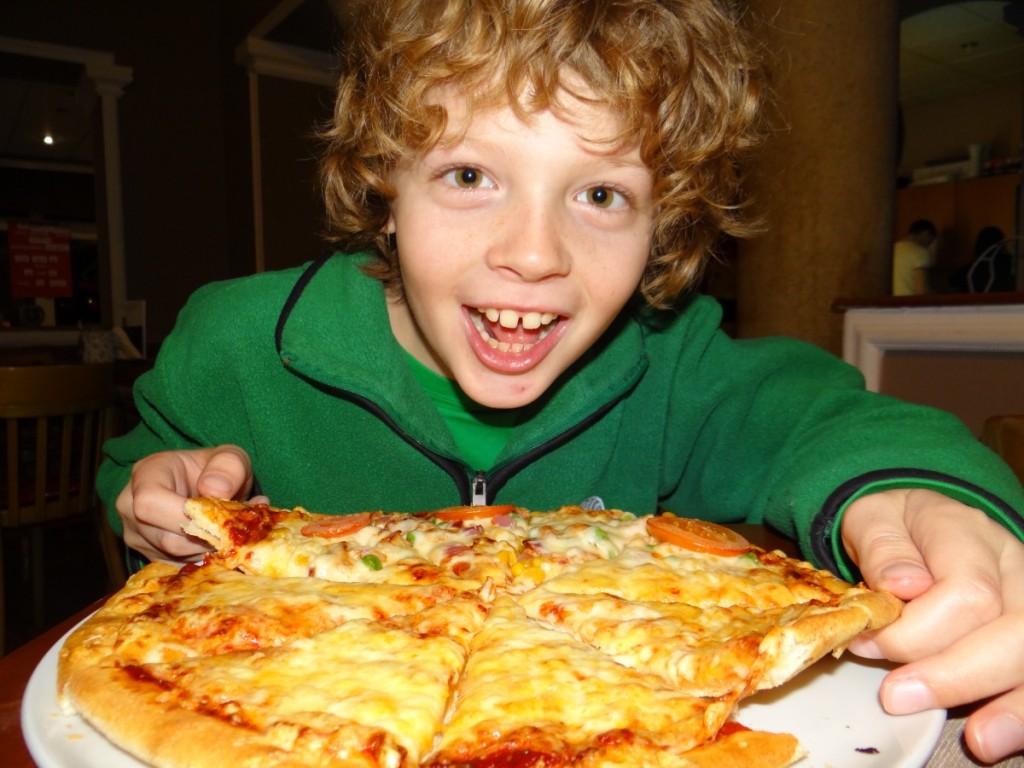 We actually have a bit of a rule that we try to have 'family time' at meals.  Even though we spend all day in the car together, Explorason is often reading his books or using the iPad then, and I thoroughly enjoy finding great things to photograph, so I am in and out of the car like a yo-yo.  Most of these pics you never see, but it is my personal joy, especially when we get to meet locals, or experience the culture.  So at meal times, it is usually 'no technology'. No iPhones, iPads, or laptops – just us talking.  We watch so many people on their phones not communicating, so this has become something we try to cultivate more and more.  However, we do take some fun pics and enjoy a joke like this one he wanted to share with you – 'being hungry in Hungary' for dinner that night.
So the next day it was then onto Serbia – Novi Sad, for my pre-birthday and then birthday celebrations.
And then it was onto Belgrade. This is the place where we start to experience some technology dramas.
But first, let's go back to how the technology dramas all began on our journey.
It starts in Greece – in a remote area when the computer motherboard had a fault. We took the MacBook Pro to a repairer, who falsely diagnosed the Apple Mac.  We then took it to another repairer who swapped out the keyboard for a dodgy one, the hard drive for a faulty one, and even stole most of the screws.  And on it goes.
We then took the laptop to a tech in Turkey, and he sent it off to Apple who diagnosed the motherboard fault – "no kidding" I say, and he can't fix that, but he can install another hard drive.
These are the joys you face when you constantly travel to different places – including remote areas.
It gets worse.
In Belgrade, we find out our host failed to notify us that we were oversize and a full backup was not completed – and the website crashes.  So we try to move hosts but we don't have a full backup.
So hours and hours and hours of our Belgrade time are spent moving to another host and a reliable website guru. But with the backup problem, this ends up taking over a week.
Next, we drove to Macedonia.
We cross the Serbian border, and then we had a challenge at the Macedonia border. Technically we were in Macedonia but got no further than 50 meters or so.  The customs officer quoted us Fifty Euro, then we are informed elsewhere of 150 Euro – just to get the car into Macedonia for two or three days.  We have a Green Card, but it doesn't include Macedonia. I think the Euro might possibly be going to end up in his pocket?  We then drove back to Serbia again and were stamped back in.  A helpful officer tells us where there is a road to Kosovo, so we head there instead.  This is winging it, but Explorason really wants to go.  I am often NOT the driving force in this traveling duo, as some think – it is a nine-year-old with big dreams and goals.  It is a kid who actually really loves to travel, and who really loves to take his own videos.  Thankfully we are pretty flexible with time on this day, so off we head.
Customs charge 30 Euro to enter Kosovo for their Green Card for our vehicle, so we are cool with that. However, are not prepared – they take only Kosovo money, so we swap out our Serbian currency for theirs, with a fellow traveler in the queue.
That night we struggle to find a hotel. We drive to quite a few, but most 'charge by the hour', and the toilet roll my son keeps spying next to the bed is quite a put-off. I am not putting my child in a hotel like that – even though some had quite a nice decor coupled with fan-shaped towel displays. One we go just as it starts to lightly snow – hopefully we can find one that charges for 24 hours!!
We end up in a country hotel just past Gjilan.  We were sucked in by the nice lights and many flags on the flag poles as it was set on a hill.  It stated 4 stars, it was more like a 2 star.  We ate dinner and felt pretty happy as we went upstairs.  We discover the internet is not working, and then we find out neither is the water – Kosovo doesn't have enough water, so services are chopped off to areas at different times.  Explorason amazes me at this point. He is feeling so sorry for the owners of this hotel and asks me to sit on the end of the bed and to talk about what we are thankful for.  This really touched me.  And I must say after we did this, we felt a wave of peace come over us.
Then the music starts up. I can hear an oboe, as well as guitar and keyboard – I love the oboe, and we head downstairs, but as we are seated at the front table, we are met with glares.  Women sit at a long front table, and men start to fill the other tables. The women then take turns to sing ?!  What ????  It is a weird experience, but I have a drink to finish, so we feel 'stuck'.  No-one speaks English, and so we get on Google Translate on the waiter's phone and discover this Saturday night event is going to go until 3:00 a.m.  By now my interest in the music is 'zippo'.  We ask to move rooms up to the next level, and go back upstairs and watch the snow fall.  Had it not been snowing I would have checked out.
And – wait for it – at 3:00 a.m. the noisy music making guests depart, but so does the electricity!  Now there is no internet, water, or electricity.  Next morning there is a knock on the door and we are told there is no cafe (coffee), and no breakfast that we had been told was included due to the lack of power.
Time to drive on in the snow, but it slowly stops as we arrive in Prishtina.  Our blogging friend Raphael from Journey of Wonders had told us 'how giving the people of Kosovo are', and so with that tucked in the back of our minds we decided to wander the town on this quiet Sunday morning.
This is a coffee shop called 'Half and Half' and Explorason selected it.  For some reason, I felt more like I was in Paris on a rainy day.  We sat and relaxed, and I remember telling Explorason this will stand out in my mind as one of the happiest and most relaxed times I've experienced in a long time.  Then the owner started sending pizza and Coke to our table.  Explorason and the waiter were deep in discussion across the room exchanging social media tips.  I watched my son with pride and realized how much he is growing up, and how independent he now is.  They were talking about his art, and he was helping Explorason with his photography.
As we went to leave and thank the manager, we met a journalist and started to share our story (apparently the manager and waiter had already filled her in via Explorason).  Next thing I know we are invited to stay the night with her family.  Her colleague suggested we explore a bit of Kosovo for the day, and we took his advice. My son chimes in that the locals spell it KosovA too. We would meet them back before dinner.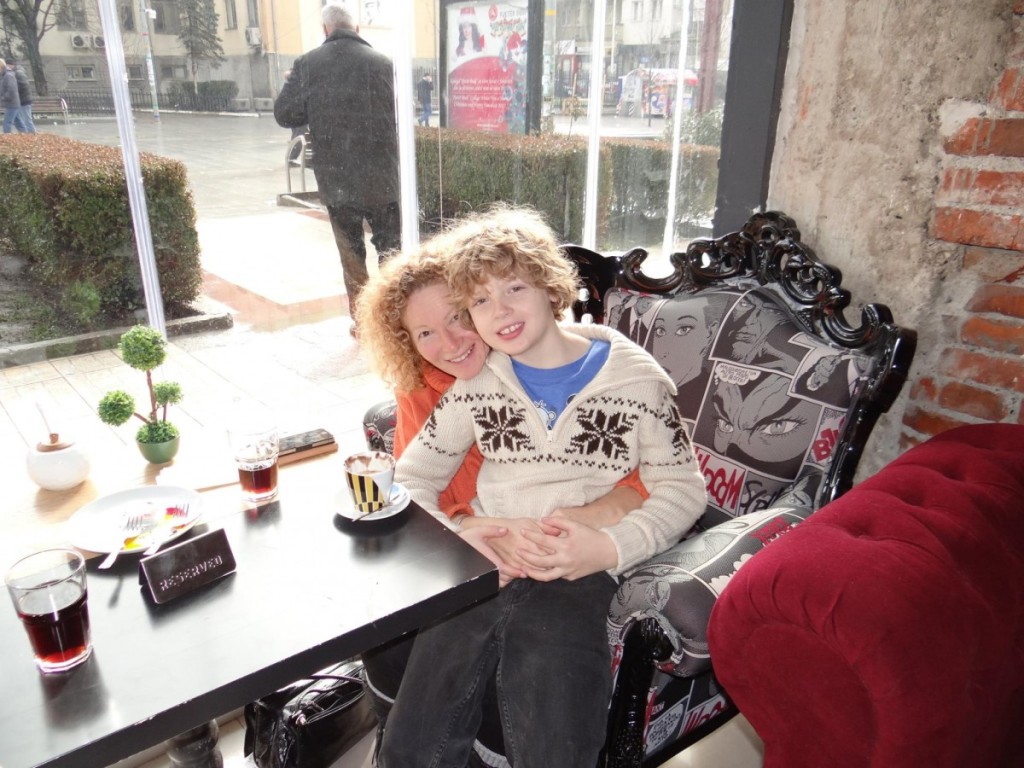 After a stop at Jumbo, (a store my son just loves) where I get a few budget birthday gifts to store away for him, we ventured on about 60 km.
It was raining pretty heavily when we arrived in Prizren.  Parking was about one Euro an hour near the old Ottoman town area.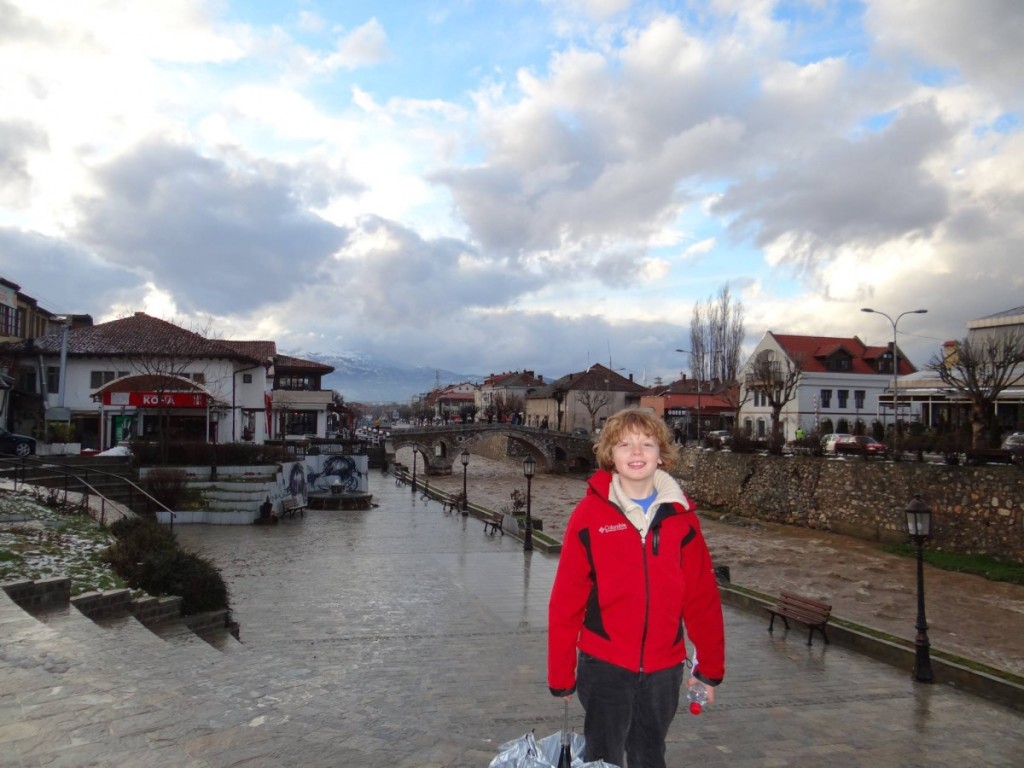 It was really cold so I was glad of my coat, and I felt more like I was in Turkey, and I kind of liked that.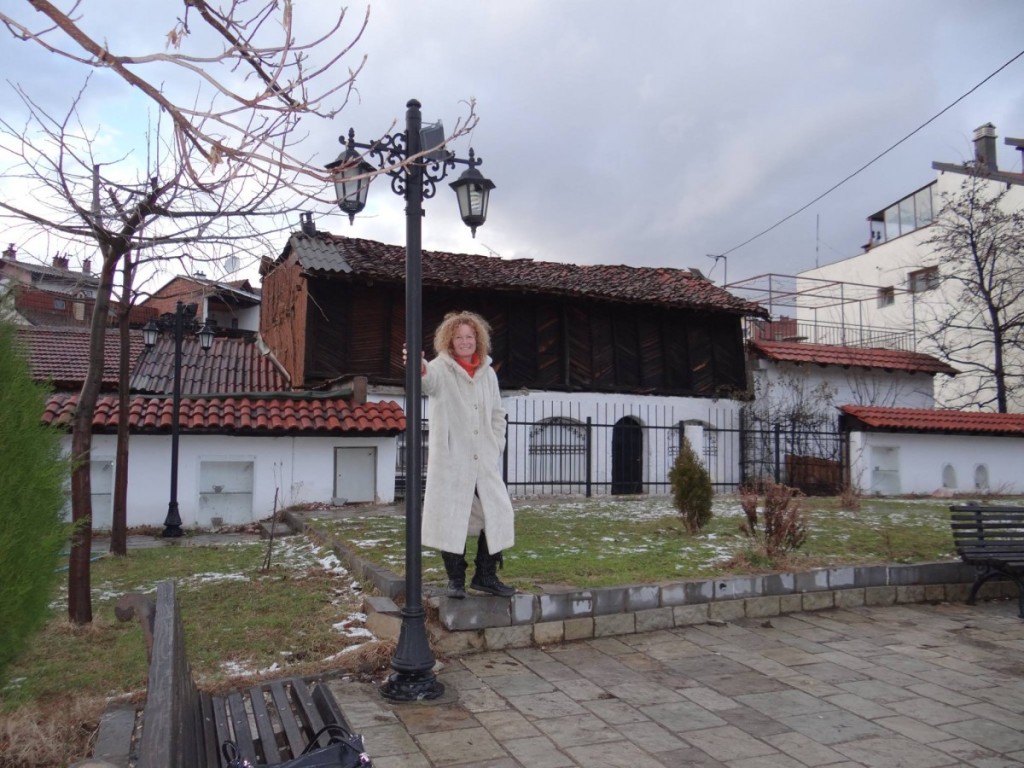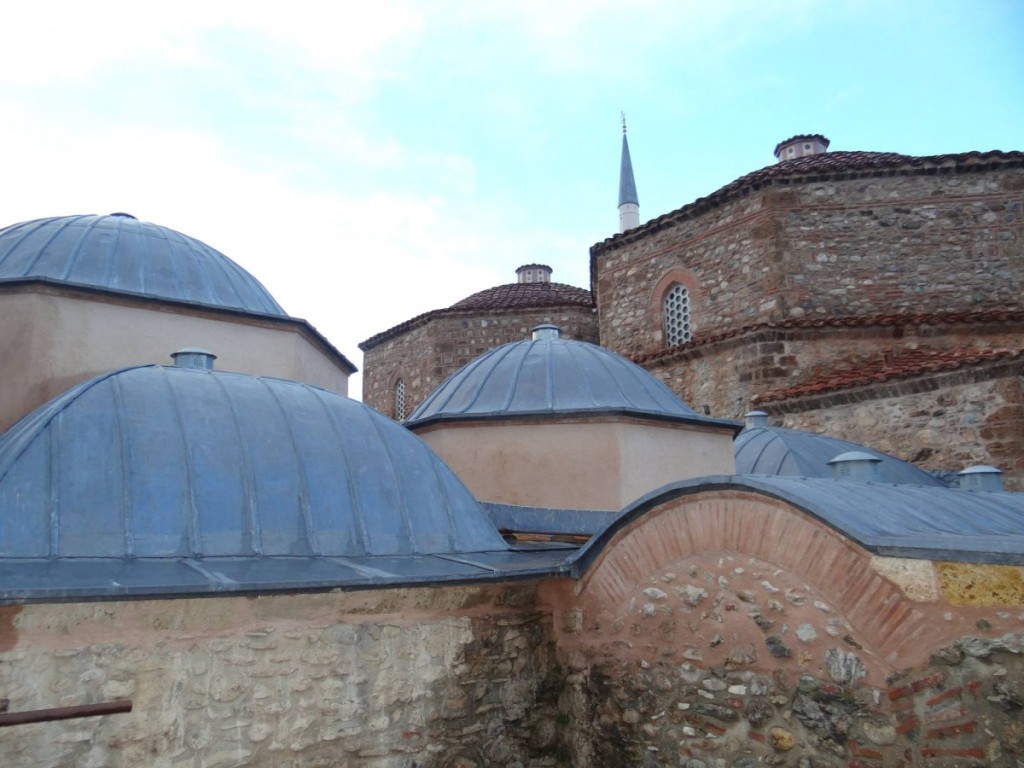 We pretty much just had a good wander around in the rain, and ended up in a traditional Turkish cafe, packed with Sunday youth all taking 'selfies' and checking their Facebook, or chatting away.  It was a place where the young and beautiful were all to be seen, and 2 hours later when the rain stopped, we wandered on.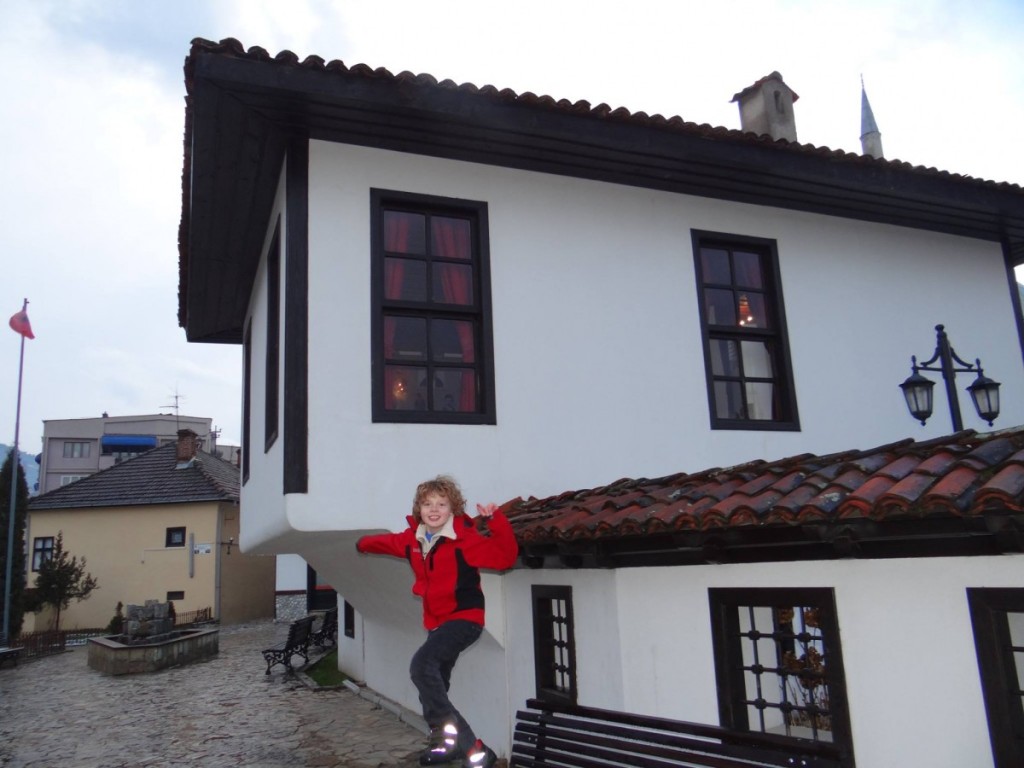 This bridge reminds me of Mostar in Bosnia.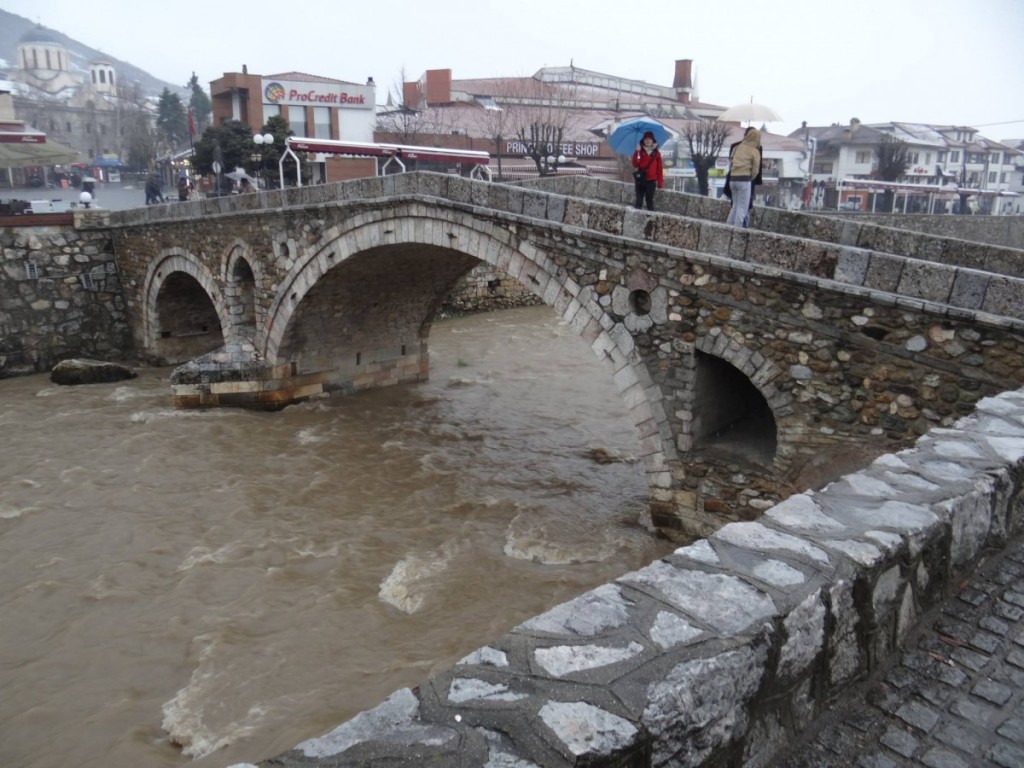 That night we thoroughly enjoy staying in a converted Communist Block of Flats with our new journalist friend and family. The couple had purchased two of the flats and combined them into a good sized classy home. Their two adorable daughters were a delight, and it was lovely to have an intelligent conversation.  I also learned a lot about how Kosovo sees itself as the 2nd newest country in the world.  Kosovo is yet to be accepted by some, I gained wisdom into the lives they live – it was amazing, and so educational for both of us.  Their passion for travel enthused us and their kindness to us as strangers are never forgotten.  Our friend Raphael was right about how giving they are to strangers.
We leave (but first spend several minutes in the elevator when it gets jammed mid floors) and drive out of Kosovo.  We do not drive north as rumors had passed our ears that it is not safe.  The road we take is more to the northeast.  It is riddled with black ice and slushy snow.  The first corner I hit was out of the blue, and a complete surprise.  I drove so, ever so slowly from then on.  The border crossing is the skinniest and loneliest road I have ever driven, and I was amazed that there on the mountaintop was a border crossing.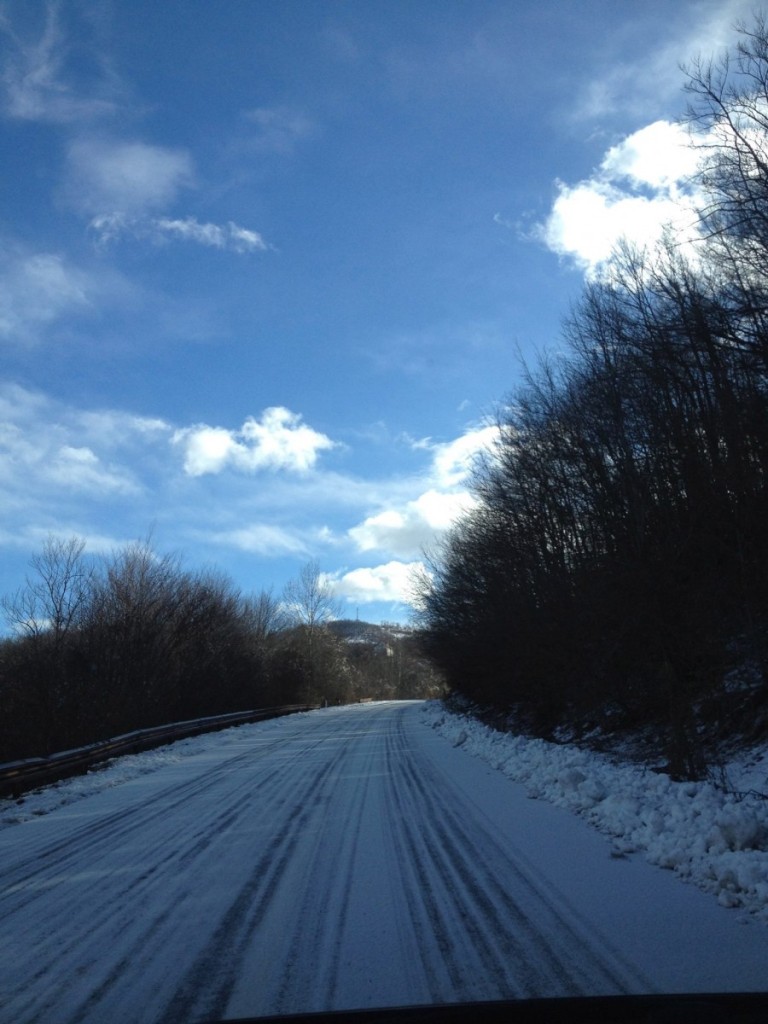 Click here and Please continue to Part #2
Questions and Comments
 What do you make of my visit to Eastern Europe?
Are you a family that travels permanently?
What inspired your decision?
How has the experience been?
Do share your comments with us below.