Sponsored Post
Find the Greek island for you
Famous for the plethora of islands adorning its water body, and especially the Aegean Sea, Greece is a destination for long or short breaks all year around.  Nevertheless most people prefer visiting this sun drenched country in the warmer months to soak up that all important sun, sea and sand.
As the Greek islands are too many to count, some might find it difficult to choose the best for their dream holiday. But, no need to worry if you are traveling to these gems of the Aegean Sea, as from carefree holidays by the sea to quiet family resorts, the Greek islands cater for every type of traveler!
So, let's see where you could go based on your holiday type!
Family Holidays
Families with children, small or bigger ones, would definitely find their paradise in Paros. This typical Cycladic island is lined with 118.5km of mainly sandy beaches, as well as some scenic pebbled ones.
The island's whitewashed houses, the picturesque harbours where colourful boats lie at anchor and cozy tavernas serve delicious fresh fish, along with the clear blue sky compose the ideal setting for you and your family.
The island guarantees that your little ones will definitely enjoy their time on the beach, and in case you are traveling with teenagers there are plenty of evening entertainment options for cocktails and cheerful music.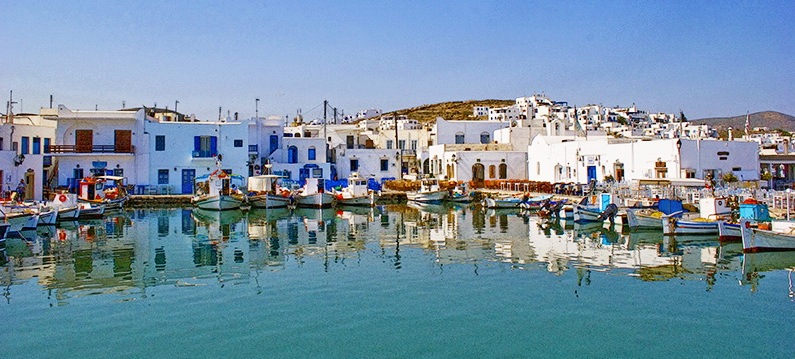 An utterly blissful family holiday also requires a convenient accommodation that can offer you a comfortable stay in style.
If it's tranquil sea waters, sandy beaches and peaceful atmosphere that you are looking for, then choose the village of Piso Livadi on the eastern coast of Paros.
Here you'll find the family friendly Aloni Hotel, which boasts excellent views to the harbor and well-appointed units with natural colors and sea-themed touches.
Facilities and services are also excellent, however, the property's highlight is the inviting swimming pool where your little ones can play in safety.
Sophisticated holidaymakers
For those of you who like less crowded holiday destinations with a refined atmosphere characterised by iconic structures and quality amenities, then Patmos Island in the Dodecanese would be a great choice.
Combining both marvelous beaches with crystal clear waters and unspoiled beauty, this small island offers a holiday and setting different from what the more popular Greek islands are famous for.
Also known as the Island of the Apocalypse, Patmos was mostly visited by people of religious interest, but lately it has been turned into the place to be for holiday makers who seek serenity, beauty and a cultural twist during their holiday.
Boasting the iconic Medieval fortified monastery of St. John the Baptist right in the centre, the island's main town (Chora) is also filled with Byzantine houses, unique among the Aegean Islands.
All whitewashed buildings and townhouses, along with the cobbled alleys and the lodges built since the 15th century create Chora's setting, whereas the rare prevailing silence is the island's sound!
To perfectly complement your stay in Patmos, find your accommodation in any of the picturesque shores of Patmos, such as Groikos Bay where the minimal boutique hotel Patmos Aktis lies on the seafront offering amazing views over the bay and the islet of Kalikatsou in the middle of the sea.
This property features stylish and luxurious units for a high level accommodation experience.
In search of the local taste
For travellers who'd like to get a deeper taste of an area, without looking toο far, then there is an ideal place resembling a traditional Cretan village, yet offering all the contemporary amenities of a modern resort.
Candia Park Village in Agios Nikolaos is suitable for families or couples seeking true Cretan hospitality, as the whole of the property was built like a typical Cretan village with a square and a characteristic bell tower right in the middle.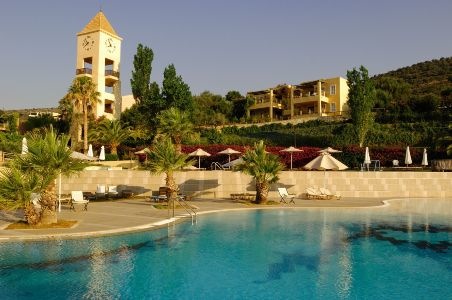 Thanks to its fantastic seaside place, Candia Park Village overlooks the crystal clear waters of Mirabello Bay to feast your eyes on! What's more, the layout of the property is set in neighborhoods with gardens and cobbled streets that enhance the feeling of an authentic village in the Greek province.
Spoiled lovebirds
Couples in love that want to spend an utterly romantic holiday in a place of exceptional beauty that can only offer them amorous moments, should definitely visit the volcanic island of Santorini.
Famous for its red rocked Caldera and the breathtaking views to the volcano proudly standing in the middle of the sea, Santorini is the perfect choice for those of you who are longing for their romantic getaway somewhere nice.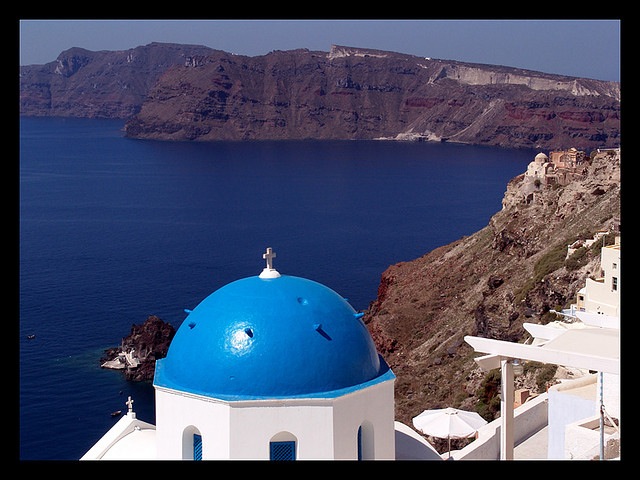 If it's great views you are looking for, then the best area to stay is Oia.
Famous for its colorful sunset, the settlement of Oia boasts a wide range of top-notch accommodation to be your holiday nest. Honeymooners should stay in Andronis Boutique Hotel which is literally situated on the edge of Caldera, so that guests can treat their eyes with the views of the vast Aegean Sea.
Suites in Andronis are decorated in a Cycladic style, mainly featuring light colors, such as blue and white, or warmer ones, such as red and gray. Highlight of the unis is the fancy Jacuzzis on the private terraces.
For your romantic stay in totally elegant surroundings, opt for Astarte Suites in Akrotiri.
This unique property offers suites whose interiors are inspired by the volcanic elements prevailing in the entire island.Cave pools, infinity pools, mosaic bathtubs and starry ceilings create a purely Mediterranean setting for cherished moments in your suite!
And when it comes to privacy, which is indeed a little difficult to find in Santorini due to its popularity, Megalochori village in the island's mainland is the perfect place for guests that wish to enjoy a holiday in total privacy, thanks to the fine selection of Santorini Villas and Mansions.
Each villa used to be related with the wine making production, as the village itself was closely connected with the wine history of the island.
So, your experience at this kind of village hotel will be all about good wine, private moments with your friends, family or significant other in your Cycladic villa, and last but not least mouthwatering delights from the two exceptional eating options, including Raki and Spiti restaurant serving local and Mediterranean cuisine made of local produce.
A lot have been said about Greece, but what's absolutely true is that it's surely a paradise for all types of visitors.
So, either you are a traveler seeking a restful holiday in a resort by the sea or a romantic soul searching for the right kind of haven to amaze their other half, then Greece has the proper answer for you!
Sponsored Post