Brugge Belgium is beautiful
The first night we arrive in Belgium we head out to get some dinner. 90% of restaurants in Brugge are closed. Tourist prices reign for those that are open. I mean 15 Euro of about $25 for a Wrap.
So next morning we are not sure what to expect. We walk along the canal and it is gorgeous!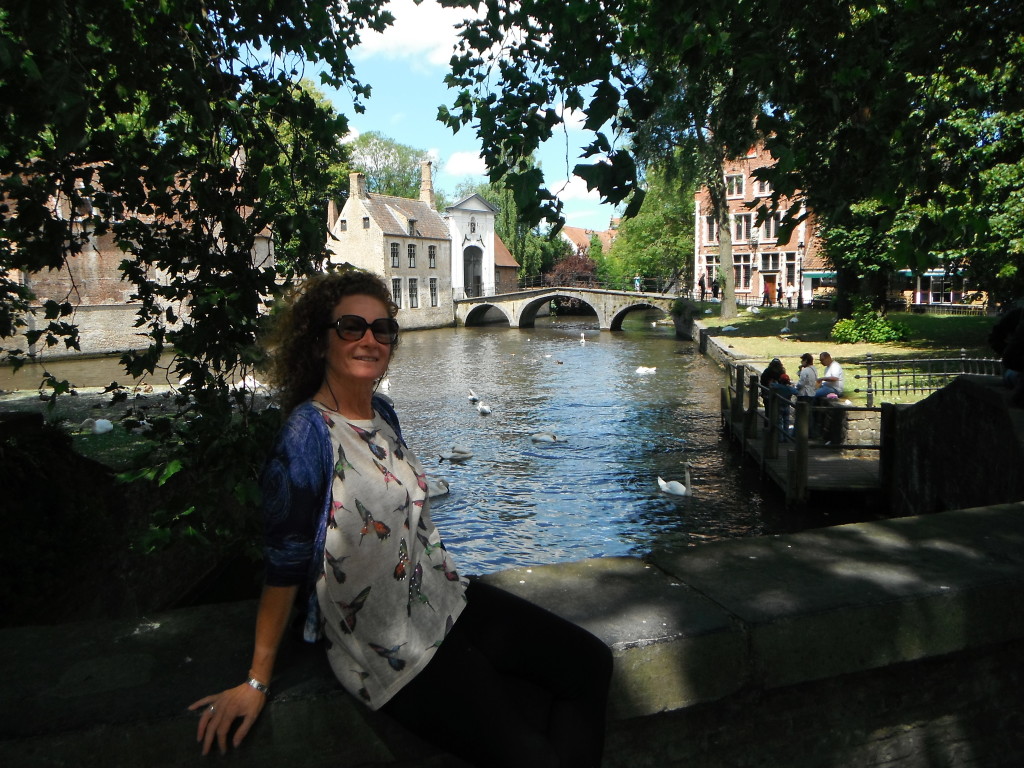 Our first stop – a Belgium chocolate shop.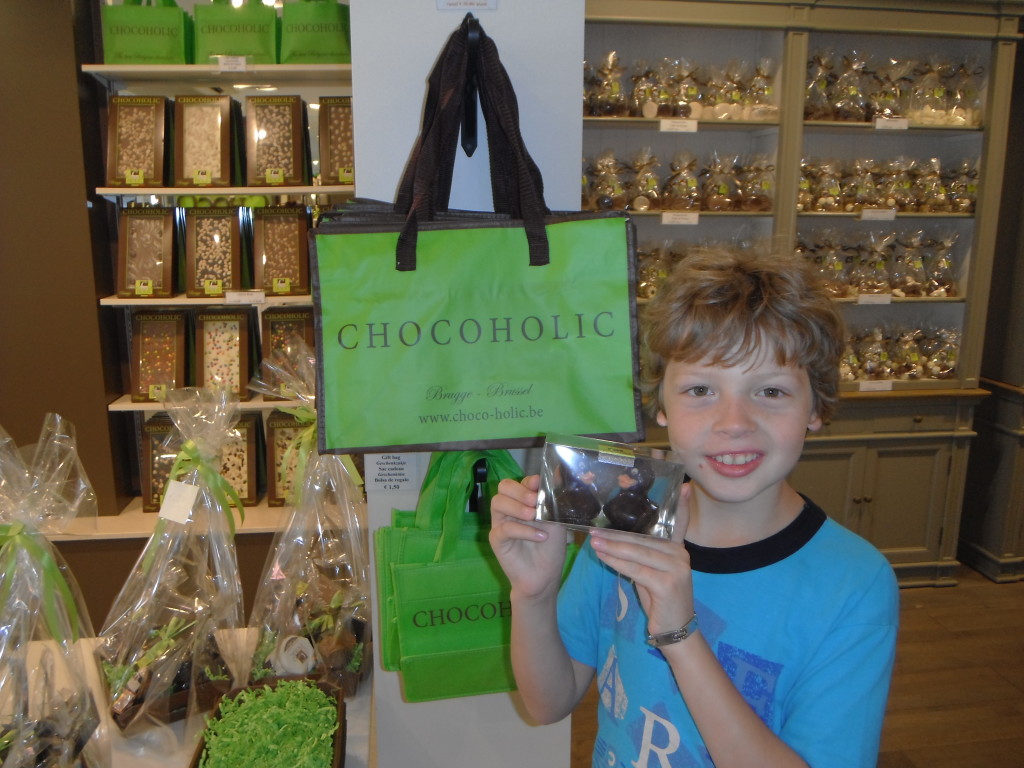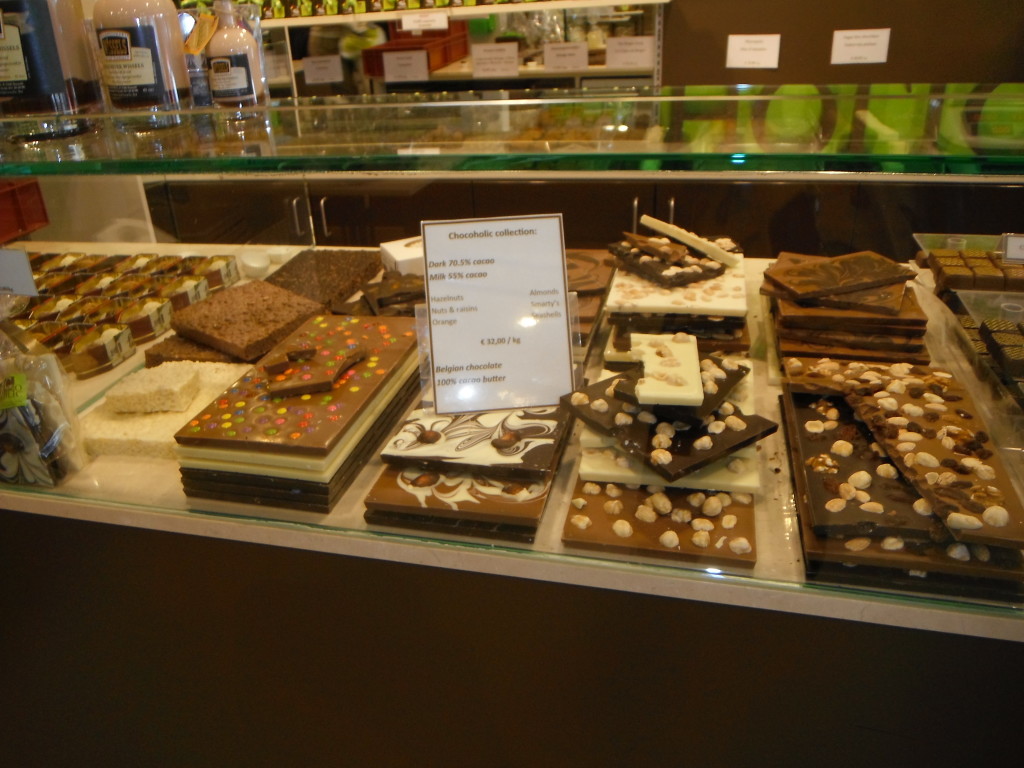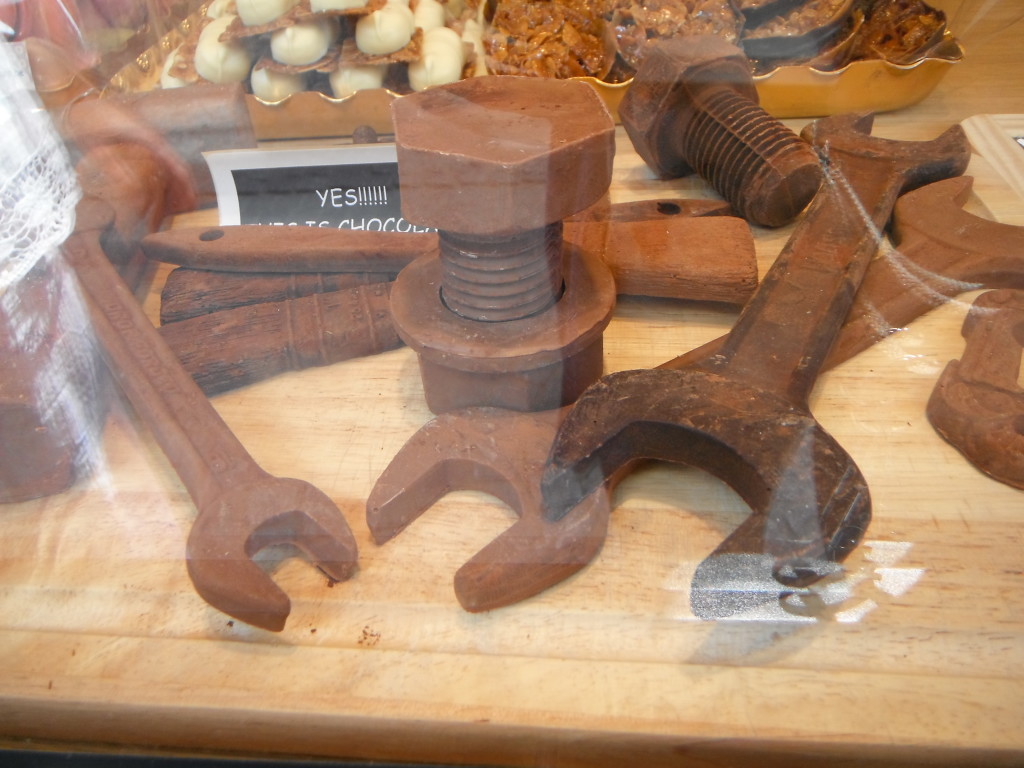 Next we lined up for a boat cruise along the canals.
It is only seven Euros which is quite good.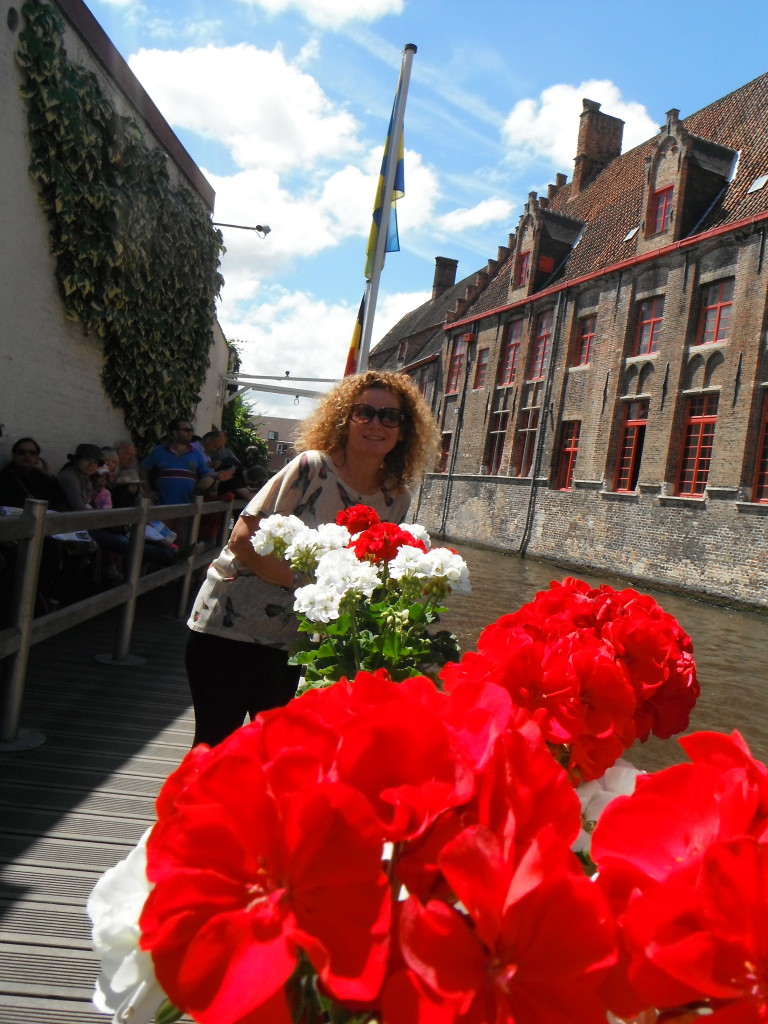 It is 15 km of canals in total.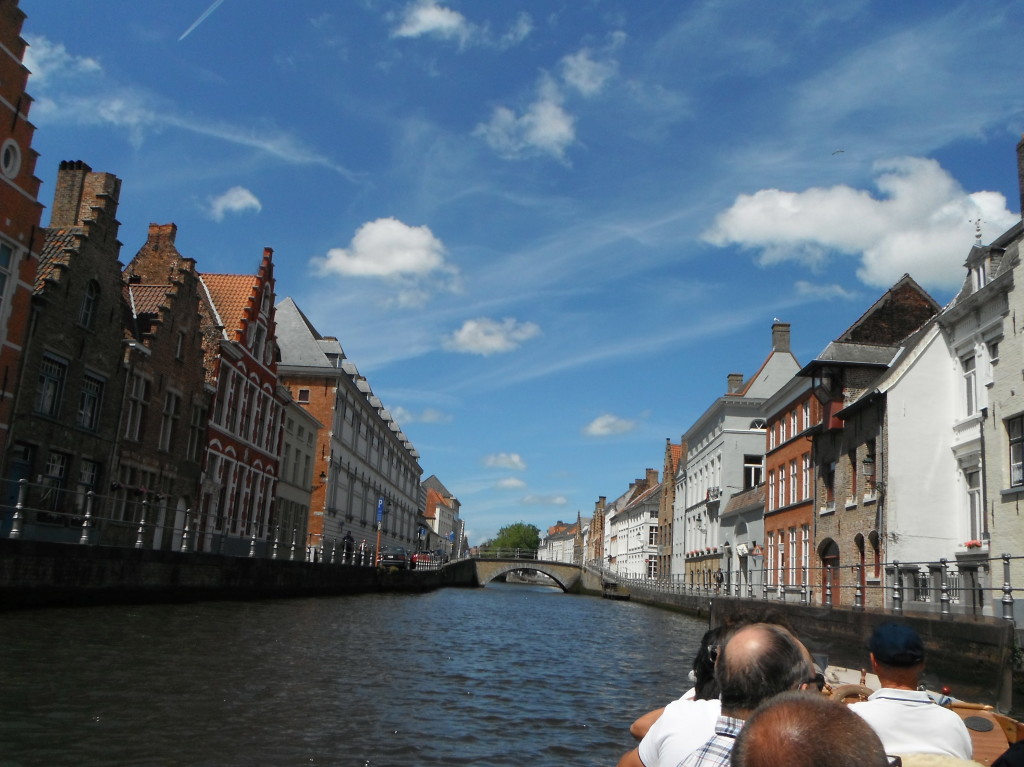 The blue sky is showing above us, as it makes a lovely background for the stepped roof that is before it.
It was postcard picture pretty.
Mind you it was really hard to get a good picture as the man in front kept putting his arm up and his journalistic sized camera every time  we wanted to take a photograph. So we ended up poor cousins in the photograph department, but we still snuck in a few good ones.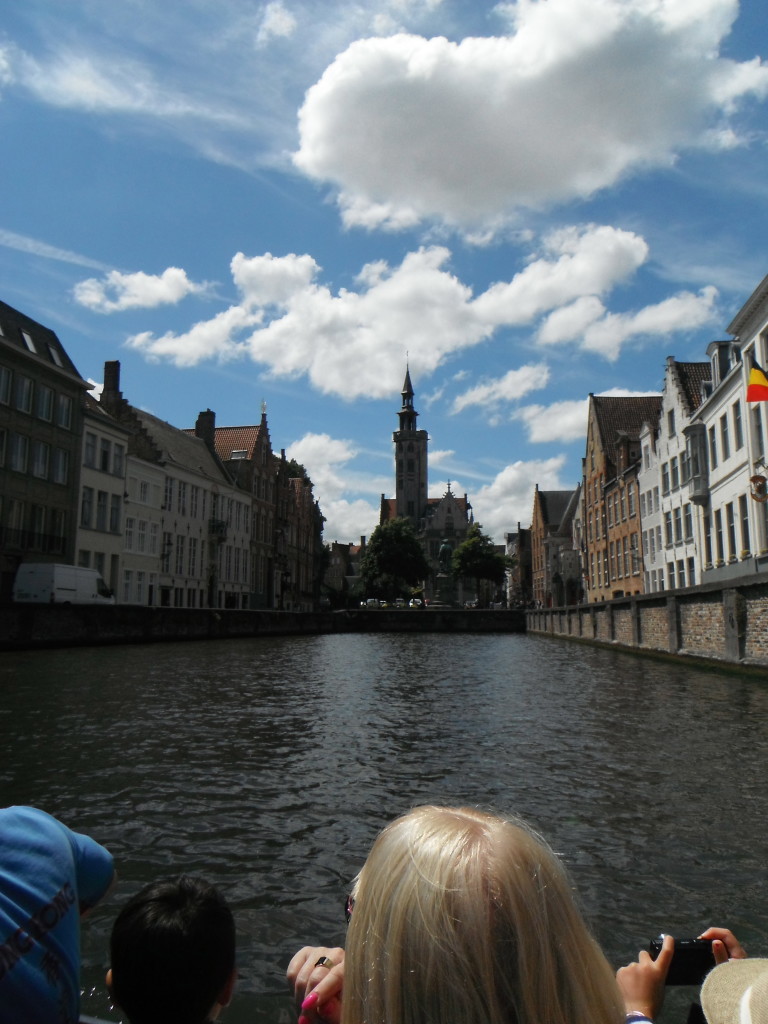 We learnt that gargoyles were added to the medieval buildings in their faith to ward off evil spirits. Saints, statues and more decorate walls, windows and arches.  To me this little city should be as famous as Venice.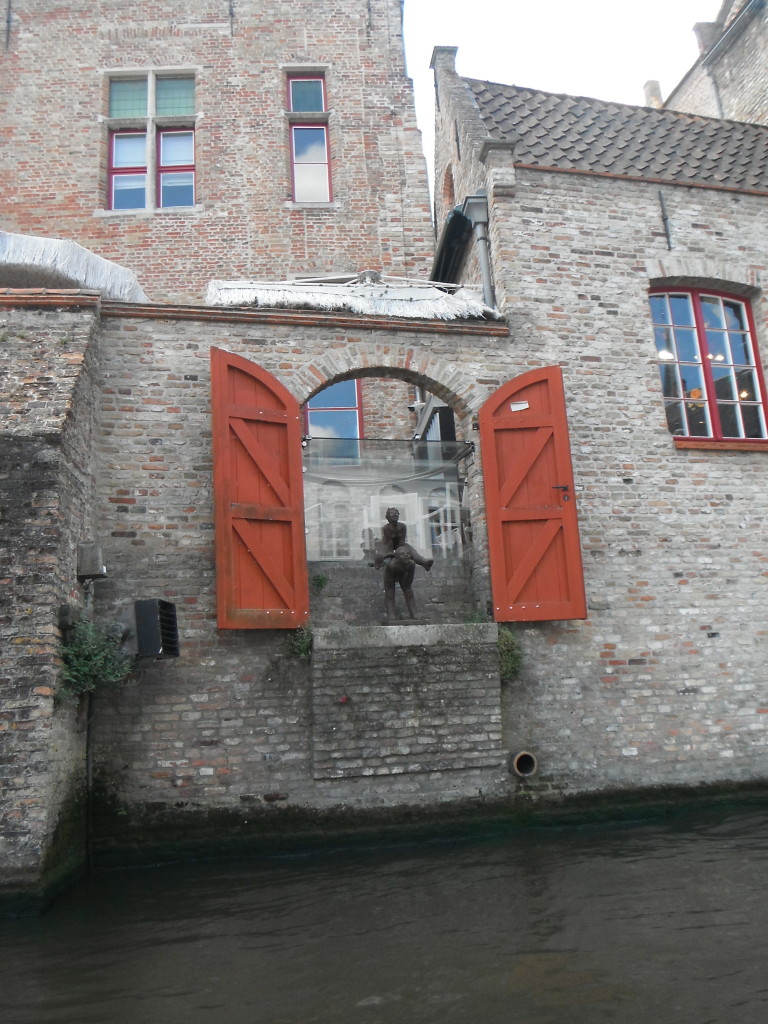 At the end of the boat ride, we stopped to enjoy the pretty geranium flower boxes and the warmth of the sun.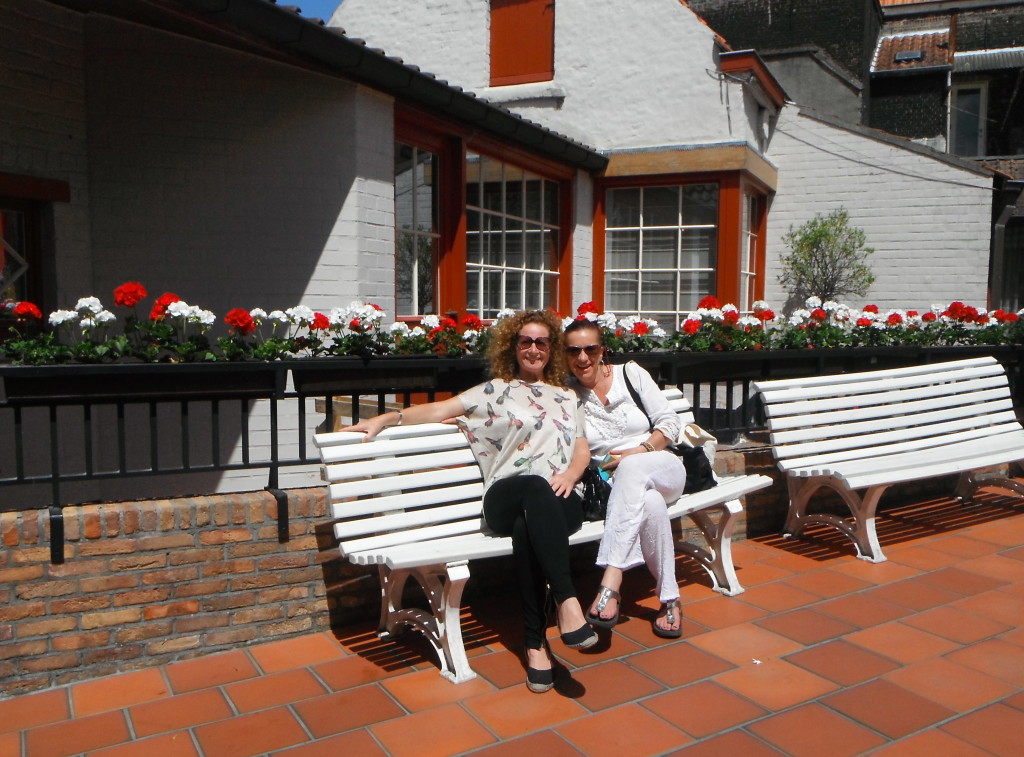 Next stop was to see some Belgium lace.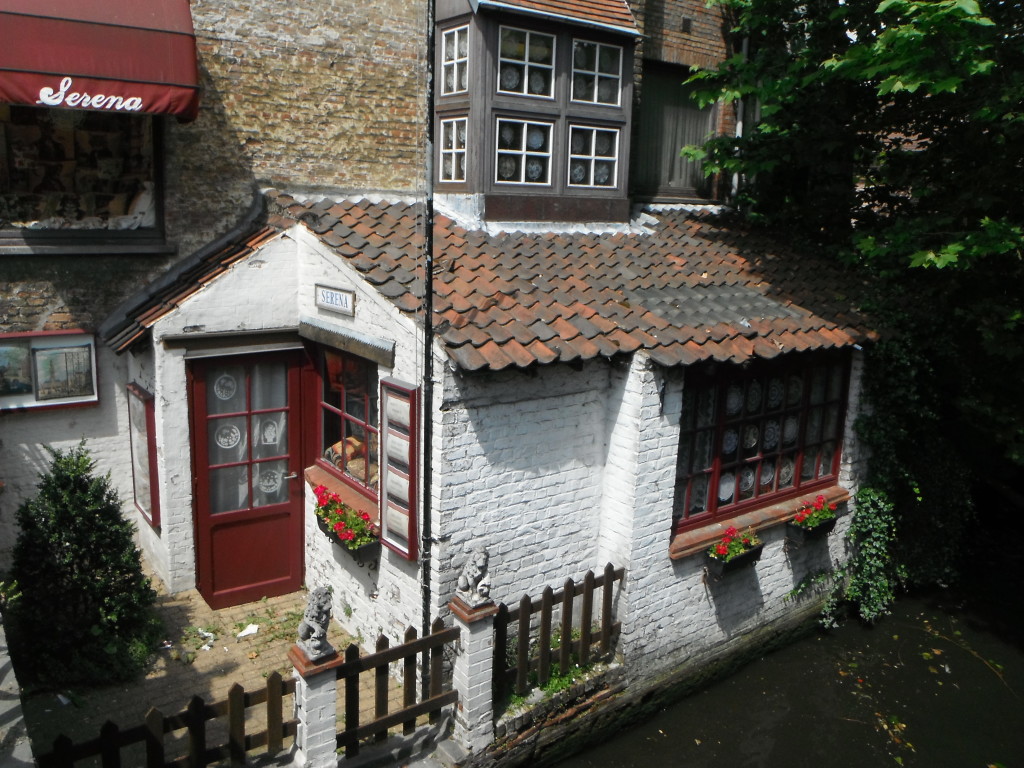 I love the Belgium law window decorations.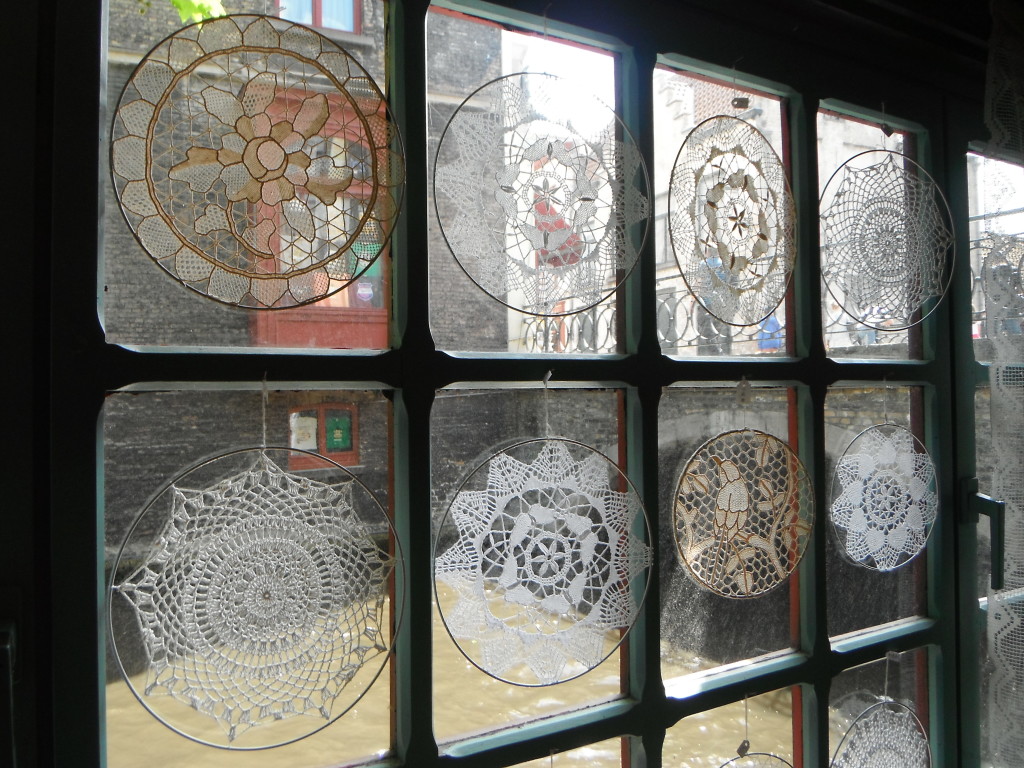 What is next to discover about Belgium?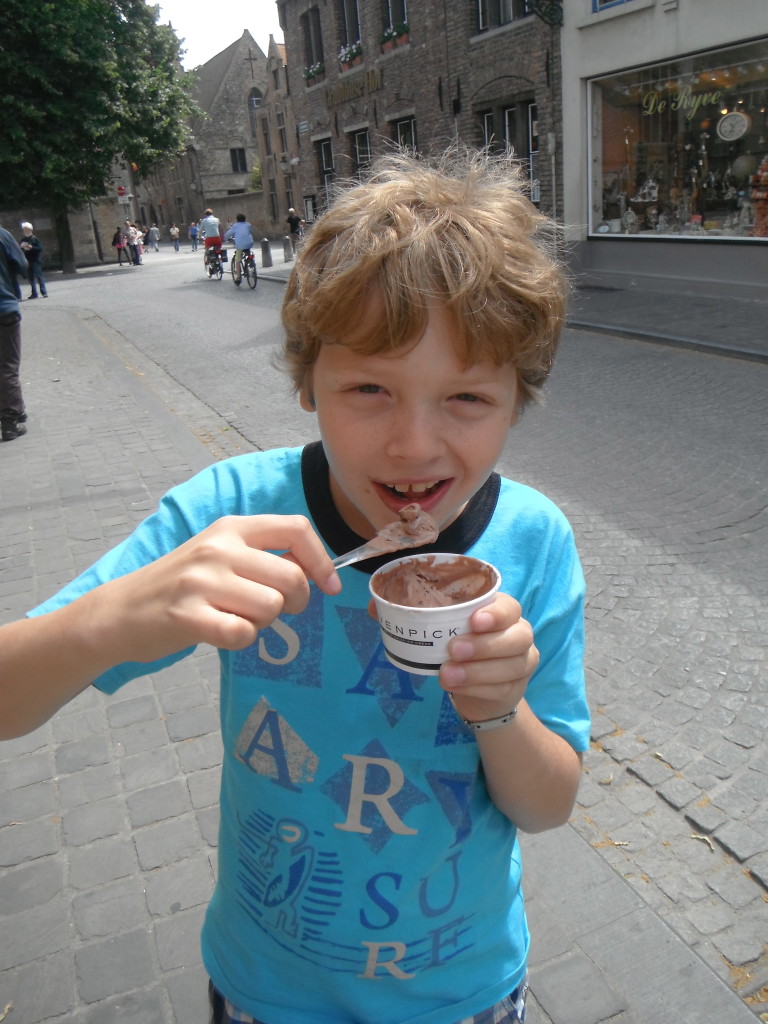 And Belgium beer. Which one to choose – there are just so many!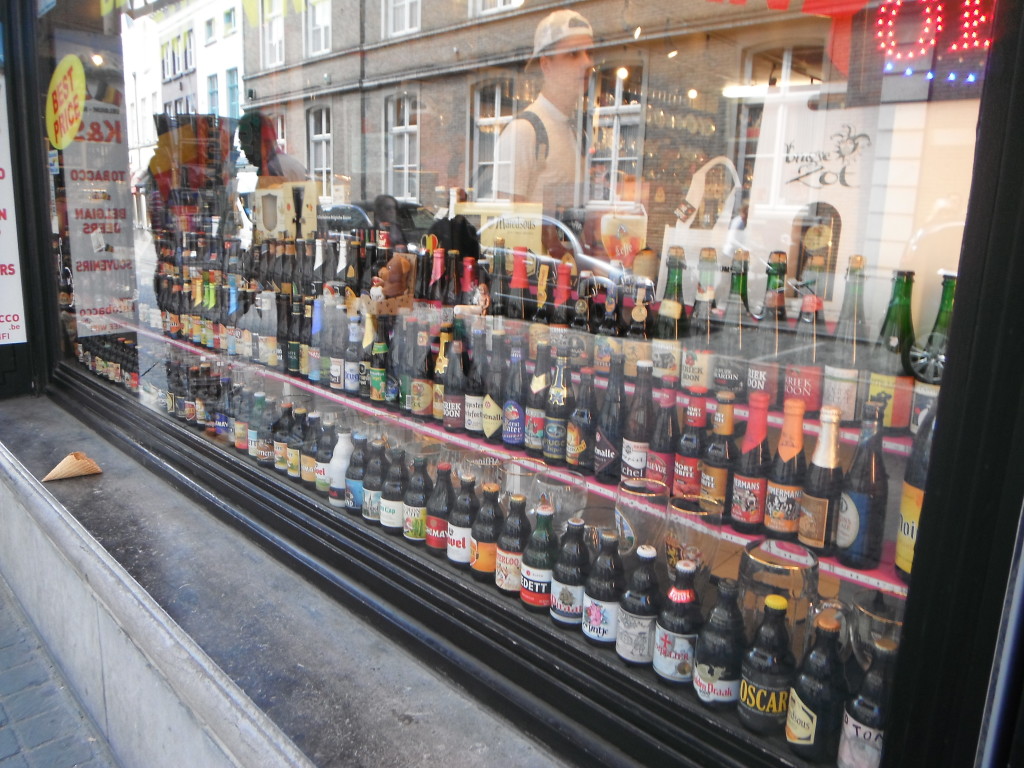 We stop for a late lunch, and it is an "ahh" moment. We sat in one of the town squares, there was a violin placing, and horse and carriages were coming by. A myriad of fast cyclists would weave their way through as we sat and soaked up the European culture.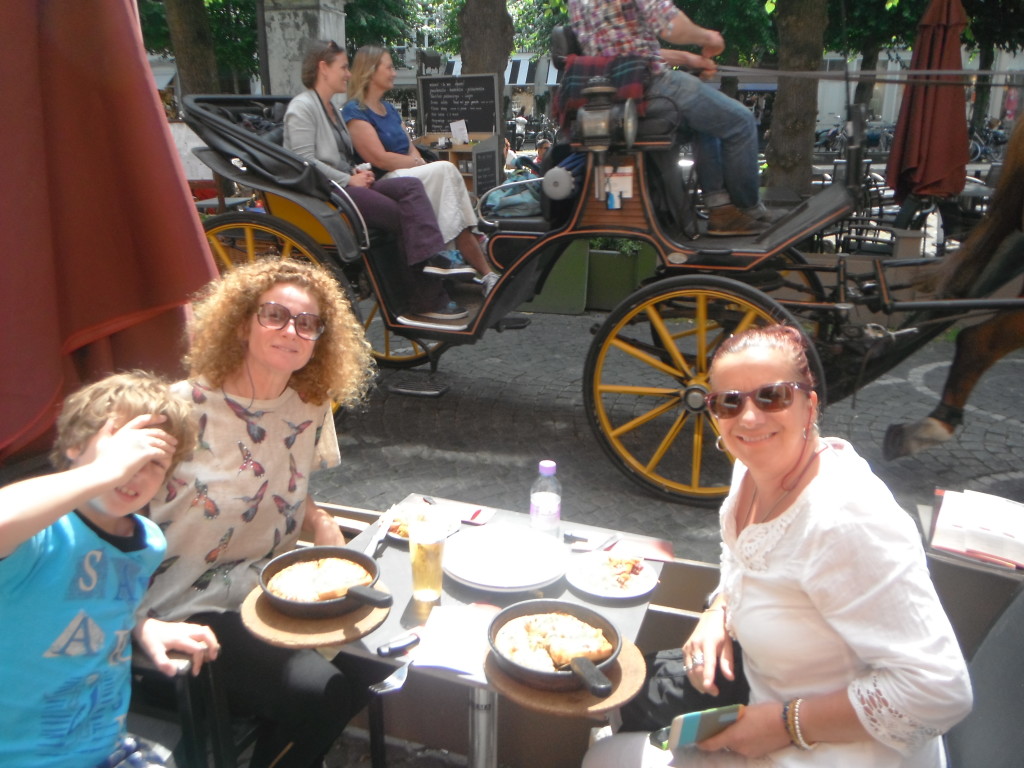 We finished lunch and as we wandered back to the park we ran into some people we had chatted to on our boat ride.
We stopped and had a drink with them.  Of course it had to be a chocolate milkshake for Explorason!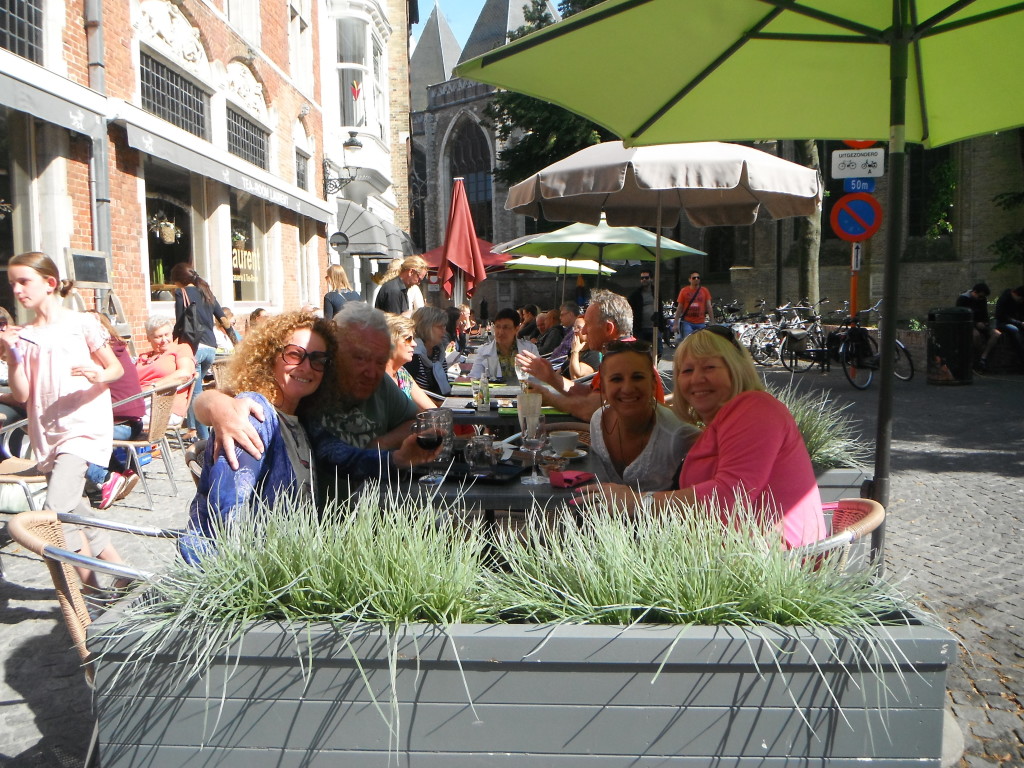 The lovely man came out after giving us a nice surprise and paying for our drinks, he then gave Explorason five Euro.  I was pretty impressed that a huge hug followed!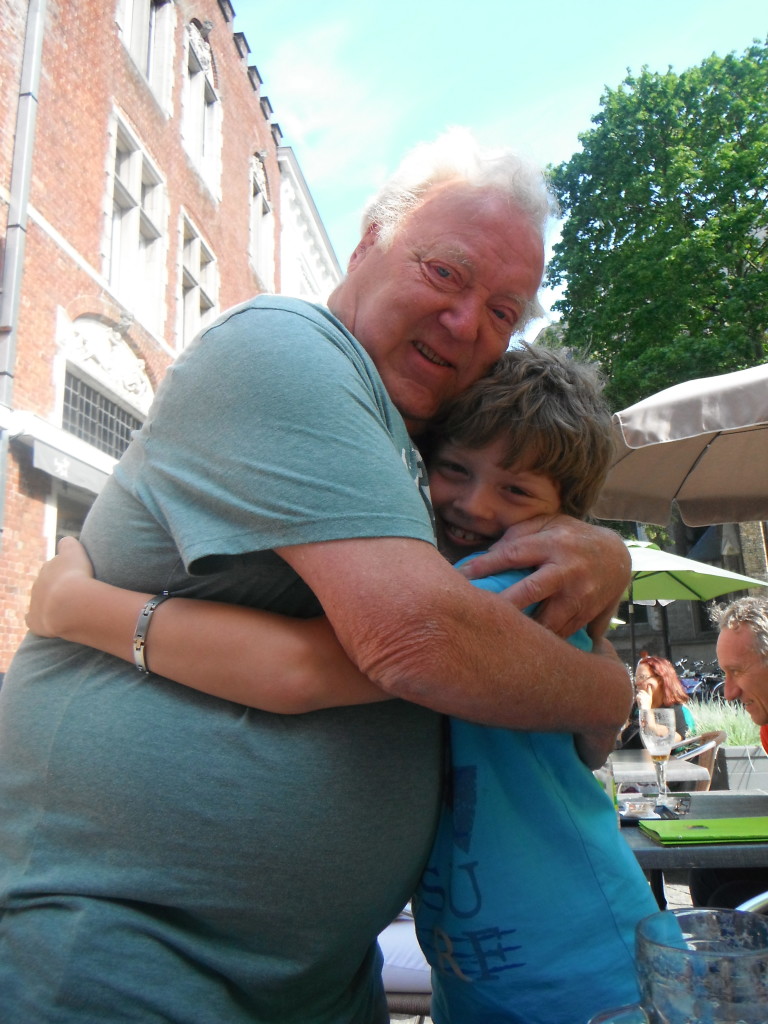 So feeling very happy, we then wandered back to the hotel. Explorason played in the fountain by the railway station.  He was soaking wet!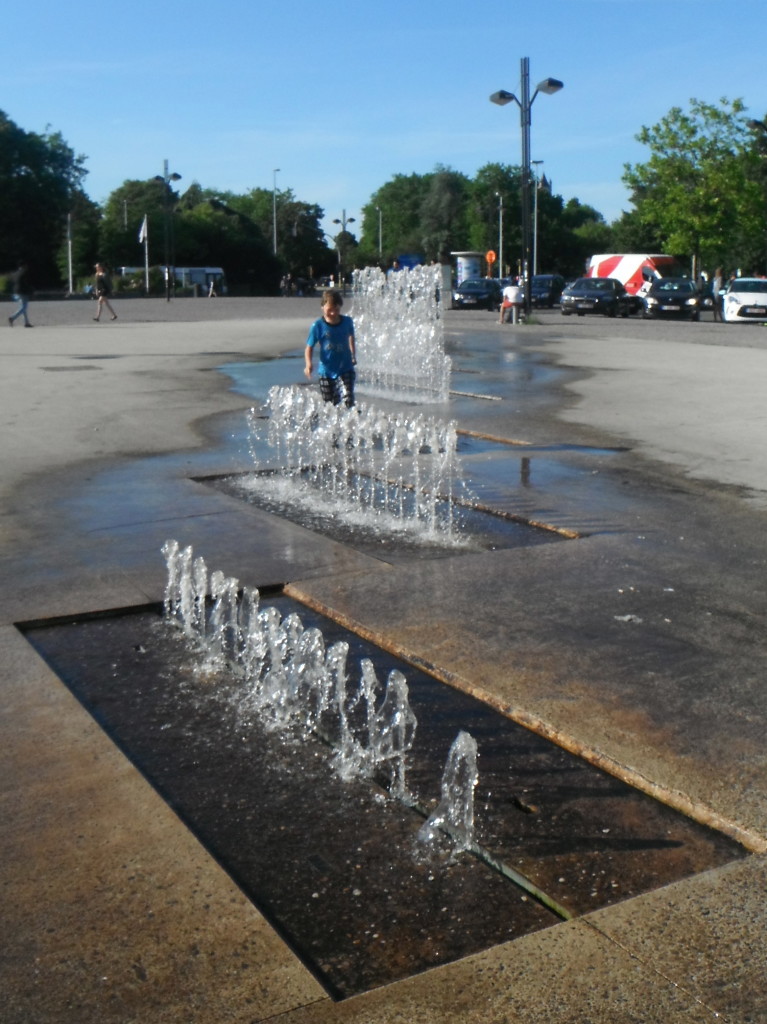 More things Belgium to try the next day, so we started out with Belgium waffles. We did find out that all the toppings are known as "Tourist Waffles".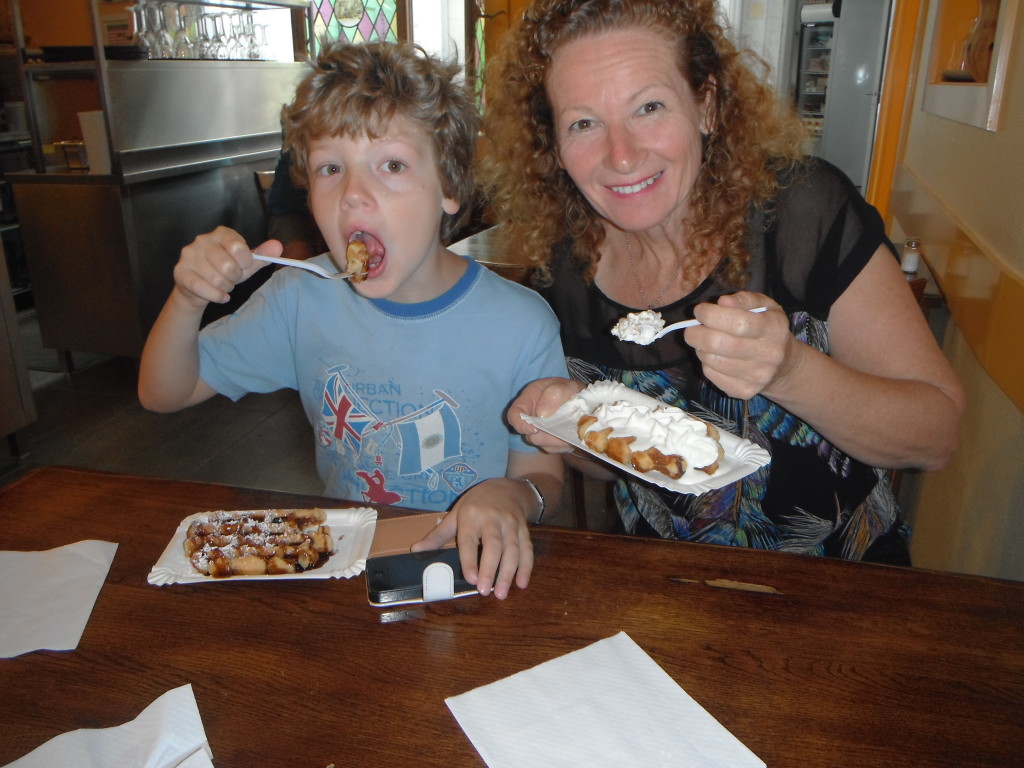 This day was more of a meandering around the cobblestone streets and lane ways.  Churches, steeples, walled gardens, canals and more.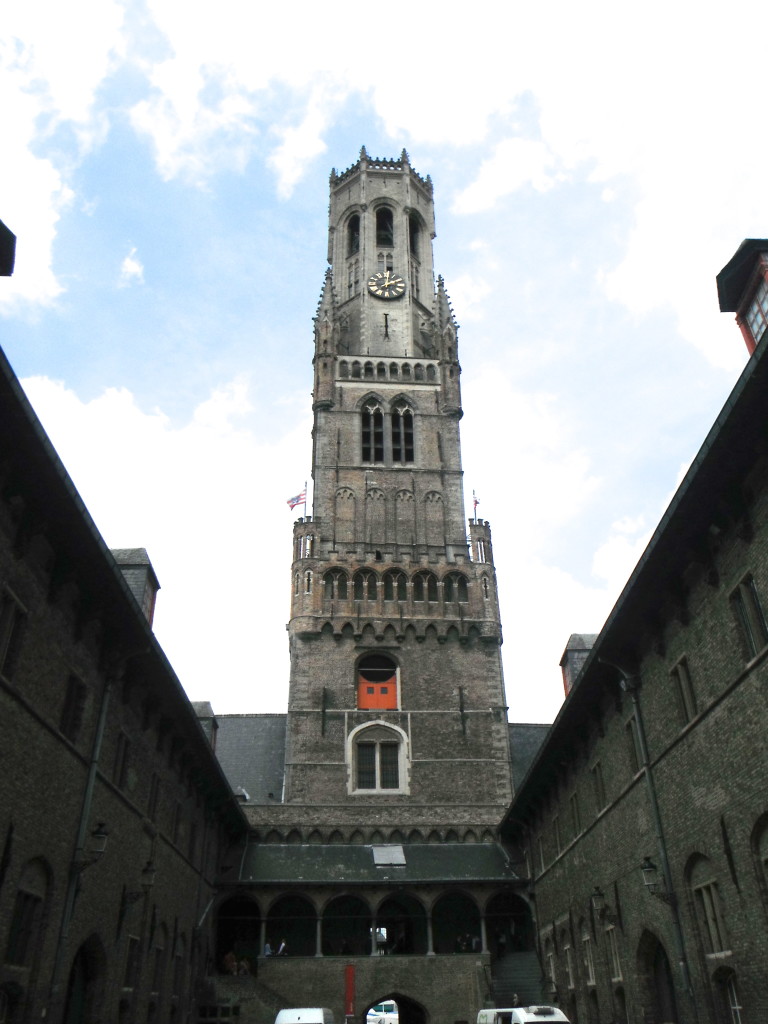 We learnt that 4711 is the oldest perfume in the world. It was made as a drinkable potion, but Napoléon wanted to own it, so they turned it into a perfume and so he couldn't… or so we were told.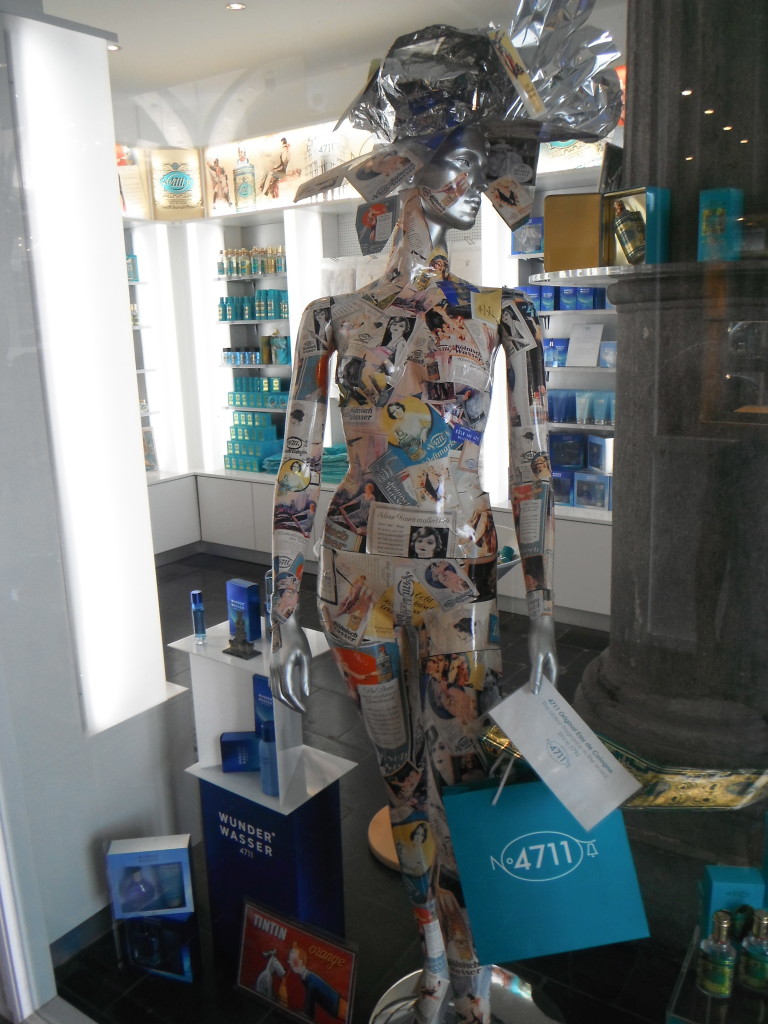 The market in the main square was next, and it was only just setting up. There really were some gorgeous things for sale.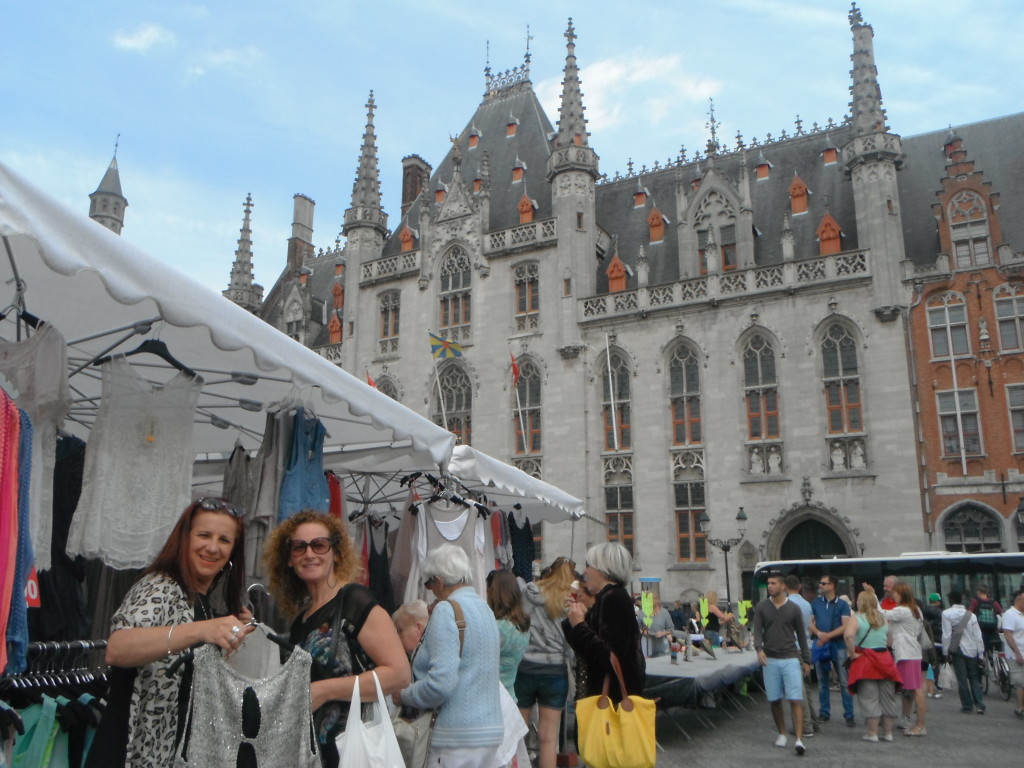 The step roof buildings surround this square, and it is a hive of activity. You can imagine what it would have been like in previous centuries.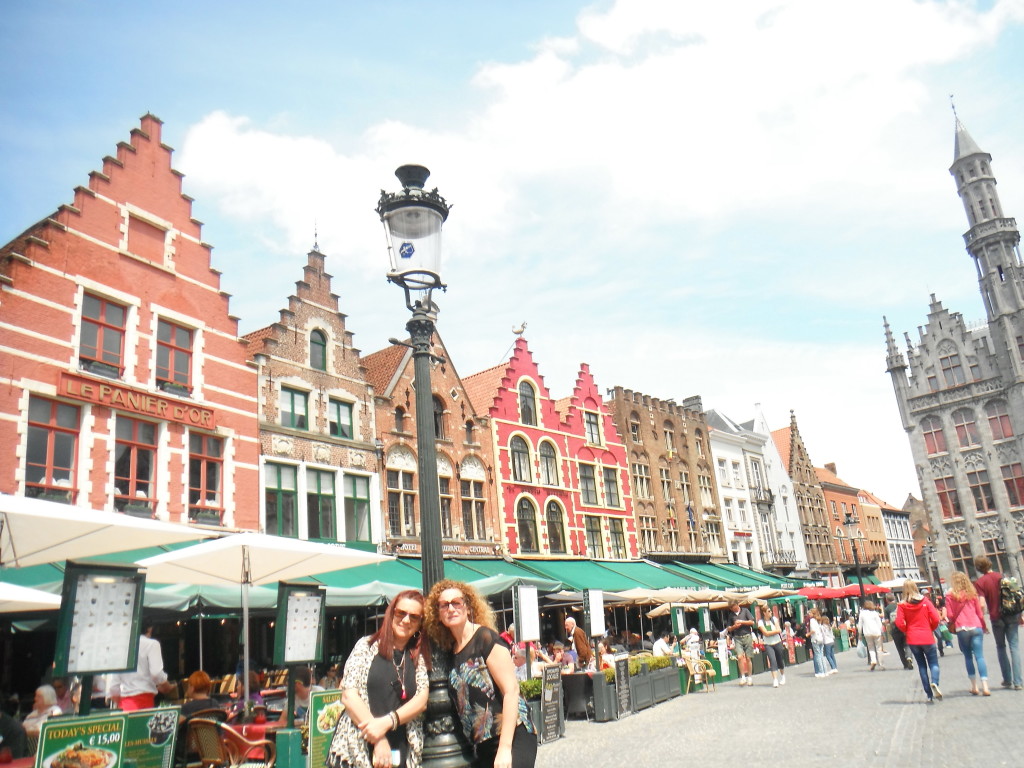 We stumbled across another square and old museums with gold ornate painting and figures were adorning the buildings.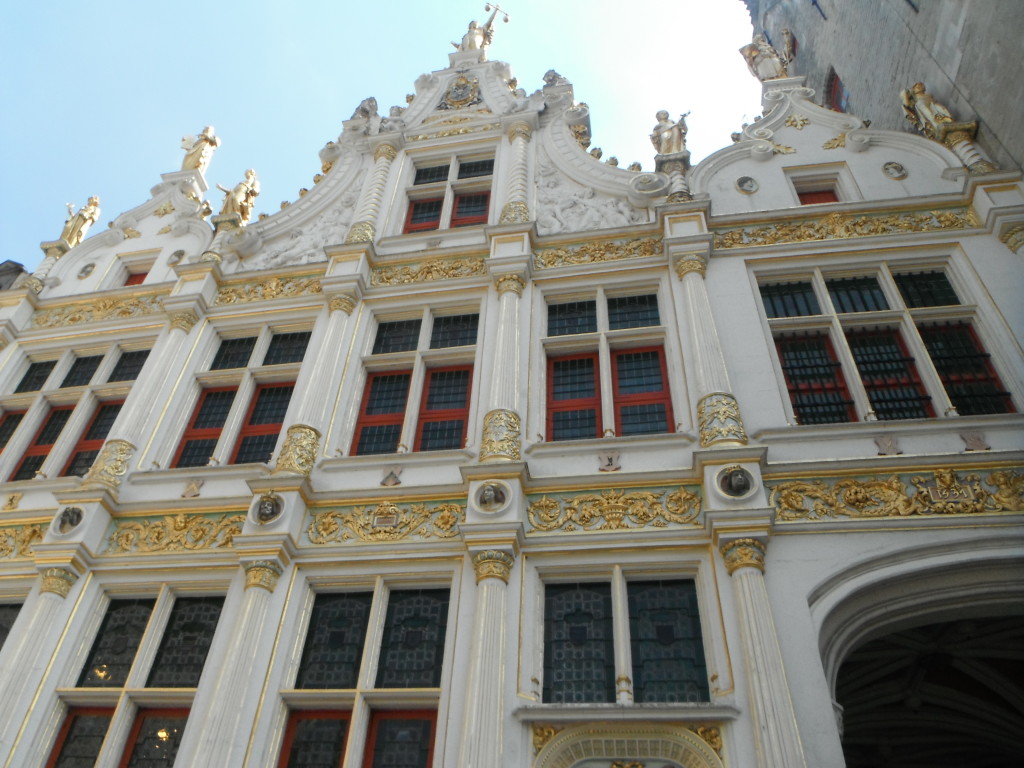 Here we heard a band, and Explorason and I started to dance. There was a brass band placing, men playing boules and it was another "ahhh" moment to me.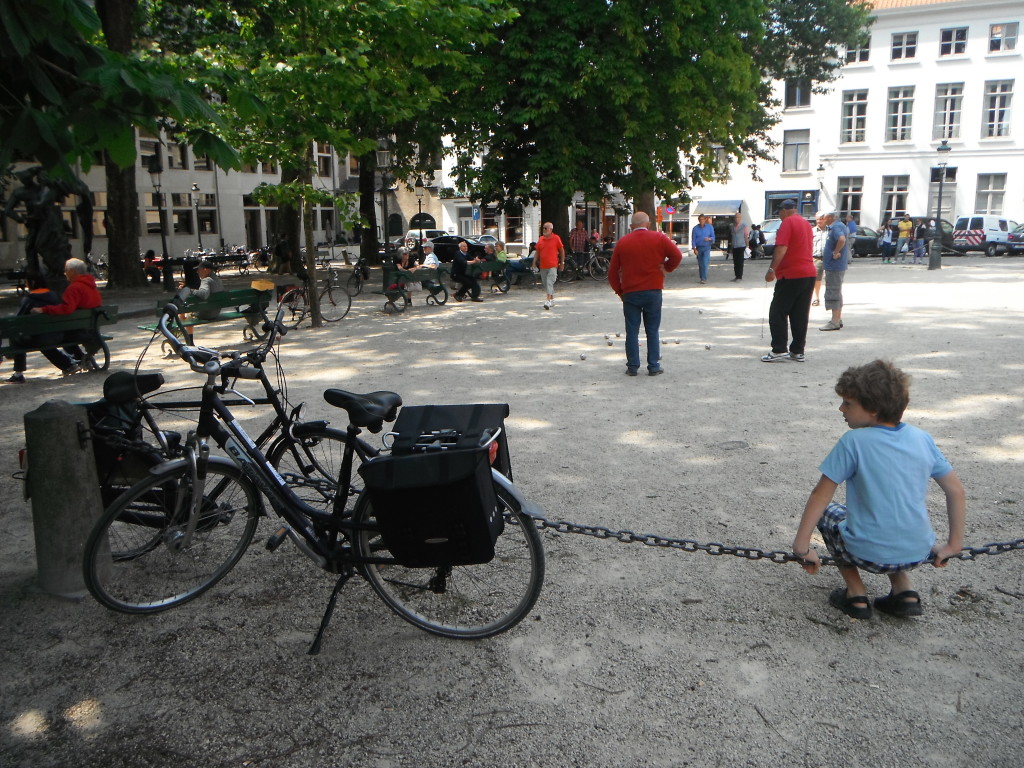 Explorason stops and tells me he loves me.  I feel happy. Really happy.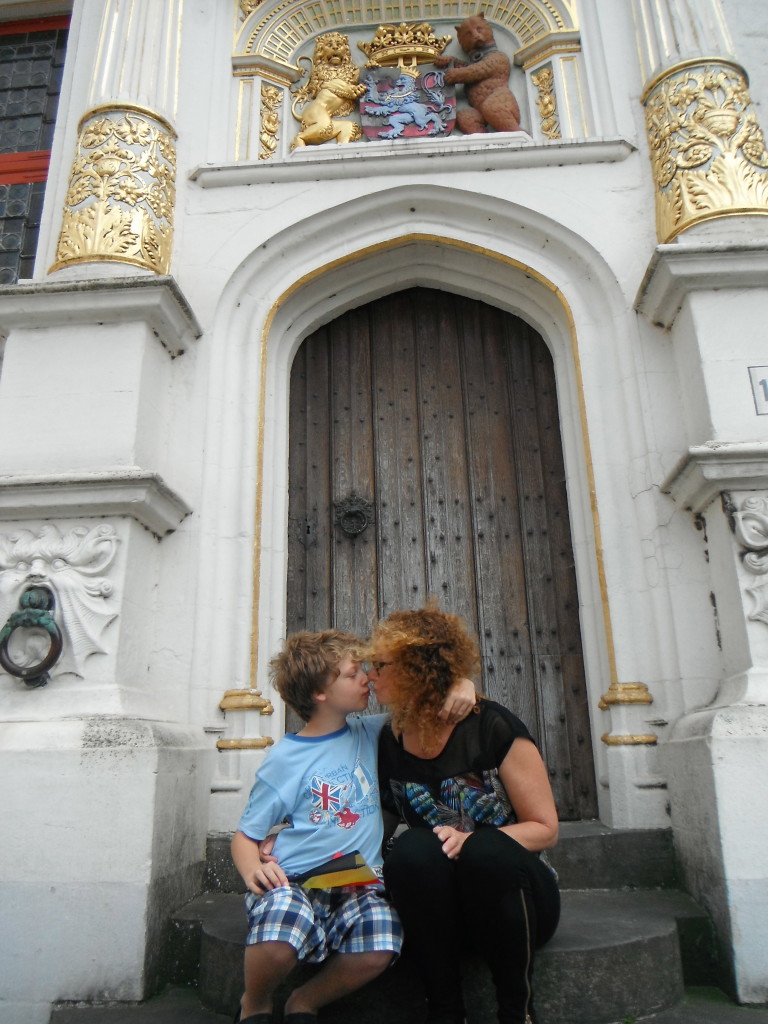 I think music really makes life. It wells up inside and brings joy and happiness.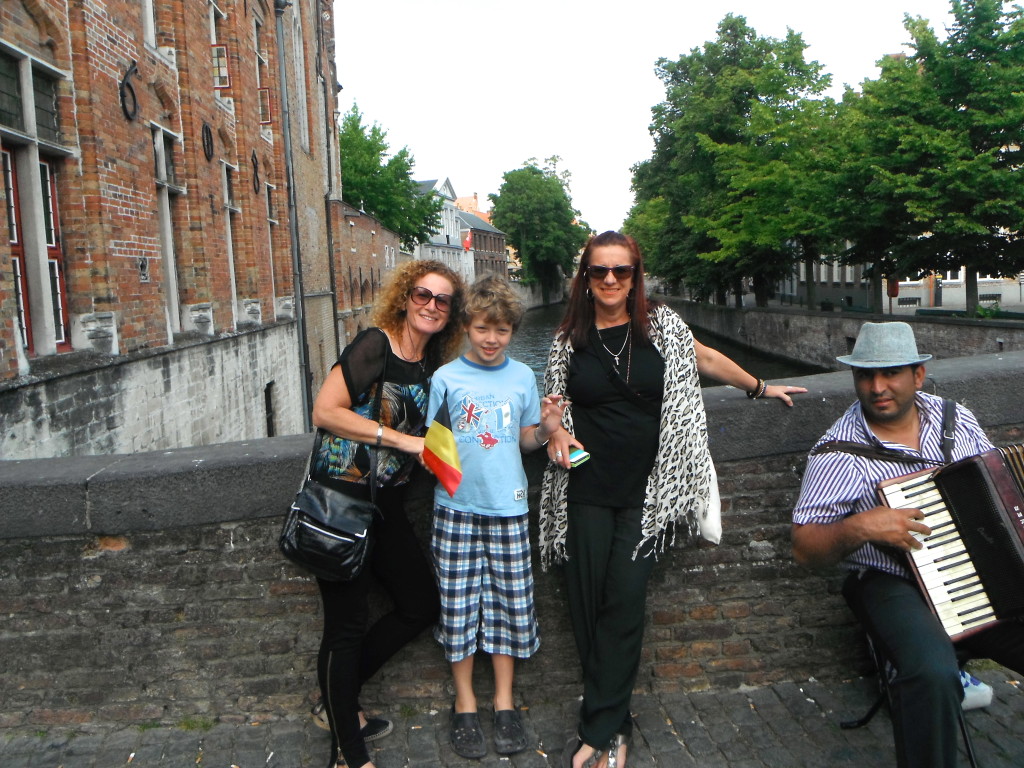 At the junction of the canal, many restaurants offer a lovely place to sit. So we grab a table and chairs, and we have some lunch.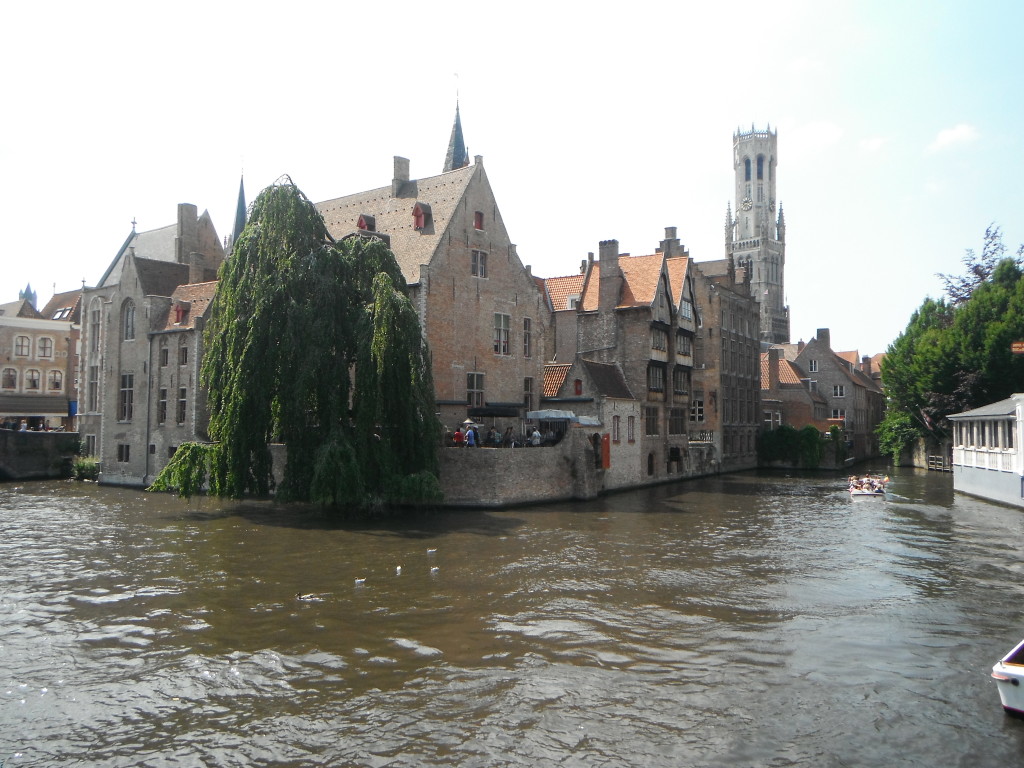 The clouds are coming in and the shade is moving over, and it is mid afternoon before we know it.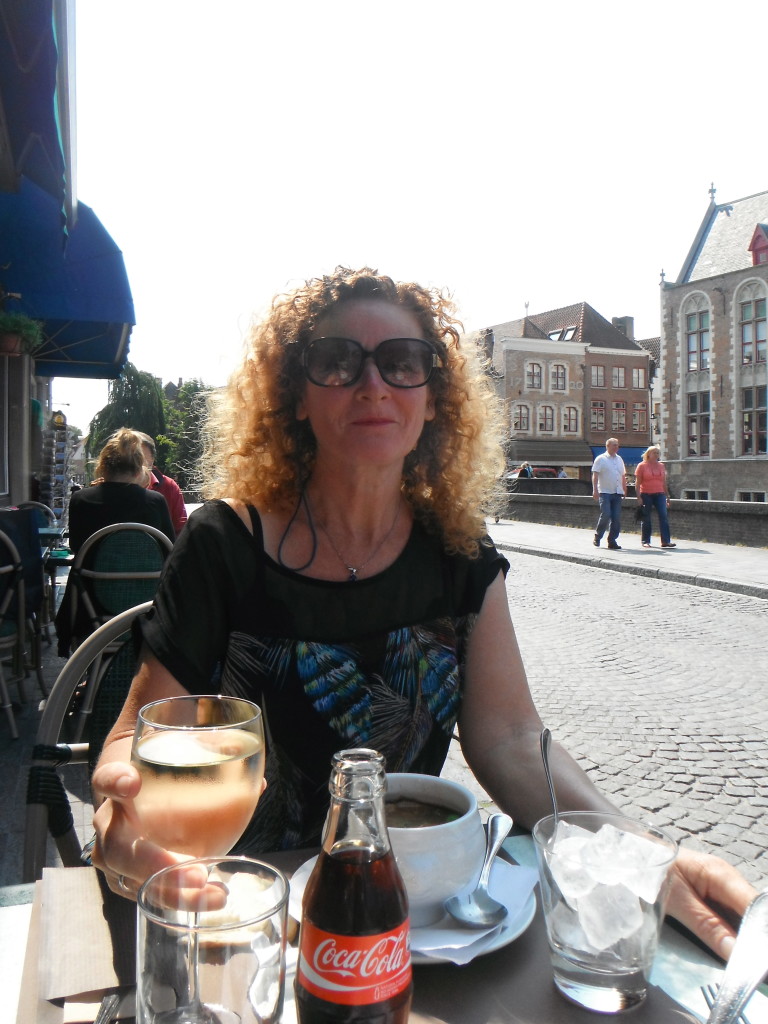 On the way back we went to our favourite store. It was a small collectables Belgium Boutique called Yesterdays World and is equipped with a cute bar.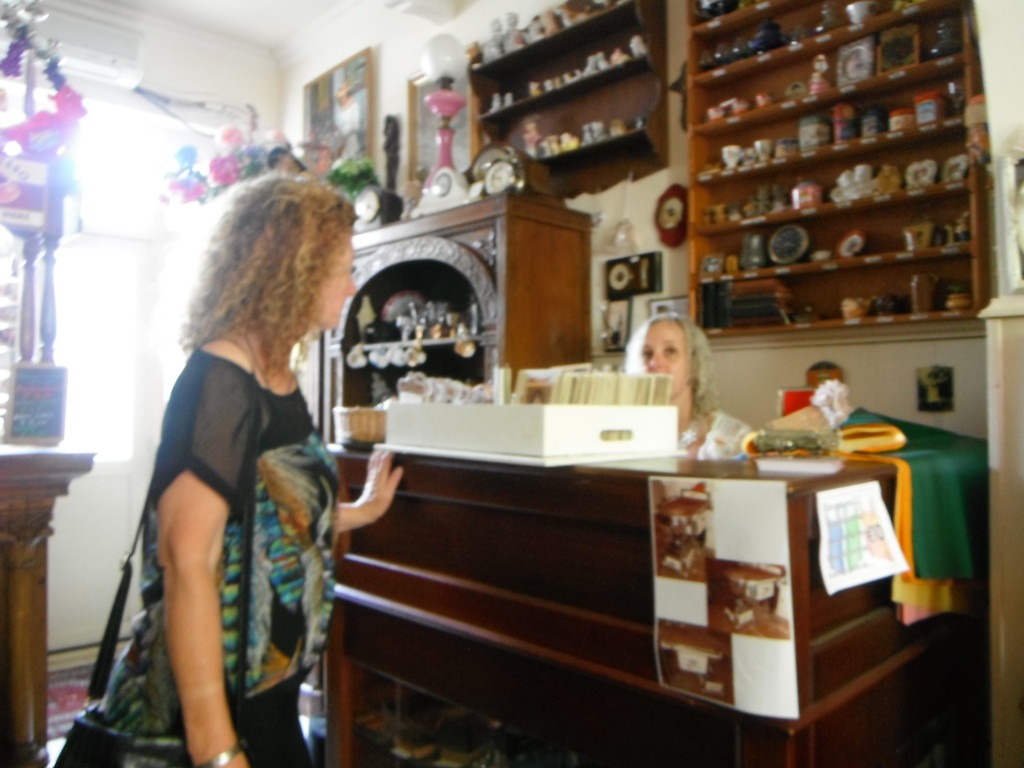 Linda, the owner tells us there is live music tonight, and we decide to return later.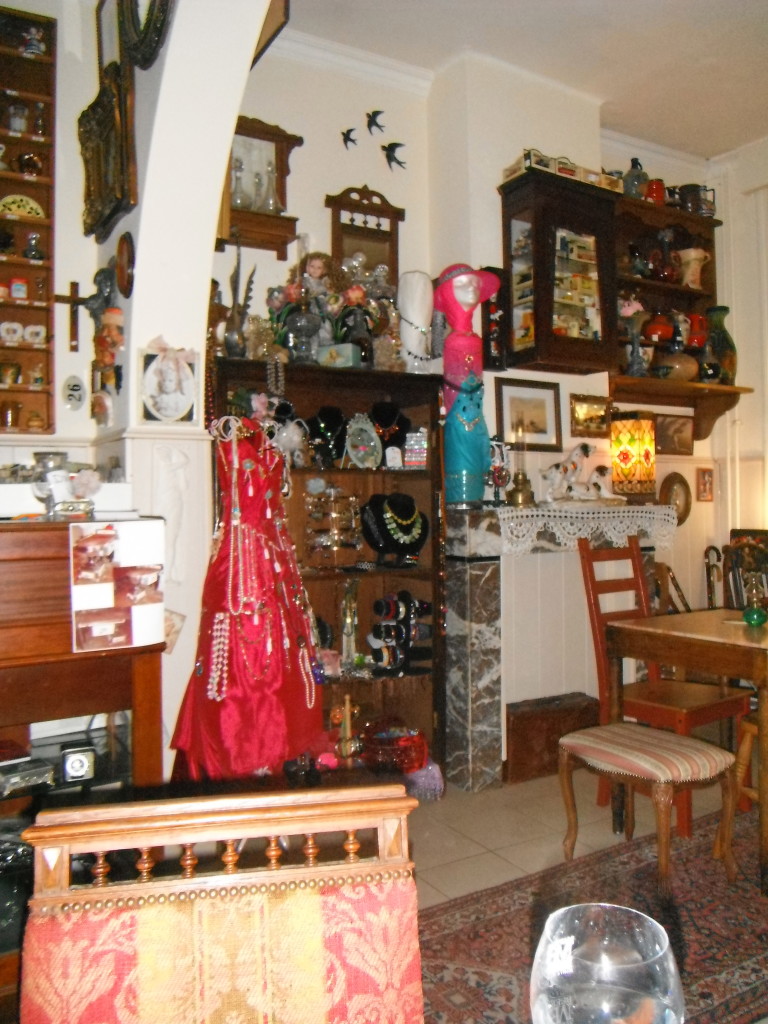 It is a lovely store and three floors packed with treasures. We love it. There are antiques, clothes and Belgium beer all mixed together to form an eclectic mix. It is at Wijngaardstraat 6 – Brugge 0496/238297  BEO86763806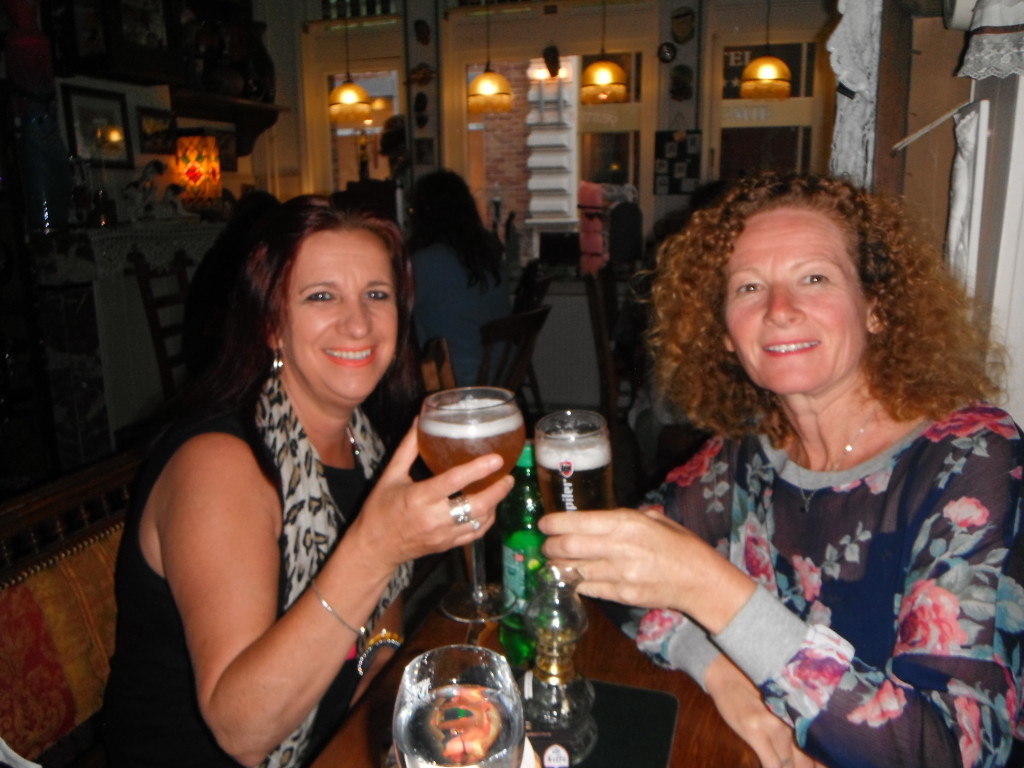 As we return for the music, we feel like we are in a back street of Paris mores than Brugge.  The soft lulls and sweet melody of her voice as she sings makes me want to join in with harmonies.  Small tables are occupied by friends, lovers, travellers and those seeking to relax at the end of a long day. This is a moment I shall never forget!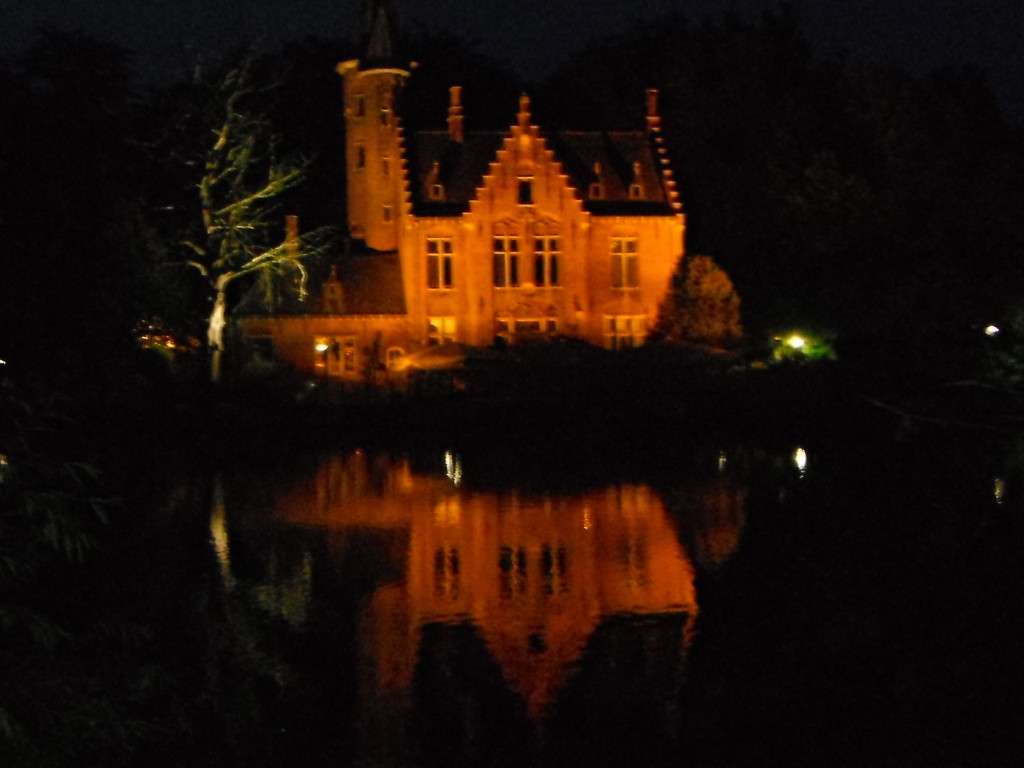 We walk back and the canal has backlit homes, bridges and mansions. Goodbye Brugge. You really are beautiful!

Please read our Disclaimer here
Disclaimer: This post may contain Affiliate Links, Sponsored Content, or Review.…